By: Jonathan Kwan
September 26, 2009
There's something when it comes to luxury: It's not about the function, nor is it about practicality. It's about the excess and sheer form; the beauty in itself when it comes to the object's existence. It's about the image, and the fact that, while you could have better spent your money elsewhere, you didn't. Because despite the vanity of the object, it's so necessary, yet completely unnecessary, all at the same time. The fact that, if function was even remotely a concern, you could have saved a wad of cash by purchasing something that comes in less form and does the same thing. But you didn't. Because it's about luxury. To get a hold of what it's like to own something that addresses such an interesting market segment, what we have here at APH Networks today is one of the latest creations from LUXA2 -- a brand created by Thermaltake that focuses on luxury lifestyle products. The company's H1-Touch is all about coming down to its aesthetic value. Economic value? What is that, anyway? An iPhone/iPod (Or pretty much any mobile electronics device, to be honest) stand that "holds nothing but your mobile device" and costs approximately $50 retail at press time, the LUXA2 H1-Touch certainly isn't the Swiss army knife of mobile device stands! But for what it's worth, the LUXA2 stand is constructed of a beautiful, clean aluminum design; and even a couple Swarovski crystals to give the visual appeal a little boost. Just for sitting on your desk all day, and that's it. Good stuff. So we'll show off our little bit of excessive pride today, woooooooooooooooooooooooooooo!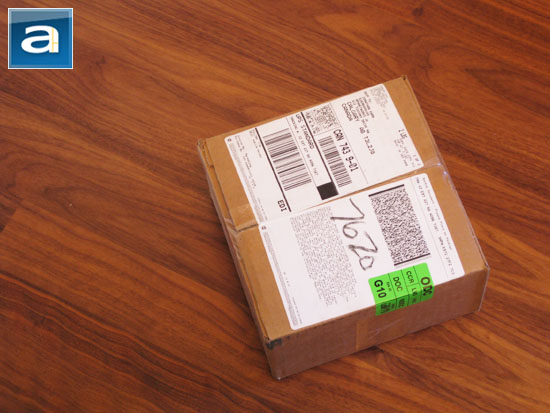 Our review unit of the LUXA2 H1-Touch came in a small, brown corrugated cardboard box from Thermaltake's offices in California, USA. Using UPS Standard, everything arrived in excellent condition; with no evidence of damage appended during transport. Interestingly, Thermaltake didn't include much filling material for the extra room left in its shipping box. The LUXA2 H1-Touch package simply resided inside a plastic bag, but in the end, it was sufficient. There's nothing to scratch (This is taken care by the retail box), and it's not sensitive to shocks since it has no electronic components. So we're off to cracking it open to see what LUXA2 has in store for us.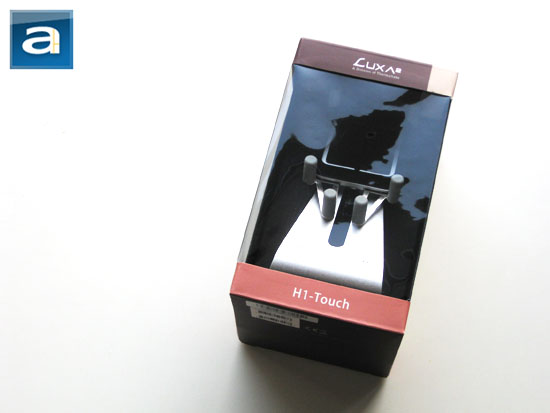 The retail box of LUXA2's H1-Touch arrived in pristine condition. Combining elements for a clean, modern, and elegant design, the packaging makes the product seem like it's from your local designer kitchen, bed and bath superstore -- rather than a computer retailer filled with busy boxes and terms only electronic engineers would understand. A burgundy-brown section makes a clean cover on the upper section of the box; while a light chocolate brown covers the remaining 15% area on the right. A clear plastic window occupies majority of the room on its front face -- plus some right around the corner on the left. LUXA2's logo is placed top center, while its product name, "H1-Touch", is placed bottom center. LUXA2's slogan, "Uniquely You", along with the website URL, is placed center over white background on the left side of the box. At the back is again LUXA2's logo followed by the line "A division of Thermaltake" underneath in relatively large font; also printed on white background to accentuate its design effect. The only side that has the most text is the right side, with product description in 9 different language or language variants. Overall, packaging is very simple and clean -- no text overload or complex graphics.
Before we move on, let's take a look at the H1-Touch's specifications, as obtained from LUXA2's website:
Model: H1-Touch
P/N: LH0001
Height: 152mm (5.98 inches)
Width: 93mm (3.66 inches)
Depth: 102mm (4.01 inches)
Weight: 200 g / 0.44 lbs.
Material: Aluminum
Adjustable Angle: 360° (Rotated) 300°(Vertical)
Swarovski Crystal P/N: S285
Crystal Diameter: Ø 3.1 mm / 0.12 inches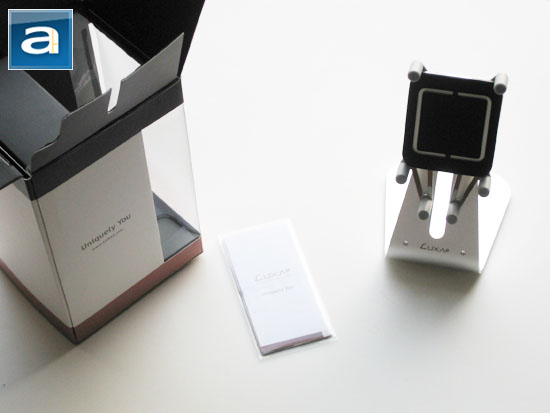 We moved on to open the retail box of LUXA2's H1-Touch mobile device stand. Sliding out a cardboard clip, and then opening a couple of overlapping flaps allow its contents to be accessed. Its contents are secure inside the retail package, with very little packing material -- a good thing. It doesn't require much packaging to begin with anyway, and Thermaltake/LUXA2 has done a great job in maintaining a decent level of balance in this regard. The reason why I am saying this is not only because it is often marketing as being 'environmental' by reducing excess waste, it also reduces weight; and it's also cheaper for the manufacturer to produce haha. It's quite a win-win situation for both the consumer and the manufacturer. Plus, Thermaltake is marketing LUXA2's green image, and this is a step in the right direction!
There's not a lot of stuff out of the box. All you'll get is the LUXA2 H1-Touch itself, as well as a piece of folded paper -- which apparently is a manual with fancy diagrams on how to use the H1-Touch. It's quite complicated stuff, right?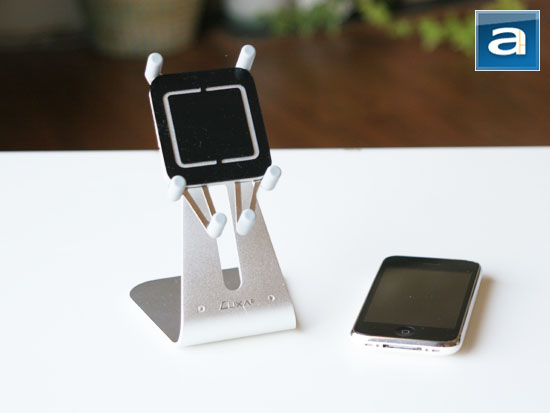 The LUXA2 H1-Touch is constructed of primarily aluminum; quality is very solid across the board with no loose corners or flimsy components. A great attention to detail is placed to emphasize on its design and execution, and LUXA2 has certainly done a great job on the H1-Touch's overall refinement. The resulting product weighs in at 200g or 0.44lbs according to the company.
Its 3mm thick, grain textured aluminum also contributed to its remarkable solidity and sleek looks. Visualize the LUXA2 H1-Touch's base stand as a long isosceles triangle with approximately 2cm radius rounded off corners at all three perimeter locations. A 63-degree recessed slope, from my measurements against the horizontal, is executed near the middle of the triangle so it stands up in a balanced fashion. The center curve is also done very cleanly with no inner thickness increase, nor uneven sides; this problem commonly occurs with cheap construction methods by bending the piece of metal back after it's been molded. We're proud to say that LUXA2 got it perfect right there too.
An opening that's shaped like a small Popsicle stick is cut into the middle of the standing section of the H1-Touch, as seen in the photo above. In my opinion, it serves a good aesthetic purpose by effectively making the stand look less bland, while keeping the design clean. It also serves a practical purpose, such as providing room for you to run your mobile device charging cable through. The idea is quite similar to Dell UltraSharp height-adjustable monitor stands.
Under its center opening is LUXA2's shiny logo embossed onto the aluminum surface of the mobile device holder. Accompanying it on both sides are two Swarovski S285 crystals to enhance it looks (And make it sound cooler, like, "OMG yo my iPhone stand has Swarovski crystals!!"). They're small at 3.1mm, but tastefully integrated into the product to create a modern, elegant look.
The H1-Touch features a six-tab X style clamp to maximize its compatibility with various products. Four particular rubber stoppers do majority of the work, while the bottom two are mainly for adjusting the other four via a connection of reciprocating gears at the back -- it does serve a function of increasing lower support for appropriately sized devices. The H1-Touch is probably best used with iPhones and iPod touches as far as the clamp is optimized for, but you shouldn't have any problems with most other mobile electronic devices on the market today. The black rubber backing provides excellent friction with the back of my iPhone, so it doesn't slip. It's the kind that sticks even if the force applied is perpendicular to its surface. Basically, I can have my iPhone facing down resting against the back of the clamp base surface with the clamp grips disengaged, and the iPhone will not fall down unless I shake it. That's not to mention that it's soft enough so it won't scratch. All in all, it works great in conjunction with the rubber grips.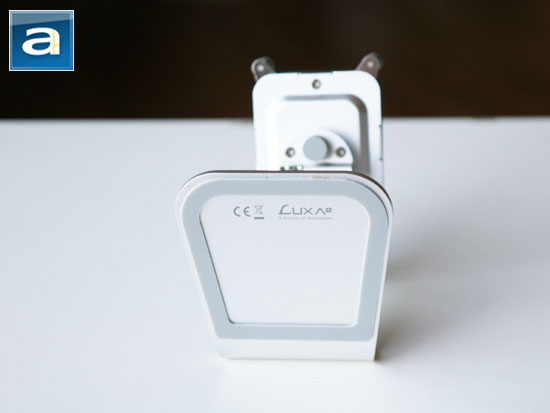 The bottom of the H1-Touch incorporates a thin rubber strip on its inner perimeter, to ensure appropriate grip with the surface it resides on. Its swivel clamp base can be rotated up to 360 degrees on the x-y plane (Well actually any multiples of it as well, since you can turn it infinitely) and adjustable up to 300 degrees forward/backward about the x-axis on the y-z plane. It is possible to rotate it left/right while adjusting it front/back at the same time as well.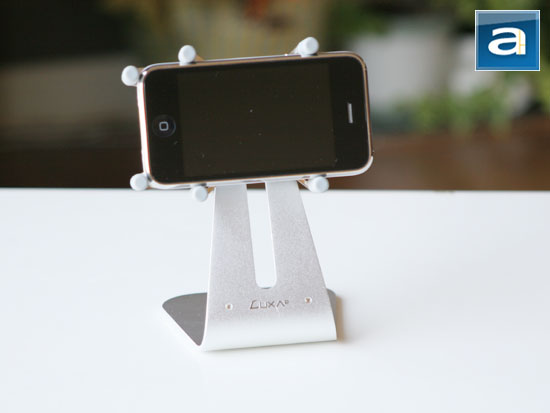 I've paired the LUXA2 H1-Touch with my Apple iPhone, as well as Nokia E63, for some quick compatibility and usage tests. The six thin adjustable rubber grips provide very little physical interference to side buttons on my iPhone -- the upper left one conveniently sad in the middle of the iPhone's volume keys. The X-clamp is also designed very well so it can adjust correspondingly to accommodate most standard mobile electronics. However, while it is very good in providing perpendicular support against forces acting in that direction on the device, I found that it does not exert sufficient friction to hold the mobile device in place. While backing does an excellent job for what it is, as aforementioned, the clamp grips actually don't. It does work against even directly opposing constant gravity force for some period of time, but it is insufficient under normal usage to prevent the mobile device from falling out of the stand.
On the positive side, despite having a high center of gravity, weight distribution is fairly well optimized on the H1-Touch. I've found the H1-Touch to be pretty stable during normal use. And to reveal some truth, the LUXA2 H1-Touch does have a practical side to it. I did find it pretty useful to have a phone holder rather than just leaving it on my desk haha. I can run my iPod cable through its center opening to make it a charging station. It makes screen viewing and usage easier and more pleasurable when I'm at the desk working too. Plus, it's definitely some eye candy for the modern home or office!
-----------------------------------------
Overall, I would say the LUXA2 H1-Touch is quite a sleek product. Combining elements of modern design and simplicity, while adding a level of eliteness and class to it, Thermaltake has done quite a good job on this product. Heck, it even has a couple of Swarovski crystals in front! And it's not only the looks it has to boot. It's also a very refined product, with attention to detail that one would expect in luxury products, like the market niche the H1-Touch addresses. Is it practical? Well, I couldn't really say yes, because its function is to hold your mobile device, and allow the user to use it more conveniently when they're not on the move. For $50 it really doesn't do much. But its value remains in its beauty to enhance the look and feel of anywhere it may find its home, this is where the LUXA2 H1-Touch excels!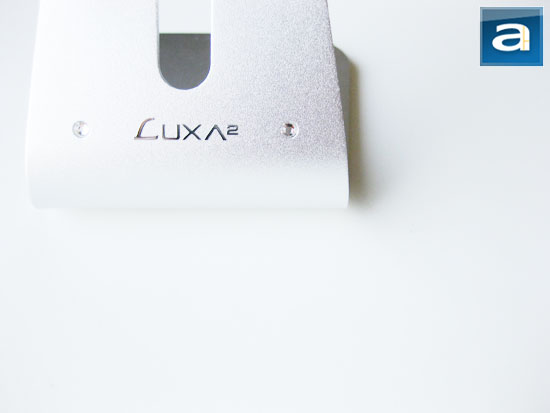 Special thanks to Ramsom over at Thermaltake for making this review possible.
APH Review Focus Summary:
7/10 means Great product with many advantages and certain insignificant drawbacks; but should be considered before purchasing.
8/10 means Definitely a very good product with drawbacks that aren't likely going to matter to the end user.
-- Final APH Numeric Rating is 7.7/10
Please note that the APH Numeric Rating system is based off our proprietary guidelines in the Review Focus, and should not be compared to other sites.
The LUXA2 H1-Touch is a highly refined and beautiful stand that will complement any mobile device well. Its Swarovski crystals give it even more class!