By: Jonathan Kwan
February 18, 2006
Cases have come a long way since the "beige box" era. Computers nowadays come in many, many styles, whether you want a minimalistic case or a really uniquely decorated box, its all up to you.
Nikao, a company that was founded in 1998 are producers of rather unique computer equipment compared to the traditional/typical creations. They came up with something very unique -- and today we'll be reviewing the Nikao Dragonfire.
Our review unit came in a nice retail packaging. In my opinion, the stock pictures on the case don't do the actual product much justice in terms of design.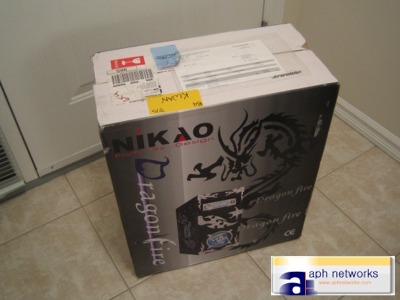 Since I was not home when they delivered it, I dropped by the Purolator shipping depot the next day and picked it up. The lady at the desk that brought the case to me was like, "Wow, is this your computer? This computer looks very cool! Everyone working here has dropped by to take a look at your computer!" (Well, it's not my fault that she didn't know it was just a case.) We'll take a look at the design of this case later on in this review.
Speaking of packaging, Nikao did one of the best jobs in packaging I've seen in years. Every single gap, yes, EVERY single gap is filled in the box with large sheets of Styrofoam, much to my surprise. In addition, the case was covered in two layers of packing material in addition to the foam and cardboard box.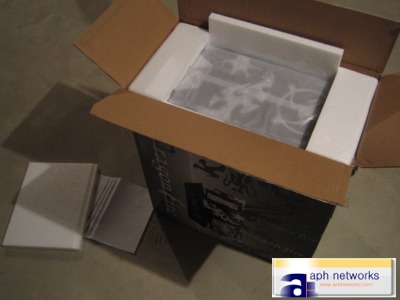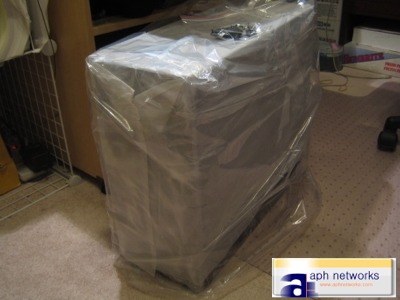 Really, I am impressed with the packaging. Also included with the case is a bag of screws and a few extra tool-free installation accessories. A few motherboard risers were already installed into the case. No manual is included, which may be a negative for first time computer builder or people who have minimal experience with cases.
Before we dig into the Nikao Dragonfire's looks/design, assembly/ease of use and performance, let's take a look at the specifications from Nikao's website.
---
* Housing Material: 0.8MM SECC Steel Metal
* Main Board Size: ATX Form Factor 12" x 10.5" Or Smaller
* Input Voltage: 115/230 VAC
* Mounting Kits, Hard Drive & Power LEDs: Included
* External Disk Drive Bays: 4 x 5.25" and 2 x 3.5"
* Internal (Hidden) Disk Drive Bays: 4 x 3.5"
* Case Dimension (L x W x H): 488mm x 200mm x 425mm
* Power Supply: Not Included
* Front USB & Audio: Two USB2.0 / One Sound Audio Port
* Ventilation: N/A
* Weight: 25 LBS
* ATX Form Factor 12" x 10.5" Or Smaller
* Good Show Car Paint Job
* Thumb Screws for Side Panel Easier to Open Up the Case
* Electromagnetically shielded
* Universal ATX I/O shield
* Support any standard Pentium/AMD power supply
* Pre-Modified Net Design Side Panel Window
* Pre-Modified Net Design Front Door
* One 80mm or 120mm Case Fan in Rear can be Installed (Optional)
* One 120mm Case Fan in Front Installed
* One 120mm Case Fan in Side Panel Installed
* Two Fan Grill Installed
* Screwless Kit for CD-ROM, FDD & HDD Device installing Included
* LCD Controller Panel can be Installed (Optional)
---
For the looks of the case, I can't really comment too much on it. For one thing, this is all based on personal preference. It's like reviewing a piece of art or music. I personally know a lot of people that really love this case and the "dragon" design (Which you don't really see the dragon by the way, it's just the flames as far as I can tell). I like things that are simple and clean, which is another story. Still, it's all up to you, and this is a nice case to many! The design is very unique and definitely stands out from the rest.
Just give yourself an idea in the looks department when you view the photos.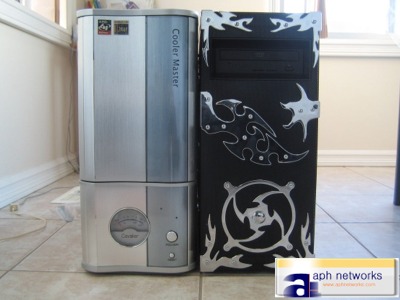 The Nikao Dragonfire compared to the Coolermaster Cavalier 1: The size and dimensions is nearly identical, but the Nikao Dragonfire is obviously lighter in weight, which is a good thing.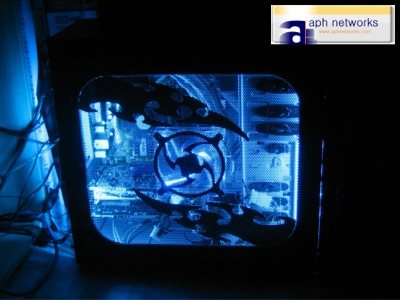 A quick shot with the Dragonfire turned on at night. Note that the above photo has two of my own CCFL light tubes [from another company] installed, so don't expect your case to be this bright without additional lighting. The included fans have blue LEDs in them, however.
Speaking of the fans, the one on the side panel does not have any fan grills included or installed. I don't exactly know what's going on, but Nikao claims that they are included on their site. Try installing your own or keep your cables away from the fan unless you want them to get chopped into a million pieces.
Another thing that I find that might be an annoyance to some people is that the HDD and Power LEDs do not have a case door pass through, which means you'll have to open your case door every time you want to take a look at the HDD activity LED or whatever.
Air is drawn into the case with a 120mm case fan with a case door air pass through. While you will get good airflow when air passes through the case door directly, it would be a little bit hard to design the front case door without adding a lot of cover-ups. When the front case fan is on, there is noticeably more noise when the front door is closed then when it is open. A better implementation would be having an air duct at the bottom of the case so the case door looks better, easier to design, and possibly eliminate more noise.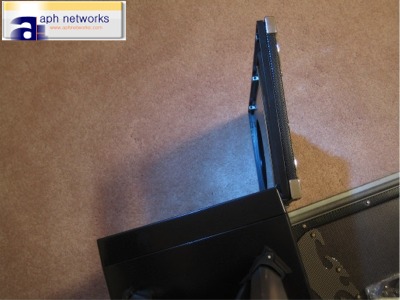 The way the door swings cannot be switched around. The hinges are fixed on the left side while three magnets on the right hold the case door shut. Since I leave my computer beside me on my right, it's hard to access the drives since the case door swings towards me. If the way the case door swings can be manipulated like the Coolermaster Cavalier 1, it would be perfect.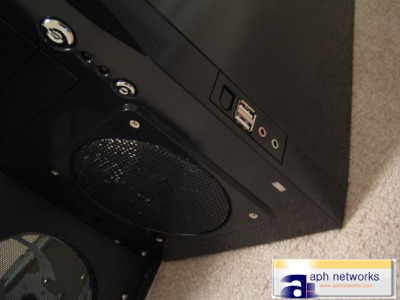 Like the Coolermaster Cavalier 1, the USB and sound jack connectors are on the side of the case. If you put your computer under a desk, having USB and sound jack connectors may not be as convenient as having them in front. It really depends on how and where you put your case, and of course, your personal preference. One thing I did not understand is that this case has a place for a front Firewire connector, I don't know why they just put a block there. (Manufacturing costs?)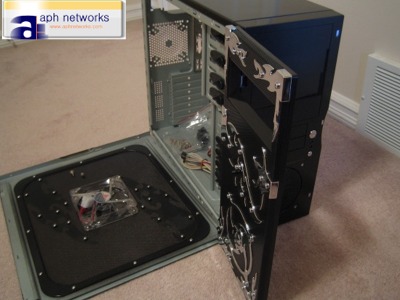 I really like the placement of power/reset buttons. It is up high on the case, good size and also behind the case door so you cannot press the Reset or Power button accidentally. Too bad there isn't some sort of lock on the case door to discourage unauthorized access.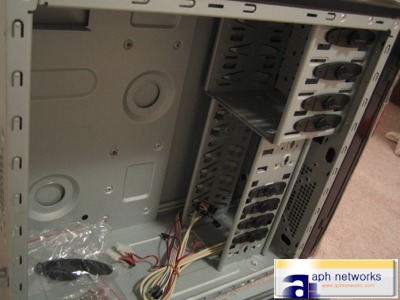 Putting computer components into the Nikao Dragonfire went fairly smooth. The sound connectors for the front panel that goes into the motherboard is a block, not a bunch of individual pin caps that you need to figure out yourself: which pin cap goes into which pin on the motherboard. Installing the hard drives and optical drives also went on quickly. Tool-free installation is certainly helpful, although I did not like how they implemented the locks on the inside rails. You'll have to give the device some speed momentum to move the device to the position you prefer. At this point, your drive will be scratched a bit, but it shouldn't or wouldn't matter to most people.
To tell the truth, I actually like Coolermaster's tool-free implementation where you 'slide-and-lock' the drive better, allowing you to place your drive in virtually any place instead of Nikao's where the tool-free drive-lock acts like a screw replacement. The 'screw replacement' method has its advantage, the drive will have less chance of slipping and sliding in or out. Too bad add on cards does not have tool-free installation implemented.
When I installed the hard drive and floppy/flash reader, it wasn't exactly how I wanted it to be. Unlike the Antec Sonata II where you can install the hard drive forward or backwards, it's fixed one way on the Nikao Dragonfire. Even with that, your hard drive will stick out in front, wasting valuable space and harder to make good internal cabling. The front face of the flash/floppy reader is not entirely flat on with the front face of the case.
Then there's an exposed drive bay where the case door is not covering. In the stock photos, it is used for controller panels. I would love to have one, but unfortunately, I don't have a controller panel for use with this review. I put a DVD burner in the slot, it's actually pretty useful for quick optical drive access without opening the front door.
The next step is installing the power supply. One thing I noticed is that it is possible to install the power supply upside-down [in relative to my Modstream]. If you have a weird power supply that's designed upside-down than typical ones and has a 120mm fan underneath, it will still work in the Dragonfire, which is a good thing.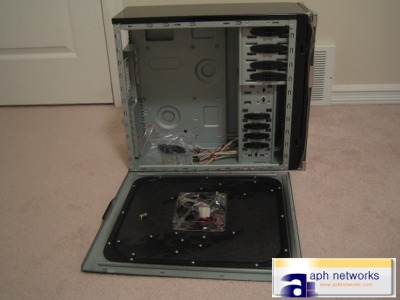 The Nikao Dragonfire does not have a removable motherboard tray. Some may care more than others, but to me it's not such a big deal. Some motherboard risers have already been installed in the case. I had to relocate some of them and put them into the right holes before installing my motherboard. A few extra risers were included in the bag of screws.
I was surprised that this case has a lot of room to work with, which gave the assembly process a nice experience. Unfortunately the Dragonfire did not design with the user using cold cathode light tube in mind. The only place where you can put it is along the bottom. On the left side, it is blocked by a fan, assuming you will install one there (More on this later), my 12" tube is too long for the top, you MIGHT be able to sneak one in on the right though.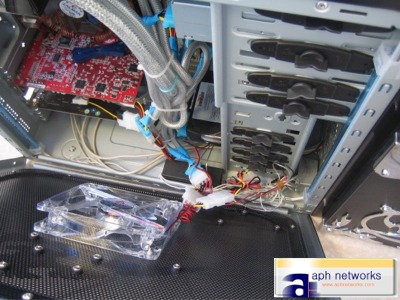 One of the two 120mm fans are on the side panel, it might be inconvenient with all the wires attached to it.
I am not disappointed in the cooling performance of this case. The cooling is very good, but I am very, very disappointed in the noise level of this case. It is EXTREMELY LOUD. Yes EXTREMELY LOUD. I have to stress this point because it really does make the Nikao Dragonfire sound like a jet taking off (Well, not really). How loud is it? If you've ever used one of those Liteon DVD or CD drives, try reading a CD at full speed on it. Now, imagine something twice as loud as that. Yep, that's the Nikao Dragonfire. I can hear this case from the stairs in my house when this case is turned on in the computer room. My parents also complained about how loud and annoying this case is. I am a quiet PC enthusiast, PC noise ticks me off a lot. I retested with the fans undervolted it to 5v, and it made absolutely no difference. I am honestly disappointed in the noise it generates.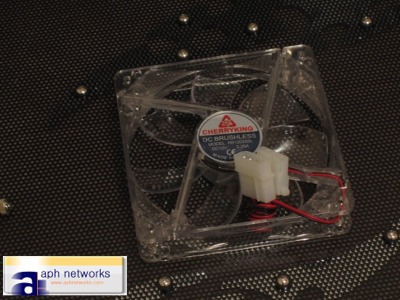 So the next morning, I opened up the case again and took a look at the fans. These Cherryking LED fans may be nice looking and all, but they generate so much noise, it's almost like it's engineered to do that. A quick search on Google didn't pull much results, except for some bakery in China and a few foreign computer shops selling them. They listed it as 'Generic', so we'll assume it's a generic fan. Why can't Nikao use better fans when you are going to pay around 70 to 80 dollars for a case? This really puts the product down.
If these fans are the culprit, why not just simply disconnecting them? I disconnected the molex that's connected to the fans and grabbed an 120mm Coolermaster fan from my other case. By the way, no extra screws were included for installing extra fans. Anyway, I installed the fan at the back of the case where there isn't any fan, gave it 5v and turned my computer on.
All is quiet, all is nice. Other noise sources: Zalman CNPS7000B-Cu, the 120mm fan in my OCZ Modstream, and an Arctic Cooling VGA Silencer revision 3 on the ATI Radeon 9800 Pro. There is also a Western Digital 7200RPM hard drive, but the noise it generates isn't too significant. My suggestion: If you were to buy this case, make sure you buy two extra 120mm case fans to replace the stock generic ones. You will not regret in any way. If you don't buy the fans, buy some earplugs or noise canceling headphones. Serious improvement is required in the noise aspect.
One thing I did not understand is the mesh and the side fan. First, we'll look at the mesh. It's nice looking, no doubt about that. The problem behind that is it's almost like operating your computer with the sides off, it interferes with case airflow. This leads to the side fan, which redirects air in a way that air will not be drawn over the video card then CPU and heat exhausts out the back.
For best performance, I would recommend the following: Buy two quiet, or at least decently quiet 120mm case fans that move a decent amount of air. Replace the one at the front, and install the other one at the back, while ignoring the one on the side, it will interrupt the airflow. Since a fan grill is missing for the side fan, safety is yet another reason for not having a side fan. Your wires and cables will be much safer this way.
Even with one 120mm case fan running on 5v at the back of the case with NO OTHER CASE FANS connected, the Dragonfire still performs very well. On idle, I get 27c for my CPU and 29 for motherboard (The Zalman heatsink and fan cools pretty well along with some fresh Arctic Silver 5 applied). After an hour of Counter-Strike: Source, the CPU sat at 37c and motherboard temperature was recorded as 32c. These temperatures are excellent considering the fact that only one case fan, which is undervolted, is used at the back.
In conclusion, the design of this case is very unique. Thought is well put into the design, but common features used on other cases such as the ability to switch the way the door swings and case door locks were not implemented. Tool free installation of drives is nice, but positioning of them isn't flexible, which can be improved on. Good amount of space to work with inside the case is a good sign, but for enthusiast who wants to install some cold cathode lights, you'll have to figure out yourself where to put them. LED fans are nice, but these generics generate WAY too much noise and require the end user to install third party case fans to minimalize the noise. Default placement of fans is not recommended and while the mesh side panel is good looking, it may interfere with the airflow. Some accessories are missing such as a fan grill for the side fan, and this is an essential accessory. Despite all the negatives, this case still offers impressive cooling.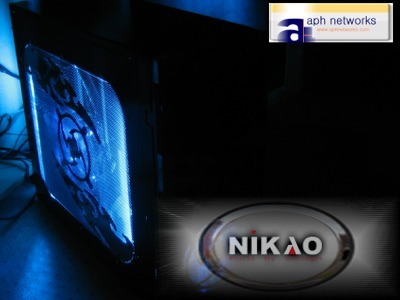 Special thanks to Bruce over at Nikao for making this review possible.
Note: The number ratings below has been adjusted accordingly to comply with our new Number Rating System.
Rating: 3.5/10
What do these ratings mean?
Very unique design but may not appeal to everyone, and not a 'flexible' case as well. Good cooling, but immense amount of noise generated by stock fans puts the end user down. There is room for improvement.
Do you have any comments or questions about the Nikao Dragonfire? Drop by our Forums. Registration is free, and it only takes a minute!