By: Jonathan Kwan
July 11, 2014
In sports, there are matches worth watching, simply because one side is just as competitive as the other. The tension is strong, the outcome is hard to predict, and the excitement really builds as everyone puts in their very best to bring joy for all those who cheer for them. At the end of the day, whether it is a win or a loss for the team you are cheering for, we can all look back and say, "That was a match well played." For example, in the Winter Olympics, Canada versus United States in ice hockey is always the game to look for. In the World Cup, Brazil versus Germany is the one to get excited about... unless the year is 2014. If you have been following the World Cup, and watched the humiliating defeat of Brazil on Tuesday, you will know exactly what I am talking about. Prior to the game, some of my friends even thought about taking a day off work to watch this epic battle of the two countries. However, eleven minutes into the game, and things began to turn sideways. When Germany scored four additional goals within six minutes twenty nine minutes into the game, this became the cornerstone of one of the most humiliating defeats in Brazil's history in an unprecedented 7-1 loss. Who would have known? Germany's incredible outcome and Brazil's utter defeat is simply a shocker to everyone worldwide, even if they are not big into the sport. Similarly, in the computer world, there are always companies that you can depend on to deliver excellent performance. In fact, in the seventeen products that Noctua has sent us since 2007, they have taken home eleven awards -- an award percentage of 65% with an average score of 7.7/10. This makes Noctua one of best performing manufacturers here at APH Networks. Today, we will take a look at their latest product, the Noctua NH-D15. Will it sweep home another glorious victory like Germany, or will it suffer a surprising unprecedented defeat like Brazil? Let the kickoff begin.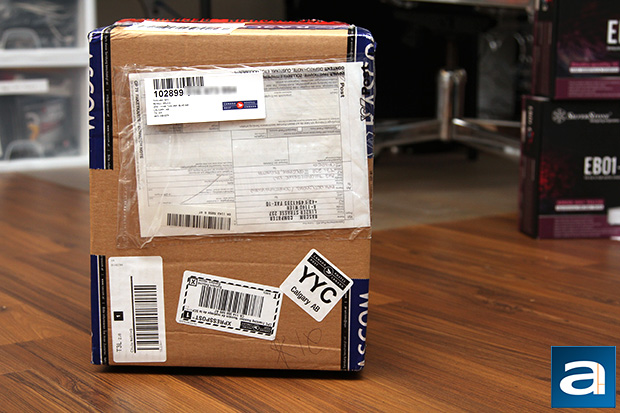 Our Noctua NH-D15 review unit came in a large, brown corrugated cardboard box from Noctua's headquarters in Austria. After traveling half way around the world, it was transferred to Canada Post using the XpressPost service when it arrived on Canadian soil. As usual, a delivery note was left in my mailbox, and I went to a local postal outlet around one minute drive away to pick it up. When I arrived at the post office, I quickly spotted a familiar box wrapped in lots of blue "RASCOM" tape, as it always has been in the past, on the shelf in the back room already. The person at the counter scooted over, handed the box over to me and remarked, "Not a lot of stuff comes from Austria!" Well, I bet I am the only one in the area who constantly receives packages from the country in question, haha.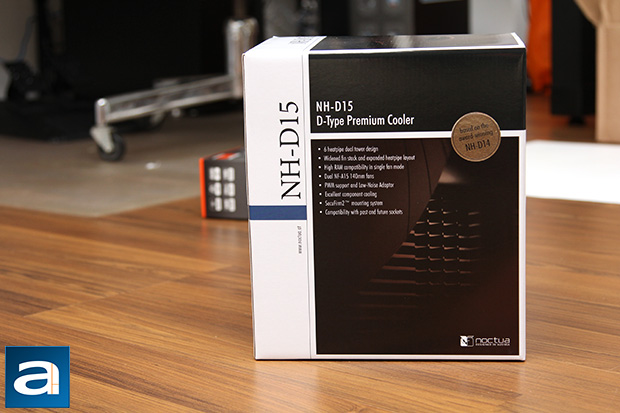 Retaining Noctua's fundamental predominantly burgundy color scheme, the NH-D15's packaging ensures Noctua-ness never goes missing, despite the changes in design. Its updated layout for a modernized look was first seen in the company's NF-P12 PWM packaging since early 2012, and is completely identical to the Noctua NH-U14S. If you see them all next together at a retail store, no member of the family will look or feel out of place. While some people may not be big fans -- no pun intended -- of the Noctua color palette, it is hard to argue against its overall clean and distinguished appearance when placed on the shelves at your favorite local retailer. As you can see in our photo above, the packaging is sleek yet practical; at first glance, you are not going to miss the product name, what it is, and a short list of feature highlights.
Before we move on, let's take a look at the specifications of the Noctua NH-D15, as obtained from the manufacturer's website:
Heatsink Specifications
Socket compatibility: Intel LGA2011 (Square ILM), LGA1156, LGA1155, LGA1150 & AMD AM2, AM2+, AM3, AM3+, FM1, FM2, FM2+ (backplate required)
Height (without fan): 160 mm
Width (without fan): 150 mm
Depth (without fan): 135 mm
Height (with fan): 165 mm
Width (with fan): 150 mm
Depth (with fan): 161 mm
Weight (without fan): 1000 g
Weight (with fan): 1320 g
Material: Copper (base and heat-pipes), aluminium (cooling fins), soldered joints & nickel plating
Fan compatibility: 140x150x25 (with 120mm mounting holes), 140x140x25 (with 120mm mounting holes), 120x120x25
Scope of Delivery:
2x NF-A15 PWM premium fan
2x Low-Noise Adaptor (L.N.A.)
Y-cable
NT-H1 high-grade thermal compound
SecuFirm2™ Mounting Kit
Noctua Metal Case-Badge
Warranty: 6 Years
Fan specifications
Model: 2x Noctua NF-A15 PWM
Bearing: SSO2
Max. Rotational Speed (+/- 10%): 1500 RPM
Max. Rotational Speed with L.N.A. (+/- 10%): 1200 RPM
Min. Rotational Speed (PWM, +/-20%): 300 RPM
Max. Airflow: 140,2 m³/h
Max. Airflow with L.N.A.: 115,5 m³/h
Max. Acoustical Noise: 24,6 dB(A)
Max. Acoustical Noise with L.N.A.: 19,2 dB(A)
Input Power: 1,56 W
Voltage Range: 12 V
MTBF: > 150.000 h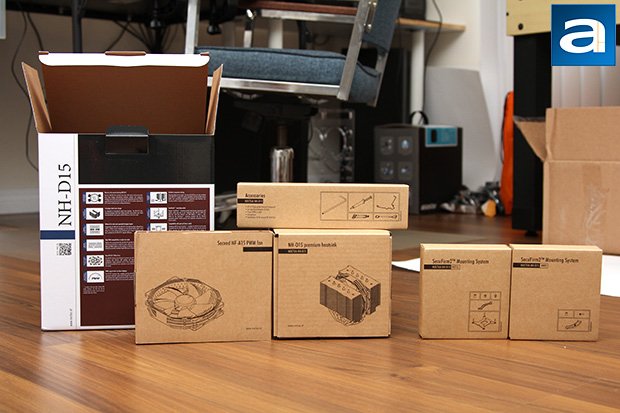 Out of the box, you will greeted by many more boxes; five to be exact. All boxes are in raw corrugated cardboard color, and are printed and labeled in black ink to show you what is inside. The biggest one of them all holds none other than the NH-D15 heatsink itself, which already has one NF-A15 PWM fan pre-installed. A second NF-A15 PWM is included in a separate box. The two smaller boxes hold the mounting accessories; one for AMD, and one for Intel. The SecuFirm2 mounting kits allows the Noctua NH-D15 to work with Intel's LGA2011 and LGA 115x sockets, as well as AMD's AM2+, AM3, AM3+, FM1, FM2, and FM2+ sockets. Accessories tagging along in the last box include two low noise adapters, Y-split cable, screwdriver, second set of fan clips, fan corner rubber dampeners, case fan screws, and a case badge. The NH-D15 also ships with a full sized tube of Noctua's excellent NT-H1 thermal compound, which we had reviewed back in our August 2008 shootout. As always from the company, the included bundle is not just about the heatsink itself -- it is also about the included excellent removable high performance fans and 'stock' thermal paste. Cooling fans such as the NF-A15 PWM are not exactly cheap when you buy them separately in retail, and two are included in the package.
One manual is included for each socket type for a total of three installation posters, placed in their respective boxes. The instructions are concise and clear. With the accessories very cleanly distinguished for each application as aforementioned, it makes life just that much easier. I just wish more manufacturers will learn from Noctua, haha.
---
Page Index
1. Introduction, Packaging, Specifications
2.
Physical Look - Hardware; Installation
3.
Test Results
4.
Conclusion