By: Jonathan Kwan
March 16, 2018
I have been recently chatting with a few of my friends to reflect on how I behave affects the way people relate to me. While I would like to believe that I generally relate well to my peers, there are still quite a number of areas that I still need to work on. One could say my behavior is mostly a result of my personality type -- ESTJ, or "the executive" -- that is inherent to my nature, it is no excuse to avoid changing to become a better person. One of my biggest challenges is I often think I know better than other people. Back in the days, I used to pick arguments with others who do not agree with me on topics I am passionate about. I do not recall losing any debates over the years, but it sure did not make me a lot of friends. I also used to fact-check people and point out the things they say incorrectly, and I realized that was quite annoying as well. To overcome this, I stopped doing the above, learned to listen better, and tried to genuinely consider what other people are saying. What still needs work, however, is the fact I like people to think I know better than other people because I think I know better than other people. The resulting behavior is a lot of things I say implicitly or explicitly tries to prove something about myself. But why do I constantly need to prove myself? As I thought about this more deeply, I glanced over to the place where my NZXT H700i computer case resides. Our premium matte black and red mid-tower is stunning to look at and beautiful to behold. It simply has nothing to prove about its presence. Is the NZXT H700i a chassis I can take a few life lessons from? Read on to find out!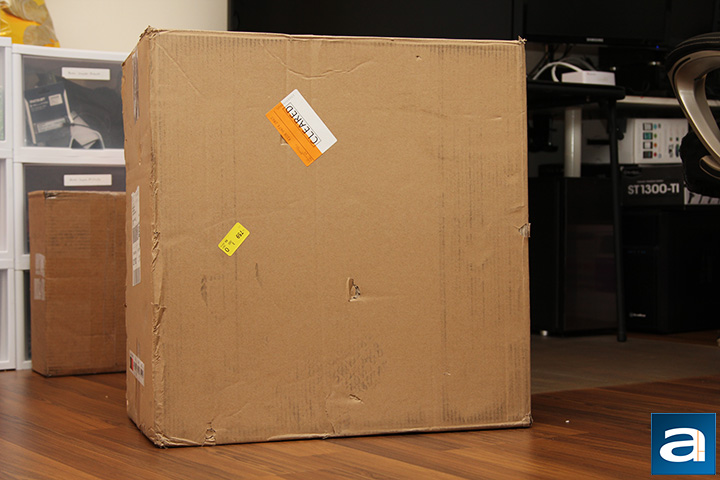 Our review unit of the NZXT H700i arrived in a large brown corrugated cardboard box from the company's American headquarters in City of Industry, California, USA. I was a bit surprised to see a plain brown corrugated cardboard box for a mid-tower land on my doorstep here in Calgary, Alberta, Canada, since cases usually come shipped in its retail packaging. As I found out later, the actual retail box was located inside the shipping box for additional protection. Using FedEx International 2day, our H700i arrived in excellent condition for our review today. There were small bumps and bruises along the way, but I consider these usual business and nothing to worry about.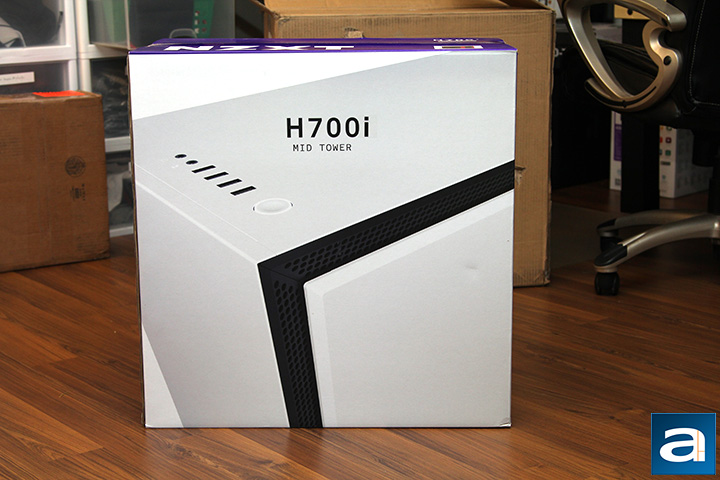 Inside the shipping box is the NZXT H700i's actual retail box. It has been a long time since I reviewed our first NZXT computer case here at APH Networks -- the Duet back in 2007 -- but the company has never slowed down at being in the forefront of clean, modern, and stylish packaging for their products. The Apple-esque layout features a predominantly purple and white color scheme NZXT fans should be familiar with. On one side, we have a close-up three-quarter view of the H700i, with the only text present being "H700i Mid Tower", as shown in our photo above. The other side has a little more detail in presentation, which you will find a full side view of the chassis with components installed and NZXT's branding as shown in the next photo. The rest of the box has feature highlights and specifications in various locations.
Before we move on, let us take a look at the specifications of the NZXT H700i, as obtained from the manufacturer's website:
Dimensions: W: 230mm H: 494mm D: 494mm (without feet); W: 230mm H: 516mm D: 494mm (with feet)
Material(s): SECC Steel and Tempered Glass
Weight: 12.27 kg
Motherboard Support: Mini-ITX, MicroATX, ATX and EATX(Up to 272mm or 10.7-inches)
I/O Ports: 2 x USB 2.0, 2 x USB 3.1 Gen 1, 1 x Audio/Mic
Filters: Front and PSU Intake
Smart Device: 3 x Fan channels with Max 10W per channel output, 1 x RGB LED port support up to 4 x HUE+ LED strips or 5 x Aer RGB fans, Built-in noise detection module
Expansion Slots: 7
Drive Bays: 2.5": 7; 3.5": 2+1
Radiator Support: Front: 2 x 140 or 3 x 120mm with Push/Pull; Top: 2 x 140 or 3 x 120
Fan Support: Front: 3 x 120/2 x 140mm (3 Aer F120 Case Version included); Top: 3 x 120/2 x 140mm; Rear: 1 x 120/1 x 140mm (1 Aer F140 Case Version included)
Fan Specs:
Aer F120 (Case Version)
- Speed: 1200 + 200 RPM
- Airflow: 50.42
- CFM Noise: 28 dBA
- Bearing: Rifle Bearing
Aer F140 (Case Version)
- Speed: 1,000 + 200 RPM
- Airflow: 68.95 CFM
- Noise: 29 dBA
- Bearing: Rifle Bearing
Clearance: Cable Management: 18-22mm; GPU Clearance: Up to 413mm; CPU Cooler: Up to 185mm; Front Radiator: 60mm; Top Radiator: 30mm; Reservoir & Pump: Up to 224mm (Along cable bar)
Warranty: 2 Years
Model Number: CA-H700W-WB
EAN: 5060301693849
UPC: 815671013538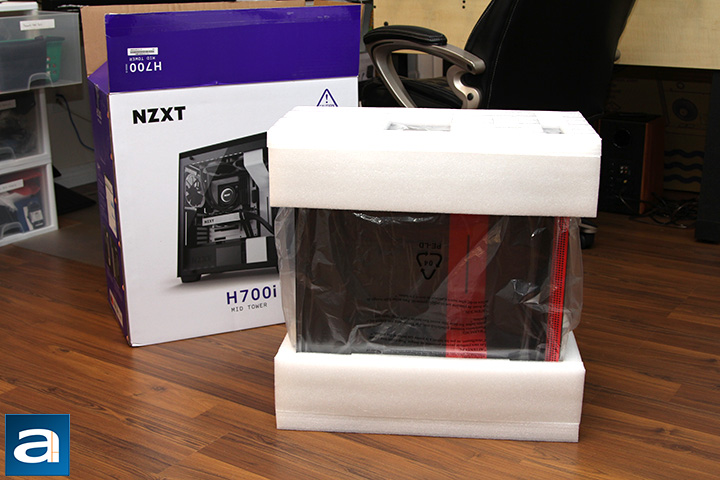 As mentioned earlier, the design on the two principal faces of the NZXT H700i's retail packaging is different. The NZXT H700i mid-tower is found wrapped in a clear plastic bag and clipped between two large Styrofoam brackets upon cutting open the tape at the top. The packaging is quite standard for a computer case, and in the end, everything inside arrived in perfect condition. Needless to say, I do not have anything to complain about. Accessories are found inside a box placed on a hard drive tray inside the case.
---
Page Index
1. Introduction, Packaging, Specifications
2.
Physical Look - Outside
3.
Physical Look - Inside
4.
Installation and Conclusion