By: Kenneth Kwok
October 22, 2010
November is fast approaching. And when I think about November, I tend to associate Christmas holidays that follow right around the corner. Many stores start their holiday shopping season early, and this year will be no different -- with many of them lining up promotions upcoming sales in their conference room already. For myself, while October has been filled with work, midterms and even more work, here is one review you don't want to miss out. Even though the holiday season is still a month and a bit off, it is never too early to start building that Christmas shopping list in my opinion. I don't know about you, but I love to stock up on assorted technology related goodies at just around December. Last year, I purchased a 42" LCD television, Sony PlayStation 3, and a whole slew of other gadgets. I tend to pay more attention to the latest products during this time of the year as well, especially upgrades for my computer. By now, most readers are probably wondering what this all has to do with our review today. Well, it is almost November as aforementioned, and we got something pretty sweet in our review stock today. This particular product comes from NZXT, a well known computer case manufacturer with many great products. Our last NZXT review was the Panzerbox article written by yours truly last year, which was quite an impressive case. Will the company live up to their excellent reputation and continue to build upon it with the NZXT Phantom? Well, without further delay, let us see if the NZXT Phantom is worthy of being added to our holiday shopping lists!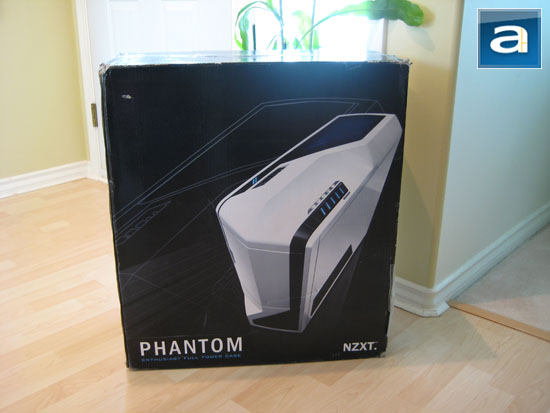 Our sample unit of the NZXT Phantom was sent from American Future Technology's office from California, USA to us here in Vancouver, British Columbia, Canada. As mentioned in past reviews, American Future Technology is NZXT's parent company. The package came in great condition using UPS Standard, which has been commonly used by NZXT in the past. I was actually quite surprised when I headed to my house from my detached garage and saw a huge box blocking my back door. It took me a while to figure out what it was from a distance, but when I finally did, I was quite astonished that it was left at the back. Multiple times, I had cases delivered and left unattended in front of my house. This was probably a good idea to keep from people stealing it. (I'm not sure most people would be able to haul a thing as large as this away unnoticed, but I guess anything is possible.)
The package came in retail packaging, with a predominantly black and white color scheme. At first glance, a big photo of the NZXT Phantom itself located on the right dominates the black background. Standard white text and NZXT's logo can be found on the left and right corners of the box, respectively. Nothing particularly amazing here, but overall, the design is quite clean, and provides a nice base for showcasing the NZXT Phantom -- which I must admit does look pretty nice to me. (Reminds me a lot of the old style Alienware designs, except toned down a bit for a more mainstream appeal.)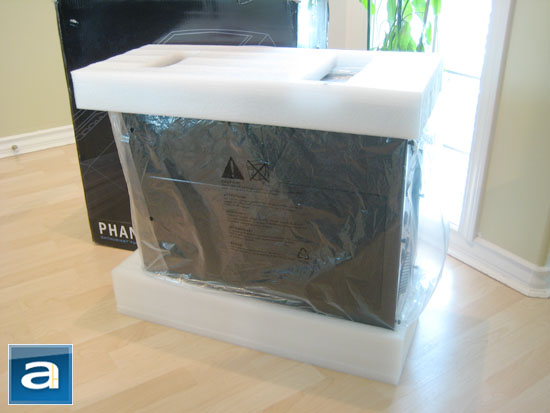 Cracking open the retail packaging, we are treated with the NZXT Phantom itself, fully enclosed in a plastic bag, and sandwiched between two large foam brackets to keep the unit in its place. NZXT did a great job of keeping the case from scratches, dents, and bumps out of the box. On top of that, the front and top plastic panels of the Phantom are further protected by peelable pieces of clear plastic. With all these packaging materials, the case was in mint condition on arrival for our review today.
Before we go further into this review, let's take a quick look at the specifications of the Phantom, as obtained from NZXT's website:
Model: Phantom Series
Case Type: Full Tower Steel
Front Panel Material: Plastic/Steel
Dimensions (W x H x D): 222 x 540 X 623 mm
VGA Clearance Maximum: 350mm
Cooling System:
-Front: 1 X 140mm
-Rear: 1 X 120mm (included)
-Side: 2 x 120mm, 1 x 200/230 (2 x 120mm included)
-Top: 2 X 200mm (1 x LED 200mm included)
Drive Bays:
-5 External 5.25" Drive Bays
-7 Internal 3.5"/2.5" Slots
-Screwless Rail Design
Material(s): Steel with black finish
Expansion Slots: 7
Weight: 11 kg
Motherboard Support: Extended ATX, ATX, Micro ATX, Baby AT
---
Page Index
1. Introduction, Packaging, Specifications
2.
Physical Look - Outside
3.
Physical Look - Inside
4.
Installation and Conclusion