By: Ben Joubert
January 22, 2016
When I lived in South Africa, our house had an area covered in ivy, with a little rock path leading through it. We had four dogs; one of which was a Jack Russell terrier. The other three dogs were two Labradors and a pretty aggressive Dachshund. One of the Labradors was a really big dog, but he was a teddy bear at heart, and never got mad or aggressive. The Jack Russell terrier was the interesting one I will be telling a story of today. All of these dogs were very energetic and extremely fast, so they were used for fox hunting. In our ivy field, there were mice, and our dog really enjoyed to jump around in the ivy to get rid of all her energy, while getting some hunting done at the same time. It was quite a funny sight to see this dog, as she looked both like a bunny and a fox jumping up and then straight down. Soon enough, the problem disappeared, because of how effective she was at getting rid of all the mice. In fact, sometimes, we had to deal with the dead mice when she killed them without eating them. My uncle used to have a Jack Russell terrier as well, and it killed snakes pretty frequently, since he lived on a farm. Snakes also hunt mice, and they are also extremely fast, especially a viper. Would it not be ironic to name a computer mouse a viper? Maybe just to me, since I enjoy terrible jokes. However, I think naming a computer mouse after a viper is a good idea, if the product matches the characteristics of the snake, such as its speed and accuracy. I think we can all agree speed and accuracy are great qualities to find in a computer mouse, especially if it is used for gaming. Today, we have the Patriot Viper V560 laser mouse. Read on to find out if the Viper V560 matches the characteristics of its name!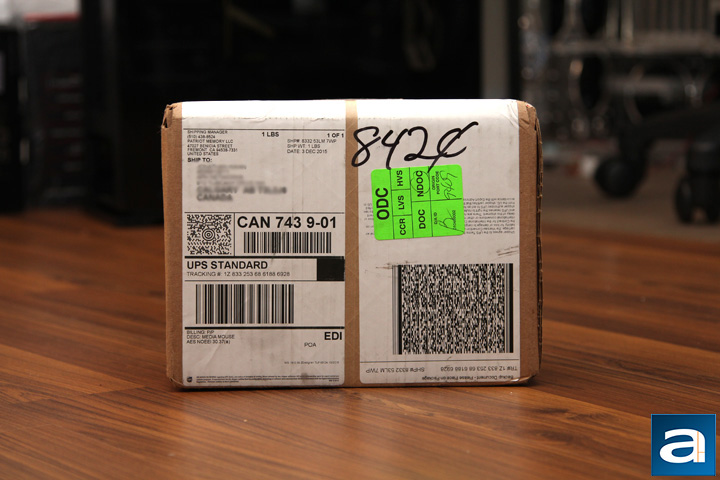 Our review unit for today arrived in a pretty small brown corrugated box from Patriot's American headquarters in Fremont, California. It shipped with UPS Standard, and arrived in good condition to the APH Networks offices in Calgary, Alberta, Canada, with barely any dents or other damage done to the box. I am always happy to see everything is in good condition. The outside is only one indication of how well the product fared during transportation, so let us open it up, and have a look at what is inside.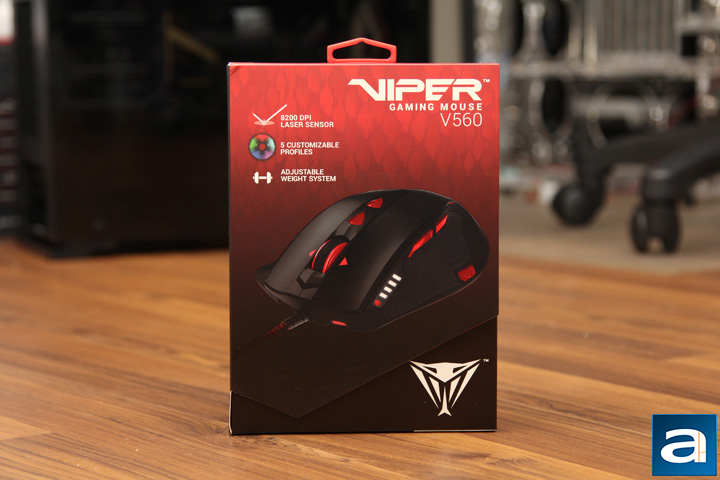 The Patriot Viper V560 gaming mouse was nicely packed and kept tight to ensure it will not move around during transportation and cause damage to the mouse. The colors used on the front of the box match the mouse with a nice black and red color scheme. Three of the main features of the mouse is highlighted on the top left of the box. I find the box design nice and simple, with the model of the mouse on the top right, and the Viper logo on the bottom right. There is a front flap kept in place with Velcro, and on the inside of the flap is a more detailed description of what the mouse can do. A clear plastic window is also located behind the front flap to see the mouse inside the packaging. The rest of the box is kept simple, with one side describing the features again, and the other being just a side view of the mouse. On the back of the box, different buttons of the mouse and the interchangeable grips are shown. The packaging was good enough to keep the mouse safe during transportation, while keeping it in place so it does not move at all.
Heading to the manufacturer's page, we can find specifications of this product, which are included below:
Specifications:
Weight: 262 g
Dimensions: 22 x 16 x 6.5 cm
Warranty: 2 Years
Certifications: RoHS, FCC, CE, Class 1M Laser
Unit Dimension Width: 8 cm
Unit Dimension Height: 4.7 cm
Unit Dimension Length: 12.8 cm
Unit Weight: 193 g
UPC: 0815530019886
Resolution: 8200 DPI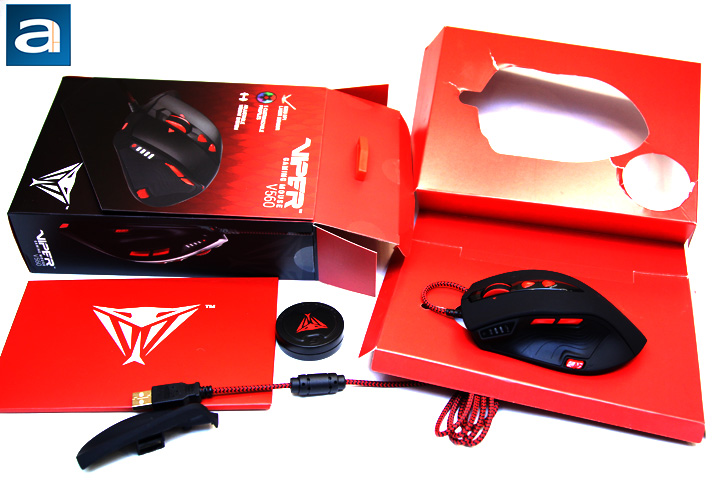 A few things you receive out of the box is, of course, the mouse and its braided cable. You will also receive a little puck with all the weights inside, interchangeable grip, and a red envelope, which contains a quick start guide, some Viper stickers, and a page that advertises some of Patriot's other products. The Viper V560 was very easy to set up, and the quick installation guide is clear and concise. After heading to the manufacturer's page to download the software, everything else was quite routine, and I was ready to use this mouse.
---
Page Index
1. Introduction, Packaging, Specifications
2.
A Closer Look - Hardware and Software
3.
Subjective Performance Tests
4.
Conclusion