By: Aaron Lai
December 22, 2017
'Twas three nights before Christmas, when all through the house
A single creature was stirring; indeed 'twas a mouse;
Its exterior was lit, with rainbow lights so bright,
In hopes that a hand would hold it quite tight.
The reviewer was nestled all ready to game,
Trying for headshots, as kills were his aim,
And mouse in his hand, he said with a grin
"I think it's time for Overwatch-in'"
When all of a sudden, his palm felt strange matter
A mouse that was longer and notably fatter!
Looking down at his desk, that's when he realized,
The Viper V570 was in front of his eyes!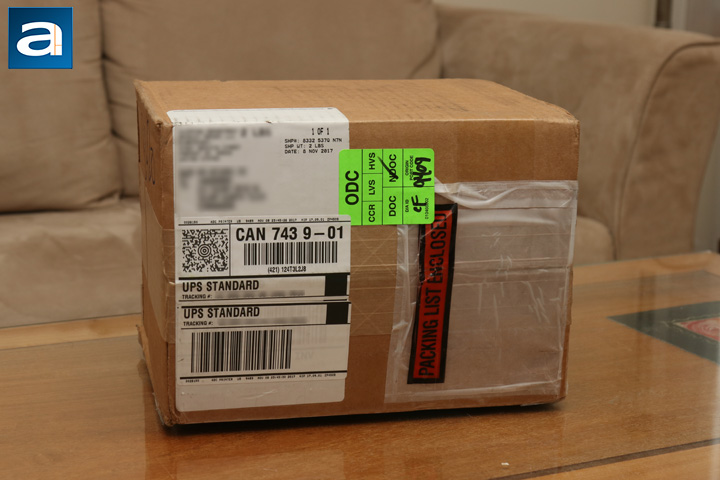 If that were not obvious already, the introduction was a modified introduction of the poem, "A Visit from St. Nicholas" by Clement Clarke Moore. Instead of a visit from Saint Nicholas today, we actually have a visit from Patriot Memory through their Viper V570 Blackout Edition mouse. Today's unit was shipped to us via UPS and their Saver service. Thankfully, the parcel arrived to us in excellent condition with zero dents or bruises to be concerned with. This brown corrugated cardboard box came to us from Fremont, California, which is the home of Patriot Memory's offices in the United States. Inside, we have the single Viper V570 Blackout Edition wrapped in plastic and cushioned by several layers of foam and inflated plastic pouches.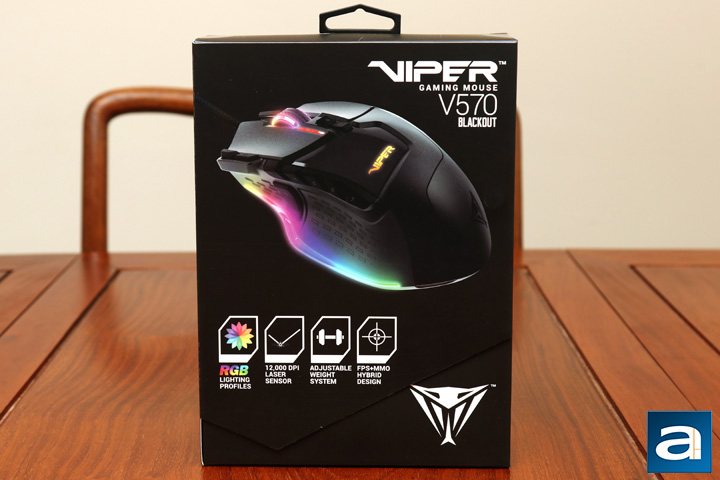 As for the box itself, the Patriot Viper V570 Blackout Edition comes in a fully black box, which is not too surprising considering the name. The mouse is shown as a picture at the front in all of its RGB goodness with four main features shown underneath. The Viper snake logo is displayed at the bottom with no mention of the Patriot moniker anywhere. The front panel can also flap open to reveal the mouse, which is held behind a clear plastic shell. The other side of the flap expands on some of the major features of this mouse. I should note, the V570 is also available in a vanilla edition, which features a red and black look. Around the box, there actually is not much for wording, which is kind of nice to see.
Before we continue on, here is a list of specifications, from the manufacturer's website, for your perusal:
Features:
Xtreme Precision Laser Sensor
Up to 12000 DPI
Multi-zone customizable RGB LED management
Advance MMO+FPS all-in-one ergonomics
RGB customizable profiles
13 programmable macro keys
Ceramic foot pads for maximum performance
DPI LED indicator
Adjustable weights of up to 34.2g
Zero Delay
Specifications
8000 DPI hardware/12000 DPI software
Light source: Laser
IPS: 150
Polling rate: 1000Hz
Switch: Omron (10M clicks)
Sensor: Avago ADNS-9800
Controller: Sonix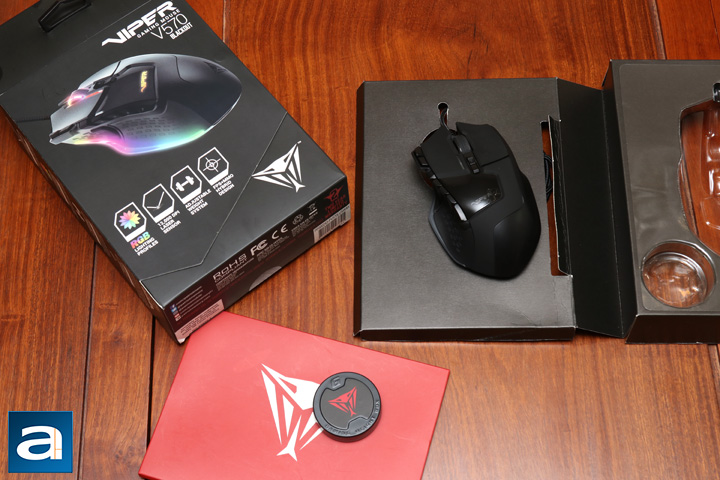 Instead of visions of sugar-plums, inside the box is the Patriot Viper V570 Blackout Edition nestled in a plastic shell. In addition, a small round box is included with circular weights inside. A single red Viper-marked envelope is the last item that comes with the retail package from Patriot. There are some Viper stickers inside here and a quick documentation sheet on setting up the Viper V570 Blackout Edition. Similar to all recent mice we have received, there is no CD inside, which means you will have to download the software off of Patriot's website.
---
Page Index
1. Introduction, Packaging, Specifications
2.
A Closer Look - Hardware and Software
3.
Subjective Performance Tests
4.
Conclusion