Page 10 - Conclusion
A story is told of a farmer who consulted a mathematician to design the largest animal pen possible using a specified amount of fence segments. The mathematician quickly took three fence pieces, arranged them in a triangle, and stood in the middle. "I am outside the pen," he declared. The point of this joke, in case you have not captured the essence of it, is sometimes, people can come up with answers that looks so beautiful on paper, but is really completely useless in real life. In the introduction of this review, we have talked about how performance laptop memory came about. First, someone decided to slap heatspreaders on regular kits. When they found out there were compatibility issues with some computers, they switched to stickers to keep the high end look, but without the very least negligible cooling advantages it offers. Personally, I found that counter intuitive in every way. Today, we are witnessing another change in the industry. Without ignoring practical compatibility concerns, and not completely going just for looks, Patriot managed to get the best of both worlds into one package with the Viper SODIMM PC3-12800 2x8GB kit. Delivering performance consistent with other DDR3-1600 kits we have tested in the past, and well in line with the price of what other kits sell for, the Patriot Viper SODIMM's thin aluminum heatspreaders presents good looks without resorting to a kind-of-lame sticker solution. Sure, heatspreaders do not really do anything. But if you are looking for RAM that looks as fast as it actually is, the Patriot Viper SODIMM PC3-12800 2x8GB gives you a bathtub of gigabytes at the latest industry standard of 1.35V for about $175 at press time.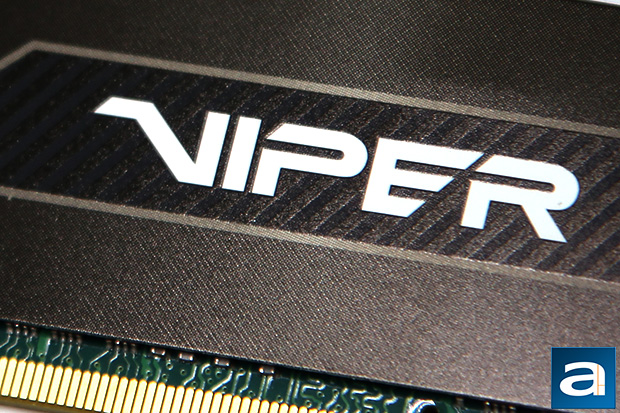 Patriot provided this product to APH Networks for the purpose of evaluation.

APH Recommended Award
Since April 30, 2007, Number Ratings have been dropped for all CPUs, motherboards, RAM, SSD/HDDs, and graphics cards. This is to ensure the most appropriate ratings reflected without the inherent limits of using numbers. Everything else will continue using the Number Rating System.
More information in our Review Focus.
Rejoice, for the real aluminum shield is back! The Patriot Viper SODIMM PC3-12800 2x8GB features good looks, good speed, and lifetime warranty for a reasonable price.
Do you have any comments or questions about the Patriot Viper SODIMM PC3-12800 2x8GB RAM? Drop by our Forums. Registration is free, and it only takes a minute!
---
Page Index
1.
Introduction, Packaging, Specifications
2.
A Closer Look, Installation, Test System
3.
Benchmark: AIDA64 CPU
4.
Benchmark: AIDA64 FPU
5.
Benchmark: AIDA64 Memory
6.
Benchmark: PCMark 7
7.
Benchmark: 3DMark 11
8.
Benchmark: PassMark PerformanceTest 7.0
9.
Benchmark: SuperPI 1M, Cinebench R11.5
10. Conclusion