By: Ben Joubert
February 8, 2016
I am sure we all had experience in creating a budget. I know as a student, I have to budget carefully, as I only work during the summer months. Here in Alberta, when a new party was voted in last year, one of the first things people looked at was the budget. It determined if what the party promised the people will come to fruition, or if they are just spending money on themselves. This is especially important, since it is people's tax money -- and we all sure do love taxes. The same thing happens at a federal level, and the budget has to be approved before they can move on to everything else they can debate on. I have always been interested in computers, but I was only able to buy one and build it last summer. Again, it took some budgeting and some time to figure out the best price to performance choices, especially with the video card. With most builds that are not overkill builds, one could always save some money in areas that does not directly affect the performance of the machine. One area I saved some money on was the case, but I ended up returning it, and buying a better one on sale instead. I mean, what more do you really need in a case than to hold all your components? I quickly figured out that was not the only thing a case did. I have discovered the hard way your computer chassis is actually an important component. Today, we have the Phanteks Eclipse P400, which, with a price tag of $69.99 USD, is ranked as a relatively budget case. Will it sacrifice stuff like build quality or easy cable management to keep the price low? Read on to find out how Phanteks was able to achieve this price, and if there were any compromises along the way.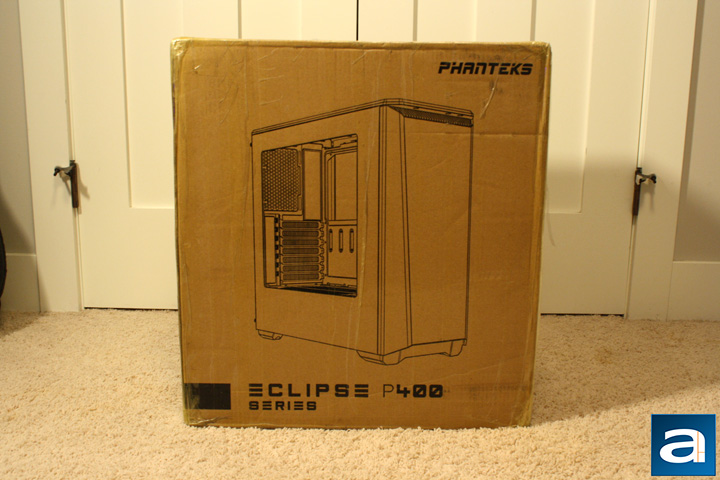 Our review unit arrived from California, USA via UPS Standard. From a sunny state to the cold north, everything arrived in good condition to the APH Networks offices here in Calgary, Alberta, Canada with no complaints from me. The shipping box just had the name of the computer chassis and a black print of it on the front. The corners were a bit beat up, but other than that, everything was in order. Opening the box was kind of a struggle from all the tape they used to ensure it does not fall apart or open up itself unintentionally. Fortunately, there are not many problems a good pair of scissors cannot fix, so I got straight to work.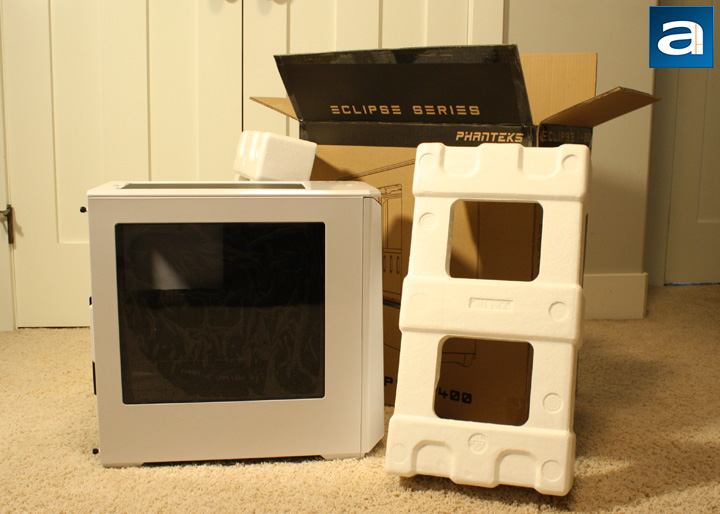 For a budget case, the retail packaging is expected with just a big brown box and some black ink. The only notable change from the shipping box would be the specifications of the case on the left side, and some features at the back of the packaging. After quickly looking through the specifications, I continued to move past the packaging to look at my nice new case. The model we have today is the Glacier White version, and I must say it does look great. Other available colors are Satin Black and Anthracite Grey. I usually prefer my case to be black, but I think the white version has won me over. While on the topic of different versions, there is an Eclipse P400S version as well, which has some extra features, such as an option for a window or not. Both of them come with soundproofing layers, although the price does not change between the windowed and non-windowed version. Other features are a top ventilation cover with soundproofing, side panels with soundproofing, and an integrated 3-speed fan controller. The P400S does cost $10 more than the non-silent version, and the Glacier White version is also $10 more than the other colors.
The packaging for the Eclipse P400 is not exceptional, but it does its job in keeping the chassis in good condition. There are two Styrofoam blocks, which keep the case from moving around. The case is wrapped in a plastic bag to protect it from scratches, and the window is covered with plastic on both sides to ensure no scratches will ruin a clear window. The retail box material choices were made to keep the price low.
Here are some features and specifications of the Phanteks Eclipse P400, as obtained from the manufacturer's press release and website:
Features
- Full metal exterior (steel front / top / side)
- RGB lighting system with color control + on/off switch. (Power light + Down light)
- Optional upgrade for interior RGB lighting (using our Phanteks RGB Led strips that's already in the market). This can be connected to the same control switch
- Equipped with dust filters (front / bottom / top (magnetic))
- All-in-one radiator space up to 360mm rad in the front
- 2x 120mm fans included
- Storage: 2x 3.5" HDD trays + 2x SSD brackets included
- Power supply shroud (hiding all the cables)
- Cable management tools (our Velcro cable ties)
- Support for Long GPU's
Specifications
Dimensions: 210 mm x 465 mm x 470 mm (W x H x D); 8.3 in x 18.3 in x 18.5 in
Form Factor: Midtower
Materials: Steel chassis, steel exterior, ABS
Motherboard Support: ATX, Micro ATX, Mini ITX, E-ATX *(up to 272mm wide, cannot use rubber grommets)
Front I/O: 2x USB 3.0, Mic, Headphone, Reset, LED control, 3-speed Fan controller (only available for P400)
Side Window: Yes
---
Page Index
1. Introduction, Packaging, Specifications
2.
Physical Look - Outside
3.
Physical Look - Inside
4.
Installation and Conclusion