By: Preston Yuen
April 24, 2015
With the NHL playoffs well on its way, teams become more and more competitive with only one objective: To win the Stanley Cup. Along with its competitiveness comes more body checks, penalties, and fights. This can be seen especially in the second first round game between the Vancouver Canucks and the Calgary Flames. Things simply heated up fast, and there were fights essentially every ten seconds or so. This ultimately led to a talk to both teams by the NHL commissioner. Although I cannot say exactly which team was right or wrong, we can say that it was a pretty intense game, to say the least. Even though many players have calmed down after the game, emotions still lingered when heading into the third game between the two teams. What does this concept have anything to do with our review today? To put it simply, consumers are always out to push the limit of their systems, just like teams in the NHL playoffs. This is especially true in the world of gamers and high graphics rendering artists. They build high end systems to have the ability to display eye-catching artwork and produce realistic visualizations. As such, it is very typical such users are looking for towers to house all their hardware, not just their graphics cards, but everything else to keep it running smoothly. Turn our attention to our review unit for today: The Phanteks Enthoo Primo White. First and foremost, this case is, simply put, looks like a mammoth with too much space to spare. Will it keep components running nice and cool, or will let things heat up a little too quickly? With much excitement, we quickly cracked the box open at our APH Networks headquarters to take a look at this beast.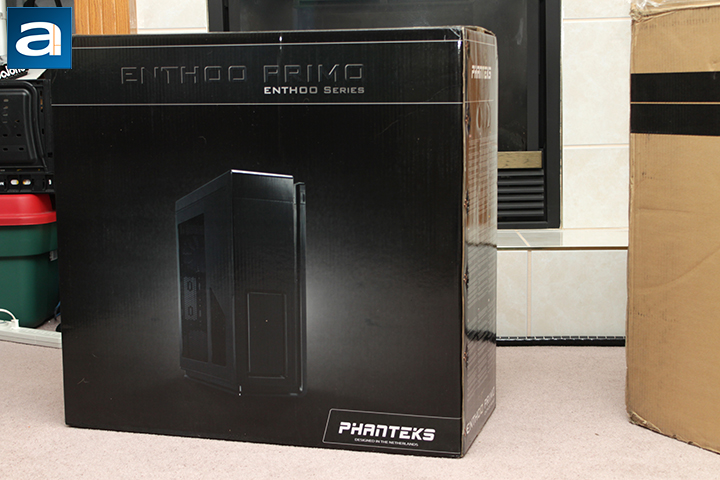 Our Phanteks Enthoo Primo White unit was shipped internationally from Walnut, California, USA via UPS Standard to our Calgary, Alberta, Canada office. To ensure everything arrived safely, Phanteks has protected their regular packaging box with another corrugated cardboard box, so if their package takes any hits, the outer layer will take the bumps and scratches first. Pulling real retail box out, we can see the Enthoo Primo theme is very clean and subtle, with the product name printed boldly across the top, company name at the bottom right corner, and the product itself is centered on the box. Features and specifications are printed around the sides, so customers can easily find out what features it has without having to rip everything apart. With that aside, I pulled out my knife, opened the box, and pulled the Enthoo Primo to see how monstrous in size it was.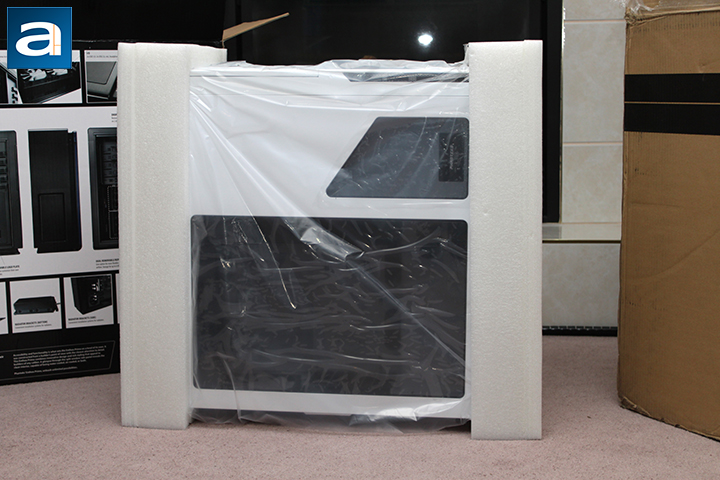 To further ensure the Enthoo Primo does not break on arrival, Phanteks packed foam brackets around the case with a plastic bag to protect it from miscellaneous scratches. You will be happy to find the accessory box tied in the power supply bay area behind the large motherboard tray. If you do not see the user's guide, do not worry, as it is in the packaged inside the accessory box too. According to Phanteks' "About Us" page on their website, they are a relatively new company, but was very successful with their first product. I have no prior experience with products from Phanteks, but hey -- this is why we are here today to check out the Enthoo Primo White.
Before we move on, I took a look at the specifications page for the Enthoo Primo to find they have written up quite a bit to keep the customer well informed. Here are the features and specifications from the manufacturer's page for your convenience:
Features
Enthoo Primo includes 1 x 140mm fan on top, 2 x140mm LED fans in front, 1 x 140mm fan in the rear, and 1 x 140mm fan on the bottom. Ability to upgrade to additional fans are possible. All fans included are Phanteks' new redesigned and better performing PH-F140SP. Phanteks' Enthoo Primo, unleash unlimited possibilities.
Appearance
-Clean and elegant design that can be recognized by the refined aluminum front and top panels. Controllable LED lighting (LED strip and Fan LED). Polished chamfers that subtly accentuate the intake and exhaust areas.
-Stealth interior: hidden PSU / hidden HDD / hidden cables and grommets (modular cable cover).
Cooling
-Extreme cooling capacity, providing up to 16 different fan mount locations (120mm / 140mm)
- 5 included Phanteks' premium fans PH-F140SP
- The PWM hub makes it possible to control all the connected fans (also 3-pin fans) with PWM function through 1 PWM connector and create a better cable management.
-Thermally isolated PSU keeps the radiant heat from other critical components, reveals an optimal bottom air intake and hides the cables from blocking the airflow.
- Extensive water cooling support. Provides up to 5 different installation areas for slim and thick radiators varying from single to quad (120mm and 140mm form factors). Clearance for push-pull fan configurations.
- Innovative liquid cooling mounting systems: radiator brackets for easy installation (bottom and side), cable cover can be transformed into a reservoir bracket with pre-drilled mounting holes and an universal pump bracket with vibration dampening function
Functionality
-Dual repositionable and removable HDD cages (support up to 6 HDD's) for more installation flexibility or unrestricted airflow
- Closed HDD panel strengthens the chassis' rigidity, even when both HDD cages are removed.
- Removable Drop-n-Lock Doublestack SSD brackets that can be installed on 3 different locations. (2 brackets incl.)
- Removable front and top covers for easy installation of cooling components and easy dust filter removal.
- Other removable dust filters are located in the bottom (2x) and side panel (2x).
- Pre-installed cable management tools behind the motherboard tray that can be fastened and released.
- 2x USB 3.0, 2x USB 2.0, microphone, 3.5mm audio jack, LED switch
- Support up to 2 PSU's
Specifications
- Model No.: PH-ES813P_BL (Black); PH-ES813P_WT (White)
- UPC Code: 886523300014 (Black); 886523300038 (White)
- Dimensions (WxHxD): 250mm x 650mm x 600mm
- Form Factor: Full Tower Chassis
- Material(s): Aluminum Faceplates, Steel Chassis
- Motherboard Support: ATX, EATX, mATX, SSI EEB
- Front I/O: 2x USB 3.0, 2x USB 2.0, Mic, Headphone, LED Switch, Reset Switch
- Side Window: Yes, split-window design
- Expansion & Drive Bays: 8x Expansion slots; 2x Power Supply Slots; 5x External 5.25"; 6x HDD cages; 2x doublestack SSD brackets (expandable to 3)
- Front Fans: 2x 140mm LED included (supports 2x 140mm or 2x 120mm)
- Top Fans: 1x 140mm included (supports 3x 140mm or 4x 120mm)
- Side Fans: supports 2x 140mm or 2x 120mm
- Rear Fans: 1x 140mm (supports 1x 140mm or 2x 120mm)
- Bottom Fans: 1x 140mm included (supports 2x 140mm or 4x 120mm)
- HDD Fans: supports 2x 120mm
- Liquid Cooling Front: supports up to 240mm radiator
- Liquid Cooling Top: supports up to 480mm or 420mm radiator
- Liquid Cooling Side (with HDD cages): supports up to 240mm radiator
- Liquid Cooling Rear: supports up to 120mm or 140mm radiator
- Liquid Cooling Bottom: supports up to 480mm or 280mm radiator
- Graphics Card Clearance: 257mm (reservoir bracket installed); 277mm (reservoir bracket installed w/o cover); 350mm (no reservoir bracket); 390mm (HDD cages in front position); 515mm (no NDD cages)
- CPU Cooler Clearance: 207mm
- Cable Management Clearance: 30mm
- PH-F140SP (included fans): 1200±250 rpm, 82.1 CFM max airflow, 1.33mm H2O static pressure, 19 dB
- Net Weight: 17.9 kg
- Warranty: Limited 5 Years
---
Page Index
1. Introduction, Packaging, Specifications
2.
Physical Look - Outside
3.
Physical Look - Inside
4.
Installation and Conclusion