By: Hai Wang
March 24, 2017
As a lab teaching assistant for first year undergraduate students in engineering, I occasionally get really interesting questions. In fact, I was asked a really good question during an electrical circuits lab a few weeks ago. The lab itself was pretty easy. Students just needed to build a bunch of simple circuits using only resistors. A guy came to me and asked, "Can you explain to me how a digital watch's circuit works?" I found it was extremely hard to answer this question, despite how simple a digital watch's circuit was to me. The reason was I did not think the student had enough knowledge to understand something of this level. A simple device, say a digital watch, has resistors, capacitors, transistors, crystal, diodes, operational amplifiers, and other electronic components of this nature. Therefore, I just told him to think about this question after the end of this term. At least by that time, he can have a better knowledge of electronic components. Fortunately, to review a CPU cooler, we do not need to know much in thermodynamics. There are some simple and straightforward criteria I use for evaluation. More specifically, my criteria includes the overall design of the cooler, installation experience, and of course, its cooling performance. Is today's review unit, the Scythe Mugen 5, a good CPU cooler for these criteria? Let us find out.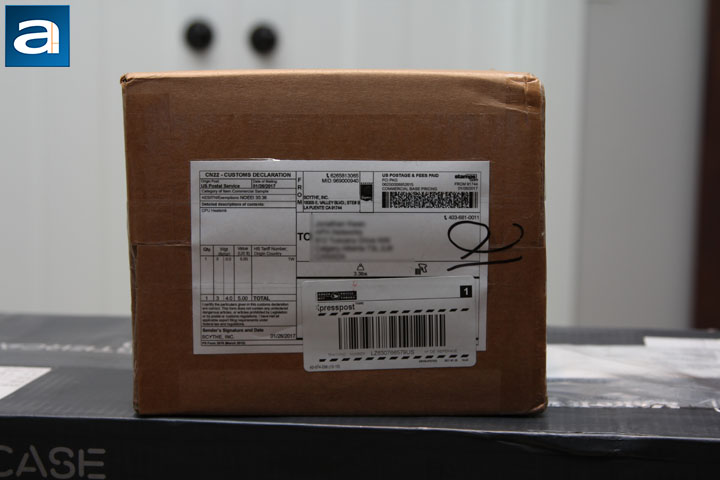 Today's review unit was shipped from La Puente, California, USA to us here in Calgary, Alberta, Canada. La Puente is Scythe's headquarters in North America. The city is just about twenty miles east of downtown Los Angeles. Although you may see a small dent by the corner of the parcel, there was actually no sign of unacceptable damage on the shipping box itself that can make you nervous about the safety of the product -- well done USPS and Canada Post.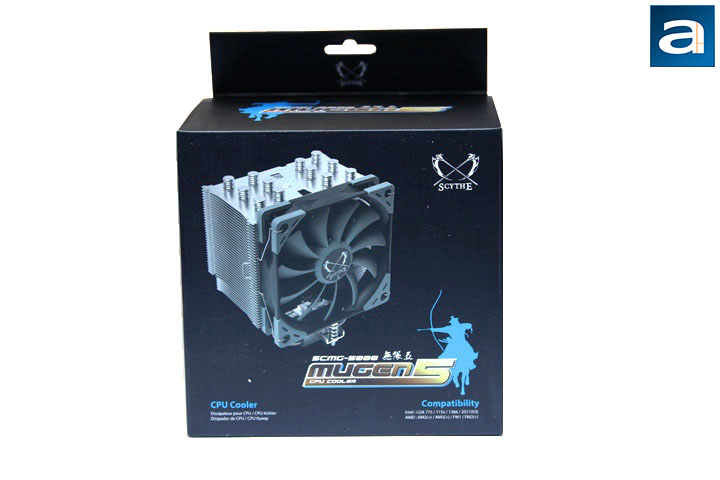 On a well-designed retail package, you can always find a nice photo of the product itself. The box of the Scythe Mugen 5 is no exception. The picture of the CPU cooler is located in the front of the container that has a black background. From the picture, you can roughly know what you will get from Scythe this time -- a CPU heatsink and a fan. Of course, you will also get installation kits for various Intel and AMD sockets. They are just not shown in the front cover of the retail box. Scythe's company logo is printed at the top right corner, while the product's name, Mugen 5, is printed in gold, and it is located at the bottom right front cover. Below the product's name, the information of compatibility is provided. If you turn to the side panels of the retail package, more information about the product, such as the dimensions and key features of this product, are also presented. Overall speaking, the retail package design of the Scythe Mugen 5 is good. Customers will be able to find out useful information about this product without any trouble.
For you to know the Scythe Mugen 5 a little bit more, the specifications of the CPU cooler from its official website are listed below:
Specifications:
Overall Dimensions: 130 x 154.5 x 110 mm / 5.12 x 6.08 x 4.33 inch (including fan)
Weight: 890 g / 31.4 oz
Model Name: Mugen 5 CPU Cooler
Model Number: SCMG-5000
Compatibility:
Intel®:
Socket LGA775
Socket LGA1150
Socket LGA1151
Socket LGA1155
Socket LGA1156
Socket LGA1366
Socket LGA2011 / 2011-v3
AMD®:
Socket AM2
Socket AM2+
Socket AM3
Socket AM3+
Socket FM1
Socket FM2
Socket FM2+
Fan Specifications
Model Name: Kaze Flex 120 PWM
Dimensions: 120 x 120 x 27 mm / 4.72 x 4.72 x 1.06 inch
Noise Level: 4 ~ 24.9 dBA
Air Flow: 16.6 ~ 51.17 CFM / 28.2 ~ 86.93 m³/h
Fan Speed: 300 (±200 rpm) ~ 1200 rpm (±10%) (PWM-controlled)
Static Pressure: 0.75 ~ 10.3 Pa / 0.076 ~ 1.05 mmH²O
Bearing Type: Sealed Precision FDB
Voltage: 12V
MTTF: 120000 Hours (25°C)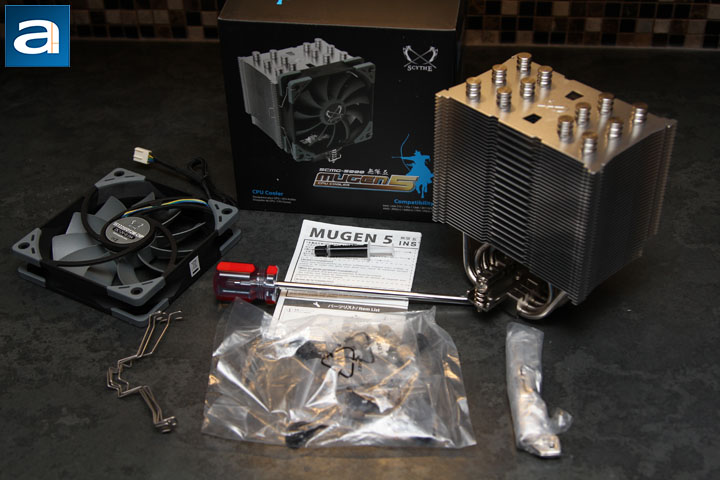 Upon opening the retail box, you will see the bulky heatsink protected by a piece of foam pad. I did not find any damage on the fins, meaning the protection of the foam pad is a big win. Aside from the heatsink, a Kaze Flex 120 PWM fan is another major component you can find in the container. The Scythe Mugen 5 is capable of taking two fans. If you want to mount two fans on the radiator, you have to buy your own. As for smaller accessories, they are all contained in a white cardboard box. A bunch of wire clips, tube of thermal paste, installation guide, mounting kits for both Intel and AMD sockets, and necessary hardware can be found in this cardboard box. It is worth noting a long-reach screw driver is also provided by Scythe. It is a very useful tool when installing the CPU cooler.
---
Page Index
1. Introduction, Packaging, Specifications
2.
Physical Look - Hardware; Installation
3.
Test Results
4.
Conclusion