By: Jonathan Kwan
May 3, 2019
"I would love to buy a house in Brentwood," I told my friend Derek as we were taking the light rail transit home one evening. "I am just missing six zeros in my bank account balance." What is so desirable about the neighborhood of Brentwood here in Calgary? It really comes down to a few major factors: It is close to the University of Calgary, it is in an excellent public school district, and it has a C-train station that takes only fifteen minutes to get downtown. What makes it so expensive, of course, are not the houses itself. Most of them are old shacks from the 1960's that are simply not worth much. As any real estate agent will tell you, it is location, location, location. Therefore, for those who want a great neighborhood but still want a new house, it is quite popular for people to knock down the old buildings and build a new house on top. This is why unless you have $1,000,000 and are willing to settle for a skinny house on a small plot of land, you are better off looking elsewhere. In many things in life, there are ideals and there are realities. Ideally, you will want to build a PC where you can store all your data on NVMe SSDs. In reality, it is simply going to cost too much even if it was physically possible. In real estate, if you want a big house for not a lot of money, you will have to live closer to the edge of the city. In the computer world, if you want a lot of storage for not a lot of money, hard drives still play a big role. Today, we will look at another massive hard drive from Seagate, the IronWolf Pro ST14000NE0008 14TB. Taking it up another 2TB since the last time we covered their latest and greatest, how will this model step up? Read on to find out!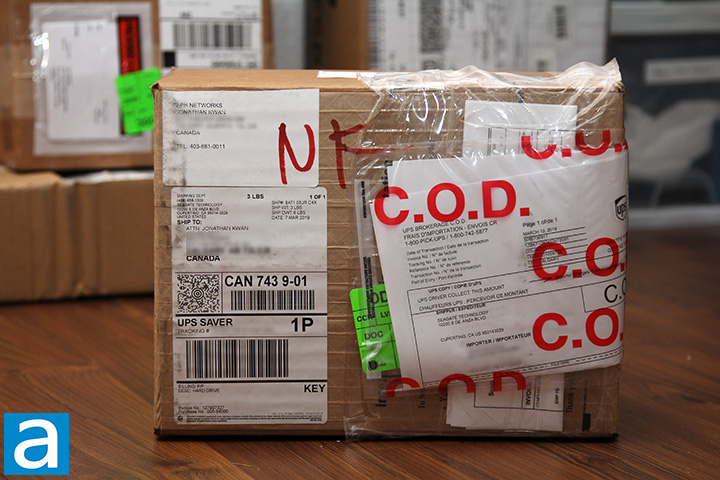 Our review unit of the Seagate IronWolf Pro ST14000NE0008 14TB arrived in a medium sized, brown corrugated cardboard box from the company's American headquarters in Cupertino, California, USA via MJR Print and Fulfillment, a local print shop. Seagate has always shipped to us with MJR Print and Fulfillment, and it was no exception this time. Using UPS Saver, the package arrived on our doorstep here in Calgary, Alberta, Canada in excellent condition for our review today.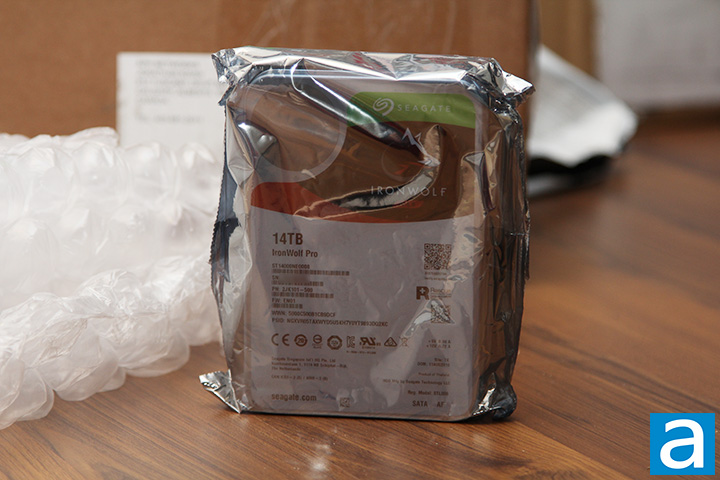 Although the Seagate IronWolf Pro ST14000NE0008 14TB only came in an OEM anti-static bag, there was a ton of bubble wrap inside to keep these OEM packaged drives safe and sound throughout the entire journey. When I say a lot, I really mean a lot. To ensure adequate protection for fragile, mechanical devices like these, they definitely went all the way. To be honest, I have never purchased a hard drive that is not in OEM packaging in the past, so experienced online shoppers will find this a relatively familiar sight.
Keeping this in mind, before we move on, let us take a look at the specifications of the Seagate IronWolf Pro ST14000NE0008 14TB, as obtained from the manufacturer's website:
Specifications
Standard Model Numbers: ST14000NE0008
Interface: SATA 6Gb/s
Features
Drive Bays Supported: Up to 24 Bays
Multi-User Technology (TB/yr): 300
Rotational Vibration (RV) Sensors: Yes
Hot-Plug Support: Yes
Cache (MB): 256
Reliability/Data Integrity
Mean Time Between Failures (MTBF, hours): 1,200,000
Reliability Rating @ Full 24×7 Operation (AFR): 0.73%
Nonrecoverable Read Errors per Bits Read, Max: 1 per 10E15
Power-On Hours per Year (24×7): 8,760
Sector Size (Bytes per Logical Sector): 512E
Rescue Services: Yes
Limited Warranty (years): 5
Performance
Spindle Speed (RPM): 7200
Interface Access Speed (Gb/s): 6.0, 3.0, 1.5
Max. Sustained Transfer Rate OD (MB/s): 250MB/s
Average Latency (ms): 4.16
Interface Ports: Single
Rotational Vibration @ 10-1500 Hz (rad/s): 12.5
Power Consumption
Startup Current, Typical (12V,A): 2
Idle Average, Average (W): 5.3
Average Operating Power (W): 7.9
Standby Mode (W): 0.8
Sleep Mode (W): 0.8
Power Supply Requirements: +12 V and +5 V
Environmental/Temperature
Operating (ambient, min °C): 5
Operating (drive case, max °C): 60
Nonoperating (ambient, min °C): -40
Nonoperating (ambient, max °C): 70
Environmental/Acoustics
Vibration, Nonoperating: 10Hz to 500Hz (Grms): 2.27
Idle (typical): 1.8bels
Seek (typical): 2.8bels
Environmental/Shock
Shock, Operating 2ms (Read/Write) (Gs): 70/40Gs
Shock, Nonoperating, 1ms and 2ms (Gs): 250
Physical
Height (mm/in): 26.11mm/1.028in
Width (mm/in, max): 101.85mm/4.01in
Depth (mm/in, max): 146.99mm/5.787in
Weight (g/lb, typical): 690g/1.521lb
Carton Unit Quantity: 20
Cartons per Pallet/Cartons per Layer: 40/8
---
Page Index
1. Introduction, Packaging, Specifications
2.
A Closer Look, Test System
3.
Benchmark: AIDA64 Disk Benchmark
4.
Benchmark: ATTO Disk Benchmark
5.
Benchmark: Crystal Disk Mark 3.0
6.
Benchmark: HD Tach 3.0.1.0
7.
Benchmark: HD Tune Pro 5.70
8.
Benchmark: PassMark PerformanceTest 9.0
9.
Benchmark: PCMark 7
10.
NAS Performance, Power Consumption
11.
Conclusion