By: Jonathan Kwan
March 25, 2006
Updated March 30, 2006
Flash drives are convenient. Flash drives offer decent speed. Flash drives are very common. Everyone has a flash drive. I have a flash drive, and you probably have a flash drive. Flash drive this, flash drive that. What's the problem with flash drives? Relatively low capacity at a relatively high price.
For this reason, we decided to look at a low cost mass storage device that comes in a decent capacity, fits in your pocket, as well as having no requirement for external power sources. Using a 1.8" micro hard drive that's found in many digital audio players such as the Creative Zen Micro, we'll be having a in-depth run over of the Seagate 5GB Pocket USB Hard Drive.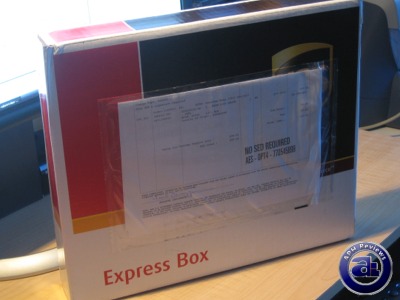 Our review unit came in an UPS Express box. Mmmmm UPS... favorite shipping company! (And hooray for not using DHL)
Anyway, here's the specifications and description of this product, taken from Seagate's website:
---
These elegant, palm-sized drives can fit in your pocket, yet they safely store large business files, music, photos, videos and more. You can even password-protect your files (Windows only).
* Sleek round shell absorbs shocks, so you never have to worry about your data.
* Powered by your computer, so you don't need a power supply.
* Built-in, retractable cable.
* Hot-pluggable USB 2.0 interface enables data transfer up to 480 Mbps.
* 3600-RPM drives with 2-Mbyte cache consistently deliver the high performance you need.
* Worry-free one-year warranty, plus free technical advice even after your warranty ends.
* Complete with quick connect guide and utilities CD.
---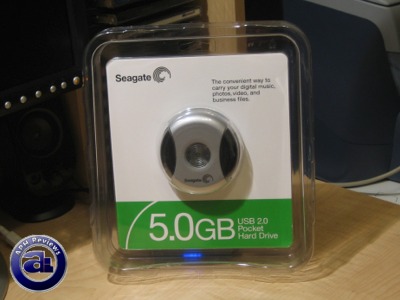 Inside the UPS Express box is a Seagate 5GB Pocket USB Hard Drive in retail packaging. Opening the package is an easy job, everything just slips open without any ripping and/or tearing.
Out of the package, you'll receive a Seagate 5GB Pocket HDD (Although there is a 6GB variant, we'll just call it the Seagate 5GB Pocket HDD in this review). Also included are a quick setup guide and a driver/software CD. The Seagate Toolkit which is located on the CD is also on our Pocket HDD as well.
Why are the same files duplicated? As far as I know, Windows 98 users would needs to install drivers in order to use and access data on universal mass storage devices. The drivers can be downloaded from Seagate's website, but in a case of an internet-free home, using the drivers on the CD is about the only way to get this drive started and running.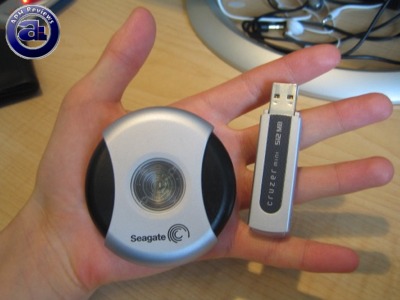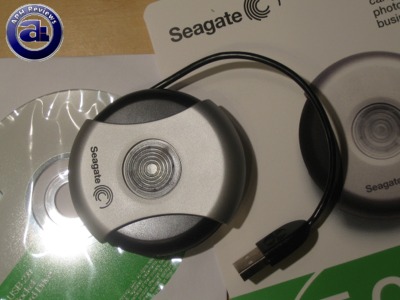 At the size of a small hockey puck, the Seagate 5GB Pocket HDD fits both nicely in the palm of my hands as well as my pocket without adding any extra bulge. The weight is also very reasonable, it's a definite fact that it's lighter that my Zen Micro 5GB. Interestingly and cleverly designed, you can expose the USB cable and connector by turning the black part of the Pocket HDD in left or right rotary motion. Rotate it again to roll up the USB cable; a little click is heard when the USB-cable-roll-up-mechanism-thing is locked in place. There is also a convenient little 'cage' to hold the USB connector in its place. The USB connector 'cage' prevents the connector from getting loose and flying around when the drive is stored away in your pocket.
The disadvantage of this design? While it keeps the USB cable and connector out of sight, it adds around 2 cm to the width of this device. However, having no caps to take care of (And lose) is a definite advantage.
At the bottom of this Pocket HDD are two strips of rubber grip. The rubber grips prevent it from slipping off your desk or surface, which it may be sitting on at a particular situation.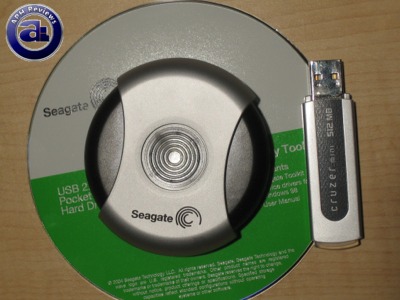 A quick size comparison between a CD, Sandisk Cruzer Mini 512MB and Seagate 5GB Pocket HDD. Due to the fact that the Seagate Pocket HDD is a hard drive, there's no way it can match the physical size of a flash drive. Amount of capacity that it offers seems like a good way of compensation, and it's not that big when compared to a CD. Like I said before, it's around the size of a small hockey puck.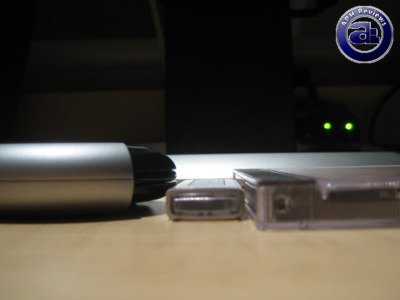 Thickness comparison. The Seagate 5GB HDD is twice as thick as a standard, full-height CD jewel case and nearly three times as thick as the Cruzer Mini. Interesting enough, it's exactly the same height as my Zen Micro (Not in the picture) which has a battery at the bottom and a touchpad at the top to contribute to the overall thickness. Did I mention that it uses the same hard drive in there?
However, if you look carefully, the way that the Seagate 5GB Pocket HDD implemented the USB cable and connector adds to the overall thickness of this device. You'll understand if you look carefully at the above photos, the Pocket HDD has an axle-like implementation at the center, which requires "something" to hold the axle in place -- and this "something" contributes to the overall thickness (It's not really an axle. It does not go through the device). In addition to that, the two rubber grips at the bottom gives its share as well.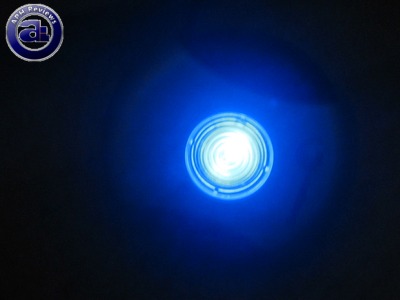 The rotary center of the Seagate 5GB Pocket HDD at the top also serves as an activity LED. Unlike the Cruzer Mini's activity LED which is lit all the time and blinks when there's disk activity, the Pocket HDD lights up only when there's activity (That's why the photo above was very hard to capture, at least for a decent shot). This implementation is similar to the HDD activity LED on your computer -- but this way it's hard to know if it's turned on or not. I would prefer the way the LED works on the Cruzer Mini; always lit and blinks during disk activity.
The LED is very large and one of the brightest I've seen; almost 2 cm diameter. The amount of light that the Pocket HDD emits is self-explanatory in the photo shown above.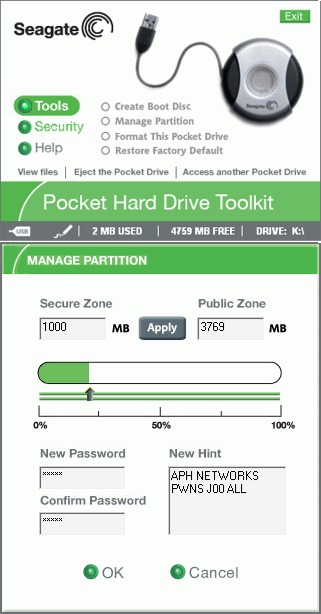 Just like any other USB mass storage device, once you plug the Seagate 5GB Pocket HDD in, your computer will detect it and automatically install the appropriate drivers -- of course, assuming that you are on Windows 2000 or later. You can see this drive in "My Computer" under Devices with Removable Storage, with an interesting and creative icon (an icon that looks just like the drive! How... uhh, cute!?).
The included software is clean, simple, lightweight and easy to use. It does occupy a spot in your system tray; fortunately you can disable it from running when Windows starts. Within Seagate Toolkit you can:
- Create a boot disk (If your system supports booting from USB)
- Managing partitions (As shown as the screenshot above)
- Formatting the drive
- Restoring to factory default
- Login to your secure partition as well as changing your password
- Enable or disable write protect on this drive
Repartitioning the Seagate Pocket HDD with the included software will cause you to lose data, so make sure you partition your drive appropriately before copying your files in to save some time. Having a password protected partition as well as a public partition is a great idea.
If the Seagate 5GB Pocket HDD is under load, it will generate a fair amount of heat. A very insignificant amount of heat will be generated while it's idling.
---
As a style of all APH reviews, we keep our reviews detailed and straight to the point without over-analyzing or providing unnecessary details. Let's dig into the
real-life
performance of this drive -- but due to numerous reader requests we also included HDTach results against the Cruzer Mini 512MB.
For benchmarking, we created a test folder to be used to calculate the performance of the drives. Our test folder contains thirty additional folders inside. Inside the folders are a 515 files, consisting of EXE, INI, DAT, BIN, DLL, ZIP, JPG, AVI and more. The total combined file size is 399 MB (418,666,235 bytes).
We also created a single 399 MB file (418,666,235 bytes) by adding the 515 files and 30 folders listed above to an uncompressed ZIP file for single file performance.
My Test System
No really. Don't laugh. I know it sucks, but I can't afford anything better at the moment. Don't complain unless you want to donate me something!
- AMD Athlon 64 3000+ S754 Newcastle @ 2.00GHz (Stock)
- Corsair 2x512MB RAM (Single channel) @ DDR400, 2.5-3-3-8 latencies
- Asus K8V-X
- Western Digital 80GB 7200RPM 8MB (Four partitions - FAT32 file system)
- Pioneer DVR-108 Multiformat DVD Burner
- Liteon 16X DVD
- ATI All-In-Wonder 9800 Pro
- Creative Sound Blaster Audigy 2
- OCZ Modstream 450W
- Coolermaster Cavalier 1
Reference Devices
All reference devices use their default file system, to obtain the most accurate "real life, right out of the box" performance.
- Sandisk Cruzer Mini 512MB (FAT)
- Bytecc PG-35U2 Enclosure + Seagate PATA 160GB 7200RPM 2MB HDD (NTFS)
- Seagate 5GB USB Pocket Hard Drive (FAT32)
Write means copying from the test file from our test system to the device.
Copy means to copy the file from the reference device to our test system.
Move means to move the file from the reference device to our test system.
The first series of tests is 515 files of write/copy/move. The total combined file size is 399 MB and contains a variety of different files, as mentioned earlier.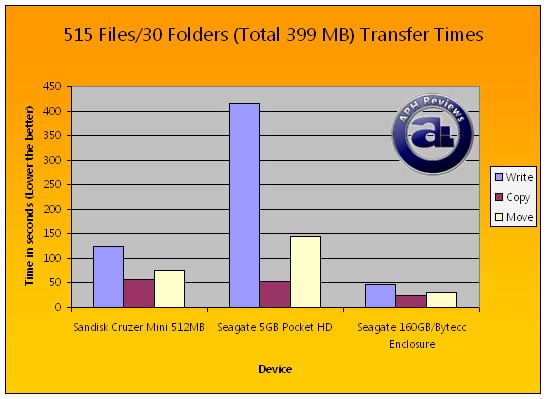 Transfer times - LOWER the better.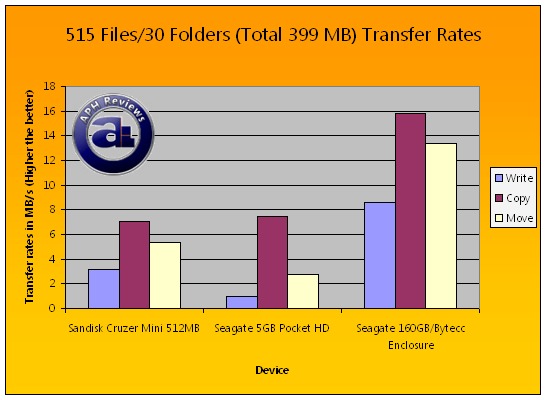 Transfer rates - HIGHER the better.
In this multiple file write test, the Cruzer Mini 512MB provided decent performance, but the Bytecc performed approximately twice as fast as the Sandisk flash drive in all tests. For the Seagate 5GB Pocket HDD, it suffered horribly in the write test, taking 415.88 seconds or 0.96MB/s -- nearly seven minutes to complete this task. Surprisingly, the Seagate 5GB Pocket HDD performed better than the Cruzer Mini in the file copy test by 3 seconds -- pulling a 7.49 MB/s while the Cruzer Mini transferred data at 7.09 MB/s.
Moving onto our single file test of write/copy/move. The file is a single ZIP file with no compression, containing the same 399 MB files in the previous benchmark test. Since it's not compressed, the total file size is exactly the same as the test folder above.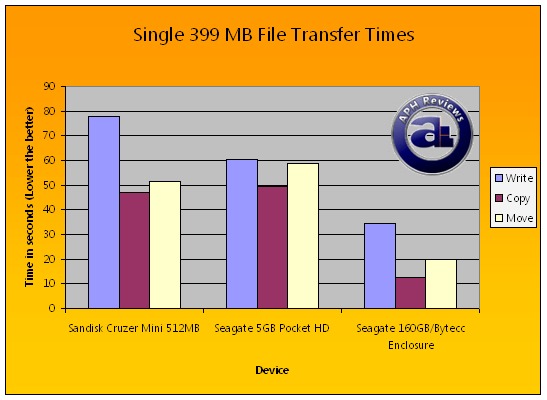 Transfer times - LOWER the better.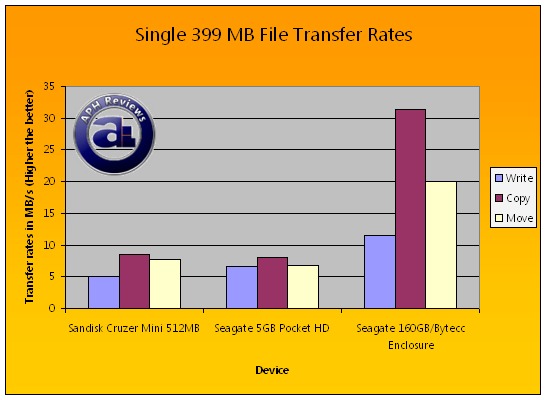 Transfer rates - HIGHER the better.
In our single file tests, it's no surprise that the Bytecc enclosure with a Seagate 160GB 7200RPM hard drive is by far the fastest. However, the Seagate 5GB Pocket HDD's performance is very close to the Cruzer Mini. In fact, the 3600RPM Seagate actually jumped in front of the Cruzer Mini on the write test -- completing the task in 60.27 seconds; chomping down the 399 MB file off at 6.62 MB/s while the Cruzer Mini finished copying in 77.92 seconds (5.12 MB/s). The copy and move tests results for these two devices are pretty close as well. The Pocket HDD copied at 8.07 MB/s and moved our test file at 6.77 MB/s, when compared to the Cruzer Mini's copy transfer rate of 8.47 MB/s and moved our test file at 7.74 MB/s. Remember, the Cruzer Mini is a flash drive with no moving parts while the Seagate 5GB Pocket HDD spins at only 3600RPM with 2MB cache. If you wonder about the external hard drive enclosure with an 160GB 7200RPM drive, it wrote at 11.54 MB/s, copied at a very impressive 31.42 MB/s and moved the 399 MB file at 20.07 MB/s.
UPDATE: Due to numerous requests, we now included HDTach results of this drive against the Sandisk Cruzer Mini 512MB. Special thanks to Simpli Software for providing us with a copy of their software.
In HDTach, the Seagate 5GB Pocket HDD has much higher burst speeds, but the Cruzer Mini has a much more consistent sequential read speed. The pocket HDD's random access time according to HDTach is 55.8ms while the Cruzer Mini achieved a fairly decent 11.8ms. You can view the rest of the results by clicking on the image above.
---
These results were no doubt interesting... err, impressive as well. I am honestly pretty surprised in the series of single file write/copy/move test that the Seagate 5GB Pocket HDD came pretty close and even beating the Cruzer Mini 512MB in the write test. I must highlight that the Cruzer Mini is a flash drive with absolutely no moving parts. However, in the 399 MB/515 Files/30 Folders write test, this device really suffered horribly when the results indicate its 0.96 MB/s write speed. The good news is, that's about the only major disadvantage of this drive when compared to the Cruzer Mini. If you are for some really cheap, really fast mass backup device and have no concern about portability, then get an enclosure -- but that's not the point of this review =P
I decided to check out Seagate's technical support as well. They don't have a 24/7/365 call center, but they do offer international toll free dialling. I called the toll free number labelled as "Americas" (1-877-271-3285) and spoke to a representative.
After around two minutes of wait time a representative picked up the phone. Pretty much an average for tech support guy (Nothing too friendly, but wasn't rude either) He asked me for my product number and serial number even before I explained my problem. Anyway, I explained my series of "problems" which I planned and simulated ahead of time. He was quick and pretty helpful and solved all of my problems within a few minutes.
Oh yeah. Looking at Seagate's address, I found something interesting.
920 Disc Drive
Scotts Valley, CA 95066
Haha a drive (Road) called Disc, Disc Drive! Get it? What a suitable address for a hard drive manufacturer! How creative, and what a nice pun!
The Seagate 5GB Pocket USB Hard Drive is a great product. Creative and with great design, as well as an option for a secure partition. Included software does its job well, but does not allow non-destructive partitioning. Performance is decent and almost as good as the Cruzer Mini overall, but performance seriously suffers when copying a large quantity of small files. Would have been better if the indicator LED stays on when plugged in, and blinks when there's disk activity instead of the other way around. Overall, this is an excellent product, creating a good balance between capacity, performance and price. Support is good and the person I dealt with was helpful and able to solve my problems quickly. Cool and very 1337 company address. (Oh wait... did I just put this as part of the final words? It's stuck in my head!)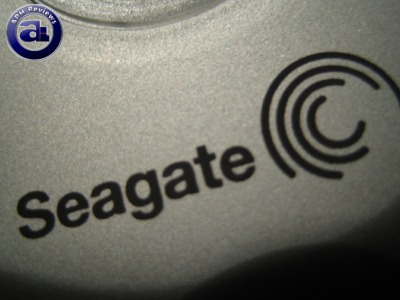 Special thanks to Colleen over at Seagate for making this review possible.
Note: The number ratings below has been adjusted accordingly to comply with our new Number Rating System.
Rating: 6.5/10
What do these ratings mean?
Nice design and allows secure partitions. Good balance between capacity and price. Performance suffers when writing lots of small files, but the speed is still decent on all our other tests.