By: Jonathan Kwan
August 23, 2006
Although the Seasonic PowerAngel is definitely not a new product since its debut back in 2004, I still find it a pretty interesting product to look at lately. With power companies charging higher prices for each kilowatt of electricity than ever before, ever wondered how much power electronics in your house uses? Or maybe you are just curious about the amount of electricity the vacuum cleaners use so you can make excuses about not vacuuming your house that often...
Anyway, today we'll be looking at the PowerAngel from Seasonic; this product's primary purpose is to check how much electricity for virtually any device that plug into your wall outlet use. Let's move on to our review today.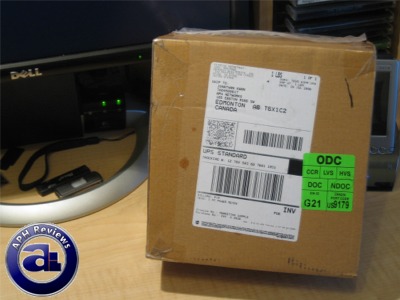 Our review unit came using UPS in a small box from USA. For the first time, I was actually at home when UPS delivered parcels to me -- and it's pretty interesting how they did it. Basically, the UPS driver brings the package to my door, leaves it there, rings the doorbell, and leaves instantly without checking if anyone is actually home. By the time I went downstairs to check who rang my doorbell, I saw a package at my door with the UPS driver in the delivery truck already.
And it was a really rainy day too, with wind heading straight for my front door, bringing rain directly at the package as well. If I wasn't home, leaving my package out there for a few hours will get it really soaked up. Not good. (See the package in the photo above? It's still wet, and it's only been outside for less than a minute.)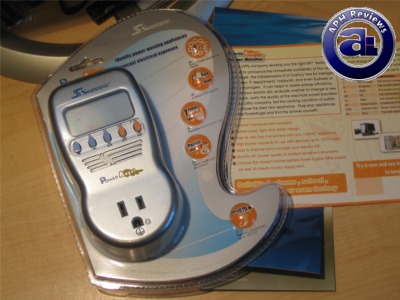 Our Seasonic PowerAngel arrived in a retail blister pack, creatively shaped like a wing (Get it? An angel). Features and information are located all over the package.
Before we begin, let's check its specifications, taken from Seasonic's website:
Dimensions: 133.6(L) x 70.0(W) x 39.6(H) mm
Weight: 130g /4.06oz
Approvals: ETL for US and Canada
Operation Voltage: 115V 50/60 Hz
Max. Current: 15A
Max. Power: 1875VA
Accuracy: 2%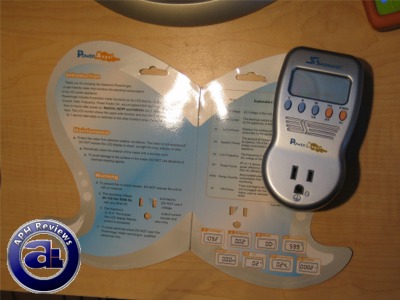 Out of the package, you will get the Seasonic PowerAngel and the half-wing-shaped manual, which can be opened up to make it a full angel-shaped manual along with additional information inside. The Seasonic PowerAngel utilizes a single three-pronged outlet, which passes through into the three-pronged outlet on the device itself.
Although Seasonic claims that the PowerAngel is 'pocket-sized', most people will think otherwise. At 133.6 mm x 70.0 mm x 39.6 mm, it is not exactly small. In addition to that, three prongs stick out of the bottom that cannot be temporarily hidden at any time. Physical design may not appeal to everyone; but on the other hand, it is not something you will bring around all the time to 'show off'.
However, one biggest problem I have is that it is almost impossible to use the Seasonic PowerAngel with a power bar, due to its design and physical size. Therefore, if you want to check power usage of your computer, you probably will need to unplug your computer from the surge protector and plug it into a wall outlet through Seasonic's PowerAngel.
Another thing I noticed is that the body is very easy to get scratched.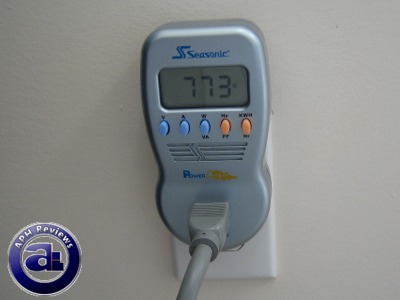 Five buttons sits underneath Seasonic PowerAngel's decently sized LCD screen, which allows you to switch between its one of eight display functions. Several buttons can be pressed twice to activate its secondary function, therefore the Seasonic PowerAngel does not have eight physical buttons.
Seasonic PowerAngel's LCD screen can display the following information:
| | | | | |
| --- | --- | --- | --- | --- |
| | Item | Explanation | Range | Accuracy |
| V | RMS Voltage | AC Voltage | 85.0-125.0 Vrms | Within 1% |
| A | RMS Current | Electrical current used in amperes | 0.00-1500Arms | Within 1% |
| W | Active Power | Working power used by appliance | 0-1875 Watts | Within 2% |
| VA | Apparent Power | Voltage*Amperes (Total energy consumed by appliance) | 0.-1875 VA | Within 2% |
| Hz | Line Frequency | Frequency of AC voltage | 47.0-63.0 Hz | Within 0.1 Hz |
| PF | Power Factor | 1.0 shows 100% AC power efficiency; 0.5 shows 50%, and so on | 0.00-1.00 | Watt/VA |
| KWH | Energy Quantity | Accumulated power consumption from monitoring start | 0.00-9999 KWH | -- |
| Hr | Hour | Timer that begins when unit is plugged in to calculate kilowatt-hour | 00:00-9999 | -- |
It's a lot of fun to play around with the Seasonic PowerAngel, and a large temptation to check how much electricity individual items use. For example, my Minolta color laser printer uses over 700W of power when it starts up. Interestingly, a computer with AMD Athlon 64 3000+, 2x512MB of Corsair RAM, 120GB Seagate hard drive, dual 6600GT in SLI on Asus A8N-SLI Premium using an Antec 450W SmartPower PSU draws less than 180W of power under medium load. Did I mention that includes a 17" LG LCD monitor?
Anyway, for all those wondering, I got an Aerus Superlux central vacuum system installed in my house. The powerhead itself uses 110W of power. That does not included the big 'thing' that sits in my garage that vacuums and store all the dust. Now maybe we got good excuses not to vacuum the house so much...
In terms of accuracy, I tested it against my other power testing equipments. It's nothing too advanced or professional (You can pick these up at local hardware or electronics stores) and the Seasonic PowerAngel stays within 1-2% difference with my other equipment. This is pretty accurate and shouldn't be too far off from the actual power consumption that the unit is plugged into. One thing I noticed, however, is after a piece of equipment has been plugged into the PowerAngel and then removed, the PowerAngel will still show 0.01A to 0.03A and 1W of power usage with nothing plugged in at all.
Overall, the Seasonic PowerAngel is very easy to use, capable of quickly and accurately checking power usage. The LCD screen displays multiple pieces of information in relation to power usage of the equipment(s) plugged in. However, Seasonic PowerAngel's aesthetics definitely has room for improvement. While being a very useful product, the practicality of this product is debatable and it is likely that it appeals enthusiasts more than the general consumer.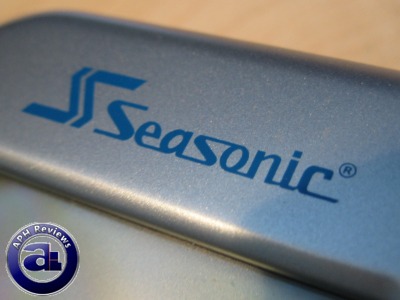 Special thanks to Nathan and Celia over at Seasonic for making this review possible.
Note: The number ratings below has been adjusted accordingly to comply with our new Number Rating System.
Rating: 7.5/10
What do these ratings mean?
Interesting and useful product, but may not be practical to everyone and physical design has room for improvement.