Written By: Devin Chollak
Tested By: Preston Yuen
April 21, 2011
When you think of something hard and blue, what comes to mind? I wouldn't believe it if you said a computer chassis, but for the sake of this review, that is definitely what came to my mind. The part that always gets to me with computer cases is you never really know when you should replace one. Generally, it never wears out; the fans might, but those are cheap repairs. Due to the nature of it being made from steel (In many situations), it is also fairly durable. I guess one could argue that they need to upgrade to a larger case to put more components in, or they want a new look and feel for their computer. Nevertheless, computer chassis are a tricky one, because you can never really measure the case itself objectively, other than its physical dimensions, of course. It heavily depends on your personal preference. Are you looking for more room, better cooling, new look, or is it just some box to put your computer components into? I find that it is one of the most important aesthetic components to any computer, because the case can be individualized to a person; whereas, many of the internal components are not very aesthetically customizable. The Sentey Arvina GS-6400B is an interesting case -- this blue variant of the GS-6400 chassis has a nice sleek dark blue look, and comes with many notable features. Now, I'm not going to spoil the fun of telling you which exact features yet, as you will have to read on to find out all those juicy details!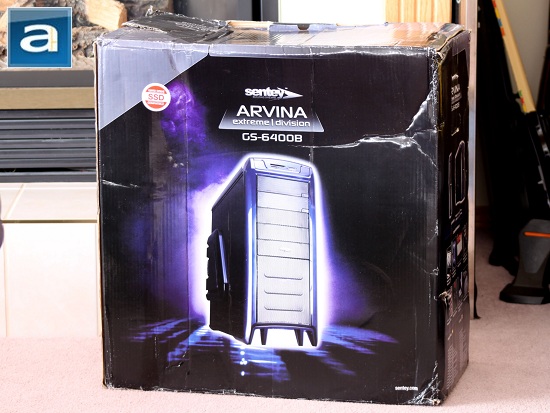 The Sentey Arvina GS-6400B came to our offices safely here in Calgary, but has taken a reasonable amount of beating along the way. Coming from Florida, USA via UPS Standard is a fairly long trip. Rest assured this beating was nothing to the Arvina; a clear sign of some well thought out packaging. The box itself is visually appealing, going for a simple clean design, instead of imitating a fictitious figure or object. The box itself has a listing of the specifications in two languages, and of course a basic overview of the key features. Here is a copy of the information provided from the manufacturer's website:
Specifications
- Case Type: High Tower
- Material: Steel SECC Chassis 1mm
- Front Material: Plastic
- External Color: Black and Blue
- Side Panel: Solid Side Panel
- Motherboard: E-ATX - ATX, Micro ATX
- Screw Motherboard: Bronze
- Drive Bays (5.25"): 5
- Drive Bays (Ext. 3.5"): No
- Drive Bays (Int. 3.5"): 5
- Expansion Slots: 7
- Chassis Color: Black
- USB Ports: 4 x Usb 2.0
- Audio/Mic Ports: Yes
- E-Sata Ports: 1 E-Sata Ports
- Native Sata: Yes
- Card Reader: Read CF/MD, XD, SD/MMC, TF y MS/M2
- Thumbscrews: Yes
- Side Cooler: 2x 80 mm Blue Led Fan
- Front Cooler: 1x 140 mm Blue Led Fan
- Rear Cooler: 1 x 120 mm Blue Led Fan
- Top Cooler: 2 x 120 mm Blue Led Fan
- Watercooling Support: Yes
- Power Supply: No
- Power Supply Mounts: Bottom rear of the case
- Hidden Cables: Yes
- Dimension (LxWxH): 21.65" x 8.43" x 20.47"
- Accessories: 8 screw FDD; 25 screw HDD y Motherboard; 8 screw HDD cage; 12 screw OCC; 5 screw support Motherboard
- Net Weight: 12.5 kg (27.56 lbs)
- Gross Weight: 13 kg (28.66 lbs)
- Warranty: 1 year limited (for Parts and Labor)
Features
- Support Motherboard E-ATX (33cm x 30cm)
- 6 Cooling Fans included
- 1 mm Steel SECC Chassis
- Mesh Front Panel
- Card Reader + 4 Usb + E-Sata + Native Sata
- Easy SATA drive connection without enclosures
- 21.65 (L) x 8.43 (W) x 20.47 (H)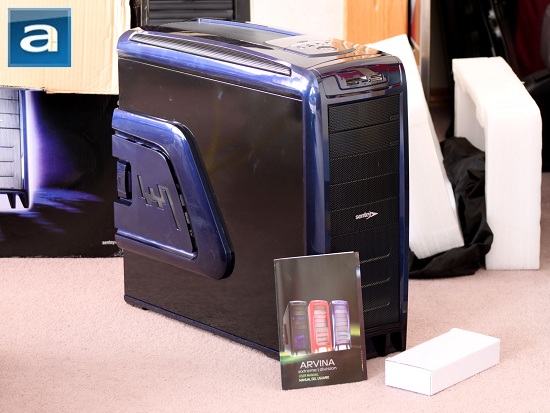 Well, those specifications are just oozing with information to satisfy your taste buds. Now, back to the computer chassis, considering the amount of damage to the packaging box, I was slightly worried. After pulling it out of the box, the case was still undamaged, thanks to some well thought-out padding made from Styrofoam. At first, I thought the box had lied to me about it being blue, as I thought I was seeing black instead. Once I put it under some decent lighting it was clearly a dark blue, but in a dim room, it would appear to be black instead of a metallic blue. It reminds me of a dark blue car; very sleek and nice but with a brilliant metallic finish. Let's go take a closer look at the Sentey Arvina GS-6400B!
---
Page Index
1. Introduction, Packaging, Specifications
2.
Physical Look - Outside
3.
Physical Look - Inside
4.
Installation and Conclusion