By: Aaron Lai
January 24, 2020
There is a pretty famous quote that says, "What happens in Vegas, stays in Vegas". Turns out this was a slogan created by an advertising agency to promote their tourism and other less-celebrated industries in Sin City. Anyway, I was talking to my friend about what happened when APH Networks went to CES back in 2016 and he asked me what I did there. I was going to respond with the witty line, but for some reason, my mind and my fingers were not in sync, and I typed out "When in Vegas, do as the vegans do" and sent it. I paused for a second, as so did my friend, and burst out in laughter at the wrong line. This is not to say we did anything less than savory in Vegas, I really just meant to say that I jokingly did not remember all the CES events that happened and thus made a reference to not say. Despite the difference in words and a strange merge with the "When in Rome, do as the Romans do" line, it strangely got the same message off, at least in the context we were speaking about. I guess sometimes you can get the same meaning across despite using completely different words. Also, back in 2016 I reviewed the SilverStone ARM23BS, a dual-monitor stand meant for those who want to replace their two stands with a single, sturdy one. Now our review today is of a dual-monitor gas-powered arm that mounts to the tabletop. This is still a mount that has the same job and purpose and even comes from the same lineup from SilverStone. However, what does a gas-powered arm bring to the table that my old stand did not? We could just monitor the situation but we can also find out, so let us proceed.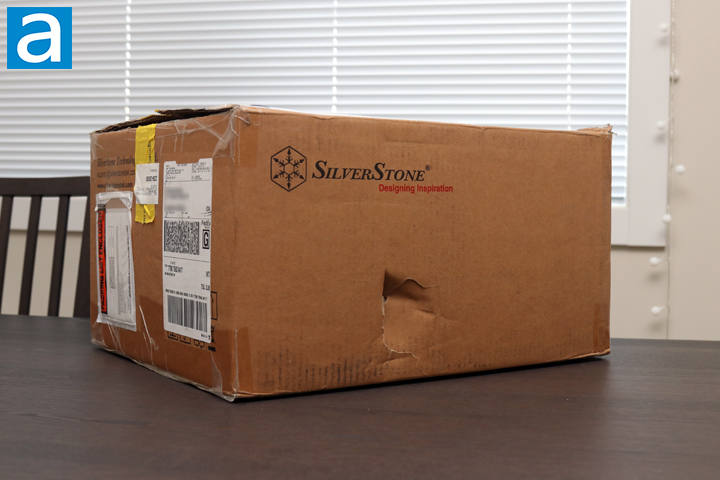 Today's review unit of the SilverStone ARM21 arrived from SilverStone's American offices in Chino, California. Traveling via FedEx and their Ground service, this SilverStone-branded box arrived in a bit of an unfortunate condition. There was one large hole in the side pictured above and some of the edges looked a bit more roughed up than normal. The whole condition of the parcel probably raised some red flags for Canadian Border Services Agency, as the yellow tape also indicates they took a peek in this package. Inside, they would have found the SilverStone ARM21 as well as some foam pieces to cushion any blows this box might have received during shipment.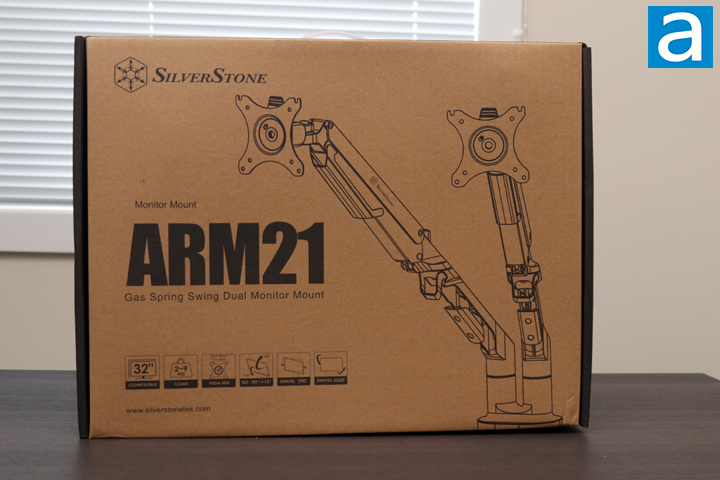 Out of the shipping container, you can see the SilverStone ARM21 in its retail package. This is in a brown corrugated cardboard box with a plastic handle at the top for easier transport. The front shows off the two arms fully extended, albeit scaled down. The company name and logo can be found on the top left corner with the product name found underneath. A description of "Gas Spring Swing Dual Monitor Mount" describes the product inside in a concise manner. Other major features can be found underneath, like the fact each arm can carry up to 32" screens with a load of two to nine kilograms, using 75mm and 100mm VESA mounting sizes, and offering tilt, swivel, and rotation adjustments. The back shows off more specifications so buyers can get a better detail of the product inside.
Before we continue on, I have grabbed the specifications for your viewing pleasure:
Model No.: SST-ARM21B
Color: Black
Material: Aluminum & steel
Support flat panel size: 17" ~ 32"
Swivel: ±90°
Tilt: +90° / -15°
Loading: 2 kg ~ 9 kg (4.4 lbs. ~ 19.8 lbs.)
Rotate(Pivot): 360°
Extended arm provided: 2
Installation: Clamp / grommet approach
VESA mount: 100 mm x 100 mm / 75 mm x 75 mm
Desk thickness support: ≦100mm
Net weight: 4 Kg (8.8 Ibs)
Dimension: 600mm (W) x 551mm (H) x 94mm (D); 23.62" (W) x 21.69" (H) x 3.7" (D)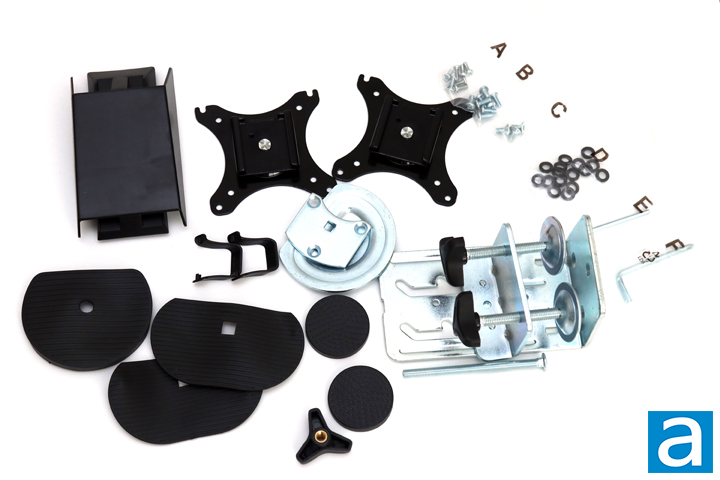 Out of the box, there are a lot of different parts and accessories to the SilverStone ARM21. SilverStone has packed this monitor mounting system really well, as everything is found in a cardboard carton and in their own plastic bag or wrap. The two arms are also wrapped with some foam and warning stickers as they are packaged in their compressed form and will spring out when you unpack and release the band holding them in place. Otherwise, these parts include a cable management bracket, two VESA brackets, two cable management clips, a whole lot of rubber pads to cushion the clamps, several metal brackets for two different mounting options, screws, washers, and two Allen key-screwdrivers. I do like that SilverStone has split all the smaller parts into a divided plastic bag and marked by letters for easy identification during installation. A separate manual is also included to help users with installation, which can also be found on SilverStone's website if you lose it. For your information, SilverStone provides a single year of warranty for the ARM21.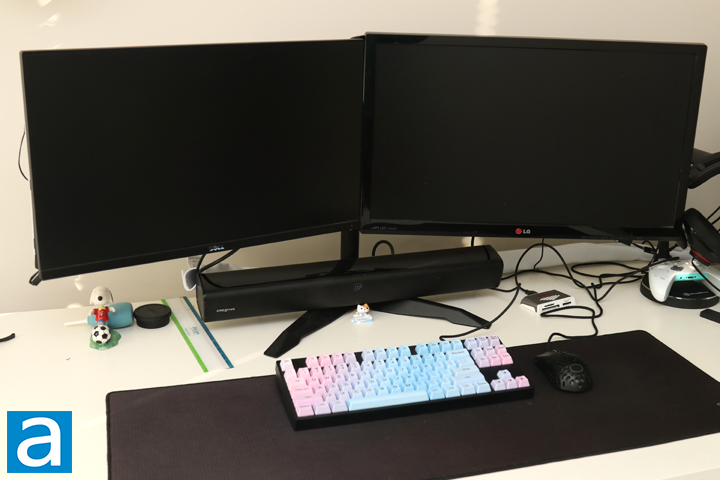 Before we do begin, above is an image of what my current setup looks like. As you can see, I have a Dell UltraSharp U2414H on the left side and a LG 24EA53 on the right, all mounted to a single ARM23BS. I have been using this for just over three years now and it has been a very sturdy solution. However, there are a couple of things that I would want to be able to do with my monitors that I cannot do. For one, my Creative Stage does not sit flat because of the large sloped feet on the mount. The legs of this stand also protrude out and means if I wanted the soundbar to sit on my table, it would be too far forward. Secondly, I cannot adjust each screen individually in terms of height, as this is just a limitation of the mounting mechanism. One concession I should make is that this is a hollow particle board table, which generally cannot handle high forces at a single point. As such, I have separately purchased a shelving unit and sheet metal to spread out the clamping pressure.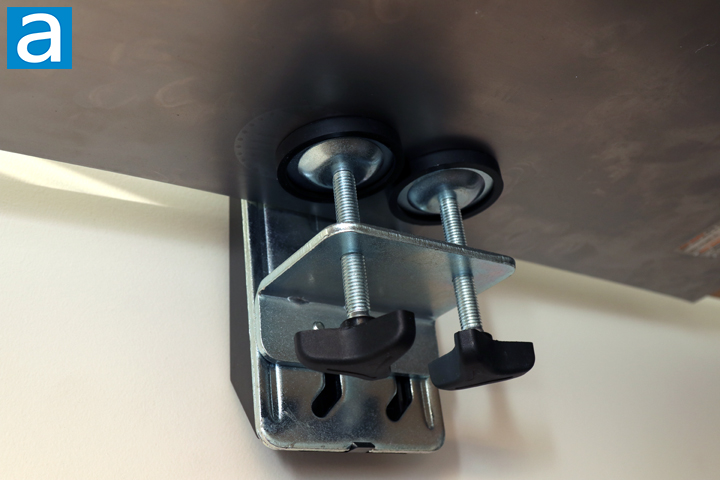 Starting with the table clamping mechanism, I have used the option of the larger metal clamp. The alternative mounting mechanism is called the grommet method and has an even smaller surface area, but is used if you have a hole in the table to mount through. You will need to start by first picking one of three thickness options on the clamp. This bracket should work with desks between 20mm and 100mm of thickness. Once you have selected a thickness, secure the two screws at the back with the smaller Allen key. Afterwards, attach the metal clamp to the monitor arms and add the rubber pads to both the circular metal points at the bottom and the larger surface on the top. Finally, tighten the clamp to the desk and attach the plastic cabling router at the back. Due to this protrusion, I would make sure you can easily access the back of the desk and move it away from the back of the wall. You can also see the steel sheet I have used at the bottom here. Even so, I am glad they included these rubber pads, as metal clamps on a wood desk could leave scratches.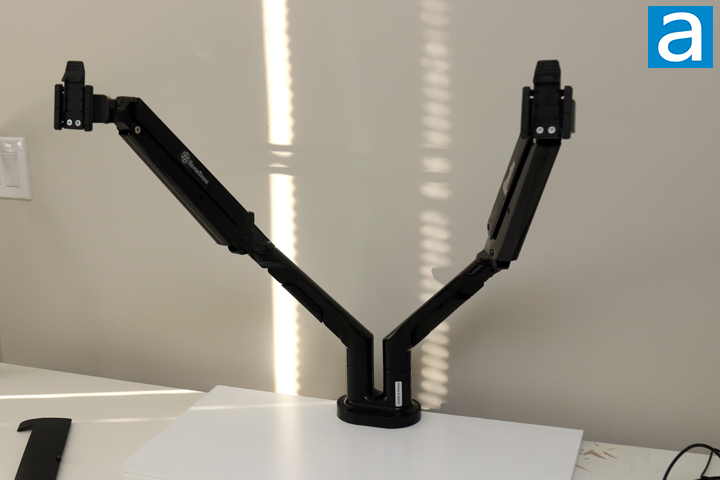 As for the arms, SilverStone has kept the ARM21's design pretty standard. Majority of the external parts are finished with a glossy black finish. Some SilverStone logos can be found on the top arms for a nice accent. One thing I have to remark is the fact these arms feel incredibly strong. The aluminum and steel-constructed frame allows the SilverStone ARM21 to stay standing up, even when stretched wide and tall. According to SilverStone, this measures up to 551mm in height, 600mm in width, and 94mm in depth. One thing I will say, however, is that there is definitely quite a bit of depth, if not adjusted correctly. I ended up turning the back of the arms around so that they would be further back on my desk and still fit two 24" screens beside each other. This meant I needed to move my desk even further away from the wall so that the arms would not hit the wall. The two arms weigh 4kg on their own plus any additional weight when you mount the monitors. I would ensure your desk can withstand these loads.
One thing that is really great about these arms is the fact SilverStone has added integrated cable management valleys directly on the arms. The first part of this is a plastic clip-on cover near the monitor. I accidentally cracked one of these by pressing too hard during installation, so I would recommend removing them until after you mount the monitors and start plugging them in. Secondly, they have integrated another plastic valley further down the arm, providing another area for you to route your cables. As you have already seen, they also have a plastic enclosure cabling route at the base of the clamp for more ways to clean up the clutter. While it may mean you need slightly longer cables to actually use all of these valleys, SilverStone has definitely thought of all the ways you can tidy it. These valleys should be able to fit the typical cables at the back like a DisplayPort or HDMI and power, though I had a bit of difficulty routing one cable because it was too thick.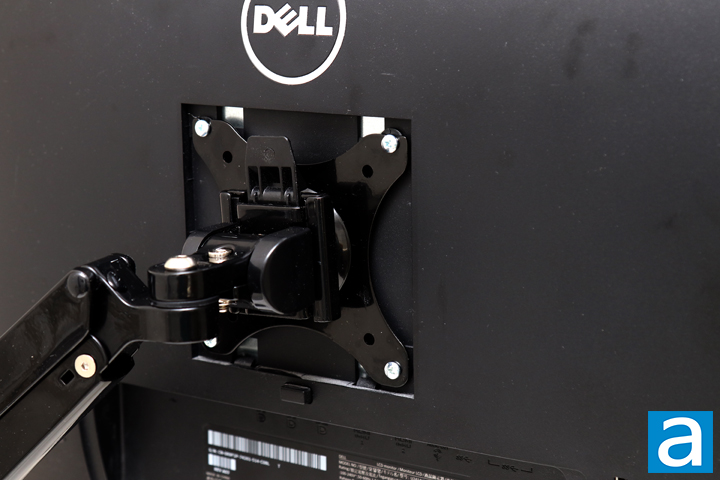 The first thing you should have checked before looking at any sort of mounting solution are the VESA sizing on your monitors. This is the most typical way to affix your screen and they need to be either 75mm or 100mm sizes to work with the SilverStone ARM21. These are standardized sizing numbers based on the screen's size and weight. Both of mine use the 100mm size. After attaching the mounts and screwing them in, you can then slide the whole thing into the clamp, which is secured by a large plastic tab. Overall, this mechanism works well to hold the two monitors. Otherwise, from this angle you can see all the triple axis of adjustments you can make to your screens, including tilt, swivel, and rotate. This ranges from fifteen degrees forward to ninety degrees back on tilt, 180 degrees of swivel, and 360 degrees of rotation. I am super happy to see individual monitor adjustments for each side, which is something my previous solution could not provide. Overall, the installation for the SilverStone ARM21 was straightforward and the included manual provides straightforward instructions when installing it. The marked bags for each tool or part also helps in this regard.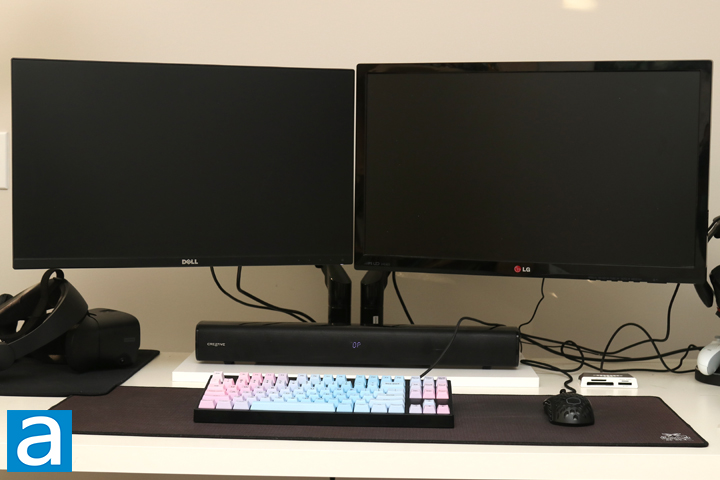 Finally, to get the optimal viewing height, you can use the included Allen key to adjust for a heavier or lighter monitor. This changes the gas spring tension for the different weight. As we mentioned, each arm can carry up to 9kg in weight and 32" in size. As you might expect, I lined up the screens so that the image would be the same height. As for my cables, some were a bit too short to fully take advantage of the cabling valleys. As well, you can see the shelving unit I used to mount the SilverStone ARM21 on top of. Since the ARM21 only takes up a small amount of space on the table surface, I also tucked my Creative Stage soundbar on this shelf. Otherwise, the other difference I noticed, but is not directly pictured here, is the fact the monitors are now much closer to my face than before. One thing SilverStone says not to do is to turn one arm around completely, as this is not the intended use case of the ARM21. All in all, using the SilverStone ARM21 in day-to-day situations is nice, as I can quickly make adjustments to the monitor, whether bringing it closer to my face or changing its height with ease.
-----------------------------------------
One way I could end this review is to say, "when dealing with mounts, do as the mountains do". This makes less sense in some ways, but it does highlight a few important points about the SilverStone ARM21. For one, its build quality is extremely sturdy and yet nice to look at. The full glossy black finish is clean and simple, while the overall construction is sturdy while not being too heavy. Furthermore, like a mountain, it can hold a lot. In the case of the ARM21, the capabilities of 9kg per side and up to 32" screens should mean it is able to hold most typical monitors, besides the ultra wide 21:9 options. Thankfully, my mountain analogy is less applicable when we look at other positive points, like how flexible the ARM21 is at allowing for per-monitor adjustments in height, tilt, rotation, and swivel. The gas spring movement is also smooth and easy to adjust in day-to-day use. The installation process was also pretty straightforward and took a relatively short time to get everything in place. If there really is anything for improvement, it would be to potentially increase the space for routing cables. For the most part, this is still implemented quite well, but I would have liked to see some slightly larger valleys and gaps to fit slightly thicker cables. Even so, it is hard to beat the SilverStone ARM21 for its durability and flexibility. At press time, the ARM21 is available for $125 USD, which is pretty competitive and even undercuts some previous SilverStone offerings.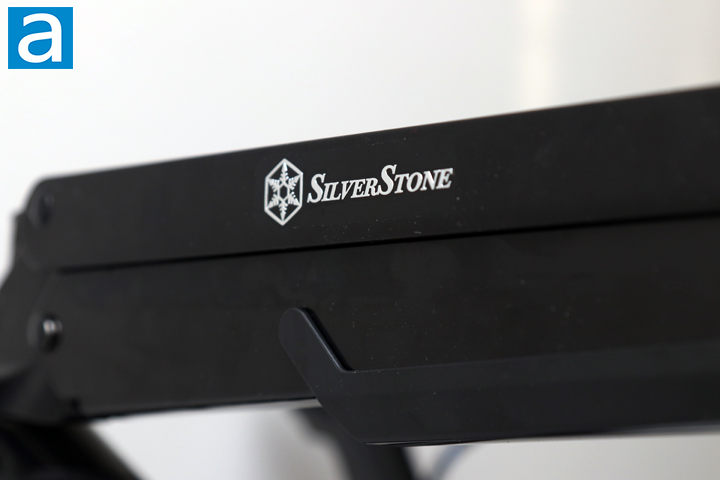 SilverStone provided this product to APH Networks for the purpose of evaluation.

APH:Renewal Award | APH Review Focus Summary:
8/10 means Definitely a very good product with drawbacks that are not likely going to matter to the end user.
7/10 means Great product with many advantages and certain insignificant drawbacks; but should be considered before purchasing.
-- Final APH Numeric Rating is 7.8/10
Please note that the APH Numeric Rating system is based off our proprietary guidelines in the Review Focus, and should not be compared to other sites.
The SilverStone ARM21 is an excellent dual-monitor mounting solution for its durability and flexibility.
Do you have any comments or questions about the SilverStone ARM21? Drop by our Forums. Registration is free, and it only takes a minute!