By: Hai Wang
October 13, 2017
I recently moved from my old place to a new rental apartment. My previous landlord was an easygoing guy. He trusted me with his property and let me enjoy the place the way I felt comfortable with. However, things are now a little different, as the landlord of the new place is pretty strict. Before I moved in, I was given a booklet of how to properly use the place and the facilities. Things such as how often do I need to wipe the refrigerator sealant with a baking soda soaked brush, how long I need to keep the bathroom ventilation on, and how to set the room temperature to the recommended value are all listed in that booklet. It actually took me two hours to get the key to the place. I am not complaining about my current landlord as I believe it is just how different people treat things differently. Personally, I think both ways have pros and cons. The easygoing landlord may be able to establish a better relationship to the tenant, while the strict landlord may keep his refrigerator and other things around the house working for a longer time. It really depends on what you think is more important. The same can be said for buying a budget computer case. Yes, you may not get a side window or RGB lighting, but you can save some money so you can buy a better motherboard or other components. For today's review unit, the SilverStone Precision PS14, comparing with those more expensive cases with tempered glass panel, its $50 dollar price range is really attractive if you just want a working computer instead of a RGB showcase. Can it do better than just being a budget case? Let us read on and find out!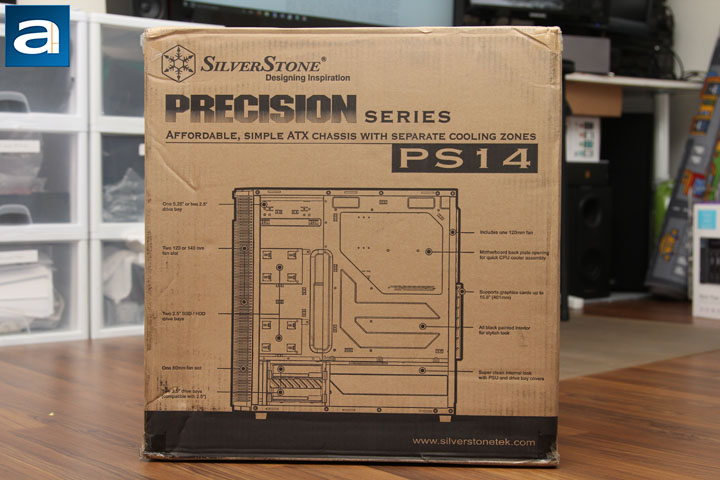 Today's review unit was shipped from Chino, California, USA to us here in Calgary, Alberta, Canada. Chino is the location of SilverStone's office in North America. Although you may see a beat up corner on the parcel, there are actually no signs of unacceptable damage on the shipping box itself that may make you nervous about the safety of the case. After more than a thousand miles of transportation, I can take one hit on the corner -- well done, UPS Standard. Usually, a good retail package design can draw people's attention and make the product itself stand out among hundreds of other products on the shelf. However, the realm of computer cases is different. Most of the time, the dealer will either directly put sample cases on the shelf, or just demonstrate some fully built computers using those chassis. Therefore, it is mostly unnecessary to have a fancy retail package for a computer tower. At least for me, I would not buy a computer case just because it looks great on the box. The retail package of SilverStone Precision PS14 is simply a brown cardboard box. It shows a nice sketch of the product. At the front side, the company's name is present on top of the box. The model name "Precision Series PS14" is located below the company logo, as you can see from the above picture. The clean look of the retail package may suggest the product itself will be compact and clean as well.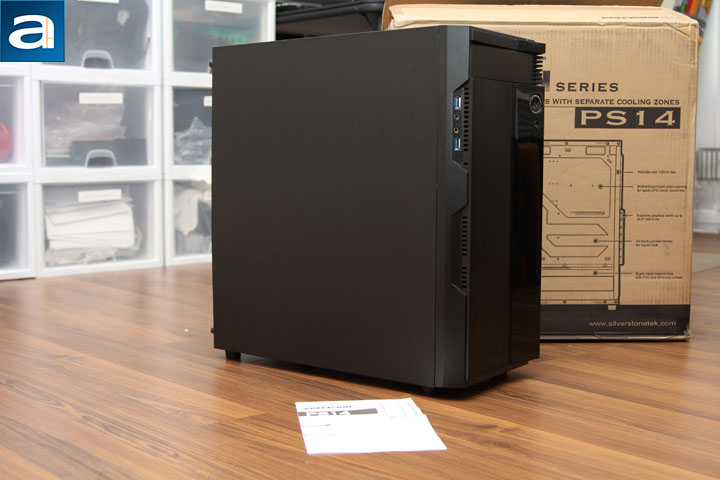 Upon opening the box, you will see the case is wrapped inside a big plastic bag. The plastic bag is strong enough to prevent the paint from getting scratches. You can keep the plastic bag, since it can be reused if you want to take your computer to some other places. An extra layer of protection has always been a good thing. Since the whole chassis is supported by two pieces of foam brackets around the case, there is no direct contact from the shipping package, therefore no damage is found on the case. As a budget case, there are not a lot of things in the box other than the computer case and a user's manual. The bag that contains all the hardware is located somewhere inside the case, since it is not directly shown in the shipping box. We just need to take a panel off and see.
Before we do anything else, let use quick look at the specifications of the mid-tower from its official website:
- Material: Plastic panel, steel body
- Motherboard: ATX (up to 12" x10.2"), Micro-ATX
- Drive bay: External: 5.25" x 1 or 2.5" x 2; Internal: 3.5" x 2 (compatible with 2.5"), 2.5" x 2
- Cooling system: Front: 120 / 140mm fan slot x 2, 80mm fan slot x 1; Rear: 120mm fan x 1
- Radiator support: Front: 120mm x 2 / 140mm x1 / 240mm x 1; Rear: 120mm x 1
- Expansion slot: 7
- Front I/O port: USB 3.0 x 2
- Audio x 1
- MIC x 1
- Power supply: Standard PS2(ATX)
- Expansion card: Support up to 15.8"(401mm), width restriction - 6.4"(162mm)
- Limitation of CPU cooler: 165mm
- Limitation of PSU: 220mm
- Net weight: 5.7 kg
- Dimension: 210mm (W) x 465mm (H) x 458.6mm (D)
---
Page Index
1. Introduction, Packaging, Specifications
2.
Physical Look - Outside
3.
Physical Look - Inside
4.
Installation and Conclusion