By: Ben Joubert
September 9, 2016
Summer is coming to an end, and for quite a few people, it means returning to another semester at university or grade school. Many of us would have finished working for the summer, or some will continue to work throughout the school year. However, in both cases, we all have preparations to be made for the upcoming year. After I finished work, I had about one and a half weeks to prepare for university, which was plenty of time, at least so I thought when work ended. I am sure everyone returning to university knows there are quite a few things to get done before school properly starts. As with anything big we do or money we spend, there is always research or preparations to be made. For example, with buying a new computer, or even specific components to go with it, comes research on systems or the parts to ensure the money being spent is for good reasons. When I was buying and building my computer, I did not put a lot of emphasis on the case, because I thought it would be an area where I could save some money. After reviewing several chassis here at APH Networks, I have since realized how nice it is to have a better one, and the extra money spent on this component, within reason, is worth it. Features like good airflow and cabling spaces may cost more, but will help in different areas in the long run. Today, we have the SilverStone Primera PM01, which is a really big tower with a higher-midrange price tag to match. Read on to find out if the features within match the asking price!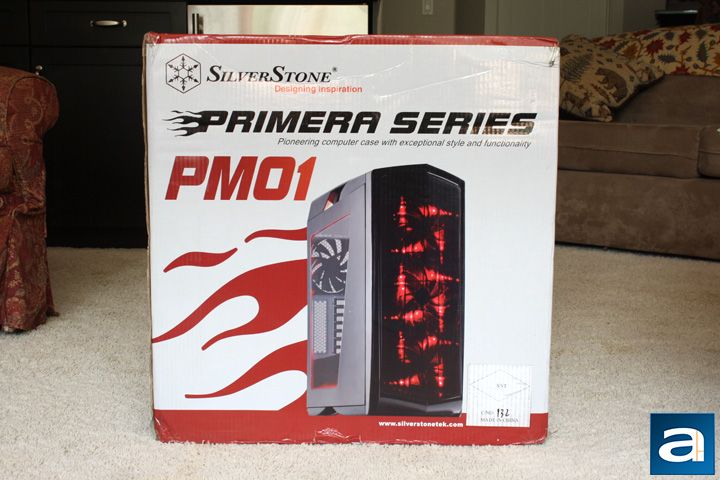 The SilverStone Primera PM01 shipped from Chino, California via UPS Standard. It arrived at our APH Networks offices in Calgary, Alberta, in good condition with no big dents or other eye-raising damage on the outside to indicate any internal problems for the product. Most computer cases are shipped in their retail packaging, and the SilverStone Primera PM01 is no exception. The product name as well as a case picture is placed largely on the front and back of the box. The only difference between the front and the back is the color of the case. The front has the red and black version, while the back has the blue and white version, and the rest of the text colors are changed accordingly. The sides have more information on either contact information or case specifications. The retail box is in color, which is mostly seen in higher priced cases. As expected, the corners and some of the sides were pretty beat up, but nothing big enough to doubt the safe transport of contents. Everything else was in order, and I promptly proceeded to open up the box to see if the contents did indeed arrive safely.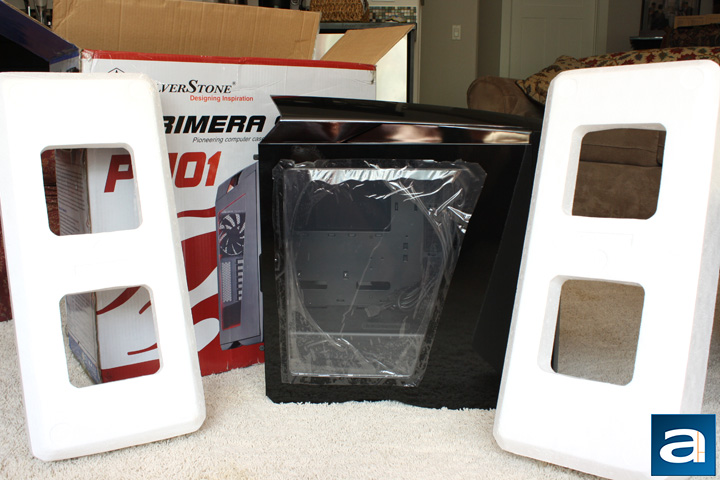 The packaging of the SilverStone Primera PM01 is fairly standard, with two big Styrofoam blocks to support and cushion the case during transportation. There is a large plastic bag to cover the case, and protect it from scratches and other small damage that could potentially occur. Furthermore, the outside and the inside of the window has thin plastic sheets stuck to it, again to also protect it from scratches or even dust on the window, and thus provide the clearest view of the interior of the computer. I found the packaging to be sufficient to prevent any minor damage to the chassis, which could happen during transportation.
Before we move on to the rest of the review, here are some features and specifications of the SilverStone Primera PM01, as obtained from the manufacturer's website:
Specifications
Model No.: SST-PM01BR-W (black with red LED + window)
--
Material: Plastic outer shell, steel body
Motherboard: ATX (up to 12" x 10.7"), Micro-ATX
Drive Bay External: None
--
Internal Drive Bays: 2.5" or 3.5" x 4, 2.5" x 5
Cooling System: Front 3 x 120mm / 140mm fan slot (includes 3 x 140mm LED fan)
Rear 1 x 120mm / 140mm fan slot (includes 1 x 140mm fan)
Top 3 x 120mm fan slot or 2 x 140mm fan slot
Radiator Support: Front 120mm / 240mm / 280mm / 360mm x 1
Rear 120mm / 140mm x 1
Top 120mm / 240mm / 280mm / 360mm x 1
Expansion Slot: 7
Front I/O Port: USB 2.0 x 2
USB 3.0 x 2
Audio x 1
MIC x 1
Power Supply: Standard PS2(ATX)
Expansion Card Support: graphics card up to 16.5", width restriction - 6.88"
Limitation of CPU cooler: 180mm
Limitation of PSU: 240mm
Net Weight: 9kg
Dimension: 220mm (W) x 571mm (H) x 560mm (D), 70.3 Liters
---
Page Index
1. Introduction, Packaging, Specifications
2.
Physical Look - Outside
3.
Physical Look - Inside
4.
Installation and Conclusion