By: Jonah Chow
February 11, 2022
Looking back on 2021, there were a lot of interesting developments in the tech world such as Mark Zuckerberg's vision of the metaverse and the adoption of DDR5 memory. One of the largest and also strangest ones to me though was the uprise in NFTs. For those who do not know, NFTs are non-fungible tokens, meaning unlike currency, it is unique and cannot be replaced with something equivalent. A lot of these NFTs come in the form of digital art, usually displaying drawings of monkeys. A lot of these NFTs can be bought and sold on different blockchains too, including the Ethereum and Solana blockchain. As silly as it sounds, some of the pictures are worth thousands to millions of dollars. Simply "owning" one can be enough to bank you a lot of cash if it is popular. While it seems impossible to wrap your head around why these digital drawings are so popular, especially considering they can just be saved as JPEG files, you cannot deny they can make people some crazy money. Similarly, non-tempered glass PC cases seem like something of the past, as you cannot see any fancy RGB LEDs that has become so popular in today's society. However, you also cannot deny that these cases can be made to do things tempered glass models cannot, such as keeping the noise down to a minimum like the SilverStone SETA Q1 we have today. Can this new case by SilverStone prove that non-tempered glass cases still have just as much of a purpose as cases made to show off some colors? Let us read on to find out!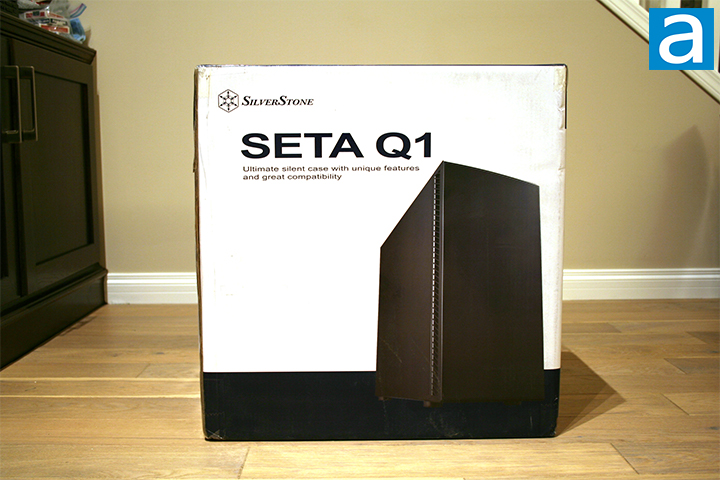 The SilverStone SETA Q1 arrived via FedEx Ground from SilverStone's offices in California. This box served its purpose of being both the shipping and retail package. While the box itself was not in terrible condition, it was not exactly clean either. Some bruises and scrapes can be seen along the side of the box. None of these are major or cause for concern though. Overall, FedEx did a fine enough job with this case. Unlike other PC chassis packages, the shipping box for the SilverStone SETA Q1 comes branded with the recognizable SilverStone white and dark blue colors. The front of the box contains an image of the case, showing the left and front sides. The SilverStone logo is printed at the top left corner, while the SETA Q1 branding can be seen just below. The text, "Ultimate silent case with unique features and great compatibility", is located just below the SETA Q1 branding. Specifications can be found on the side and back for retail customers to view before purchasing.
Before we move on, here are the specifications of the SETA Q1 from SilverStone's website:
Model No: SST-SEQ1B
Material: Steel, plastic
Motherboard: SSI-EEB, SSI-CEB, E-ATX, ATX, Micro-ATX, Mini-ITX
Drive bay External: N/A
Internal: 3.5" x 2, 2.5" x 2
Cooling system
Front: 120mm x 3 / 140mm x 3 (140mm black fan x 2 included)
Rear: 120mm x 1 / 140mm x 1 (140mm black fan x 1 included)
Side: N/A
Top: 120mm x 3 / 140mm x 2
Bottom: N/A
Internal: N/A
Radiator support
Front: 120mm / 140mm / 240mm / 280mm / 360mm
Rear: 120mm / 140mm
Side: --
Top: 120mm / 140mm / 240mm / 280mm / 360mm
Bottom: N/A
Internal: --
Expansion slot: 7 + 2
Front I/O port: USB Type-C x 1, USB 3.0 x 2, Combo audio x 1
Power supply: Standard PS2(ATX)
Limitation of VGA card
Length: 394mm (with front fans installed)
Width: 188mm
Limitation of CPU cooler: 182mm
Limitation of PSU: 250mm
Net weight: 11.64 kg
Dimension: 232mm (W) x 493.5mm (H) x 490.7mm (D), 56.18 liters, 9.13" (W) x 19.43" (H) x 19.32" (D), 56.18 liters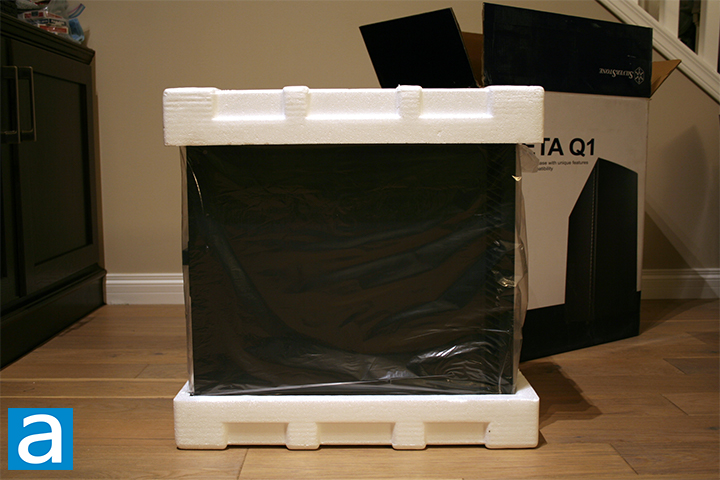 Two Styrofoam blocks are used to pad the case inside the packaging, which I think is always very good practice. Along with the Styrofoam blocks, the case itself is wrapped in plastic to prevent it from experiencing any scratches during shipment. The SilverStone SETA Q1 arrived in very good condition when I eventually unwrapped it, showing no signs of physical damage anywhere. Interestingly, there was no documentation or mounting hardware to be found anywhere inside, which is something I would expect out of the box. It is likely this is just a one-off mistake; you should get screws and other necessary hardware from the factory.
---
Page Index
1. Introduction, Packaging, Specifications
2.
Physical Look - Outside
3.
Physical Look - Inside
4.
Installation and Conclusion