By: Aaron Lai
October 7, 2016
It seems only natural, but since I have started watching anime, I have started to pick up more and more Japanese. Personally speaking, I have always enjoyed watching anime with English subtitles rather than listening to dubbed versions. It does mean I often have to stare at the bottom of the screen to read word by word, and I cannot multitask to do other things. However, I like the original language. As well, after watching enough of one language, all other languages sounds unnatural. Thus with all the Japanese exposure, some Japanese has slid into my daily talk. For example, if I do anything wrong, instead of saying sorry, I sometimes say gomenasai, which means the same thing in Japanese. Most of my friends know what I mean, but some people were a tad confused. Thankfully, no one thought I was crazy. When I see today's product, called the SilverStone Sugo SG13WB, I have to say "Sugoi!", which is Japanese for great or amazing. On an aside, I actually did not pick this up from an anime, but rather from my compadre, as she often popped it into our conversations. Now, I know it is not the same word, but with the single letter addition, it makes me wonder what about this case is so great. The Sugo lineup has always been targeted for small form factor, so what makes it amazing? Maybe it is the ability to pack a whole lot of computing power into such a tiny package? I guess we will find out as we head on into the review!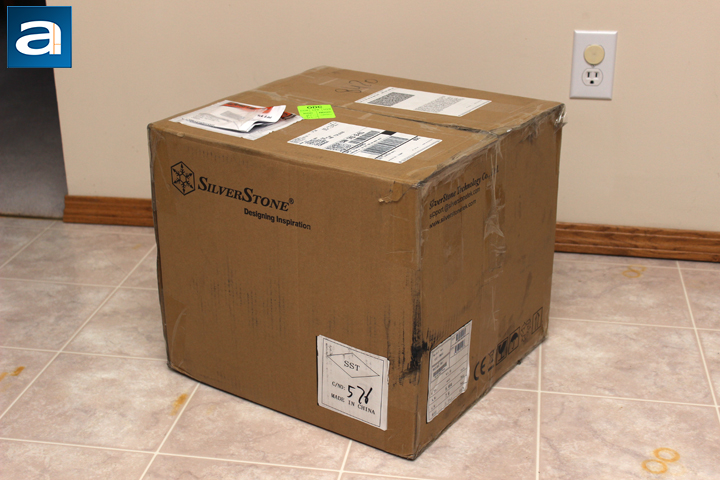 Today's review unit of the SilverStone Sugo SG13WB came via the standard route, also known as UPS Standard, from Chino, California, USA. As SilverStone's American offices are located there, this only makes sense. Unlike most chassis we review, the Sugo SG13WB actually arrived in another box. As this is one of the smaller cases we have reviewed, it is unsurprising SilverStone would send this in its own retail container. In addition to the SG13WB, we also have SilverStone's SX700-LPT and PP08. I will be reviewing those two items too later this month. Otherwise, the box is in average condition, with no signs of damage or dents to really speak of.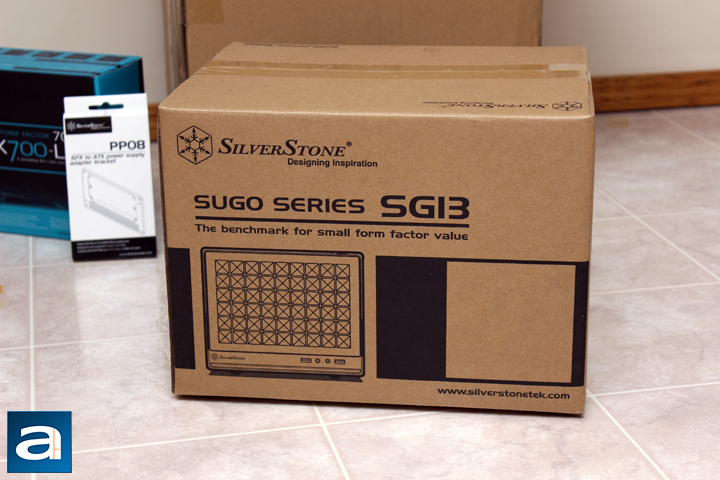 The retail container of the SilverStone SG13WB is pretty standard as they come. There are some features on the front of the box, including support for standard expansion cards, single fan all-in-one liquid coolers, multiple storage drives, and more. The name of the product is listed at the top, with a catchphrase of "The benchmark for small form factor value". SilverStone's logo is also printed at the top, with a QR code and website to direct you to more information. There are several versions of the Sugo SG13, as it comes in black, pink, and a white-black mix. Thankfully, Editor-in-Chief Jonathan Kwan was nice enough to request the Star Wars Stormtrooper black and white. In addition, there are two versions for the black and white-black colors; one with a mesh front, and another with a solid front panel. The solid front panel is denoted with a "Q" for quiet in its model name. I should note the box did confuse me a bit as SilverStone used the same box for all versions of their SG13, including the standard and quiet ones. However, the actual model inside is labeled on the side.
Before moving on, we pulled the specifications from the manufacturer's website for your perusal:
Specifications
- Material: Mesh or plastic front panel, steel body
- Motherboard: Mini-DTX, Mini-ITX
- Drive Bay: 3.5" x 1 or 2.5"x2 , 2.5"x1
- Cooling System: Front 1 x 120mm/140mm fan slot compatible with radiator(option), Side Oversized vents, Top Oversized vents
- Expansion Slot: 2
- Front I/O Port: USB 3.0 x 2, audio x 1, MIC x 1
- Power Supply: Optional standard PS2(ATX)
- Expansion Card: Compatible up to 10.5" long, width restriction-5.11"
- Limitation of CPU cooler: 61mm
- Limitation of PSU: 150mm*
- Net Weight: SG13B:2.47Kg / SG13B-Q:2.43Kg
- Dimension: 222mm (W) x 181 mm (H) x 285 mm (D) 11.5 liters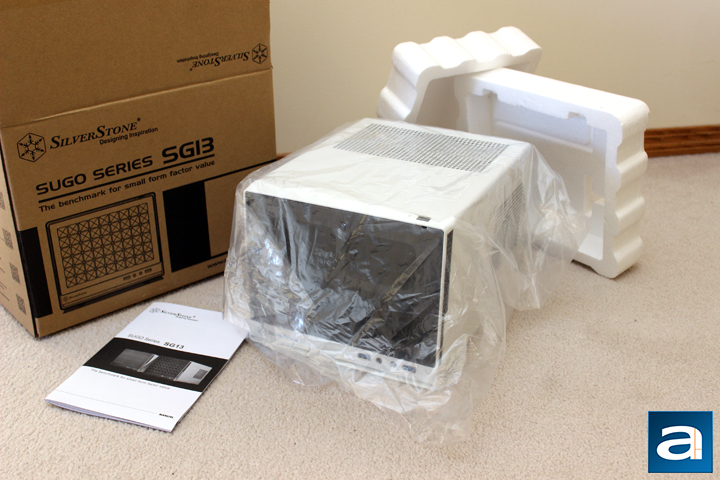 Pulling the SilverStone Sugo SG13WB out of the box reveals a pretty small and compact case, but we will get to it later. The chassis itself is held in a clear plastic bag to reduce any surface scratches during shipment. In addition, the SG13WB is held between two foam brackets to cushion the case from any impact. We also have a manual from SilverStone. Normally I would skip the manual altogether, but as this is a much smaller case than usual, I would recommend at least skimming through it before installing your own components. We will see how it all works together later when we do our installation. Anyway, let us move onto the Sugo SG13WB itself.
---
Page Index
1. Introduction, Packaging, Specifications
2.
Physical Look - Outside
3.
Physical Look - Inside
4.
Installation and Conclusion