By: Jadon Lee
February 17, 2023
It has been really interesting getting to see several of my friends getting into the custom mechanical keyboard hobby. After receiving my first personal GMK keycap set, I had gotten many messages about them, which then sparked further conversation about upcoming and current group buys for keyboards. It has been really crazy to see how far the custom mechanical keyboard seen has gotten with the recent releases of budget keyboards with premium designs. You see, keyboard design has gotten to a point where premium designs can be implemented in budget products. The continued innovation from different modifications people have found and different methods of creating an "endgame" keyboard are very plausible with budget alternatives. Just on a side note, the concept of "endgame" does not exist until you have reached a point of having a one of one keyboard of pure bliss. The replication of design from expensive premium keyboards to the now budget keyboards really demonstrates how the innovation of the community has really advanced the hobby. Innovation is an incredible thing. SilverStone is innovating the AIO cooler market with their new cooler, the VIDA 240 SLIM. SilverStone might be pushing into a relatively niche compact AIO cooler market with this product, but at what cost? Keep reading to find out!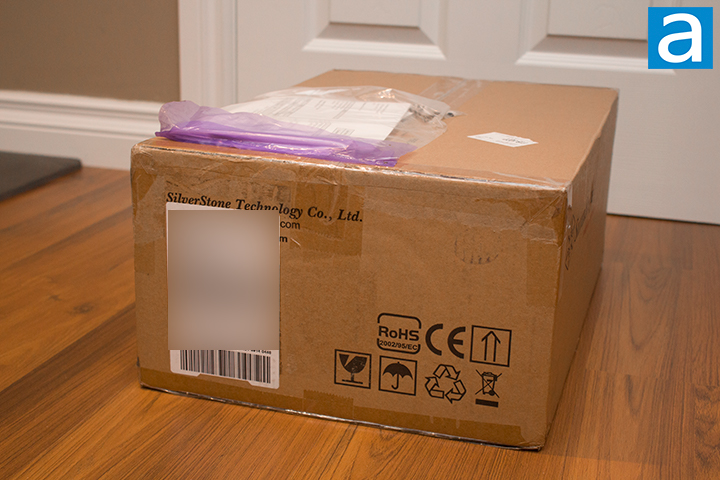 Today's review unit of the SilverStone VIDA 240 SLIM was shipped to us here in Calgary, Alberta, Canada via FedEx Ground from their offices in Chino, California, USA. The shipping box was in decent condition with a few marks. I was not worried about any damages to the products inside. SilverStone also sent us over their Shark Force 120 and 160 Series, which I have previously reviewed. The retail box arrived in very good condition with no noticeable marks on the exterior.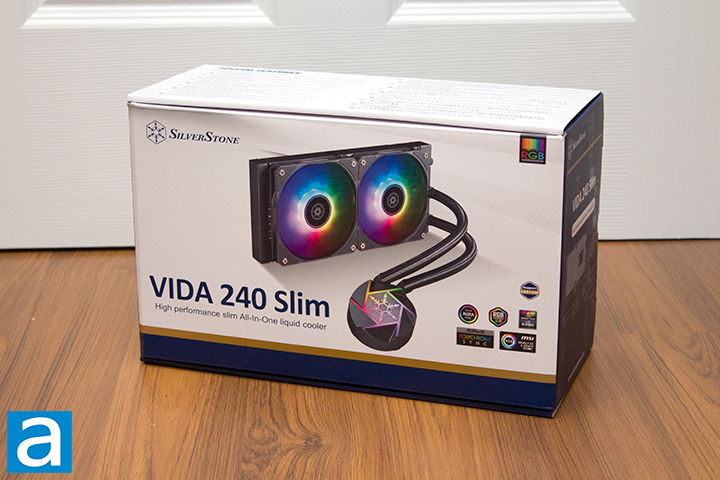 Taking a look at the retail box, we see a very standard design to many other SilverStone products, using a white, blue, and gold color scheme. On the front of the box, the SilverStone logo is displayed at the top left. The bottom left displays the name "VIDA 240 SLIM", while also calling it a "high performance slim all-in-one liquid cooler". The center displays an image of the VIDA 240 SLIM itself alongside its RGB lighting compatibilities to the right of it. The back provides the specifications of the cooler itself alongside some additional features. On the top, it talks about some more features of the cooler. SilverStone provides a QR code to get an online manual on the side of the box. I personally really liked how SilverStone has opted to use some sort of QR code to provide more information, likewise to the ARCTIC Freezer A13 X and IceGem 280 I have previously reviewed. This is a good way to reduce paper waste while having an easy-to-access manual.
Before we continue, here are the specifications for the SilverStone VIDA 240 SLIM, as posted on the manufacturer's website:
Water Block:
- Dimension: 74mm (W) x 41mm (H) x 74mm (D)
- Material: Copper base with plastic body
Radiator:
- Dimension: 120mm (W) x 22mm (H) x 275mm (D)
- Material: Aluminum
Fan:
- Dimension: 120mm (W) x 15mm (H) x 120mm (D)
- Speed: 300 ~ 1800 RPM
- Noise Level: 15.9 ~ 33.9 dBA
- Rated Voltage: 12V
- Max Airflow: 66.83 CFM
- Max Air Pressure: 2.59 mmH2O
- Connector 4 pin PWM and 4-1 pin ARGB (5V LED)
Application:
- Intel LGA 115X/1200/1700/2011/2066
- AMD Socket AM4/AM5
Pump:
- Motor Speed: 4200 ±10% RPM
- Rated Voltage: 12V
- Rated Current: 0.39A
- Connectors: 2510 – 3 pin and 4-1 pin ARGB (5V LED)
Tube:
- Length: 400mm
- Material: Rubber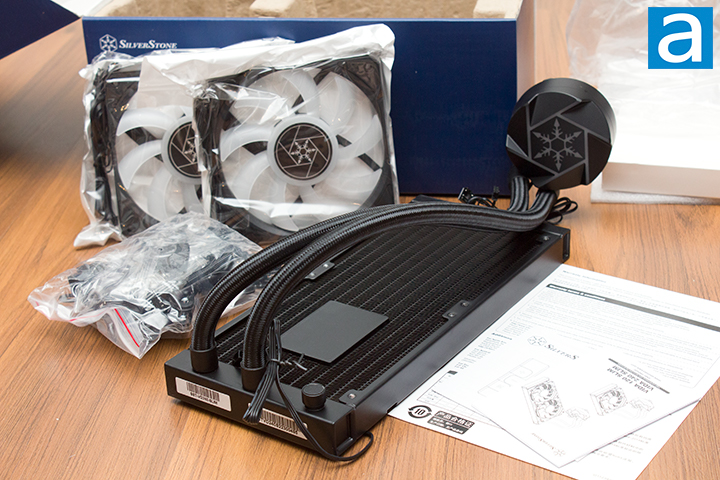 Upon opening the box, you will find the full cooler, both fans in individually packed bags, and all of the mounting supplies necessary for both Intel and AMD. There are three manuals inside the box as well. These contain the warranty information, user manual, and ARGB controller manual. If you do not have a motherboard with ARGB headers, do not worry, because SilverStone also provides an RGB controller. I personally found the cardboard to be good, as it held all of the components with a nice snug fit. The design was nice and compact.
---
Page Index
1. Introduction, Packaging, Specifications
2.
Physical Look - Hardware, Installation
3.
Test Results
4.
Conclusion