By: Preston Yuen
July 29, 2011
Once upon a midnight dreary, while I pondered weak and weary / Over many a quaint and curious volume of forgotten lore, over a SilverStone Raven RV03 that looks hardcore. As much as I want to be a poet as famous as Edgar Allan Poe, I just simply cannot wrap my head around such intriguing English works with such deep meaning. Whenever ideas pop into my head, these are usually not anything English literature related -- other than the fact that the text I have written down is English, and that's about it. But what I can tell you about this poem, especially in this introductory paragraph, is that reviews written here at APH Networks are sometimes done around midnight, but not exactly in a dreary fashion. Unless you have heard this poem before in one way or another, many of you may be wondering what in the world this poem has anything to do with our review on SilverStone's Raven RV03 case today. Yes, I know, I don't have a major in English literature, and I am interpreting this poem too literally in accordance to my own thoughts. But what we have here at APH today seems to be quite unique from the standard market of computer chassis. The very first notable thing that is prominently advertised about the SiverStone Raven RV03 is its 90 degree rotated motherboard tray. Of course, the company also tack on other interesting features as well. Now that I have got you hyped up about Edgar Allen Poe's SilverStone Raven RV03, it is up to you to keep reading to find out more!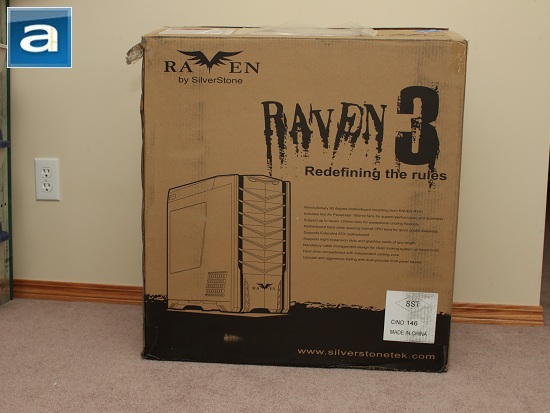 Our SilverStone Raven RV03 unit arrived in a very plain corrugated cardboard box with simple black printing from the American offices in California, USA to our Calgary, Alberta, Canada office via FedEx Ground. As usual, there were the few dents and scratches around the box. Printed at the top left corner is SilverStone's Raven series logo, with some bold graffiti-like artwork of "Raven 3" on the right. As well, an outline of the RV03 itself is displayed on the lower left, with a short description of it beside it. Its features are printed in a similar fashion at the back of the box.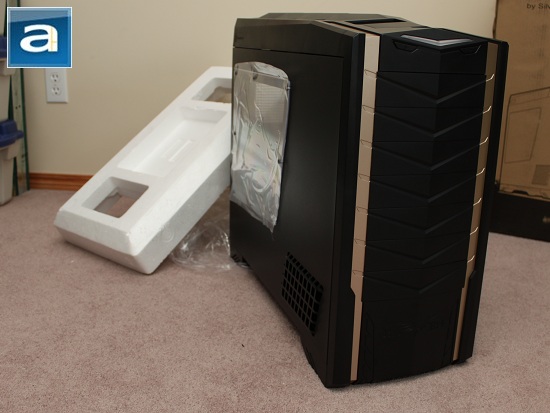 Our particular unit was unfortunately damaged during the shipping process, and it caused an unfortunately delay in this otherwise exciting review. However, we have quickly done some touch-up work on the Raven RV03 before we finally got around to taking the photo shown above. Rest assured though, as the rest of the chassis was not damaged in the process, thanks the foam brackets sandwiching the case and protecting it from taking some punches. Before getting too excited and jumping ahead to what we have in store, let's take a look at the features and specifications of the Raven RV03, as obtained from SilverStone's website:
Features
- Revolutionary 90 degree motherboard mounting from RAVEN RV01
- Includes two Air Penetrator 180mm fans for superb performance and quietness
- Support up to seven 120mm fans for exceptional cooling flexibility
- Motherboard back plate opening behind CPU area for quick cooler assembly
- Supports Extended ATX motherboard
- Supports eight expansion slots and graphics cards of any length
- Mandatory cable management design for clean looking system on every build
- Hard drive compartment with independent cooling zone
- Upscale and aggressive styling with dual-purpose front panel bezels
Specifications
Model No.
- SST-RV03B (black)
- SST-RV03B-W (black + window)
- SST-RV03B-WA (black + window)
Material
- Reinforced plastic outer shell
- 0.8mm Steel body
Color
- Matte black
Motherboard
- SSI EEB
- SSI CEB
- Extended ATX
- ATX
- Micro ATX
Multimedia
--
Drive Bay
- External: 7x 5.25"
- Internal: 10x 3.5" (6 from 5.25" adapters), 2x SSD
Cooling System
- Front: 4x 120mm fan slot
- Rear: 1x 120mm fan slot
- Side: 1x 120mm fan slot
- Top: 1x 120mm exhaust fan, 900rpm, 18dBA
- Bottom: 2 x 180mm AP181 fan 700/1200rpm, 18/34dBA (compatible with 3 x 120mm fan)
- Internal: --
Expansion Slot
- 8
Front I/O Port
- USB 3.0 x 2 (backwards compatible with USB 2.0)
- audio x 1
- MIC x 1
Power Supply
- 1x optional standard PS2 (ATX)
- Depth limit 180mm
Expansion Card
- Compatible with expansion cards up to 13.58 inches
Limitation of CPU cooler
- 163mm
Limitation of PSU
- 180mm
Net Weight
- 11.4kg
Dimension (WxHxD)
235mm x 522mm x 570mm
Extra
--
---
Page Index
1. Introduction, Packaging, Specifications
2.
Physical Look - Outside
3.
Physical Look - Inside
4.
Installation and Conclusion