By: Preston Yuen
November 15, 2013
I have always been a fan of customization. Customizing your house, for example, gives you the creative freedom to a certain extent to express who you are, make yourself feel truly at home, and to find solutions to various problems. Although cookie cutter templates give many people a good foundation as to how some things should look, most of the time, they simply don't work well for me in terms of what I specifically want. In my opinion, this concept is also very applicable in the world of computers and technology. Yes, every chassis should be designed in a specific way to optimize airflow, while minimizing the amount of material used, but that seems a bit too generic for me. Although the exterior design varies from tower to tower, the interior design is generally still the same. To keep everyone happy, SilverStone has developed cool cases for the regular hardware guys as well as the enthusiasts, and they have continued to do so by modifying and improving on their previous products. What we have here today is a case the redefines tradition yet again. The SilverStone Raven RV04 features a slick and subtle design, yet on the inside, the motherboard is rotated a full one hundred and eighty degrees for increased airflow efficiency. How well does this chassis hold up to APH Networks standards? Keep reading to find out!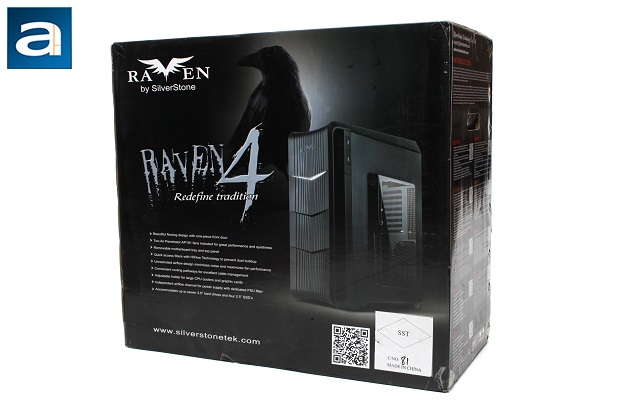 Our SilverStone Raven RV04 unit arrived in a subtle black box with various shades of grey -- no pun intended -- from our good ol' neighbors down south in California, USA to our Calgary, Alberta office via FedEx International Economy. Surprisingly, there were almost no dents or scratches on the box, despite traveling such great distance. Around the box, you will prominently see all the great features and specifications, along with the graphical designs used to portray the Raven RV04. I am sure most of you have done your research before coming across such a review, so I won't waste your time here describing the box.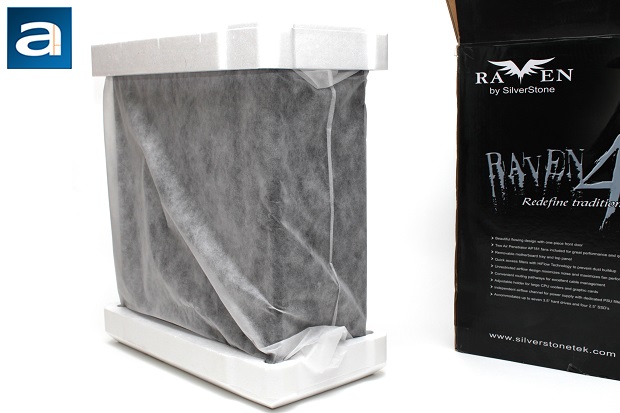 As per usual, like many cases that we have reviewed in the past at APH Networks, our unit of the Raven RV04 was wrapped neatly in a thin layer of foam to prevent any kind of miscellaneous scratches, and was kept sandwiched between two large Styrofoam brackets to prevent bumps and bruises in transit. Furthermore, there is a perfectly cut out hole in the foam blocks for accessory box in one of the foam brackets. As always, we have taken the features and specifications from SilverStone's website for your convenience:
Features
- Beautiful flowing design with one-piece front door
- Two Air Penetrator AP181 fans included for great performance and quietness
- Removable motherboard tray and top panel
- Quick access filters with HiFlow Technology to prevent dust buildup
- Unrestricted airflow design minimizes noise and maximizes fan performance
- Convenient routing pathways for excellent cable management
- Adjustable holder for large CPU coolers and graphic cards
- Independent airflow channel for power supply with dedicated PSU filter
- Accommodates up to seven 3.5" hard drives and four 2.5" SSD's
Specifications
Model No.
- SST-RV04B (black)
- SST-RV04B-W (black + window)
Material
- Reinforced plastic outer shell, steel body
Color
- Black
Motherboard
- SSI-EEB
- SSI-CEB
- Extended ATX
- ATX
- Micro-ATX
Multimedia
- External Drive Bay 5.25" x 2
- Internal Drive Bay 3.5" x 7 (2 hot-swap)
- Internal Drive Bay 2.5" x 4
- Expansion Slot: 8
- Front I/O Port: USB 3.0 x 2
- audio x 1
- Mic x 1
Cooling System
- Front: 2 x Air Penetrator AP181 180mm intake fan 600/900/1200rpm, 18/25/34dBA
- Rear: 1 x 120mm fan slot (option)
- Side: N/A
- Top: N/A
- Bottom: N/A
- Internal: N/A
Power Supply
- 1 x optional standard PS2(ATX)
Expansion Card
- Compatible up to 13.3" long, width restriction-6.69"
CPU Cooler Limitation
- 165mm
PSU Limitation
- 180mm
Net Weight
- 10.9 kg
Dimensions (W x H x D)
- 219mm x 581mm x 497mm, 63.2 liters
Extra
- Support two Kensington locks
---
Page Index
1. Introduction, Packaging, Specifications
2.
Physical Look - Outside
3.
Physical Look - Inside
4.
Installation and Conclusion