By: Kenneth Kwok
April 26, 2011
As a gamer, I am very concerned about comfort. The first thing that comes to mind when I think of comfort, is of course, the peripherals. From the mouse to the keyboard, these things are quite important to even the best of us. From those gamers who prefer the old school Microsoft IntelliMouse, to more modern gaming devices such as the Razer Naga or Logitech G500, there is an element of comfort we have grown to appreciate. This is especially true for enthusiasts in this department. However, one thing that is often overlooked by some is the gaming surface. Be it a desk surface, a cloth mousepad, a glass mousepad, or even a metal mousepad, familiar and comfortable surfaces usually lead to better performance -- or at least increased comfort in gaming. Some people might even say it increases productivity in office work. Either way, the mousepad can be a very significant part of any computing experience. From all of this, it is quite easy to guess we will be taking a look at a gaming surface today. The product we will be taking a look at is sent to us from a well known gaming company -- SteelSeries -- who is renowned for their mousepads, headphones, keyboards, and mice. The SteelSeries QcK mass has the "mass" tacked on to the back due to the density of the material used to create this mousepad. Read on to find out how this affects the overall usage of this gaming surface, and how well it stacks up in the real world.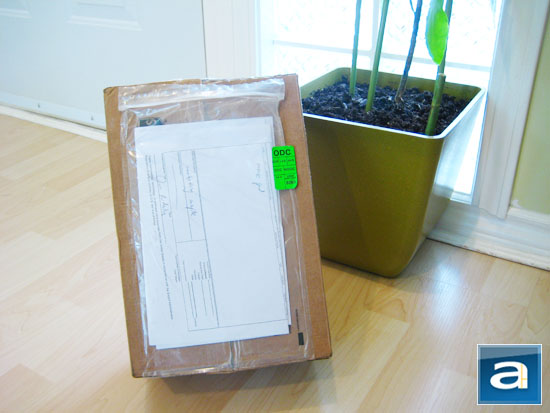 Our sample unit of the SteelSeries QcK mass arrived at our offices in Vancouver, British Columbia in a brown corrugated cardboard box from SteelSeries' offices at Illinois, USA using UPS Standard as the shipping method. At first glance, I was quite surprised by the size of the box used for shipping a mousepad. To my relief, after opening the box, I found that the retail packaging to be much smaller than the box used for shipping. Unlike most other review samples we have received in the past, no other packaging material was used. Either way, our review unit arrived in good condition. However, the interior was a bit bent near the top, but that was the way it was packaged and not damage incurred during transportation to our offices.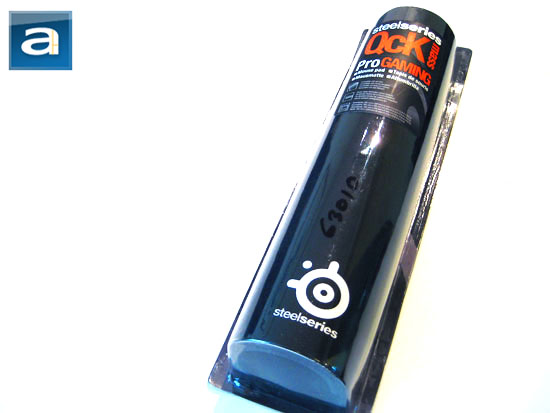 The packaging for the SteelSeries QcK mass is fairly unique; as it uses a tubular shaped piece of plastic to house the mousepad itself with a cardboard back to keep it from moving around inside. This way, it is possible to display the mousepad and still retain fairly slim packaging. This would look great on retail displays, and could be placed side by side fairly easily. The familiar black and gray color scheme can be seen in the background; while the text is printed in white and orange common on many SteelSeries products. The back of the packaging lists some of the features in assorted languages, as well as some of the associations that SteelSeries supports.
Speaking of features, let's take a look at some features of the QcK mass before moving on, as obtained from both the box and SteelSeries' website:
Specification & Features
Size: M-sized cloth mouse pad
Dimensions: 320 x 270 x 6 mm / 12,6 x 10,6 x 0,2 in
- Dense mass eliminates uneven surfaces
- Compatible with all mice
Product Description
SteelSeries QcK mass is a super thick mouse pad made of a high quality cloth material with a specially designed non-slip rubber base which prevents the pad from sliding; no matter what surface the mouse pad is placed on.
It's important to notice the difference between SteelSeries QcK mass and all other mouse pads from our SteelSeries product line. This mouse pad features extremely heavy thickness which results in a very unique feeling. While the mouse pad is much more soft and comfortable to touch, the height is also fairly massive, reaching a total of 6mm. Other mouse pads from SteelSeries are very thin, aiming to provide a high quality gaming surface, as close as possible to level of the tabletop it's used on.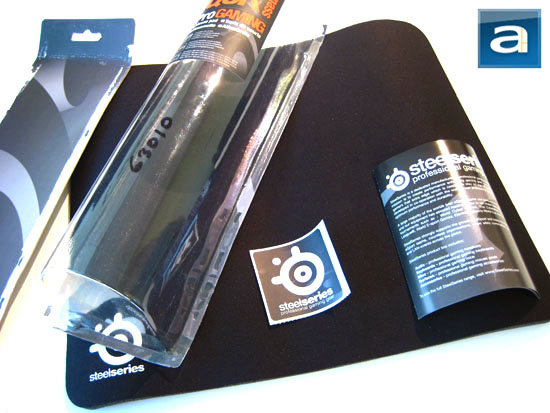 After removing the cardboard piece on the back, we were able to remove the SteelSeries QcK mass from the package, along with a small booklet about SteelSeries as well as a SteelSeries sticker. There was no need for any other protection for the mousepad itself; it came curled up as seen from the box. The mat quickly evened out after opening, and became flat and even, as advertised. The packaging was good enough so that the mousepad was not damaged in the slightest when I received it.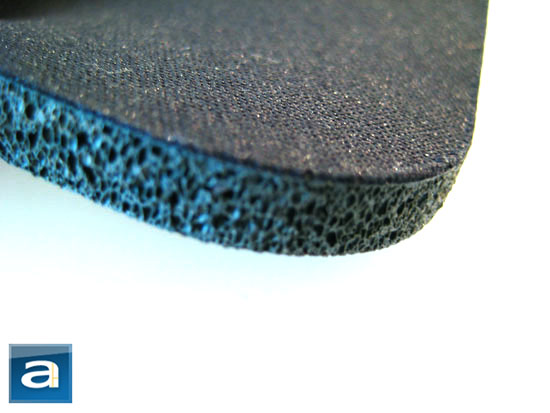 In terms of size, the SteelSeries QcK mass comes in at about 15.6 inches by 10.6 inches; or 320mm by 270mm for metric people -- which is a pretty standard size for most mousepads of this caliber. When talking about thickness, this mousepad definitely takes the cake at 6mm, which is very thick. There are three layers; the top layer which is the cloth surface for using the mouse on, the padding layer in the middle, and the rubber grip layer on the bottom to ensure the mousepad does not move around when it is being used.
The very top layer is composed of a black colored cloth surface, with nothing more than a white SteelSeries logo at the bottom left corner. Of course, with a cloth surface, the SteelSeries QcK mass is scratch resistant, unless the user decides to ruin it deliberately. Either way, the top surface is quite durable, and should be resistant to most types of damage, unless it's liquid related -- since it would just be absorbed into the mousepad. This means it might be wise to not have drinks or other liquids near the gaming surface. Human perspiration may be a concern though. Another issue is that the cloth pad will collect dust and stick to it as well. This could be a problem in the long run, but a good clean wipe once a week with a lint roller or a shot of dust spray should do the trick. In terms of usage, this surface should be usable by all types of mice; from laser, optical, to the old ball mice, this should be able to do the trick. Located below the cloth layer is a padding layer that makes up most of the 6mm of the overall thickness. This padding layer is used both as a way to increase the thickness to even out imperfect surfaces, as well as to provide a durable layer such that it doesn't lose its form. A mousepad would not be very good if it was not durable enough to hold the mouse or leave an uneven surface. From the looks of this padding material, it looks more than durable enough to take on the daily tasks when moving the mouse around the surface.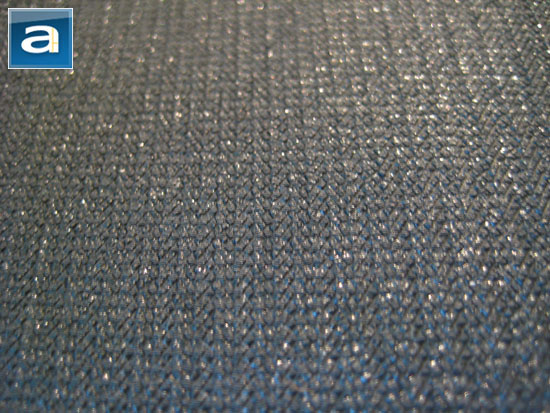 Located at the very bottom of the SteelSeries QcK mass is a base layer of rubber. This rubber is used to provide grip for the mousepad, so that it does not move around when it is in use. This bottom layer is very thin, just like the top layer. This grip surface does its job very nicely, as it took a lot of effort to even move it a few centimeters over a wooden desk surface. However, since this is a cloth pad, it is not practical to use a water coated surface to test the grip under such conditions. Either way, this mousepad does take quite a bit of strength to budge, and in most day to day applications, it should remain static and will most likely not move even an inch. We also tested this surface on tiles, laminate flooring, solid wood table, computer desk, and even a glass surface. All of these passed with flying colors with about the same difficulty to move it around on the surface as aforementioned. This should make for a very good mousepad for the grip on the table alone, since the one thing that I as a gamer dislike the most is a moving surface under my mouse. Try playing games such as Counter Strike: Source where the mousepad moves around, and in turn the perfect headshot becomes nothing more than a shot at thin air.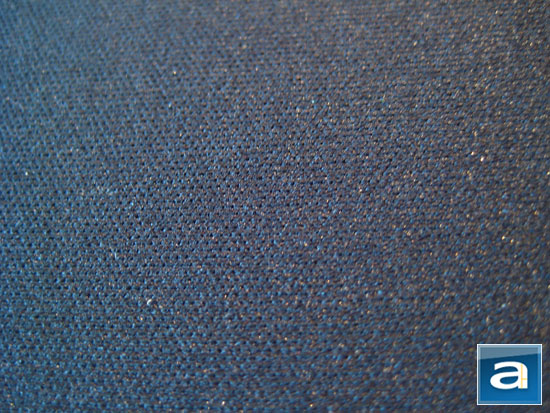 The top surface of the mousepad is very smooth as advertised, and has a pretty comfortable texture to it. Since it is cloth, this is arguably the most comfortable type of material as it is soft, smooth, bendable, and not hard to the touch. This is especially true if you leave parts of your body on the surface while using the mouse. The shape of the SteelSeries QcK mass is pretty standard; but it does add to the comfort as it gives a bigger surface to lay your hand on. Another advantage of using a cloth pad is that noise generation is minimal, thanks to the dampening effect of the cloth compared to more solid surfaces.
-----------------------------------------
The Tests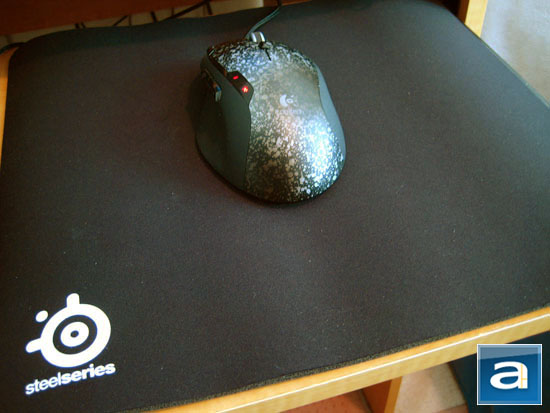 Unfortunately, testing of a mousepad is quite subjective in nature. I will be testing it with a mouse I have used for quite some time. This will allow me make it easy to determine any noticeable changes when using this surface. With that in mind, the tests will be done using a Logitech G500 mouse, and will be analyzed in a standard productivity environment as well as a gaming environment. This is to ensure the mousepad is not limited by the mouse itself, as it is conducted in two most demanding areas of where a good mouse and mousepad combination is a necessity. Each environment is rated on the following categories after the tests:
Glide - How well does the surface handle large long continuous motions that go across the entire mousepad?
Control - How effective is the surface for small little motions used during precision work?
Grip - How effective is the grip against the common motions required for tasks?
Noise - How much noise is produced by the surface when the mouse runs along it?
Productivity - Word Processing, PowerPoint Creation, Photoshop, Web Browsing
In day to day usage, I found the SteelSeries QcK mass to be an excellent surface for using the G500. Since in most day to day applications, a big factor is comfort; this part already passes the test thanks to the nature of cloth pads. In terms of usage, the G500 combined with the SteelSeries QcK mass makes a good combination, as I turned down the dpi and found the glide from one side of the surface to the other to be slick but still well controlled. The grip as stated before is quite amazing, and stays put through all our daily work, and moved less than a millimeter before doing all the productivity work. In terms of noise, the cloth pad makes negligible quantity due to the noise dampening nature of its design.
Gaming - Starcraft 2, League of Legends, Minecraft, Magicka, Counter Strike: Source, Champions Online, Garry's Mod, Company of Heroes
Now onto the most important aspect, well at least for this mousepad anyways. The gaming performance was just as excellent as before. The size of the SteelSeries QcK mass was adequate and provided enough tracking space to use, making it very hard to get off the surface. This is especially true for our test mouse, as we could just adjust our dpi for each different game to suit our preferences. At all sensitivity settings, we found that the gaming surface held its own, and made for a great product overall. It performed well in games such as StarCraft II, League of Legends, Counter Strike: Source ,and Garry's Mod, where high sensitivity is needed for more speed when moving across the screen. It did equally as well in games like Company of Heroes, Champions Online, and Magicka, where more precision is recommended. Even at lower dpi, we found the surface more than enough to take on the task, and to be big enough to do so. In all of our gaming tests, we found that the cursor moved where we wanted to, at the speed we wanted to. This seems to be a very good balance of both glide and control at the same time.
-----------------------------------------
In conclusion, the SteelSeries QcK mass is an excellent gaming surface; there is absolutely no question this met and exceeded all my expectations for its price tag. Retailing for only $12 at time of press, this is a great buy in my opinion, and should definitely be considered for both gamers and casual users alike. Even generic mousepads at many local brick and mortar stores cost around the same price, so why not go for something a lot better at the same price? From its grippy bottom to the excellent glide provided by the top cloth layer, we were impressed by almost every aspect of this mousepad. This is drawn from our detailed productivity and gaming tests. Also important to the QcK mass is its 6mm thickness. I found this to not only be very comfortable, but also provide good cushioning space in evening out surfaces that may be less than perfect. A couple possible problems with cloth pads is the inability to take any liquid damage, so it is advisable not to have drinks (Especially stuff like Mountain Dew) in close proximity. Another issue is that cloth pads have a tendency to collect dust over time, and it does not bode well with sweaty palms. Overall, the SteelSeries QcK mass is a great buy at only $12 at time of press time, and is definitely worth every penny.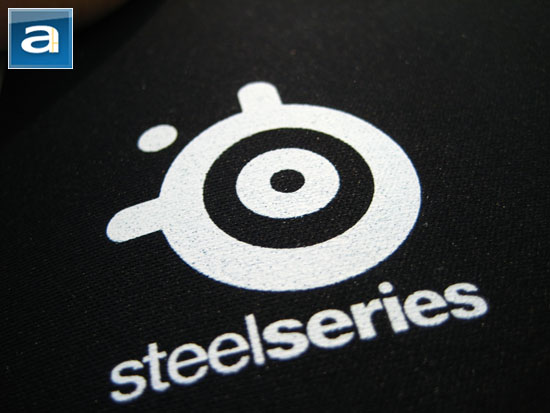 SteelSeries provided this product to APH Networks for the purpose of evaluation.

APH equal.balance Award | APH Review Focus Summary:
8/10 means Definitely a very good product with drawbacks that aren't likely going to matter to the end user.
-- Final APH Numeric Rating is 8.0/10
Please note that the APH Numeric Rating system is based off our proprietary guidelines in the Review Focus, and should not be compared to other sites.
The SteelSeries QcK mass is a great mousepad for all users; from gamers to casual users. For only $12 MSRP at time of writing, what is not to love?
Do you have any comments or questions about the SteelSeries QcK mass? Drop by our Forums. Registration is free, and it only takes a minute!