By: Jonathan Kwan
March 10, 2017
If you guys have been reading APH Networks for a while, you will realize other than being a computer enthusiast, I am also quite into cars. Since my car is one of my most prized possessions, it is probably unsurprising to you I like to keep it in flawless condition. In the automotive world, the act of car detailing -- or "the performance of thorough cleaning, restoration, and finishing of an automobile, both inside and out, to produce a show-quality level of detail" according to Wikipedia -- is serious business. Besides demonstrating pride of ownership, keeping your car in showroom condition also makes it easier to sell. When I showed my old car to the guy who eventually bought it a few years ago, I said to him, "My car not only looks new and drives new, it also smells new" -- to which he agreed and said, "Wow, literally, too." (I had a secret weapon called the New Car Smell Spray, which can only be purchased at specialty places). As you can see, the new car smell can actually help you make a sale. Now, as good as my New Car Smell Spray may be, it is unable to fully replicate the smell of an actual new car, especially when compared to fresh leather from the factory. However, I found out recently you do not need to splurge twenty or thirty grand just to bring that sensation back into your life. For about $230 at press time, the Tesoro Zone Balance gaming chair not only looks like a bucket seat taken out of a sports car, but also carries the smell of a new automobile with its wrapping of some pretty convincing faux cow hide. Does this mean we have everything to seal the deal? Read on to find out!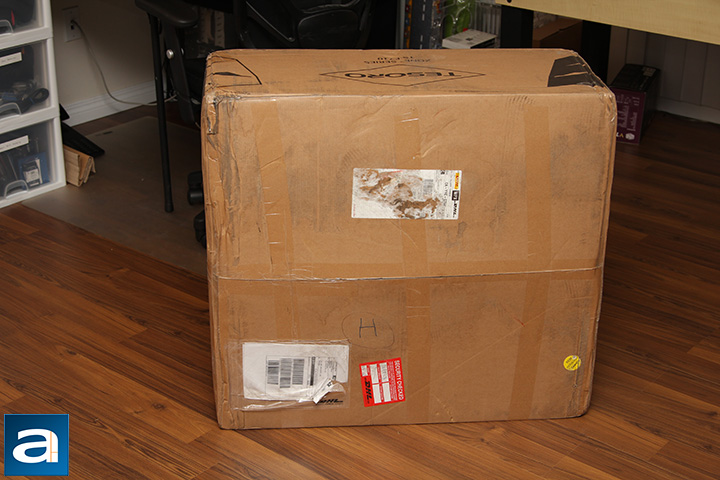 Our review unit of the Tesoro Zone Balance came in a massive brown corrugated cardboard box from the company's American headquarters in Fremont, California, USA. The box is so large, and appropriately as heavy, the DHL delivery man asked me to help him move it from his van to my place when he arrived at our offices here in Calgary, Alberta, Canada. I happily obliged, but this is not exactly what I would call good service, especially considering he asked the customer to do what his job entails, haha. On the other hand, considering this is DHL, I am not entirely surprised. We have had a long history with DHL going as far back as 2006, and maybe not a whole lot has changed a decade later. That aside, I was really excited for the gaming chair, so I immediately got to work upon receipt.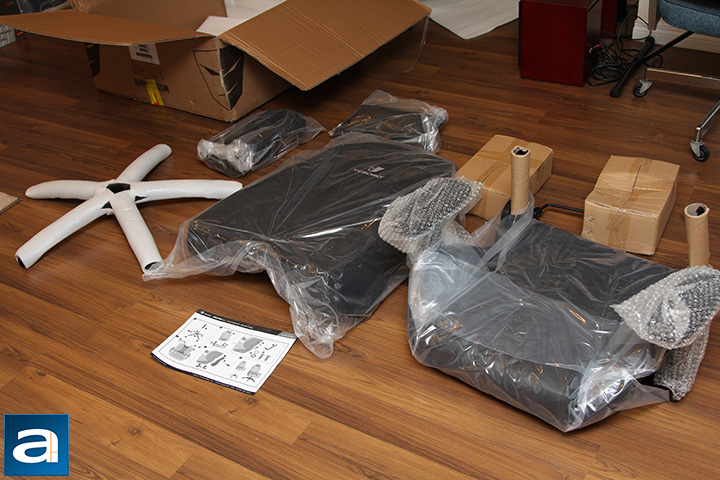 Like any chair you buy from a store, the Tesoro Zone Balance will require some assembly. Upon opening the box, everything was neatly organized to make your life as easy as possible. As you can see in our photo above, the three main components of the gaming chair -- the base, bottom, and back -- are all neatly wrapped it its own clear plastic, bubble wrap, foam, or cardboard to ensure safety during transport. Lumbar and head support cushions are also included in their own separate bags. Meanwhile, other accessories, such as the pneumatic cylinder and screws, are all placed in two separate boxes for you. Lastly, a letter-sized instruction manual is provided to give you step-by-step instruction on how to get your chair rolling in no time.
Before we move on, let us take a look at the features and specifications of the Tesoro Zone Balance, as obtained from the manufacturer's website:
Features
Ergonomics – high back rest for full spinal column support
Headrest and lumbar cushions
180 degree adjustable back
Adjustable height and arm rests
5-star steel base
Class-4 gas spring
Metal base and high density foam filling
Embroidered Tesoro logo on front and back of headrest
Specifications
Chair Type: Gaming Chair
Frame Color: Black
Frame Construction: Metal
Chair Cover Color: black & white; black & black; black & red
Chair Cover Material: PU
Adjustable Armrests: 3D
Recline Mobility (Backrest): 90∘~180∘
Gas Lift Class: 4
Chair/Seat Back Style: High-back
Seat size: 57x 55 cm
Adjustable Lumbar Cushion: Yes
Adjustable Headrest: Yes
Base Type: 350mm size painted steel
Caster Size & Material: PU Racing wheel (6cm)
Weight capacity: 120kg
Gross weight (with packaging): 25 kg
Net weight (chair assembled): 23 kg
Warranty: 1 year
MSRP: $229 USD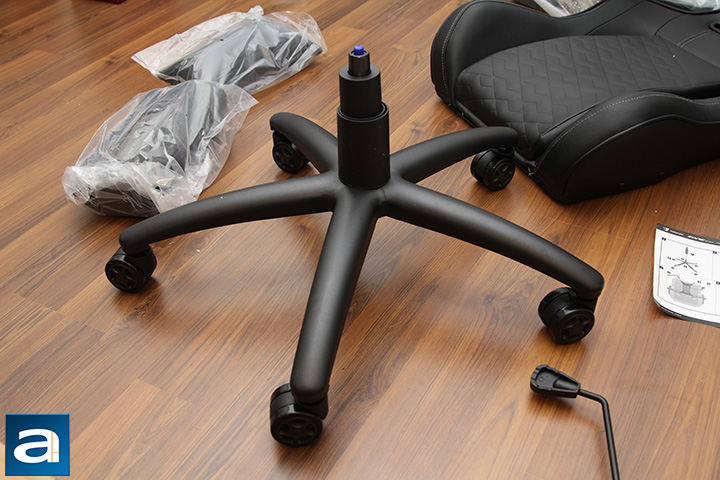 If there is anything I would like to give Tesoro credit, it will have to be the instruction manual. Although it is just a simple piece of paper with no text, the diagrams in each instruction box are crystal clear on how to put your chair together. To start, simply take out the five star base, plug the caster wheels in, and insert the pneumatic cylinder at the top. The base is made out of steel for maximum durability, and along with the Class 4 gas lift, the Zone Balance can support users weighing up to 120kg or 264lbs. As a nerdy Asian doing my graduate degree in Electrical Engineering, I am barely over the specified kilogram numerical value... if you change "kg" into "lb". That aside, the caster wheels are polyurethane coated for improved glide over smooth surfaces.
The next step involves attaching the back of the chair to the bottom of the chair. It is nice the armrests are installed out of the box already, so you do not need to worry about that. Two metal brackets extend from the bottom assembly of the chair for you to align the back to. There are no tracks to help the two parts align with each other or even hold them in place, so you might need to grab a friend or a family member to help you out here. With a bit of technique, I managed to do this all by myself; once you get the first screw in, you are pretty much set. Two screws are required on both sides for a total of four to complete this step. Once you have your set of screws with the included flat and spring washers attached, torque it down with the included hex key, and you are well on your way.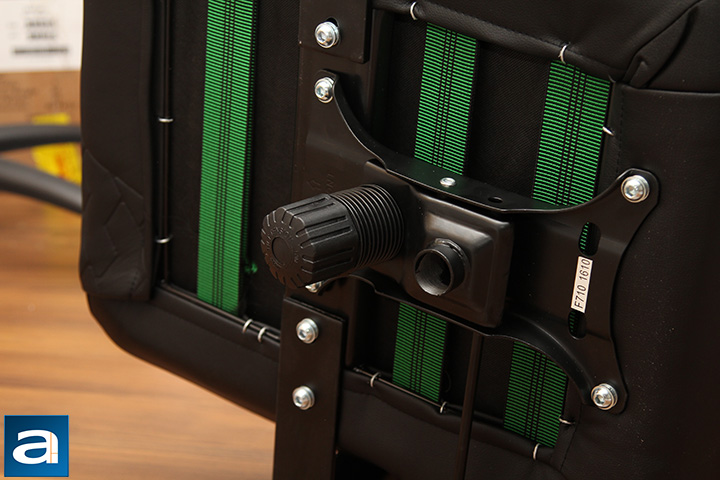 Flipping the chair around, a supporting bracket is required to connect the bottom of your Tesoro Zone Balance to the five star metal base as described earlier. The supporting bracket is attached by four screws. This is as straightforward as it gets, other than the fact some mechanical components will get in the way to prevent consistent full rotations of your hex key. Therefore, your hex key will need to be released at each three-quarter rotation, which can be a bit annoying. Fortunately, the screws become secure reasonably quickly. There are also some slick green highlights at the bottom of your chair as you can see in our photo above, but I doubt anyone will ever see them, haha.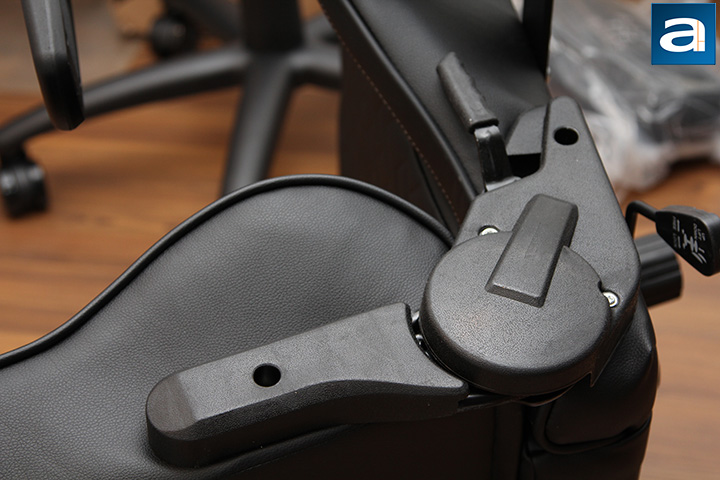 Before dropping your seat into the base assembly, I installed a pair of plastic covers -- one on each side of the Tesoro Zone Balance -- to cover up the exposed metal brackets. On a side note, the gaming chair is built on a steel frame, making it feel very strong and sturdy out of the box, and will likely remain so for years to come. Each plastic cover is attached by a screw, which is a welcomed departure from standard clip-on assembly procedures nowadays. Our photo above shows the right side of the chair, where the pneumatic lever for adjusting the height of the chair and the mechanical lever for adjusting the angle of the back of the chair can be seen. Both levers are placed in a natural and easy to access location in my opinion, and they are shaped and sized differently enough, so you will never confuse one being the other.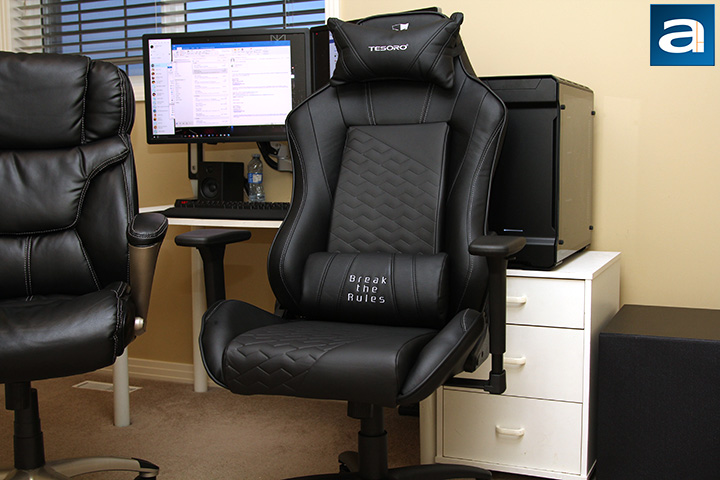 Lastly, I dropped my seat into the base assembly, and the Tesoro Zone Balance gaming chair was good to go. Just for reference, on the left is my old leather office chair I got from Staples about three years ago. If you want, the lumbar and head support cushions can be attached to the Zone Balance as shown. The head support cushion is secured by an elastic that wraps around the back of the chair, and the lumbar support cushion clings on by a plastic buckle through the non-removable back foam piece. Impressively, the total assembly time was less than twenty minutes, and this included the time I used to take photos for this review. Overall, other than two very minor complaints, I found the assembly process to be quite painless, thanks to Tesoro's great packaging, crystal clear instructions, and well-designed hardware.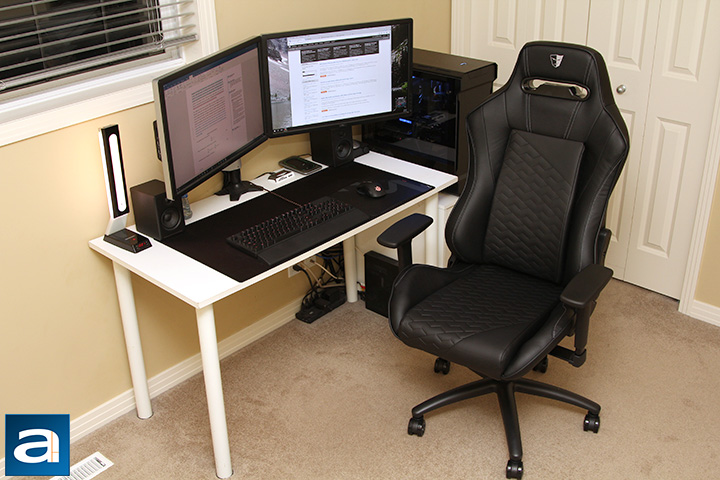 I am editing a paper to submit to an academic journal on my left monitor. With this setup, sometimes I wonder how I get any real work done.
Personally, I am not a big fan of the lumbar support and head support cushions, so I took them off. Therefore, here is another view of the Tesoro Zone Balance, this time with the lumbar support and head support cushions removed. At this point, I have mostly discussed the assembly of this gaming chair. But how is it to live with daily?
All I have to say is, the experience is excellent. Like any gaming chair, the Tesoro Zone Balance is vastly superior to any office chair you can buy at Staples. Its racing inspired bucket seat design provides great comfort for extended seating periods. The bottom is long enough to provide excellent thigh support, while the back is sufficiently tall for great full back support up to your head as well. The seat is ergonomically designed for a healthy sitting posture. Furthermore, the Zone Balance's premium cold core foam is unlikely to flatten over time, kind of like your car, unlike the soft padding used in almost every standard office chair. The polyurethane faux leather is not only quite authentic in appearance, but also soft to touch, and comfortable in use. The chair's textured surface also appears to be durable and spill resistant in nature.
Tesoro also advertises the Zone Balance as having 3D adjustable arm rests. Basically, it slides front and back, tilts left and right, and can be adjusted up or down. While this flexibility is quite amazing, it would be nice if its slide and tilt functions are locked by a releasable latch, like its up or down adjustment, rather than by pure friction. The reason is because there are many times where I have accidentally pushed the arm rest out of alignment when relying on the arm rest.
The back can be reclined a full 180 degrees for a flat seating surface. At this point, I would not call this exactly seating; more like sleeping, haha. In case you get tired during work, I mean, "work", there is nothing stopping you from taking a quick nap. At first, I was a bit worried the chair will tip over in that position. However, I tried tipping it not only by lying flat, but also rocking it, and the Zone Balance has not failed me once. Tesoro has clearly thought of this already, haha.
In terms of improvement, I would say thicker bolsters on both sides for better lateral support would be nice. It would also be really awesome if the tilt angle of the bottom is adjustable rather than being parallel to the floor. I did not know how much of a difference it could make until I got a car with an eight-way adjustable power seat a few years ago. But these are just very minor complaints that does not change my opinion of the Tesoro Zone Balance. This chair is comfortable to sit in at first, and it is also comfortable to sit in for hours on end.
-----------------------------------------
Now that the new car smell has worn off, where does the Tesoro Zone Balance sit? Puns aside, this gaming chair sits pretty high in my world -- or in a more literal sense, right around me as I type this review. Needless to say, I really like the Zone Balance, as it has long replaced my old leather office chair I bought from Staples back in 2014. It all started off with a great first impression. From packaging that makes sense to some well-designed hardware, all in combination with a crystal-clear instruction sheet, the twenty-minute assembly procedure ensured everything was off to a great start. I could only list two small annoyances in the assembly process, but they were insignificant at best. Furthermore, since you are only going to deal with it probably no more than once in the lifetime of this product, I will not reiterate it here. What is real important is how is it to live with this chair on a daily basis. I found the Tesoro Zone balance to be very comfortable, thanks to its well optimized seating position and great all-round support. Stuff like the sturdy steel frame, soft touch polyurethane synthetic leather, and premium cold core foam makes this chair something that will probably last you a long time. The 180 degree reclining back that does not tip over is a bonus. If Tesoro makes the angle of the seat bottom adjustable, include thicker bolsters, and make the 3D arm rest tilt and slide lockable by a latch, it would have been perfect. For $230 at press time, the Zone Balance is an incredibly comfortable chair for a very reasonable price. One could say it is very well... balanced. Pun intended.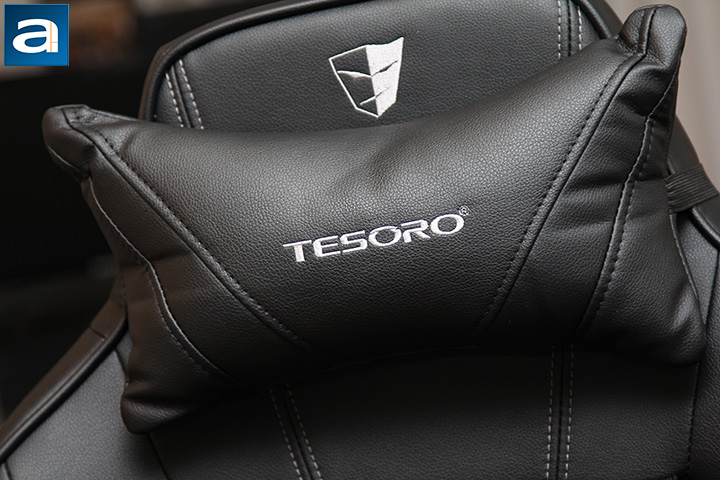 Tesoro provided this product to APH Networks for the purpose of evaluation.

APH:Renewal Award | APH Review Focus Summary:
8/10 means Definitely a very good product with drawbacks that are not likely going to matter to the end user.
-- Final APH Numeric Rating is 8.0/10
Please note that the APH Numeric Rating system is based off our proprietary guidelines in the Review Focus, and should not be compared to other sites.
The Tesoro Zone Balance is very comfortable racing-inspired gaming chair that sacrifices little for a very reasonable price.
Do you have any comments or questions about the Tesoro Zone Balance? Drop by our Forums. Registration is free, and it only takes a minute!