By: Jadon Lee
October 28, 2022
In recent thoughts, I have had the concepts of awareness and knowledge in my head. What is the necessity of either one? Sometimes ignorance is truly bliss, but in other instances being cognizant is required. What separates the need for realization and for someone to know? Many times, the want to know comes from a place of nosiness or general curiosity. However, there is information in the world that people simply do not need to know about. For example, I do not need to know what is going on in a hospital when I have a five hour wait time. It would be self-serving to be aware, but I do not need to know what is happening behind the scenes. Sometimes, being aware is also necessary for avoiding awkward situations. This could include having the knowledge and foresight to avoid specific conversations with people. I personally am of the belief that there are very few instances where information must absolutely be known. The only information that I could fit in this category would be all personal information of the self. Other people do not need to know this information, but it is up to the individual to share it if they please. Will this stop me from being nosy or curious? No, but it is nice to be self-aware about whether or not I need to know something. The fundamental need to know is applied to the self, just like how a fan needs to know its own purpose: To move air. This week we have the Thermaltake SWAFAN 12 RGB to try out. Does the SWAFAN 12 RGB know its purpose, or will it just be an appealing fan? Keep reading to find out!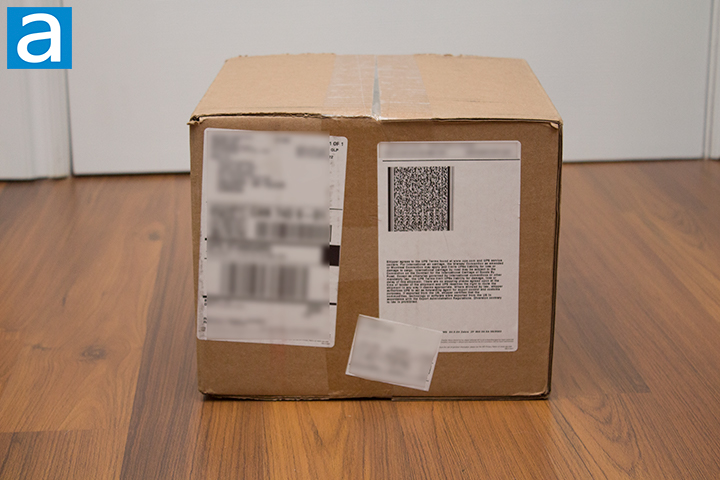 Today's review unit of the Thermaltake SWAFAN 12 RGB was shipped to us here in Calgary, Alberta, Canada via FedEx Ground from Thermaltake's office in City of Industry, California, USA. This cardboard box was handled with care, as this box came in relatively good condition with no noteworthy bumps or bruises. I will say, the box was much larger than I expected. I was not too concerned about the shipping due to the practically perfect condition of the retail box.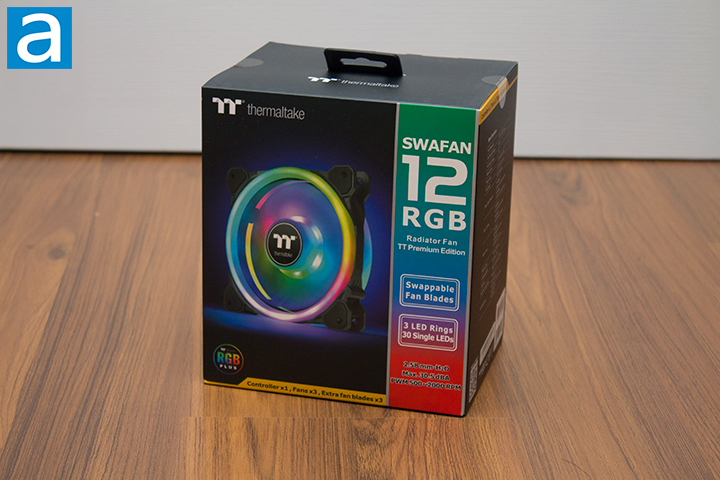 The Thermaltake SWAFAN 12 RGB comes in a primarily black box with some yellow accents. There is a nice splash of color imitating an RGB effect. The front of the box displays Thermaltake's logo on the top left, a singular fan, and of course, the name of product itself on the right side. Below the name, we have some more information about the swappable fans and the LED ring. Additionally, we have some specifications. The right side of the box talks about the specifications more in depth. The back of the box contains some features about the general design of the fans. Generally speaking, the box design is very standard and is not offensive to look at.
Before we continue, here are the specifications for the Thermaltake SWAFAN 12 RGB, as obtained from and manufacturer's site:
Fan Dimension: 120 x 120 x 25 mm
Interface: USB 2.0 Connectors (9 Pin)
System compatibility: Windows 10/11
Fan Started Voltage: 9.0 V
Fan Rated Voltage: 12 V
Rated Current: 0.27A (only one fan)
Power Input 3.24W (only one fan)
Fan Speed: 500 ~ 2000 RPM
Max Air Pressure: 2.58 mmH2O, 2.19 mmH2O (reverse fan)
Max Air Flow: 53.02 CFM, 54.85 CFM (reverse fan)
Noise Level: 30.5 dBA, 36.dBA (reverse fan)
Bearing Type: Hydraulic Bearing
Life Expectation: 40,000 hours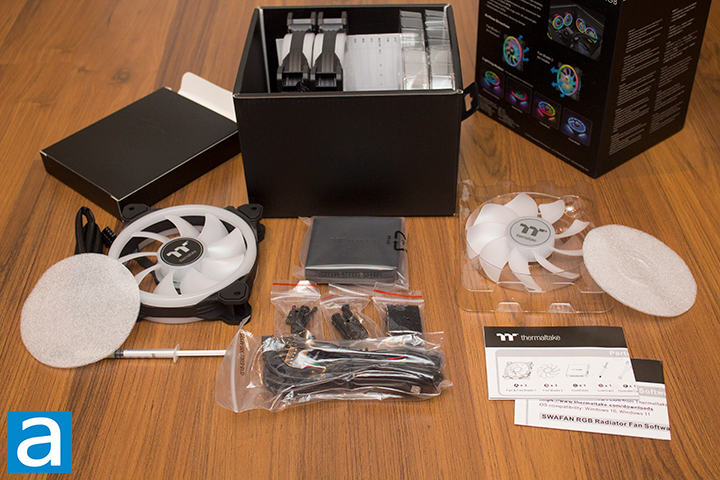 Our pack of the Thermaltake SWAFAN 12 RGB arrived in a pack of three fans with all of its included fan blades and accessories. Within the box contains a stack of all the items necessary for installation and adjusting for what kind of setup you are looking for. The fans were placed on the bottom layer with an accessories box above it. The additional fan blades at the top. The accessories box contained the screws, controller, and different mounting supplies used for radiators, the installation manual, and some lubricant. The lubricant is a nice-to-have when you want to swap the blades out, as you will see shortly. The organization in the packaging was very nice and clean. The organization was very beneficial in keeping the box nice and compact.
---
Page Index
1. Introduction, Packaging, Specifications
2.
Physical Look - Hardware
3.
Performance Tests
4.
Conclusion