By: Jonathan Kwan
July 16, 2010
If you think us computer/electronic reviewers are some kind of epic technogeeks with out-of-this-world powers composed of a completely different set of DNA than the general consumer, then you are only viewing a small part of a big picture. Yes, we do work with many different manufacturers to various extents in a wide variety of such products -- but for the most part, we are often no different than yourself in being (pretty hardcore) computer enthusiasts. And when it comes to the topic of being a computer enthusiast, to be honest I have been pretty disappointed in the computer cases that have been released in the past few years. Fundamentally, I have a few guidelines when it comes to selecting my chassis of choice (Other than the Thermaltake Level 10, which is the only computer case in this market today that is awesome enough to be the exception to everything I am going to list). The product has to be a mid-tower in classical motherboard configuration for a large unobstructed left sided window, standard 120mm or 140mm front and rear fans only, stylish but clean panel designs, and excellent construction quality all around. Preferred personal features that are not stringent requirements come down to aspects such as aluminum panels and decent sound-proofing. A few years ago, computer cases that fit this bill were not hard to find. Antec has them. Cooler Master has them. SilverStone has them. Thermaltake has them. And so on. But lately, it seems every manufacturer has jumped the boat to exquisitely large enclosures combined with an obsession with slapping on loud unorthodox sized cooling fans in every corner, overdone face designs in the name of 'gaming', and so-called innovations that simply put me off. If there is a manufacturer that held true to my philosophy of case designs, it would be Lian-Li. But other than clean conservative aluminum designs, is there anything else that may also appeal to people like me? Let's take a look at something that takes a shot at being different in a good way: the Thermaltake Armor A90.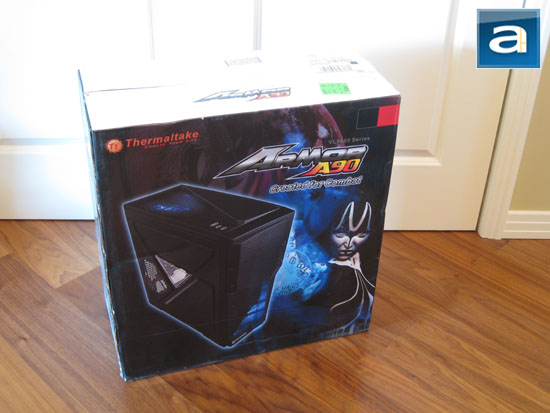 It was kind of interesting on the topic of how I got my Thermaltake Armor A90. When the case first made its appearance the manufacturer's website, it didn't really catch my attention. But its front face design -- especially in having quite a unique look -- quickly grew on me. Without even asking for a unit, one big shipping box encompassing the Thermaltake Armor A90 review unit was carried up my doorstep by the brown uniformed UPS driver in mid-May this year. The shipping-box-doubled-as-retail-box arrived at our location in Calgary safely and securely using UPS Standard, as always from Thermaltake.
Thermaltake's latest retail box designs consist mainly of black colored backgrounds in conjunction with different variations of foreground graphics corresponding to the product inside and its product theme. With Thermaltake's Armor A90 packaging, an image of the chassis itself is placed prominently near the center of the box at 3/4 angle for a good view of all the major panels. A fictional gaming character themed design with a blue gradient glow is designed to match the blue light emitted by the case's front and upper LED fans. Its brand and model name are stated in stylized text; surprisingly the slogan 'Created for Combat' didn't cause any trouble when clearing the customs, haha. I distinctively recall reading a review a few years back before I became a writer with regards to the Canadian customs going nuts over a Cooler Master box because the case's slogan was 'Armed with Honor'!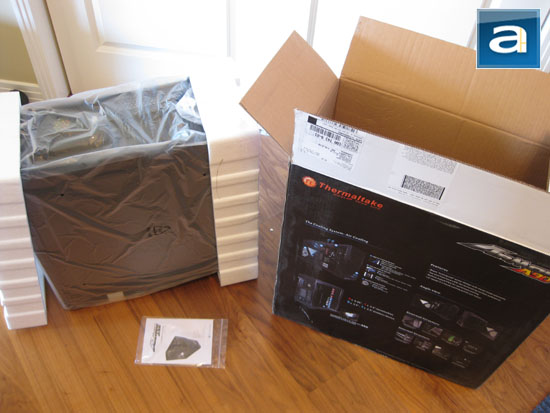 A series of feature highlights are placed at the back of the box; one of the biggest highlights is its air cooling system. Subtitles were used to break down to its specifics including the HDD air cooling system, CPU air cooling system, and VGA cooling system -- all with its own image thumbnails next to each point. Furthermore, arrays of photos under different sections were implemented to get the user to pay attention to the Armor A90's external an internal structure. In my opinion, Thermaltake has done a commendable job in using different diagrams and pictures to give users a quick and easy visual understanding of this product's unique aspects.
Cracking open the box, we will find the Thermaltake Armor A90 itself wrapped in a large plastic bag clipped between two large Styrofoam brackets. An instruction manual is placed inside the box as well. Case accessories are secured inside the chassis; so we will worry about that in just a moment. Meanwhile, before we move on, let's take a look at the specifications of this mid-tower, as obtained from Thermaltake's website:
Case Type: Mid Tower
Material: SECC
Front Bezel Material: Plastic
Color: Black Interior
Black Exterior
Side Panel: Transparent Window
Motherboard Support: Standard ATX & Micro ATX
Motherboard Tray: N/A
5.25" Drive Bay: 3
Ext. 3.5" Drive Bay: 1 x 3.5" with 5.25" converter
Int. 3.5" Drive Bay: 6 (with 1 x 2.5" HDD/SSD)
Expansion Slots: 7
Front I/O Ports: 4 x USB2.0, 1 x e-SATA, HD Audio ports
Cooling System: Front (Intake): 120 x 120 x 25 mm Blue LED fan, 1000rpm, 16dBA;
120 x 120 x 25 mm (optional) or 200 x 200 x 20 mm (optional). Rear (Exhaust): 120 x 120 x 25 mm TurboFan, 1000rpm, 16dBA. Top (Exhaust): 200 x 200 x 20 mm Blue LED fan, 800rpm, 15dBA. Side (Intake): 120 x 120 mm (optional)
Liquid Cooling Capable: Yes
Liquid Cooling Embedded: No
Power Supply Supported: Standard ATX PSII
Power Supply Included: No
Dimension (H*W*D): 502 (H) x 210(W) x 515 (L) mm / 19.8 (H) x 8.3 (W) x 20.3 (L) inch
Net Weight: 8.2 Kg / 18.1 Lb
Security Lock:
Application:
Warranty: 3 Year
---
Page Index
1. Introduction, Packaging, Specifications
2.
Physical Look - Outside
3.
Physical Look - Inside
4.
Installation and Conclusion