By: Preston Yuen
October 28, 2011
Since the ancient of days, the race of men craved for many desirable objects, ideas, and ultimately, the power and rule over many aspects of the world. This included people such as Julius Caesar, who was a very famous general playing a critical role in the Roman Empire. In the past century, nations have fought because of clashing ideas and world domination, as seen between the Axis and Allied countries during the Second World War. In the famous trilogy The Lord of the Rings, "Nine rings were gifted to the race of men -- who above all else, desire power." Inevitably, only time will tell which side will emerge victorious, while the other side must suffer the consequences of losing. The life cycle must always begin at some point, and ends somewhere down the road. In the world of technology, the concept of functional hardware and hardware failure applies, and the circle of life is of no exception. Take power supplies, for example. What will happen to them when you let them run 24/7 for ten years straight? That's a whopping total of almost 88,000 hours. That it is pretty close to the MTBF of your average PSU; not saying that PSUs will die at exactly 100,000 hours or anything, but hey -- everything has a limited life. Or maybe you just happen to have a spare sitting in the storage room in which you decided to power up again. Running a quick little test on it may save you quite a bit of time rather than plugging everything in and finding out it doesn't work (And what doesn't work). Well, you are just in luck. Thermaltake has now redefined their new power supply tester. For starters, let's just say it looks like a big step up in terms of looks from the 'compass' original Dr. Power into the 'GPS' Dr. Power II we are reviewing today. Keep reading to find out more!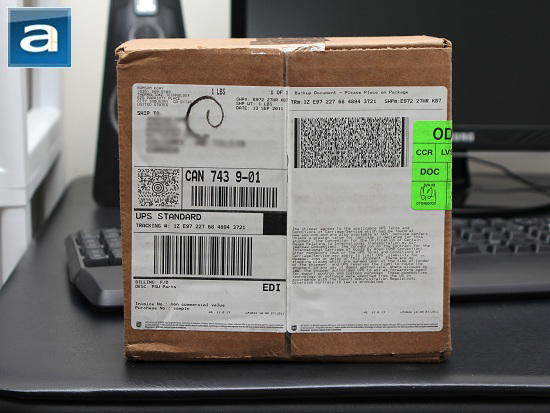 Our Thermaltake Dr. Power II review unit came in a rather small brown corrugated cardboard box from the company's American headquarters down in California, USA. Sustaining next to no bumps and bruises, it arrived at our Calgary, Alberta office with no complaints via UPS Standard. Without further delay, I quickly yanked out my camera and knife, and got down to work.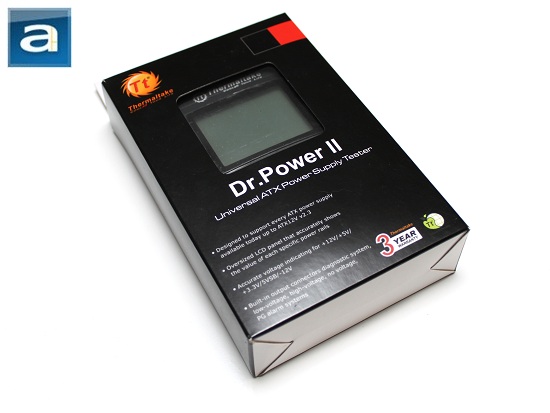 The packaging of the Thermaltake Dr. Power II is actually quite simple. The company logo is shown on the top left corner, while its background consists mainly of the color black. A small window at the upper half shows the LCD display of the Dr. Power II. Just below it, the model name is printed neatly across the center, with its functionality and features in smaller print right under. The Dr. Power II comes with 3 years of warranty from the manufacturer. In my opinion, that's more than plenty for such a convenient device, and it comes at a cost of about $40 at press time.
Before we dive into the review today, let's quickly go over the features and specifications of this device, as obtained from the manufacturer's website:
Features
- Designed from the ground-up to support every ATX power supply available today up to ATX12V v2.3
- Oversized LCD panel that accurately shows the value of each specific power rails (within one-tenth of a volt)
- Accurate voltage indicating for +12V/+5V/+3.3V/5VSB/-12V
- Built-in output connectors diagnostic system, low-voltage, high-voltage, no voltage, PG alarm systems
- Easily troubleshoots system failure due to unstable power supply
- Built-in alarm system to identify user when the power supply demonstrates abnormal characteristic
Specifications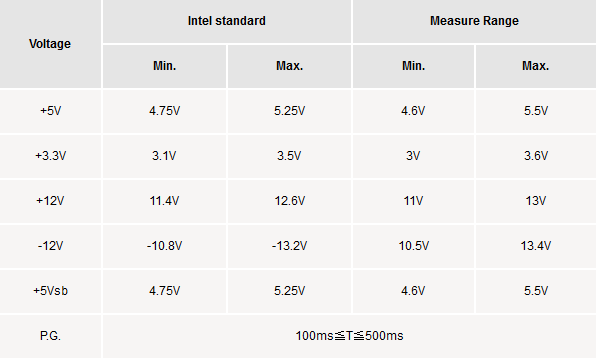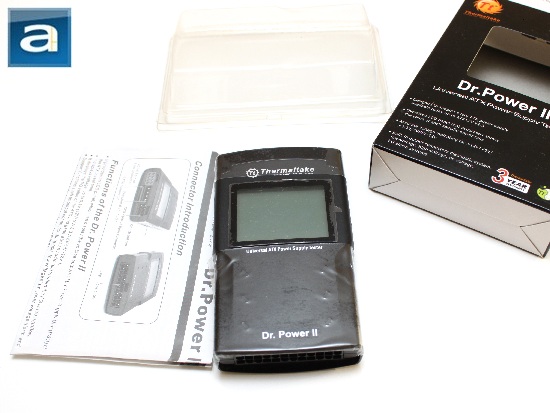 Pulling the contents out of the box, you will get the Thermaltake Dr. Power II itself encased in a plastic shell, and a manual tacked behind it. The unit itself is covered in plastic tape to prevent accidental scratches. The manual cuts straight to the point in showing you how to use the Dr. Power II, and which cable hooks up to what connector. Really, it is quite simple, so there is no need to get complicated here.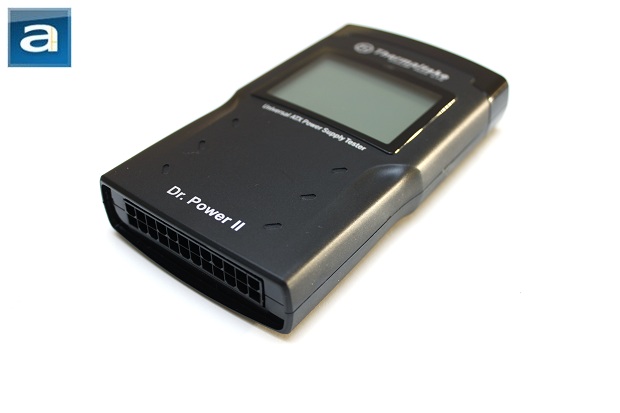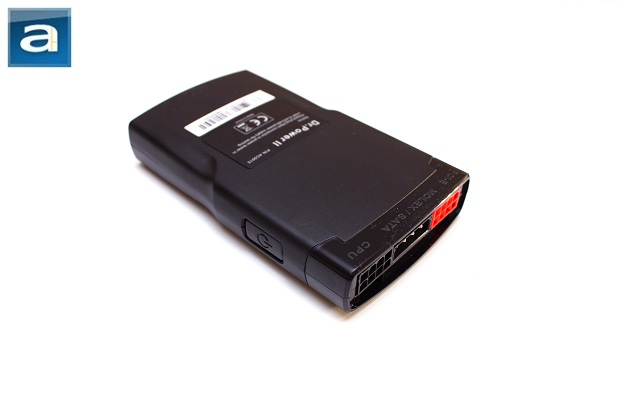 Pulling out my ruler, the Thermaltake Dr. Power II measures out to 130mm in length, 73mm in width, and 20mm in thickness. Although this can fit into some people's pockets, others may think otherwise. In terms of design, the Thermaltake Dr. Power II is quite simple looking. Its overall shell is mainly made of hard plastic, with a clear piece of plastic over the LCD screen. The lower half is slightly curved at the edges to give the user a firm grip around the unit, so it will not slip while you are plugging in those cables from your power supply. One thing I have noticed when playing around with the Dr. Power II is that the LCD screen can be easily scratched, so if you want to keep it in pristine condition, it would be a good idea to use some kind of screen protector.
As you can see from the first photo above, the bottom features a 24-pin ATX connector, while the top features a black 4-pin ATX/8-pin EPS connector. A Molex and SATA connector resides in the middle, along with a red PCIe 6 or 8-pin plug next to it. You will also be able to access what Thermaltake calls a "Check" button. This allows you to start testing your power supply, as its name suggests.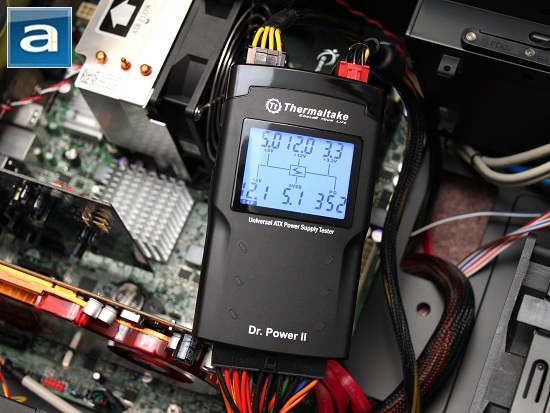 Setup was extremely easy, as long as you have at least the 24-pin connector plugged into to the Thermaltake Dr. Power II, with AC power fed to your power supply. Of course, with a PCIe, Molex, SATA, and CPU power cables connected, the Dr. Power II will also test and output the voltage values to the LCD screen. To start testing, simply fire it up by pressing the "Check" button on the side. There are two modes configured on the Dr. Power II. The first of which is an automatic mode for a quick test to see if your power supply is simply working. If you rather read each of the voltage values specifically for each of the cables plugged in, there is a manual mode, in which you can switch to each of these cables to check their outputs against the expected number as given by your power supply. If all checks out properly, the screen will stay blue. Else, the screen will turn red, indicating that there is error. In addition to the red screen, there will be a small buzz sound with a letter "F" corresponding to the failed voltage output, followed by the power supply turning off. One important thing to note is once the diagnostics test begins, removing any cables may result in damage to the Dr. Power II, and may return false positive results, so it is best to let it finish the test first, even if there are failures in your power supply. The test in auto mode takes 1-2 minutes. If you would much rather finish the test quickly, press and hold the "Check" button for a second. That will cycle though each of the connectors you have plugged in at one second each. After the last click of a button, you will be taken directly out of the testing process. This will take about 20 seconds, but it beats waiting for the whole thing to finish. In that case, I think a dedicated "Abort" button will be a good thing to have.
-----------------------------------------
Being a computer enthusiast -- as many of you are -- or if you are the tech support guy tweaking up the back end of things in terms of hardware, you will find that the Thermaltake Dr. Power II is a very convenient and useful tool to have in your toolbox. Once all the necessary cables are connected to their respective plugs on the power supply tested, everything will be conveniently displayed on the LCD screen. Simple error alerting features gives you a quick heads up of exactly where the problem is. Its overall design is also very nice to hold and grip. However, dispute all these great features, there are two minor complaints that I have, but they are probably not be too significant to most people. First and foremost, the LCD screen can be scratched very easily. If you are one of those people that are quite rough with your tools, some sort of screen protection might be ideal. Secondly, some may complain that the overall size might be a bit large to stick in your pocket. However, if you got a bag to carry all your tools around, that will simply solve the problem. Thirdly, I think a dedicated test abort button will be a good thing to have. Generally speaking, I am quite pleased with the Thermaltake Dr. Power II, as it takes no time to test power supplies. Wasting time is not my middle name, and the Dr. Power II is one of those tools that easily tests power supplies to help you make your decision quicker than ever, whether it be sticking the power supply back into your computer, or simply dumping it in the junk yard.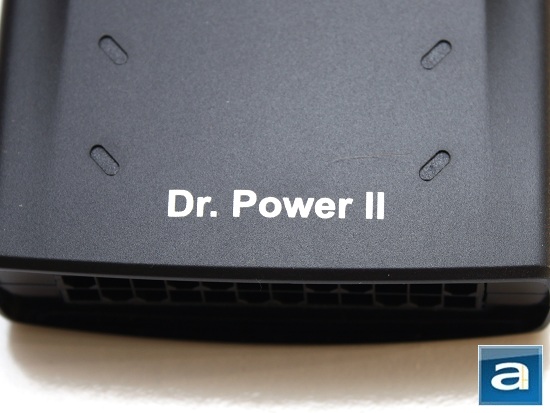 Thermaltake provided this product to APH Networks for the purpose of evaluation.
APH Review Focus Summary:
8/10 means Definitely a very good product with drawbacks that aren't likely going to matter to the end user.
7/10 means Great product with many advantages and certain insignificant drawbacks; but should be considered before purchasing.
-- Final APH Numeric Rating is 7.7/10
Please note that the APH Numeric Rating system is based off our proprietary guidelines in the Review Focus, and should not be compared to other sites.
The Thermaltake Dr. Power II is a great tool for easily testing your power supplies without wasting valuable time.
Do you have any comments or questions about the Thermaltake Dr. Power II? Drop by our Forums. Registration is free, and it only takes a minute!