By: Anthony Kwan (Debut Review)
July 4, 2009
If you live in North America, you may remember the recent Gatorade commercial "What's G?". Well, that seems like the perfect phrase for what we're going to be taking a look at today; none other than the Thermaltake's newest gaming chassis, the Element G. The newly released Element G is one of three cases as a part of Thermaltake's Element Series -- along with its big brother the Element S, and its little brother, the Element T. Labeled with the tag line "Create for Pros", the Element G is a mid-tower chassis designed with the computer gamer in mind. In the highly competitive gaming chassis market, a case needs to be both aesthetically pleasing without having an overly tacky appearance, and at the same time excelling with regards to functionality. Will the Element G give us enthusiasts exactly what we've been looking for? Or will more proven cases such as the Antec Nine Hundred Two and CoolerMaster HAF 932 be better alternatives? Featuring three multi-color LED fans, 2.5" drive mounting for drives such as SSDs, and a lower PSU chamber for better thermal management, the Element G definitely sounds like feature packed chassis designed for an enthusiast system on paper. Today, we'll be the ones to examine thoroughly whether or not it is truly worthy of the tag line "Create for Pros". Read on to find out if the Element G is really worth your money.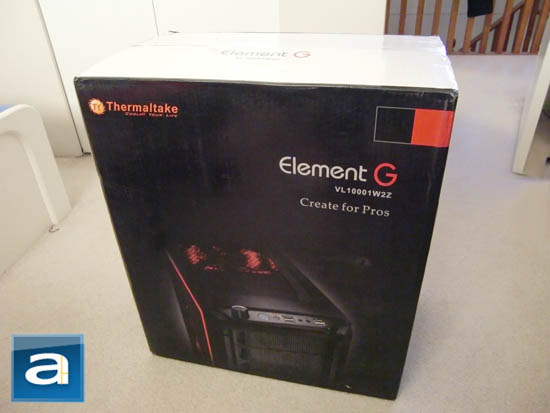 Our review sample came in a large retail packaged boxed via UPS Standard from City of Industry, California -- home to Thermaltake's American headquarters. The package weighed in at a surprisingly light mass of approximately twenty pounds. Aside from a few bumps on the corners, as well as a few scratches on the side of the box, everything arrived in decent condition.
A nice touch that not many chassis manufacturers include in their packaging is the addition of handles punched out on the front and back of the retail box. I find this to be very useful not only for the guy shipping the box to my location, but also for general handling by the UPS crew, as well as me having to bring it upstairs for where the testing begins.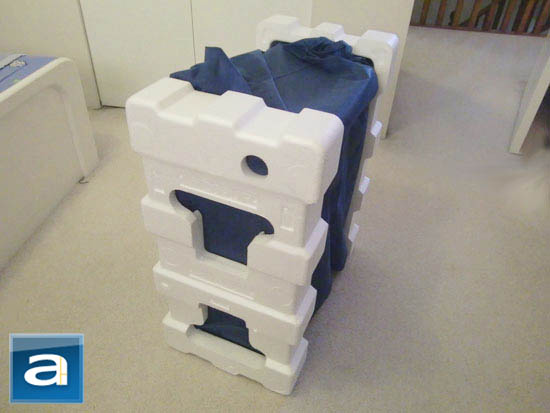 Once removed from its retail packaging, the Thermaltake Element G case itself is revealed. It was held in place by two styrofoam brackets. The two styrofoam brackets made sure that our case was clipped snugly inside the box during shipping. In addition to the two brackets, our case itself came covered in a blue colored mesh cloth. This was a nice addition in the sense that it ensured that our case was not scratched, as well as keeping it relatively dust free. I was not a surprised that the case arrived in excellent condition.
Before we move on to our review, let's take a look at the specifications, as obtained from Thermaltake's website:
Case Type: Middle Tower
Material: SECC
Front Bezel Material: Plastic
Color: Black
Side Panel: Solid w/ 23cm side fan
Motherboard Support: ATX, M-ATX
Motherboard Tray: No
5.25" Drive Bay: 3
Int. 3.5" Drive Bay: 7
Int. 2.5" Drive Bay: 2
Expansion Slots: 7
Front I/O Ports: USB 2.0 x 4, HD Audio
Fans:
- Front (intake): 200 x 200 x 20 mm Touchcolor fan, 600~800rpm, 12~14dBA
- Front (intake): Two 120 x 120mm fan (optional)
- Rear (exhaust): 140 x 140 x 25 mm TurboFan, 1000rpm, 16dBA
- Top (exhaust): 200 x 200 x 20 mm Touchcolor fan, 600~800rpm, 12~14dBA
- VGA (exhaust): Two 60 x 60 mm fan (optional)
- Side (intake): Plug&Play 230 x 230 x 20 mm Touchcolor fan, 600~800rpm, 13~15dBA
Liquid Cooling Capable: No
Liquid Cooling Embedded: No
Power Supply Supported: Standard ATX PS2
Power Supply Included: No
Dimensions (H*W*D): 18.9 x 9.1 x 20.5 in / 480.0 x 230.0 x 521.0 mm
Net Weight: 7.92 kg / 17.46 lb
Security Lock: No
Application: High End Gaming
Warranty: 3 years
---
Page Index
1. Introduction, Packaging
2.
Physical Look - Outside
3.
Physical Look - Inside
4.
Installation and Conclusion