By: Kenneth Kwok
January 1, 2009
Things have changed quite a lot over one year. With the dawn of a new year, it will bring about a refreshed array of new products that the world will soon see. In the past year, we have witnessed the introduction of new products that were faster and more efficient than ever before. Ranging from the initial launch of new unibody Apple MacBooks, to the exciting beta version of Windows 7, everything on the face of the earth seems to be getting bigger and faster (We're not saying it's a good thing or bad thing -- you decide). There's $1000 12-inch "netbooks", 17 inch laptops with SLI graphics that gets half an hour of battery life, but then there's also laptops on the latest Intel mobile platform that provides switchable graphics -- you get the idea. The only thing that is almost universally agreeable to have gotten worse this year is the economy, with hope that the dawn of a new year will bring back some much needed renewal of various markets. Either way, consumers are starting to spend their money more wisely these days, but those who have cash on their hands are definitely benefiting from reduced-price items. Be it buying cars or purchasing new computer components, it's always important to consider the merits and the affordability of a product before buying such. On a lighter note, since we mentioned cars already -- how about a 'sports car inspired' full tower case? Today, we will be taking a look at the Thermaltake Spedo Advance Package chassis. This case is designed not only to be like a fast car, but also contains elements of the looks of one. But how does it actually stack up in real life? We will answer this very question in our review today.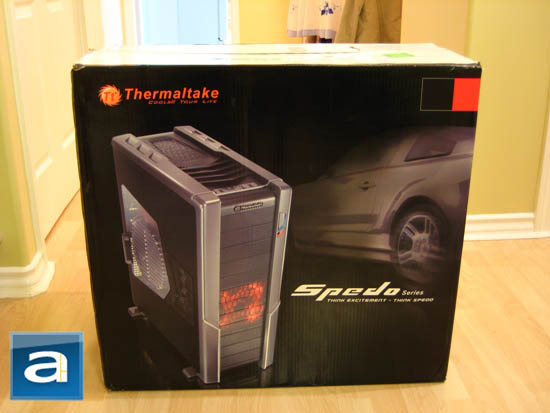 Our review unit of the Thermaltake Spedo Advance Package came in retail packaging from Thermaltake's headquarters in City of Industry, California. UPS Standard was used to ship this package, and everything came in great condition. The box only had a couple of small tears near the corners, which is quite negligible since it was delivered safely.
The retail box was quite heavy and that is attributed to the physical properties of the Thermaltake Spedo; built with SECC (Steel, Electrogalvanized, Cold-rolled, Coil) panels. The box itself has the signature Thermaltake black and orange color scheme, with a picture of the Spedo case on the left; and a blended photo of a sports car (According to the chc, it's a Ford Mustang). The 'Spedo Advance Package' letters are printed in white italicized letters on the right side.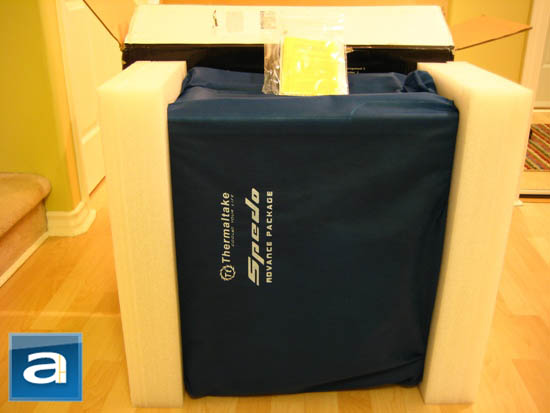 The Thermaltake Spedo arrived sandwiched between two foam brackets inside the box, with a cloth cover covering the case itself. It is a nice touch for the case, as it protects it from dust and damage as well. The foam brackets made the case stationary inside the box, thus ensuring its pristine condition without bumping around inside. At first, it was surprising to find nothing else in the box other than the instructions -- but upon further inspection, there was a separate white box taped down inside the case containing the essential accessories. It's been a while since I've opened a new computer case, haha.
Before we move on to the review, let's take a look at the specifications, as obtained from Thermaltake's website.
Case Type: Full Tower
Material: SECC 0.8 mm
Front Bezel Material: Metal Mesh
Color: Black
Side Panel: Transparent window
Motherboard Support: ATX, M-ATX
Motherboard Tray: No
5.25" Drive Bay: 7
Ext. 3.5" Drive Bay: 1 (convertable from 5.25")
Int. 3.5" Drive Bay: 6
Expansion Slots: 8
Front I/O Ports: USB 2.0 x 2, eSATA x 1, HD Audio, Cooling System
Fans:
- Front (intake): 140 x 140 x 25mm red LED fan, 1000rpm, 16dBA
- Rear (exhaust): Two 120 x 120 x 25mm TurboFan, 1300rpm, 17dBA
- Top (exhaust): 230 x 230 x 20mm fan, 800rpm, 15dBA
- Bottom (intake): 120 x 120 x 25mm fan (optional)
- CPU (exhaust): 120 x 120 x 25mm fan (optional)
- Fanbar (intake): 120 x 120 x 25mm TurnoFan, 1300rpm, 17dBA
- Side (intake): 230 x 230 x 20mm fan, 800rpm, 15dBA
Liquid Cooling Capable: Yes
Liquid Cooling Embedded: No
Power Supply Supported: Standard ATX PS2
Power Supply Included: No
Dimension (H*W*D): 24.0 x 9.1 x 21.1 in / 610 x 232 x 536 mm
Net Weight: 13.0 kg / 28.71 lb
General Weight: 15.4 kg / 34.01 lb
Security Lock: No
Application: High-End Gaming System
Warranty: 3 years
---
Page Index
1. Introduction, Packaging, Specifications
2.
Physical Look - Outside
3.
Physical Look - Inside
4.
Installation and Conclusion