By: Preston Yuen
February 4, 2011
Happy New Year everyone! Hold on a minute, wasn't it a month ago that we just celebrated 2011 New Year's? Yes, of course, you are most definitely right. But did you notice that Chinese New Year was just yesterday? Every now and then, people get caught up in the business of work, and time flies past, even when you are not up for it (I am one of such victims to fall in the traps of runaway Toyotas... er, time). It has been almost a month since I have reviewed the Gigabyte Aivia K8100 keyboard, and gosh, does time ever fly! As time continues to roll, many events in our lives change how we live, especially in such a technology driven world. However, some concepts and ideas remain the same, and Thermaltake has proof for you today. Thinking back into the days when mechanical keyboards came out, those were the times of innovation, and it has been quite fascinating to see how much keyboards have changed over the years. Keyboards became more ergonomic and sleek, and many new variants of the good old QWERTY keyboard are made and sold every day. Thermaltake's very own brand of computer gaming peripherals, Tt eSPORTS, has a pretty slick offering under its belt today. The Meka G1 is really a traditional mechanical keyboard, yet it can also be found under the gaming section of peripherals. What is so special that places the Meka G1 in two different peripheral categories at the same time? Is it possible that Thermaltake has revolutionized the traditional mechanical keyboard? Keep reading to find out!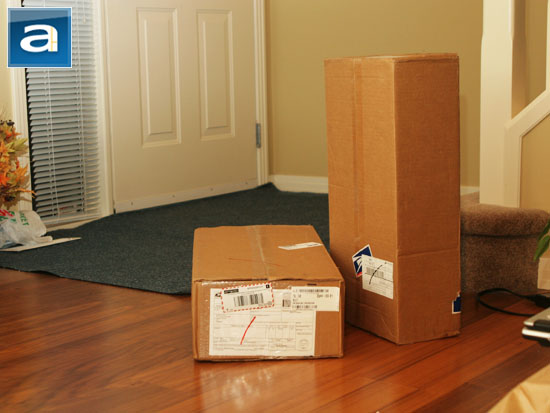 The Tt eSPORTS Meka G1 mechanical gaming keyboard arrived along with the Challenger Pro gaming keyboard as well as the Black gaming mouse in two separate boxes from our good neighbors down south -- specifically, from California -- via USPS, then transferred to Canada Post to our Calgary, AB location in mostly pristine condition. We will review the listed products in the next few weeks. As always, there were some expected minor bumps and bruises, but nothing to get overly concerned of.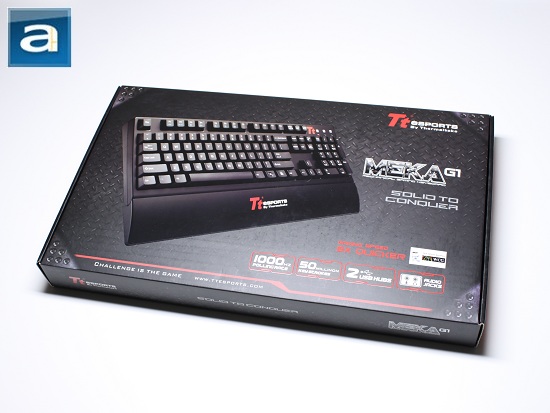 As part of the eSPORTS theme, Thermaltake has decided to make their packaging design slick and cool-looking in yours truly's opinion. The color scheme used here is consistent across the entire brand. On the packaging of the Meka G1, we can see Thermaltake implemented a metallic-like black studded metal sheet pattern, "screwed" down on all four corners. The photo of the Meka G1 itself is presented boldly on the left two-thirds of the box with its name adjacent on the right, along with the slogan, "Solid to Conquer". As the Meka G1 is under Thermaltake's Tt eSPORTS brand, this is clearly labeled on the top right corner. Thermaltake also displays some key features on the bottom right side, with the box finished off in a streamlined red strip on the bottom with the eSPORTS slogan, "Challenge is the Game". Flipping the box over to the backside lists the features again in multiple languages. Thermaltake implements the conventional flap tray in the retail box, so opening it is a piece of cake. You are then presented with another thin sheet of cardboard with all the features, and right under this is your Meka G1.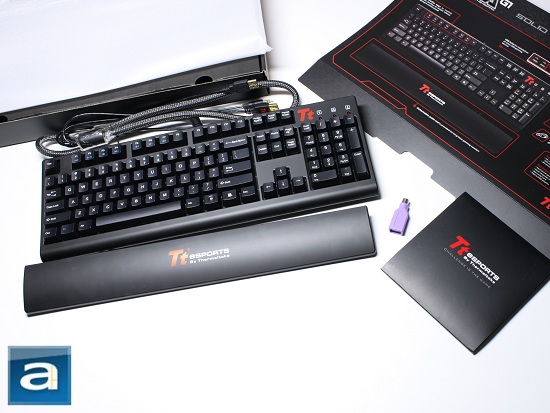 Thermaltake has done a good job in keeping its products safe and sound with their retail packaging, as the keyboard and wrist rest was wrapped in a thin layer of foam. Out of the box, you will get the following:
- Manual/guide
- Tt eSPORTS Meka G1 Mechanical Gaming Keyboard
- Wrist rest
- USB to PS/2 adapter
To be honest, the first question that came to my mind was, "Who in the world still play games on a computer with a PS/2 keyboard port?" However, since you could easily take the adapter off, it can only be a good thing, since Thermaltake is giving the user additional choice. Besides, there might be many traditionalists who enjoy playing Pacman on their old school computers, bringing back memories of the IBM mechanical keyboards in the 1990s.
Before we move on with the rest of the review, let's take a closer look at what the Tt eSPORTS Meka G1 mechanical gaming keyboard features:
- Interface: USB
- Operational system: Windows® 7/Vista/XP
- Number of Multimedia keys: 7
- 2.0 USB port: 2
- Mic-In &SP Out jacks
- Switch lifecycle: 50 Millions
- Switch brand: Cherry Black switch
- Cable length: 1.5m military grade cable
- Detachable palm rest
- Body dimension (LxWxH): 430x160x40mm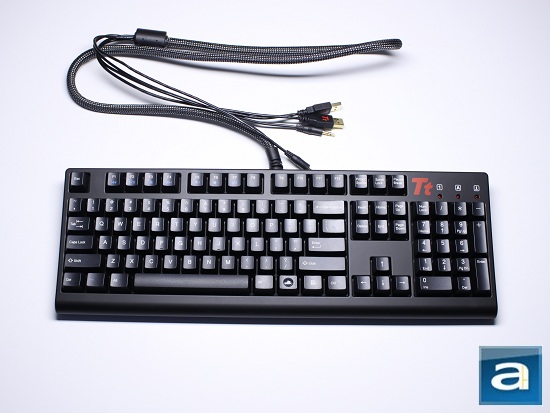 The Tt eSPORTS Meka G1 incorporates a down-to-earth genuinely traditional QWERTY layout, without any additional gaming features tacked on. The black keyboard measures in at 200mm long with the palm rest (160mm without), 430mm wide, and 40mm high. It is actually kind of hard to find such a keyboard nowadays. The Meka G1 has a rather thick cable, because it bundles the USB keyboard cable, USB hub cable, microphone, and headphone audio cables all into one big cable. I will go into further detail later on in this review. The Meka G1 also comes along with a very easily detachable wrist rest, which somehow found a back door out of the above picture, haha. I do appreciate a wrist rest for such keyboards, since I find that it is quite a ways off the table to leave your hands dangling. This is one of the few non-traditional feature found on the Meka G1. While putting the keyboard to test, I found that after an extended period of usage, the wrist rest started accumulating a light patch of sweat from my hands. Fortunately, since it is made out of solid plastic, this can easily be cleaned off with a cloth. As you may have noticed already, the Meka G1 does not feature any sort of backlight to light the keys for gaming in the dark, primarily because the Meka G1 strives to be a hardcore traditional keyboard.
Speaking of which, one of the highlights of the Meka G1 is its mechanical keyswitches. There are three main types of keyboards in the market today. The cheapest is the membrane keyboard, which is the easiest to make, but also has poor typing feel and response due to squishy keys. A scissor switch keyboard has its own independent keyswitch mechanism for each key, which delivers improved tactile response and typing experience. Modern scissor switch keyboards can be very good. Mechanical keyboards such as the Meka G1 costs the most, because each keyswitch is an independent part. Mechanical keyboards also offer full 4mm key travel distance with excellent tactile response and unmatched durability in the long run. The Tt eSPORTS Meka G1 features Cherry MX Black mechanical switches, which are currently considered as some of the best keyswitches in the realm of mechanical keyboards. There is lots of tactile and audible feedback from such keys, and so a reasonable amount of force is needed for each keystroke, resulting in improved typing accuracy. This is the single biggest highlight of the Meka G1 that sets it apart from other run of the mill keyboards, making it quite a unique keyboard from a mechanical point of view. Meanwhile, the back side houses keyboard risers that conveniently click out for some extra height. In general, the Meka G1 incorporates an ergonomic design to suit the general population of mechanical gaming fans. This will provide better comfort extended periods of gaming, and especially when it comes to typing quality from each keystroke.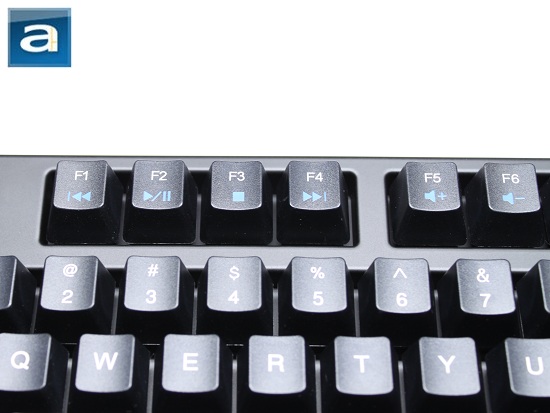 The other non-traditional convenience feature added onto the Tt eSPORTS Meka G1 are media control keys as secondary functions on the F1 through F7 keys. In order to get these keys to work, there is an 'Fn' key at the bottom left corner of the keyboard for you to use in conjunction with the media buttons. The 'Fn' key replaces the conventional Windows key that is usually found in that spot. Remember the last time you rushed to the enemy zone waiting to grab the highest KD ratio of your gaming career, but accidentally hit the Windows key, only to result in your game being minimized and you lost? Well, the Fn key in this location can't do any harm in this situation. The Windows key can be found on the bottom right instead. The volume control keys can be used in-game to adjust the volume to your liking.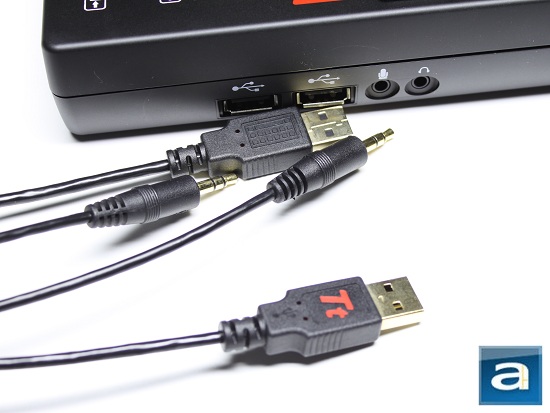 Although the Tt eSPORTS Meka G1 looks awfully traditional (In a good way), it is still equipped with two additional USB ports beside the two 3.5mm microphone and audio jacks at the back. These provide a convenient extension to the back of your computer, rather than having to reach down every time you decide to play a game or are in need of an extra USB port. Of course, in order for these to work, the microphone and audio jacks must be plugged into their respective jacks on the other end. The two-port USB hub connects to your computer via a separate connector, so don't forget to plug your actual keyboard in too when you're using it! Just remember that the Meka G1 does not have its own independent power supply, so the two USB ports share maximum current of 500mA provided by one USB port at the back of your motherboard. All these cables are half-packaged into one thick, cotton braided cable, and the other half are let loose with the standard cable quality for a more convenient cable management process. Much like the Gigabyte Aivia K8100 keyboard I have reviewed a short while back, the Tt eSPORTS also features gold-plated USB connector, and it comes down to the same question of whether being gold-plated is helpful. If we are talking about the actual pins, then possibly -- since gold offers better conductivity than other metals. This theoretically establishes a better connection with your computer -- but on a digital signal level, we must understand it is a discrete one or zero; so if anyone tells you they can tell the difference, you can definitely defeat their theory with a double blinded test. Additionally, if you are referring to the gold part of the connector you see in photos, I would like to point out it actually does not make any physical contact electrically with your computer. In other words, it is nice to have, and it is pretty to look at, but it is not anything significant on a practical level.
Taking a closer look at the mechanical keyswitches, the Meka G1 has Cherry MX Black mechanical switches, as described earlier. This feature results in giving the user tactile feedback during usage. Many users, myself inclusive, are used to the non-mechanical keyboards, so switching over to the Meka G1 will result in pressing each key too far down, consequently leading to loud key clicks on top of the light click generated half-way through each key travel. This proves to be difficult in the beginning, especially for users who are used to common keyboards. But as always, practice makes perfect! Users new to the Meka G1 will find that the clicks of each keystroke to be quite loud. With further experience and practice with this keyboard, the unnatural forced response will start to decrease. The Cherry MX Black keyswitches also require you to provide a consistent and constant amount of force for each keystroke, and from the experience I have had with the Meka G1, it could get quite tiring after a reasonable amount of typing due to this feedback force. On the positive side, thanks to each key's excellent tactile response, the keyswitches provide the user with a very good feel with each keystroke released, and thus, encouraging speed and accuracy. A side effect is this could prove to be quite constraining when playing computer games like Starcraft, where rapid and consistent keystrokes are required (That is, if you are concerned about how high you get your APM). However, it does not take too long to get some practice and be able to type well on such a keyboard. This did not take me too long to get used to the feedback provided by the keys, since I already had some experience with a similar line of products. Users who have already gotten used to mechanical keyboards, such as the system found on the Meka G1, may find it extremely appealing.
-----------------------------------------
When it comes down to computer gaming, I am typically a picky person when choosing my peripherals. In most cases, I would expect features and comfort as a function of list price. Priced at $120 retail at press time, the Tt eSPORTS Meka G1 houses Cherry MX Black mechanical switches, a detachable wrist rest, secondary media function keys, two-port USB hubs, as well as 3.5mm microphone and audio jacks. That is about it. But what the Meka G1 is really about is being a down-to-earth classic keyboard that focuses on the main purpose being, well, a keyboard. Is this full mechanical keyboard worth your hard earned cash? If you are looking for a keyboard that does a lot of stuff other than being just a keyboard, then to be honest, the Thermaltake eSPORTS Meka G1 is not for you. It does not have a lot of features. No fancy extra keys on the side. No dedicated media control buttons. No LCD screen and other fun stuff. No particular ergonomic enhancements. But if you are looking for a classic keyboard that is good at being a keyboard, and keyboard only, with a few things on the side, the Meka G1 mechanical keyboard is a worthy contender on your next shopping list. Just keep in mind this is a niche product.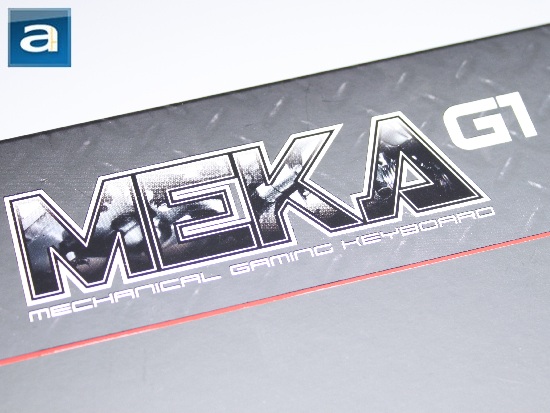 Thermaltake provided this product to APH Networks for the purpose of evaluation.
APH Review Focus Summary:
8/10 means Definitely a very good product with drawbacks that aren't likely going to matter to the end user.
7/10 means Great product with many advantages and certain insignificant drawbacks; but should be considered before purchasing.
-- Final APH Numeric Rating is 7.4/10
Please note that the APH Numeric Rating system is based off our proprietary guidelines in the Review Focus, and should not be compared to other sites.
The Tt eSPORTS Meka G1 is a good mechanical gaming keyboard marketed for a specific niche. If you are part of that niche, $120 may actually turn out to be a reasonable price tag.
Do you have any comments or questions about the Tt eSPORTS Meka G1? Drop by our Forums. Registration is free, and it only takes a minute!