By: Aaron Lai
July 10, 2015
Last week, I was talking with a friend downtown, asking her what her favorite dog breed was. One thing I realized while guessing is the fact dogs, or even pets in general, are often a reflection of the owner. Much like the beginning of 101 Dalmatians, when Roger is in the park with his dog Pongo, he notices the dog owners act and look just like the dog. You could say it is the animal imitating the human; I would say both the owner and the pet adapt to each other, resulting in a similar personality and appearance. Therefore, when I was trying to determine her three favorite dog breeds, I knew I had to be careful about the breeds I guessed. If I guessed a dog like a Chihuahua, she might think I would be calling her high maintenance or even a bit ditsy, kind of like Paris Hilton. While the dog may not be necessary like this at all, other factors such as the media or previous experiences gives the breed this reputation. Other breeds like Pit Bulls or Rottweilers may make the owner seem rough or scary, partly because of the many news stories you hear with them. Then there are the more recent dogs like the Shiba Inu, or more known on the internet as Doge, which is seen as adorable but a tad clueless. The same could be said for my favorite dog breed, the Corgi, one of the derpiest of dogs at times. All in all, the things we choose, whether animals or items, often reflect on the personality of the us. As for today's review, we have Turtle Beach's latest mouse, the Grip 500. This laser gaming mouse is targeted at gamers and regular users alike, with its Avago 9800 sensor inside. Does the Grip 500 reflect well of the owner, or is it a poor choice? This review today will hopefully answer this question, so let us read on to find out!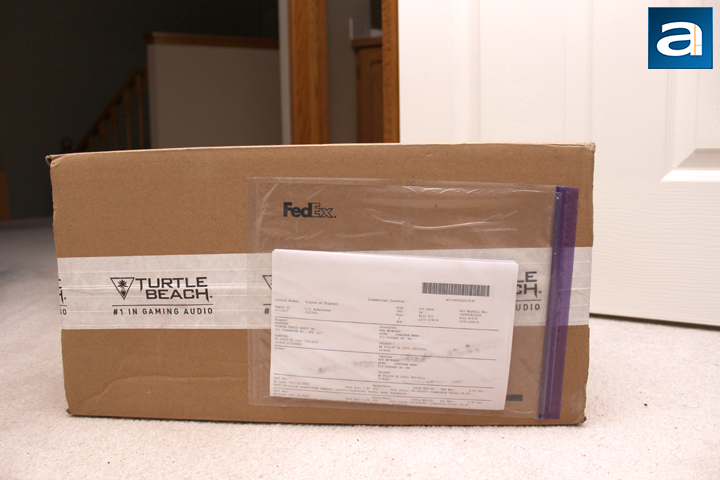 Today's review sample of the Turtle Beach Grip 500 arrived via FedEx International Economy. As this is the same box that held the Turtle Beach Impact 700 I reviewed a few weeks ago, you will have known by now the box was in excellent condition, with very few dents or scratches. As we have seen from all of FedEx's past shipments, they have been excellent in providing a safe journey for our products. The two exposed flaps on each side are wrapped with Turtle Beach packing tape, to ensure curious eyes or hands do not get inside. Turtle Beach's products arrived from Elmsford, New York. Other interesting facts about Elmsford are hard to find, as I do not want to duplicated the fun facts found in the Impact 700's review. However, according to Wikipedia, this area used to also be known as Storm's Bridge and later, Hall's Corner.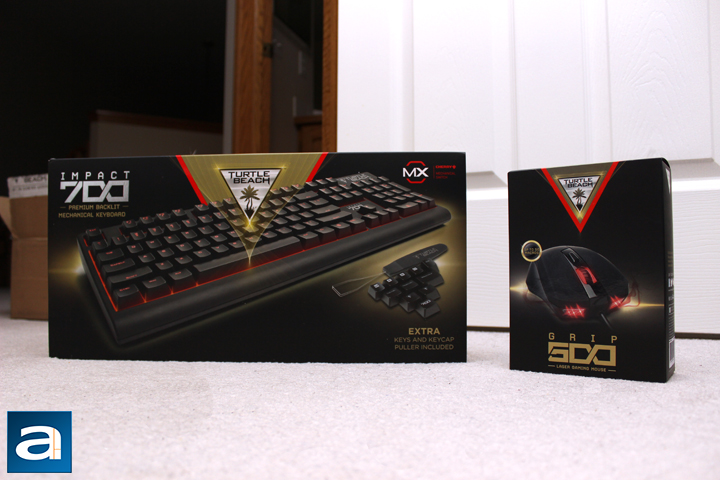 Reaching for my safety scissors, I hacked away at the box until I retrieved the Turtle Beach Grip 500's retail container. As both the Impact 700 and Grip 500 were wrapped in clear plastic bags, it was quite easy to determine which box belonged to which product. Of course, even without seeing the front panel, it would be pretty hard to stuff a full-sized mechanical keyboard in the Grip 500's container, and it would be almost comical for the Grip 500 to be in the keyboard box. Moving on, the Grip 500's box follows a similar color trend as the other Turtle Beach product we have reviewed, with a gold, black and red scheme throughout, and some silver found on the company's logo. The front panel displays a front right side of the Grip 500, with Turtle Beach's logo at the center top. Underneath the image of the mouse is the name and description of the product. The only other thing to note is the single feature highlighted on the front, which says "Up to 50 macros". We will see how Turtle Beach implements this when we inspect the software later on. Otherwise, the sides and back of the box are littered with contact information, system requirements, and features. The front panel also flaps open, revealing more features, and the mouse itself. The mouse sits in a clear plastic shell, with a cut out for potential buyers to see the Grip 500.
Before we continue to unbox this mouse, below are some features of the Turtle Beach Grip 500, as obtained from the manufacturer's website:
Features
- Top Quality Components - Avago 9800 laser sensors and Omron switches provide instant response and precise tracking
- Everything is Programmable - Customization software allows all seven buttons and the scroll-wheel to become fully programmable
- Detailed Customization - You can customize lift distance, change illumination settings and effects, and independently adjust X and Y DPI (up to 8200 DPI)
- Macro Mania - Create up to 50 complex macros with up to 100 commands each and then assign them to any button or the scroll-wheel
- Color Your Mood - Color the scroll-wheel with your choice of 16.8 million colors and choose one of four illumination effects—off, on steady, breathing and battle mode. Battle mode brightens and intensifies the illumination depending on how fast you click the buttons
- Create Multiple Profiles - Save your settings into five different color-coded profiles, load them into on-board memory and then change them on the fly
- Get a Grip - Non-slip, soft-touch coating enhances grip control and increases gamer endurance.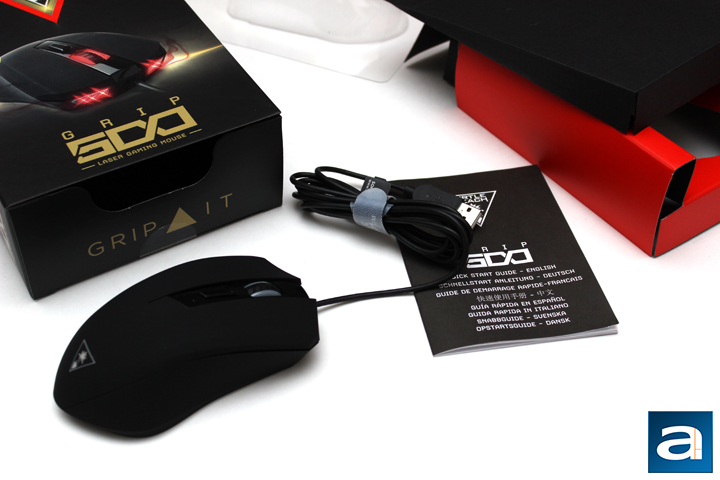 Inside the box, there are a few things to be found, and they are shown in the picture above. For obvious reasons, there is the Turtle Beach Grip 500, held by the plastic shell, and backed by a black cardboard. There is also a small product manual for product usage and configuration. The mouse is a plug and play mouse, but there is a software utility found on the manufacturer's website. Some mice we have received in the past came with a CD containing the utility, but as physical media is dying out for this sort of distribution, I am not surprised to see this omission. In addition, using the online option should ensure the latest available version is installed.
---
Page Index
1. Introduction, Packaging, Specifications
2.
A Closer Look - Hardware and Software
3.
Subjective Performance Tests
4.
Conclusion