By: Aaron Lai
August 13, 2021
I have been watching a Hong Kong drama for the past few months called Another Era. I will not go into too much detail, especially since there are many plots and subplots in this drama, but there is one subplot that surrounds an entrepreneur named Ching Hoi and his hard-working friend Siu Wai. Both of them work together at their own startup, but their work ethics are very different. Ching Hoi comes up with all the different ideas, such as an external power bank, virtual assistant, and home automation. These are all ideas we now know today, but as this was based around an earlier time, these were novel ideas. On the other hand, Siu Wai, who has a crush on Ching Hoi, works on the development and implementation of the products and services. There are many scenes where Ching Hoi is relaxing about and playing video games, while Siu Wai is working diligently without rest. As a watcher, it is easy to be antagonistic about how this big-idea person is lazy and does not do any work, but he is still the brains behind the whole startup. On the other hand, I think Siu Wai also needs to stop letting Ching Hoi take advantage of her diligence. Personally, I think either extreme is unhealthy and there needs to be a balance between working hard and relaxing. Today, Turtle Beach has sent us their Recon Controller, which is an Xbox controller with features to augment the audio experience. How does this gamepad perform, and will it let me relax with enjoyment? Let us read on to find out!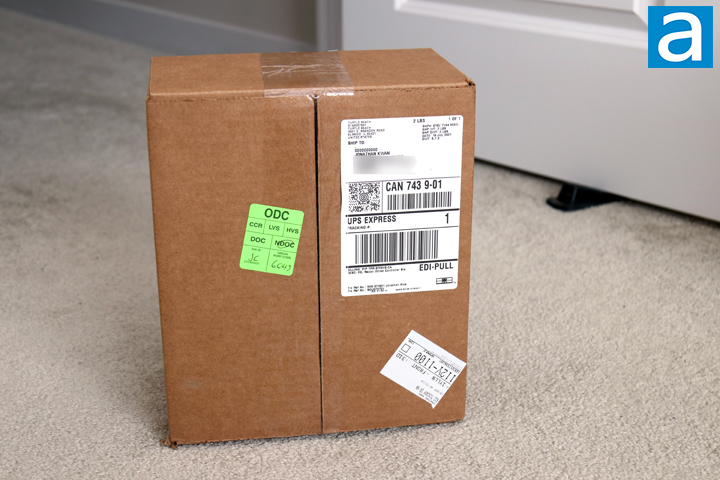 Today's review unit of the Turtle Beach Recon Controller arrived from Turtle Beach's offices in Elwood, Illinois. Traveling with UPS and their Express service, this box arrived in excellent condition with no external marks or scuffs to be concerned about. Inside, there is quite a bit of packing paper to ensure the item inside is protected during transit.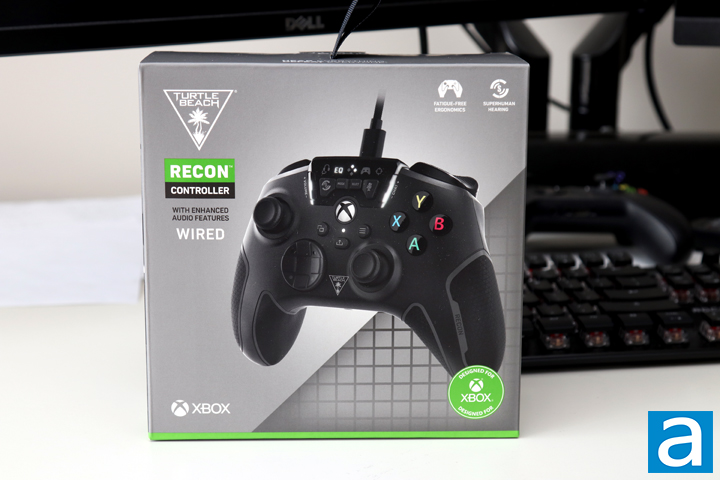 From the retail container, you can see the typical Turtle Beach touches, at least when it comes to the front of the box. The top left corner shows off the company's logo with the product name listed underneath. Around the box there are multiple markings to show this is indeed an Xbox controller. As with many Xbox products, this also works in Windows 10. The Recon Controller is displayed in black, but it also comes in white, if you so desire. Otherwise, the top right corner highlights some additional features, including its ergonomic design and Superhuman Hearing equalizer settings. We will explore these features as we continue this review. Around the back, we have more features and specifications about the Turtle Beach Recon Controller.
Before I continue, I have grabbed the specifications from the manufacturer's website for your perusal:
Connections: USB-A Connection to Game Console or PC
Connectivity: Detachable 10ft / 3m cable with Type-C USB Connector (Type-A at console)
Audio Input/Output: 3.5mm audio port for stereo audio output & microphone input
Weight: 0.66 lbs. / 300 grams
Dimensions (Mm): 180x183x73
Compatibility: Compatible with Xbox Series X|S, Xbox One & Windows 10 PCs
Warranty: 1-Year Limited Warranty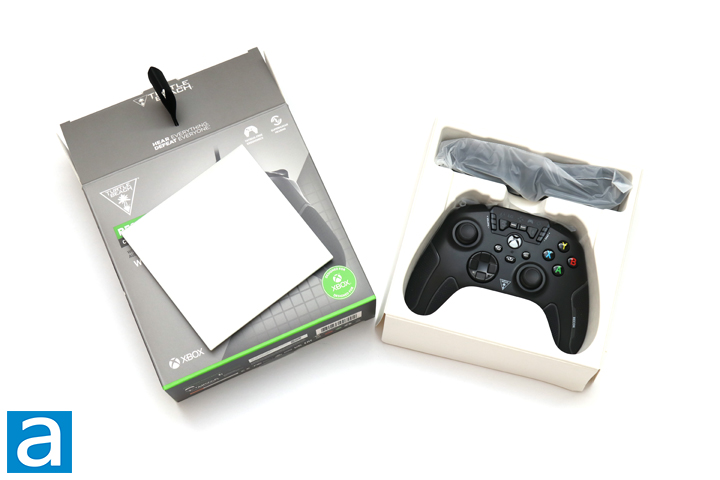 Out of the box, we have the black Turtle Beach Recon Controller. In addition, we have a 3m braided USB Type-C to Type-A cable. As you may or may not know, this is indeed a wired controller, so you will need this cable in every day operation. Otherwise, we have some reading material in the form of a quick start guide and other information. We also have a Turtle Beach sticker for you to put somewhere, if you so desire.
---
Page Index
1. Introduction, Packaging, Specifications
2.
A Closer Look - Hardware
3.
Subjective Performance Tests
4.
Conclusion