By: Jonathan Kwan
April 1, 2008
// 2008 April Fools Review
It's a car review, but everything we said here are dead serious.
It's been quite a while since APH Networks, obviously the most well known highly dedicated car enthusiast website, took a look at what we've originated from -- car reviewing. Lately we've gotten a little off track and got into all those computer products for some odd reason. But in all seriousness, take a look out on the streets. Here in North America, cars are so common, it's not even funny. From 20 year old Buick sedans to the latest Acura CUVs, and then *gasp* there's a high school kid driving their ricer that's so low they can barely make it over a speed bump, wing so big and heavy that turned their car's weight distribution into 40/60, decals on the side of their car from dozens of companies that they don't even own parts from, and tinted windows that resemble those of an opaque black wall. Well here's one for you: Performance modifications are more practical than visual modifications. Driving a standard transmission (Or manual transmission, stick shift, or whatever you want to call it) myself, there's all to one point that makes it so unique and fun to drive: The combination of the third pedal and the gearstick. Sitting in a few real performance vehicles lately, I wasn't all in for their fuel economy, but their short throw manual really intrigued me. Moving back to my own car, here's a cheap, easy do-it-yourself modification that makes your shifting all that much fun -- the complete short shifter kit from TWM Performance. Adding onto that, we also had an aftermarket weighted shift knob to go along with it. Let's see how it improves your driving experience.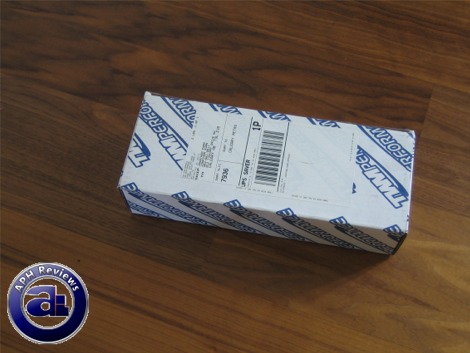 Our review unit of the TWM Performance Complete Short Shifter Kit came in a small TWM Performance marked box from UPS using Express Saver, originating from TWM Performance's offices in Quebec, Canada. Which, by the way, just because it has the word "Saver" in there doesn't mean it's slow and cheap. It arrived in less than 24 hours from pretty much the whole way across the country -- which is pretty sweet. Plus, I didn't know that TWM Performance was a Canadian company until I checked their contact address.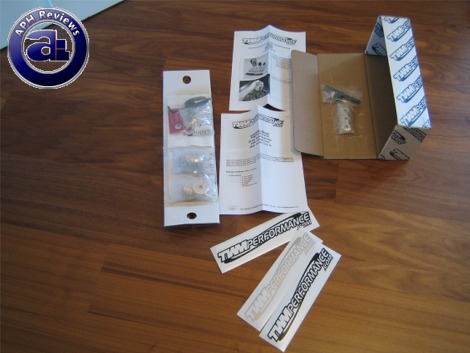 We obtained the complete short shifter kit with a weighted shift knob for this review from TWM Performance. TWM Performance is well known in the car enthusiast market, as all APH Networks people know, because this is a car enthusiast site after all, for excellent upgrades to cars with manual transmission -- ranging from short shifters to shift knobs. Also, by 'complete', we mean pretty much everything we can get for my 07 Honda Civic -- which, by the way, despite its tuner image, is a much better car when it's not "visually modded". I know mine isn't visually modded, which is good.
One common misconception about short shifters are its appeared height -- while a shorter stick will reduce hand traveling distance, a true short shifter reduces the throw angle between each shift. Because the original Honda shifter for the 8th generation Civic is already fairly short in terms of height, the stick does not need to be replaced for height reduction. All it takes is a short shift adapter to reduce its throw angle, so the TWM Performance short shifter kit for 8th generation Honda Civics come with a short shift adapter. Other accessories we've got is the base bushings along with the cable bushing kit; as well as a 440g weighted shift knob which is the true height reducer. They also offered us some complimentary decals too.
Detailed printed instructions are also included with everything, so anyone with some basic 'shop knowledge' and the right basic tools would be able to complete this upgrade. The colored PDF versions of the manuals are also available online at TWM Performance's website.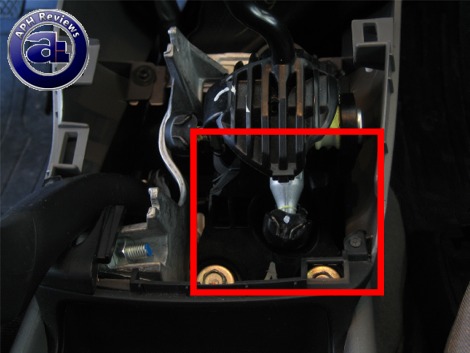 The manual included indicates there are only two things that need to be removed to install the short throw adapter from TWM Performance for my 2007 Honda Civic. Everything I needed to remove was snapped into place by the manufacturer; so all I had to do was rip out the shifter bezel and the top center console piece -- all tool-free. Our above photo shows the interior shift assembly in my car, which does not need to be removed unless you purchased and want to install the base bushings -- we won't go into detail; but the shift assembly is held down by three bolts. Removing the shift assembly will provide access to the default base bushings for replacement with TWM Performance base bushings.
The highlighted section within the red square in our photo above shows the joint between the internal shift assembly and the transmission cable. Connected by a ball joint, all we need is to disconnect the transmission cable and add the short shift adapter in -- this is pretty much the simplest performance upgrade that most people can do at home -- especially for the 8th generation Civics and the Canadian Acura CSX which uses the same design in this area. The transmission cable is attached by two metal clips on the side, where a quick upclip will free the cable from the ball joint.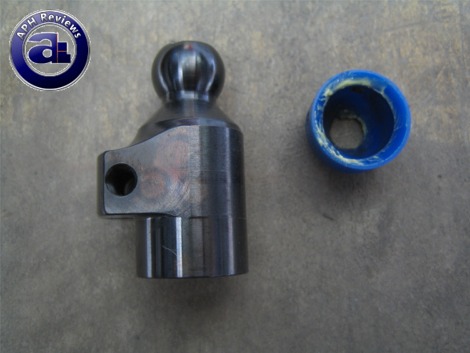 After freeing the cable, you'll need to remove the blue plastic cup from the ball joint on the original attachment. TWM Performance included a cup removal tool for clipping behind the cup; personally I just somehow pried it out with something behind the cup removal tool that I don't quite remember. What you really need to remember is putting your hand in front of the cup to prevent it from flying off and losing it.
Next, you'll need to attach the cup to the ball joint of the short shift adapter, shown on the left of the photo above. You'll need to grease the joint, then push the cup in with a vice. To be honest, I don't really have a vice, so I just put the two pieces between my car door and then pushed my car door in... it worked perfectly. Poor man's vice.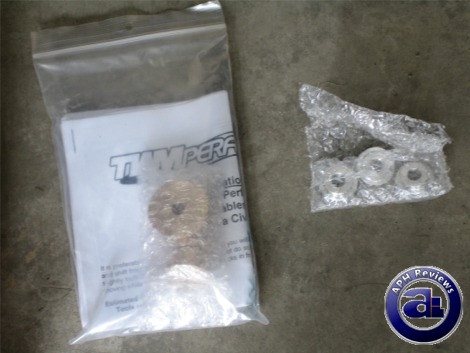 As mentioned earlier, the cable and base bushings are optional -- you can purchase them if you want, but they aren't necessary. Basically, they replace the default rubber bushings in your car -- where the base bushings are located below the shift assembly, the cable bushings are on the other side of the transmission cable. The instructions for installing base bushings are included with the short shift adapter manual, while the cable bushings are separate as shown above.
Basically, the purpose of the metal bushings used to replace the stock units are to enhance the solidity of the shift -- with solid metal bushings on both ends of the cable, each gear engagement would feel more defined at the gearstick to enhance the feel and driving experience.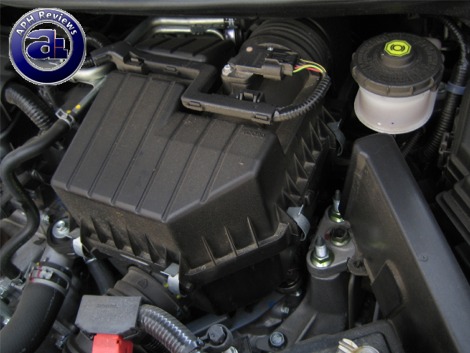 The cable bushings for my Honda is installed somewhere here, but I am too lazy to take apart half my airbox and the such. So skip this section please, and let's pretend I installed the cable bushings too. I promise I will install them some day.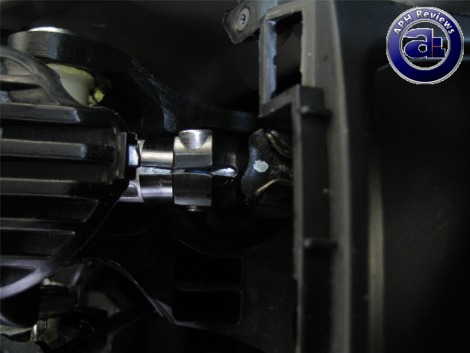 Now, back to the short shift adapter, after attaching it between the main shift assembly's joint and the transmission cable, just use the included screw and put some included Loctite on it. Use the provided Allen wrench and get it into place -- just tight should be OK, the one in the above photo is a bit far, but just for the purpose of proving a point, lol. Anyways, with that said, the short shift adapter is installed with all the bushings. At least we can imagine that the cable bushings are installed.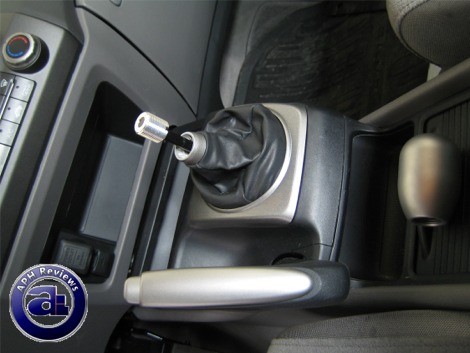 We replaced the center console cover back on along with the shift bezel after we were done with the short shift adapter. To be honest, if all you are installing is the short shift adapter on your 8th generation Honda Civic or Acura CSX, it takes no more than ten minutes for even with people with little experience with cars. Snapping the pieces into place was quick and convenient, and with that we replaced the shifter knob as well. As I mentioned earlier, the stock gearstick is actually quite short by default -- therefore no height reduction is needed. The only thing that contributed to its stock height is the stock knob on standard Honda Civics.
The shifter knob's height is adjustable with included accessories from TWM Performance. I wanted mine at its lowest possible height, so I just installed the basic attachment accessory and screwed the new 440g weighted shift knob in. The knob is actually quite heavy for its size -- much more than what I originally expected. I thought the stock shift knob was short of 'heavy', until I got my hands on this shift knob. Before we forget, the shift knob we are using for demonstration is the Type-R Satin Finish shift knob from TWM Performance.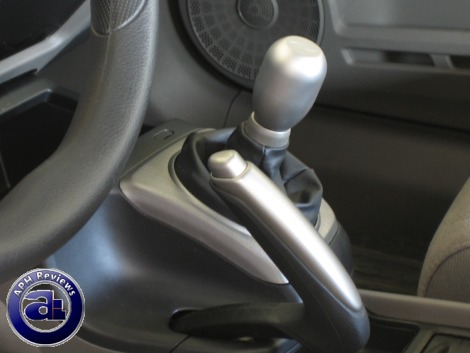 The finished product. Basically, all you are seeing in the above shot is the replaced shift knob -- you can't really see what's behind in the shift assembly with the reduced throw angle. That kind of explains the common misconception that short throw sticks are simply short sticks; because they aren't -- the angle is reduced to reduce hand travel distance between each gear. But doesn't it look great?
Personally I think the aftermarket shift knob is a great upgrade to compliment the short throw adapter. Not only it looks nice and feels great, but also serves a very practical function -- improving the ease of shifting. Because the gear shifting is essentially done through the utilization of a lever, a longer adapter would be easier to use at the expense of a longer throw distance. A short throw adapter would require more effort -- where a heavy, or 'weighted', shift knob would act as a counter-weight to assist you in each gearshift for total force required (F=ma) and momentum in each pull (p=mv). It would have little effect in the usage because it's "heavy", because the force of gravity is counteracted by the opposing force holding the knob upwards therefore the difference is negligible -- it really does make shifting all that much more fun though.
The only thing I would complain about is that on standard Honda Civics, there are no clips on the gearstick or the aftermarket TWM Performance shift knob to hold up the shift boot to the knob, so my shift boot is all loose right now -- the original clips are located on the stock shift knob.
---
Overall, the TWM Performance short shifter kit along with a weighted shift knob is quite an excellent combination. As far as 8th generation Honda Civics (And Acura CSXs) go, this is one of the easiest, practical and relatively low cost upgrades that's really going to make a difference in your daily driving experience. The point of buying a manual transmission vehicle is mostly in the fun of control given by manually shifting gears -- and if you have a great short throw stick, it would simply increase the enjoyability of driving what you love. The bushings are available for purchase to perfect this experience, but the weighted shift knob is something I definitely don't want to miss out. Shifting gears is fun. Shifting them quickly and effortlessly with a degree of smoothness and definition with TWM Performance's short shifter kit and weighted shift knob perfects this experience and enhances the enjoyability. APH Networks, the best and most well known car enthusiast review website for many years already, has no problem recommending this upgrade for your car. It's like using hacks except better and it's legal.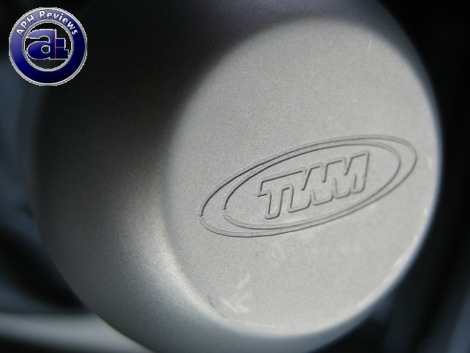 Special thanks to TWM Performance for making this review possible.

APH:Renewal Award | APH Review Focus Summary:
8/10 means Definitely a very good product with drawbacks that aren't likely going to matter to the end user.
-- Final APH Numeric Rating is 8.0/10
Please note that the APH Numeric Rating system is based off our proprietary guidelines in the Review Focus, and should not be compared to other sites.
APH Networks has been reviewing cars and car modifications for years. Like obviously, eh? If you didn't know that you weren't paying attention. But this is really something you don't want to miss out -- the only thing to complain about is that on standard 8th generation Honda Civics (Non-Si), there's no way to hold up the shift boot up to the shift knob area if you are planning to go aftermarket.