By: Devin Chollak
October 21, 2011
Up here in the cold frozen wastelands of Canada, we are celebrating thanksgiving almost a month before our American friends down south. (Editor's note: This review was written over Thanksgiving, so we are not stuck in any sort of time lag, haha.) So, what do I have to be thankful for? Well, I am thankful that it hasn't snowed yet, and that UEBO has sent us the M50 media player to review. I am also thankful for the massive turkey dinner that I had on the weekend, among many other things. While I'm sitting down on the couch after being more stuffed than ever before, wouldn't it be nice to just plug in my flash stick to quickly show my family some vacation pictures on the large screen TV? How about if I was to go over to a friend's house, and show some of my friends some pictures of a concert I went to? As you can tell, having something quick and easy to attach to a TV and play movies or show pictures is a typical issue for many people. The solution I have here is the UEBO M50, a pocket-sized portable media player. Media players are handy to have, but one that you can take with you to other places is potentially invaluable. I can think of countless places where I would want to plug a USB flash drive to play videos or view some pictures, or heck, even listen to music. The only real question that remains is whether or not the UEBO M50 is really worth its price tag of $65 at press time. As always, you will have to read on to find out the answer!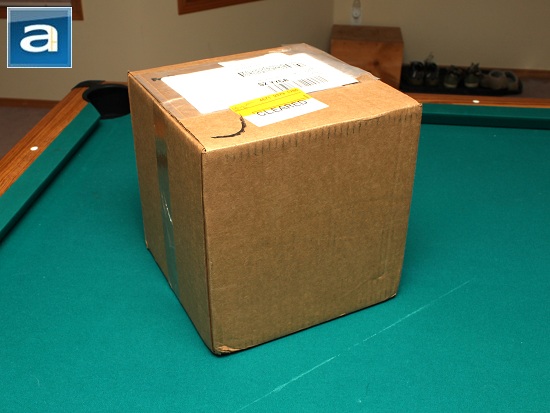 Our review unit arrived here in Calgary with two other UEBO products; the M100 and the M400. The other units will be in reviews done by my colleagues Jeremy and Jonathan. The UEBO M50, being the smallest one of the three, occupied the least amount of space in the shipping box. Traveling up north from California via FedEx Express, the shipping box remained undamaged with only minor marks from the journey. It is always great to see an undamaged shipping box, because it means the product most likely is in perfect condition for the review.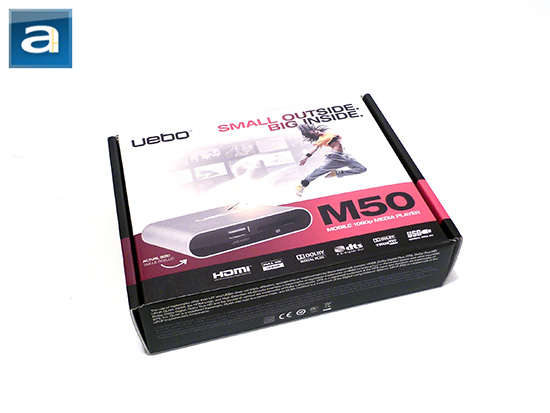 "SMALL OUTSIDE. BIG INSIDE." These are the words right off of the front of the product's retail box. At first glance, the UEBO M50's retail box has an excellent presentation and quickly highlights the key features of the product. Indicating that it is a "mobile 1080p media player", the M50 is targeted for people who need a media player for on-the-go usage. On the front, you can also see a photo of the product itself, along with an arrow saying this is its actual size. This is a bit misleading, as the actual product is a bit smaller than the image on the front of the box. In the background is an array of images and movie clip thumbnails being shown; this is to indicate the large number of possible media options available. In addition, there is a picture of an athletic girl leaping out of the media player. Not totally sure what the meaning of this 'flying' girl is, but all I can say is she isn't wearing a skirt. At the bottom of the box is a horizontal list of specifications that the product supports. From left to right, we have: HDMI, Full HD 1080p, Dolby Digital Plus, DTS 2.0 + Digital Out, Dolby TrueHD, and USB. That doesn't tell us too much about its capabilities, but it gives you a rough idea. Here is a list of the full technical specifications acquired from the manufacturer's website:
Video Formats: AVI, MPG, DAT, VOB, DIV, MOV, MKV, MPEG, TS, MTS, M2TS, RMVB, WMV, ISO, IFO, MP4, FLV, TP, TRP
Video Codecs: MPEG1, HD MPEG2 (up to MP@HL), HD MPEG4 SP/ASP (1080p), Xvid, H.264, P@L3,MP@L4.1, HP@L4.1, WMV9/VC-1 AP@L3, RM/RMVB8/9/10 (up to 720@30P), AVS HD (1920x1080)
Video Connections: HDMI 1.3 (1080p), Composite Video
Video Output Resolution: HDMI 1.3: 480p, 576p, 720p@50HZ, 720p@60HZ, 1080i@50HZ, 1080i@60HZ, 1080p@50HZ, 1080p@60HZ, Composite: 576i@PAL, 480i@NTSC
TV System Support: PAL/NTSC
Subtitles Supported: SRT, SSA, SUB, SMI, ASS, SUB+IDX , PGS
Picture Formats: HD JPEG, JPG, BMP, GIF, TIF, PNG
Supported Languages: English, Español, Français, Deutsch, Italiano, Dutch, Pycckий, Simplified Chinese, Polski, Việtnam, Português, Traditional Chinese, Korean, Netherlands, Russian, Cesky, Slovansky, Romania, Hebrew, Magyar, Slovenčina, Thai, Turkish, Arabic, Islenska, Norsk, Dansk, Svensk, Suomi, Indonesia, Japanese
External HDD Capacity: Up to 2TB
Memory Card Slot: SD / SDHC / MMC
Audio Formats: MP3, OGG, WMA, WAV, AAC, FLAC
Audio Codecs: MP2/3, OGG Vorbis, WMA (DRM, and Advanced Profile not supported)
Dolby Digital/DTS: Dolby Digital True HD / DTS HD-MA / DDP (Pass-thru & Down-mixing)
Audio Connections: HDMI 1.3, Stereo Output
Audio Output: Stereo L/R
Internet Functions: Internet Radio, SAMBA Client and Server, and others.
Network Connections: 802.11b/g/n USB Wi-Fi Adapter, up to 300Mbps (USB Wi-Fi Adapter Optional)
I/O Interfaces Supported: USB 2.0 HOST port x 1
System Compatibility: PC: Windows ME/2000/XP/Vista/7, Mac OS, Linux
File Format Supported: FAT, FAT32, NTFS, EXT3
AC Adapter Voltage: Input 100-240V, 50/60 Hz. Output 5V 1.5A
Accessories: Power Adapter, Remote Control, Batteries, USB Cable, AV Cable, User Manual
Slipping open the retail box, I was surprised by the compact package layout offered by UEBO. There was certainly some innovation going on when it comes to putting the M50 into the box, as almost no space was wasted. The M50 itself was placed in a foam-padded bag that was far bigger than it needed to be for the little media player. After removing all of the contents from the box, you will be in possession of these items:
- UEBO M50
- AC Power Adapter
- Remove Control
- Composite AV Cable
- User Manual
---
Page Index
1. Introduction, Packaging, Specifications
2.
A Closer Look - Hardware
3.
A Closer Look - Software
4.
Performance and Conclusion