By: Jonathan Kwan
January 20, 2007
Although sound products are not necessarily the primary focus here at APH Networks, from time to time we'd like to work with quality audio products to expand upon on what we listen to. With great enthusiastic members in our forums who recommended us to take a look at the V-MODA Vibe, we received an opportunity to examine this product in our article today. Will it meet our expectations? There's only one way to find out: My first hand experience, and what everyone else here at APH who has also had a first hand experience has to say.
Our review unit came on December 20, 2006 in a red DHL Express envelope. Everything came through quick and easy; no problems here -- and it was very light and thin, so at first I thought they sent me an OEM package. These earphones have been held for one full month before reviewing in order for appropriate time for them to break in as well as enough time for the tests. We want these to perform at their full potential, and unlike other IEMs that use armatures for sound reproduction, the V-MODA Vibes use traditional dynamic drivers so it takes at least a few hours for the sound to begin to sound "normal". Don't extrapolate yet -- I didn't say anything about armatures, and since we are focusing on the Vibe, please research the traits of armatures on other sites for your convenience.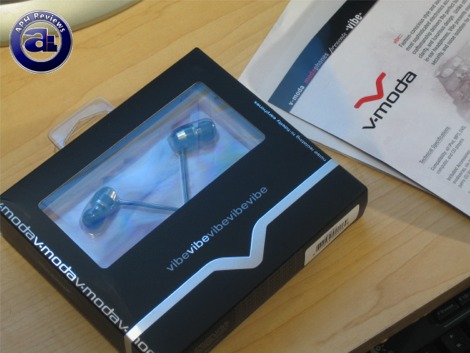 Of course, our review unit of the V-MODA Vibe did not come in an OEM form of packaging -- it's in full retail packaging, which is always our preference. The retail packaging is in quite a slim, small and elegant package, much to my surprise. As a designer company, V-MODA's packaging is by no means lacking all the way from the outside to the inside. I enjoyed the clean exterior design with a half window to reveal the inner contents, as well as neatly packed internally. The only downside I see is the blister pack within the box, but that's about it.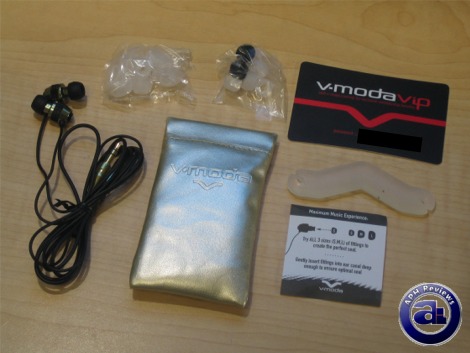 Out of the package, you will receive the following:
- V-MODA Vibe earphones
- Golden Pouch
- Modawrap (Cable wrap)
- 8 pairs of silicone fittings
- V-MODA membership access card
Our review unit of the V-MODA Vibe is in gunmetal black.
The golden pouch and the Modawrap are both quite unique accessories and make for a decent combination. Firstly, the Modawrap, a V-shaped cable wrap, is a real life form and application of the company's logo. The dual clip ends allow you to use it for cable management as well as shortening the cable during usage if it's too long, but in my opinion it's too heavy for the latter purpose and swings around too often to be comfortable. Otherwise, when completely wrapped and stored away, it's a very good fit into the golden pouch with a semi-elastic strip opening -- there's no bulge at all when the V-MODA Vibes stays in. The innovative open/close design of the pouch won't require you to play with drawstrings or any other enclosure medium. Just pop it open, and let go for it to close. Convenience at hand, my friend.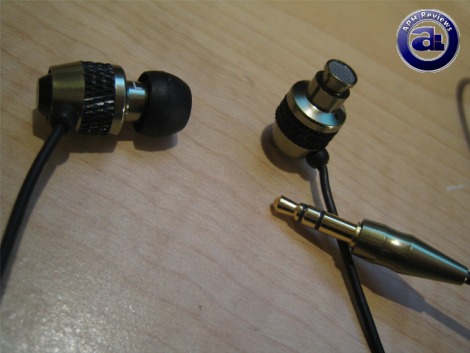 The V-MODA Vibe earphones. Personally I prefer them with the black sleeves, as they go deeper into my ears to provide better noise isolation performance. A good advantage of the black sleeves is that they don't discolor; a lot of people I know (As well as me) experienced discoloration of clear silicone sleeves -- they turn yellow after a while with perfectly clean ears and it cannot be washed off, so it is a discolor in general.
Without using a tube like Shure E2c earphones of the same category (Due to price), the traditional dynamic drivers aim directly into your ear not too dissimilar to the Icemat Siberia In:Ear. This will provide more direct sound into your ears without sounding like a hollow tube; and the integrated earwax protection is not bad at all. Any cleaning required is directly accessible and the sleeves are washable like other IEMs.
Personally, I really like the design of the V-MODA Vibes. It sets itself above other IEMs, and does not look odd at all when worn. Conveniently engraved on the inner face of both sides is a "L" and "R" to indicate which side is intended for what ear.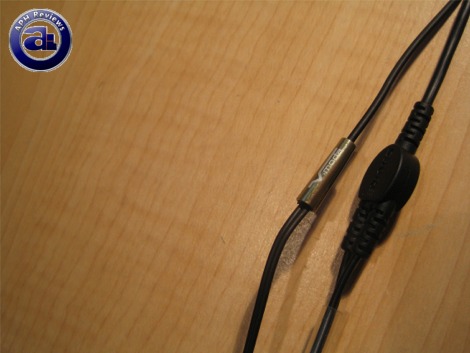 A look at the cables as compared to the Shure E2c's (The same cables are used on Shure's E4c earphones as well). Apparently the more robust Y-split implemented onto the Shures are definitely more superior to the thin, prone to easy tangle cables used on the V-MODA Vibes. It's quite similar to Sony earphones; and the Y-split does not appear to be as strong as the Shure units -- and a quick note is that the split is not resizable by default as well. However, the thinner cable of the V-MODA Vibes poses a clear advantage over Shure's thick cable implementations is that the Vibes are much lighter in weight and easy to stay in the user's ears during relatively more intense physical activities -- where Shure's thick cables may not deliver in this area.
A slight rub of the cord of our Gunmetal Black Vibes can transmit an annoying noise to both ears though, and the V-MODA Vibes are quite vulnerable to static. The Flashback Chrome model utilizes a different cable and should have different attributes for this regard.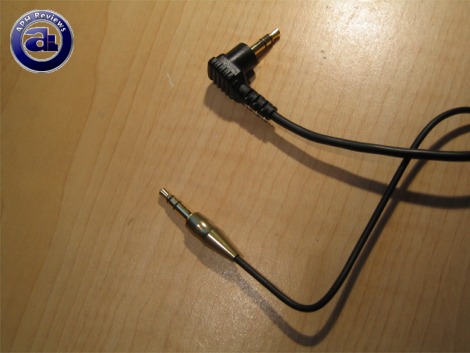 The connector is a gold plated connector, but it's a straight plug rather than a L-shaped connector. Personally, I am quite neutral on this matter, but whether you like it or not -- it's quite up to you.
Before we move on, let's take a look at the specifications, as obtained from V-MODA's product page:
alluring alloy elegance
• sophisticated design accentuates the modern individual
• handmade premium metal craftsmanship
hi-definition sound
• vibrant bass, vivid mid-range, and vivacious highs
• alloy metal enables sculpted sound curve fashioned for discerning music enthusiasts
• rich and precise bass levels accentuate bass-enhanced music
• V-MASQUE dynamic driver provides natural and warm soundstage
essential sport ergonomics
• three sizes of ultra-soft silicone fittings (S,M,L) provide comfortable, quick, and secure fit
• lightest earphone in class at 12 grams
• micro-size and flush in-ear fit for active lifestyles and relaxation
• durable even-length cables optimized for sport
noise isolating technology
• bass level isolating soft silicone (BLISS) technology reduces noise and enables deep bass
• unlike bulky active noise cancellation, BLISS introduces no artificial sound into your music and requires no batteries
leather pouch and modawrap cable manager
• gold leather pouch provides effortless storage
• modawrap provides convenient cable management
• VIP card access to exclusive "V-MODA modcasts", music and gear
specifications:::
Compatibility: all iPod, Zune, MP3, DVD, computer, and CD players
Included Accessories: gold leather pouch, modawrap, six pairs (S,M,L) of clear and two pairs (S) black silicone fittings, V-MODA VIP Card
Frequency Response: 12 Hz – 22 kHz
Speaker Driver: V-MASQUE dynamic technology, 9mm neodymium rare-earth magnet
Cable length: 32" plug to y-connector, 13.5" even-length earphone cables
Cable diameter: 2.2mm optimal for sport
Plug: 24k gold-plated, straight 3.5mm (1/8") stereo plug
Weight: 12 grams (0.42 ounces)
Impedance: 16 ohms
Sensitivity: 92 dB (at 1kHz 1mW)
Rated Input Power: 2mW
Warranty
1 year V-MODA premier replacement warranty
---
The Tests
Although being quite subjective and everyone having opinions that may differ, it has to be done. After all, a lot of things are based off performance and can extended quite beyond looks, and here is what's on paper.
Tests were conducted on the following equipment:
- Creative Zen Micro 6GB (Digital Audio Player)
- Creative Zen Vision:M 30GB (Digital Audio Player)
- Kenwood HD30GB9-B 30GB (Digital Audio Player)
- Creative X-Fi XtremeMusic (Computer Sound Card)
The following IEMs were used for comparison:
- Shure E2c (Approximately $100)
- Shure E500PTH (Approximately $500)
- V-MODA Vibe (Approximately $100)
To make a fair comparison, the Shure E2c's are in the same category as V-MODA's Vibe earphones so they can be directly compared. All tracks are either uncompressed CDs or LAME encoded MP3s at 192kbps or higher.
In terms of noise isolation, these are designed as semi-open earphones, so the intention to block out noise is not directly advertised as to compare to Shure earphones; where majority of Shure IEMs block up to and around 20dB of external noise. The V-MODA Vibes are not in this category of isolation, but I know many people who prefer to be able to hear more external noise during music listening sessions.
The natural advantage given to semi-open design is much wider soundstaging than Shure E2c's. The little holes on both sides to allow airflow presents the music in a completely different sense than similar earphones in the category, and that's not limited to what we listed for comparison today. It's quite interesting how the 'realism' of sound reproduction can be seen in V-MODA Vibes priced competitively at a sweet $100 price point.
With direct aim into your ears without going through tubes, the wide cone canal diameter would create more direct and transparent sound. With a relatively low impedance of 16 ohms, the V-MODA Vibes are quite efficient and you definitely don't need to crank out the volume to any ridiculously high levels for an acceptable volume. This means that, it can completely accommodate weaker digital audio players as well as save some battery life without complaints.
Unlike previous V-MODA products that I've heard rumours about, the bass is not overpumped. The V-MODA Vibes have more articulated bass. It's round, solid and not muddy -- what we are trying to say is that it is not oversaturated and well implemented to a comfortable degree. The Vibes are not entirely bright sounding though; however not exactly into the dark category -- more or less warm sounding. The treble and midrange for this price point is excellent; the only complaint I have in this area is that it seems a lower layer of midrange is missing and too easily suppressible by an equalizer. Treble retains a degree of sharpness, except it is just slightly recessed. There are better performing earphones in terms of treble at this price point, but it strikes a better balance between the different frequencies than what we've seen for $100.
Even being used to punchy tendency of Creative products, I still found the V-MODA Vibes to be in the punchy category despite my often exposure to such products. The frequency separation between highs and lows are really good in my opinion; they are layered and distinct. The punchy and lively effect of sound reproduction produced by these earphones combined with a wide-ish soundstaging brings more liveliness into music.
However, this combination of punchy-ness with a lack of a layer of midrange makes the V-MODA Vibes more instrumental oriented (Not necessarily classical kind of instruments -- most definitely listenable, but not the best) than vocal oriented. Its colorful sound will favor a large variety of music, but vocals and other midrange requirement could be just slightly under. In terms of instruments, I am quite impressed in how the V-MODA Vibes are detailed and able to pick up and reproduce tiny sounds such as the triangle and other small, little things other products in its category can't seem to achieve. The V-MODA Vibes are typically favored to music with a lot of sharp and distinct highs and lows.
---
The V-MODA Vibes are lively earphones that packs punchy-ness and color as tendency of sound reproduction. Nice enough fit, great design, and best all, a sweet price of around $100 USD. Depending on what kind of music you prefer, and what type of isolation you want, these are great earphones that holds itself across the board without problems against similar products such as Shure's E2c except for noise isolation. I must say -- great price, and excellent earphones -- quite a surprise for the year 2006 out of all the products manufactured. And 2007 since it took us this long to complete a review!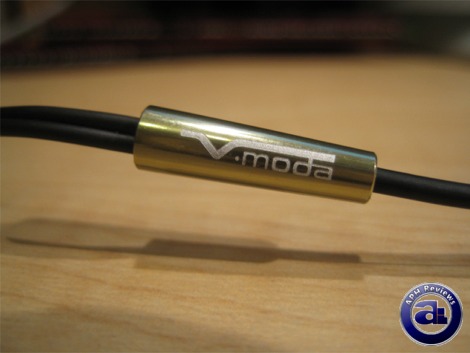 Special thanks to Jill representing V-MODA for making this review possible.

Rating: 7.5/10 | APH equal.balance
- More information on our APH equal.balance award in our Review Focus.
- The rating 7/10 means "Great product with many advantages and certain insignificant drawbacks; but should be considered before purchasing".
- The rating 8/10 means "Definitely a very good product with drawbacks that isn't likely going to matter to the end user".
- More information in our Review Focus.
The V-MODA Vibes are nice looking earphones with lively, colorful, and punchy sound. For $100, you must ask yourself: Are they resistible? You just heard yourself say, "Probably not"!