By: Jeremy To
September 16, 2011
As some of you may know, I recently visited the largely populated city of Hong Kong. The general notion for the average North American is that Hong Kong is a great city with lots of attractions, fabulous shopping deals, and excellent authentic Chinese cuisine. To fully experience and enjoy Hong Kong though, one must spend at least one whole day in Mong Kok. What is Mong Kok? Simply put, it is frequently one of the densest places in the world. Although the area is widely visited by tourists, it is also place where one can describe as poor. In fact, most of the wonders of Hong Kong lie in its poverty. Less than a decade ago, Hong Kong housed the Kowloon Walled City; an enclave that was owned and abandoned by China. The result was a lawless land owned and governed by the local triads, and home to over 33,000 people over its 0.01 square mile area. How the heck did they fit so many residences? I have no idea. But if you were to ask a Canadian to live in such a densely populated area, claustrophobia among other phobias would be the least to worry about. Even though I have visited Hong Kong numerous times, I just cannot get use to the small spaces, the endless faces, and the constant accidental body rubs. That's right, as a Canadian, I can proudly say that I adore my personal space. In fact, most of the chassis I have reviewed here at APH Networks are very spacious. Today's review unit is especially large and, frankly, will probably be the largest chassis we have and will review for a while. Xigmatek's new super-tower has recently made its debut, and boy, has the Elysium been getting a lot of attention. Can you fit 33,000 Elysiums in a 6.5 acre area? Doubt it. But can you fit one Elysium under your desk? Well, read on to find out!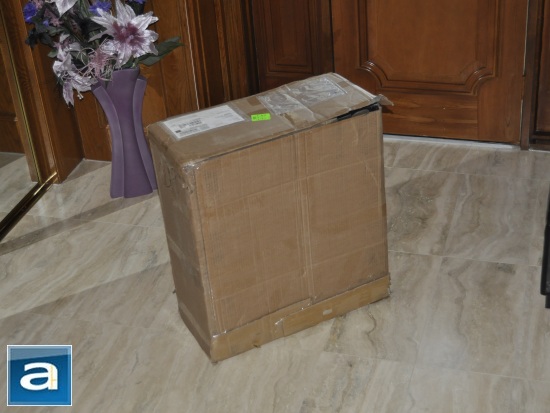 Usually, I would ramble on about how the retail box of all chassis is built with shipping in mind. However, since the Xigmatek Elysium is so big, moving such a large box from place A to place B would be impossible without sustaining some sort of damage. That is why Xigmatek generously packed the retail box with another outer brown corrugated box, but the excitement does not start until we get through the first layer.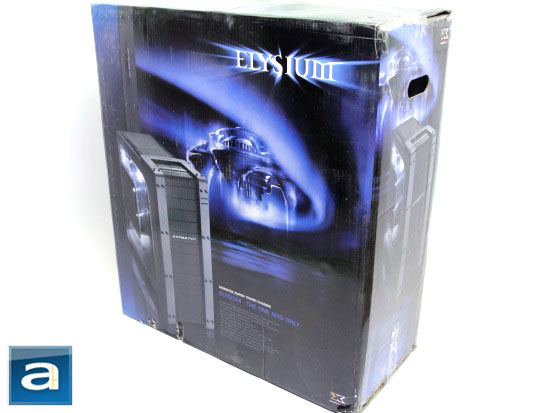 Thanks to the outer box, the retail box of the Xigmatek Elysium did not sustain much damage during transport. UPS Standard did a fairly good job shipping such a large unit to our office here in Calgary, Alberta, Canada. Thankfully, the box still fitted nicely inside the trunk of my car when it made its last exchange between my coworker Jonathan and I; albeit just barely. With that in mind, I opened the second layer, and this is where the excitement really begins.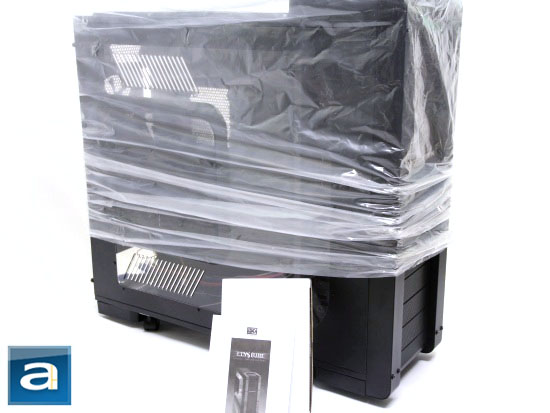 Taking one quick look at the box, you can really see just how large this chassis is. According to the box, there are two different color choices (Black trim or silver trim), with the option of having a window or not for a total of four versions. Like all cases we have reviewed in the past, the Xigmatek Elysium was packed alongside two Styrofoam blocks, and covered with a protective plastic bag. Today's unit came to us as the black version with the window, as shown in our photo above.
Found around the box is a list of features and specifications. Before we go on, let's briefly take a look at the features and specifications; found on the manufacturer's website:
Features
-Support HPTX super big M/B and 10 PCI slots for four graphic cards.
-Hot-swappable 2.5/3.5" SATA HDD docking on top panel.
-Two USB3.0 super-speed ports on top panel with dust-proof cover.
-Both side screw-less ODD holders.
-Dual PSU possible on the top and bottom.
-360/420mm water cooling radiator possible.
-Fully external twelve 5.25" bays with two "4 in 3 HDD cage".
-3.5" HDD anti-vibration rubbers inside of 4 in 3 cages.
-Anti-vibration rubbers and bottom dust filter for PSU.
-Aluminum on the front mesh panel with removable dust filters.
Specifications
-Product Name: ELYSIUM
-Product Number: CCC-HSA0DS-U01~04
-Dimension: (W)230 x (H)618 x (D)663 mm (9.06*24.33*26.10 inches)
-Drive Bay: 5.25" External x 12 with tool-free holders. (Including two external 3.5" device adapter and one 4 in 3 3.5" HDD adapter.)
-Expansion Slot: 10 slots, 440mm free add-on card length.
-Motherboard Support HPTX, XL-ATX, E-ATX, ATX, Micro ATX, ITX (with backside hole for CPU cooler)
-Power Supply: Standard P/S2 ATX/EPS power supply unit
1. Two PSU space on the top and bottom.
2. Intake airflow hole with dust filter.
3. Available for face upward and downward installation.
4. Within anti-vibration rubber.
-I/O Panel: Top Panel: Power On/Off switch, USB3.0 x 2, USB2.0 x 2, e-SATA x 1, Audio in/out x 1 (HD Audio).
Cooling Specification
Air-cooling
-Front Fan: Pre-installed 120mm white LED with black blades x 2
(On the 4 in 3 HDD cages.)
-Rear Fan: Pre-installed 140mm white LED with black blades x 1
(120mm fan is available)
-Side Fan: Pre-installed 200mm white LED with black blades x 1
-CPU Fan: 80/120mm fan x 1 available
-Bottom Fan:
If PSU was installed on bottom space: 120/140mm fan x2 or 200mm fan x 1
If PSU was installed on top space: 120/140mm fan x3 or 200mm fan x 2
-Top Fan:
If PSU was installed on bottom space: 120/140mm fan x3 or 200mm fan x 2
If PSU was installed on top space: 120/140mm fan x2 or 200mm fan x 1
-The clearance of CPU cooler height is 185mm without side panel preinstalled 23cm fan interference.
-The clearance of CPU cooler height is 155mm with side panel preinstalled 23cm fan interference.
-Side panel 23cm fan is removable to top and bottom fan space If interference.
Water-cooling
-Water pipe holes x 7 (with rubber cover)
-Available for 360/420mm radiator
---
Page Index
1. Introduction, Packaging, Specifications
2.
Physical Look - Outside
3.
Physical Look - Inside
4.
Installation and Conclusion