By: Aaron Lai
December 17, 2021
For a while now, a few of my friends have been looking at building their own keyboards, especially for customizing every aspect of it. While talking to my girlfriend about it, I did not realize how many options and differences that could be changed. For example, the only modifications I considered were the keycaps and cable. Custom keycaps and cables are probably considered niche items, but this only scratches the surface of what people can change. For example, my girlfriend purchased an OEM keyboard with hot-swappable switches for further customization. This way she could purchase additional switches to swap them out and make her keyboard feel as she wanted. She also is thinking about getting items like a foam backing to make for a nicer experience audially. I have also heard of other people applying lubricant to their switches and stabilizers to get a smoother feel and sound. It is clear that all of these changes are based on user preferences, as some will be satisfied with the stock keyboard feel while others will build their own keyboard from the ground up. I think I am a bit of an amateur when it comes to custom mechanical keyboards, as I do not do a whole lot of modifications. As for our product today, the XPG Mage is a full-sized mechanical keyboard with relatively few opportunities for customization or changes. It may not be a keyboard enthusiast's dream, but it could possibly fulfill the needs for general typists and gamers, like myself. With RGB lighting and full NKRO, does the XPG Mage bring satisfaction? Let us read on to find out!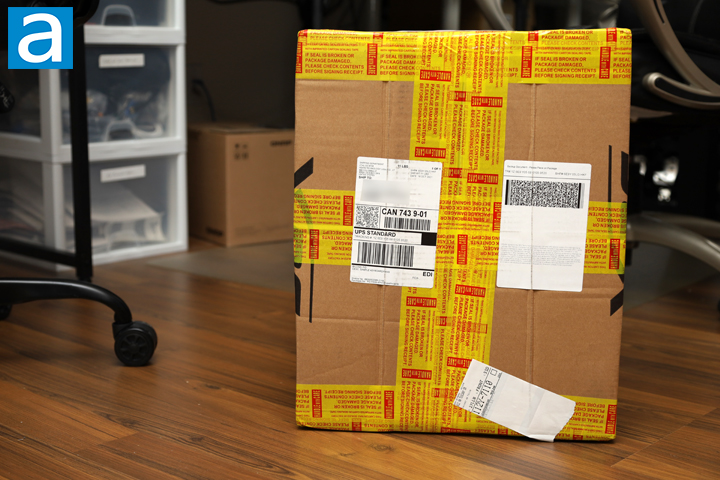 Today's review unit of the XPG Mage arrived from ADATA's offices in Brea, California. Traveling with UPS and their Standard ground service, this box arrived in excellent condition with no real issues to speak about. Inside we have the XPG Mage mechanical keyboard, as well as the XPG Levante 360, which will be reviewed by fellow editor Hai Wang. Thankfully, everything inside also arrived in excellent condition. The keyboard was enveloped in a plastic wrap to protect the retail box from damage while it is in transit.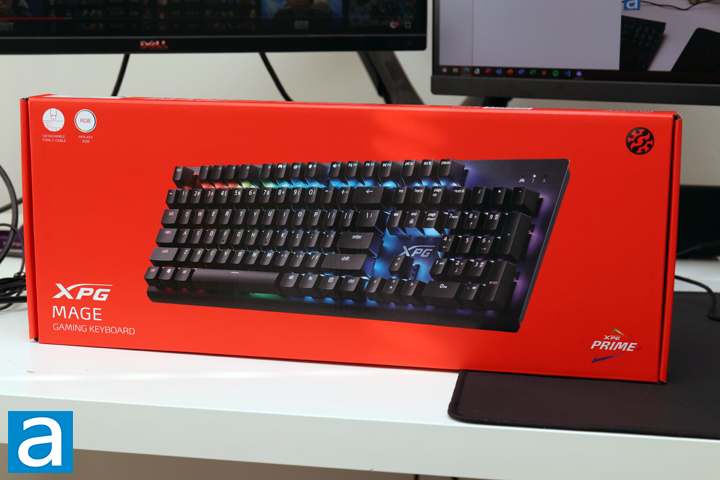 The retail container of the XPG Mage is really eye-catching with its bright red box really standing out from other boxes. The front shows off the Mage keyboard in full RGB illumination. Some features are highlighted on the top left corner, including its detachable USB Type-C connection and per-key RGB lighting. An XPG Prime logo can be found on the bottom right corner, which is to indicate the software that works with the XPG Mage. Around the back, we have several specifications and features to highlight on this mechanical keyboard, but the box is kept relatively clean.
If you are interested, I have grabbed the specifications from the manufacturer's website for your perusal:
Keyboard Color: Gun-metal grey
Keyboard Weight: 820g
Keyboard Dimensions (LxWxH): 446 x 135.9 x 32.9 mm
Anti-ghosting keys: 100%
Key Switch: Kailh Red Mechanical RGB
Lighting Effect: 7 RGB lighting modes (Static / Color Cycle / Breathing / Reactive / Rainbow Wave / Ripple / Marquee)
Number of keys: 104
Macro Keys: 3
Interface: USB Type A 2.0 - Type C 2.0
Operating Voltage: 5V DC
Keystroke Lifecycle: Over 70 million strokes
OS Compatibility: Windows 10, Windows 8, Windows 7
XPG PRIME Support: Yes
Warranty: 2 years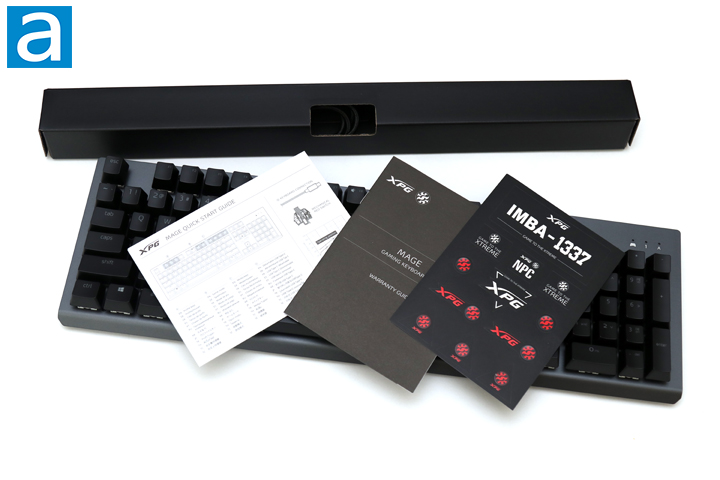 Out of the box, we have the XPG Mage wrapped in a bag and accompanied by three pieces of documentation. One is for quickly getting set up with the XPG Mage, while the other contains warranty information. The final sheet is actually a set of XPG-branded stickers, including one that reads "IMBA-1337". According to Urban Dictionary, "IMBA" is short for imbalanced, generally referring to when something in a game is too overpowering and requires adjustments to make it easier to play against. In the black box at the top, we have the 2m USB Type-C to Type-A cable to plug this keyboard into your computer. Otherwise, the XPG Mage is covered for two years of warranty, which is becoming standard for computer peripherals.
---
Page Index
1. Introduction, Packaging, Specifications
2.
A Closer Look - Hardware and Software
3.
Conclusion