Patriot Memory is a very well-known company to us here at APH Networks. With their expertise in memory, flash memory, storage drives, and more recently, gaming peripherals, Patriot Memory is starting to expand its base. Today we had the privilege of meeting with Stacey Pinheiro, Marketing and Communications Specialist for Patriot Memory.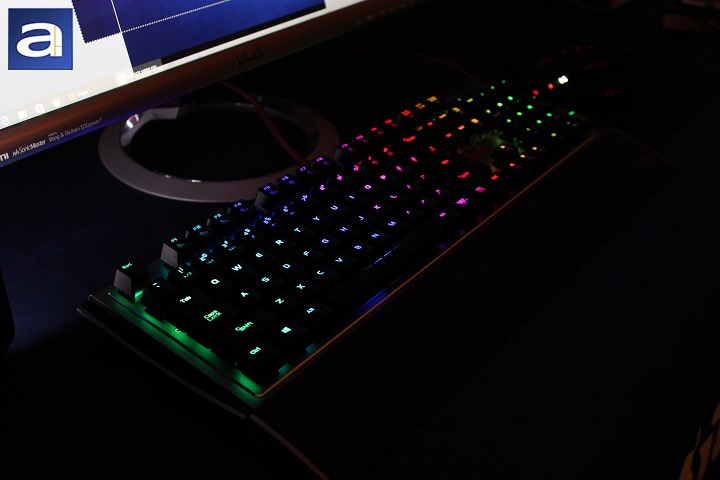 The first product Stacey introduced to us was the Patriot Viper V760. This mechanical keyboard was announced last year in Computex 2015, but we had yet to review this keyboard yet. It comes with Kailh Brown switches initially, but Stacey has assured us Patriot plans to make a keyboard with Red switches too. I was definitely surprised at the number of different lighting options, including the popular ones you already see. Secondly, while you can use software to configure all of these settings, you can also change them through the keyboard, which is awesome to see. There is also a wrist rest, attached to the keyboard with magnets. Finally, some people may have noticed a bit of light flickering on the Viper V760, and again we have been assured the latest software and firmware updates will fix this issue. Currently the Viper V760 is available for $140 USD.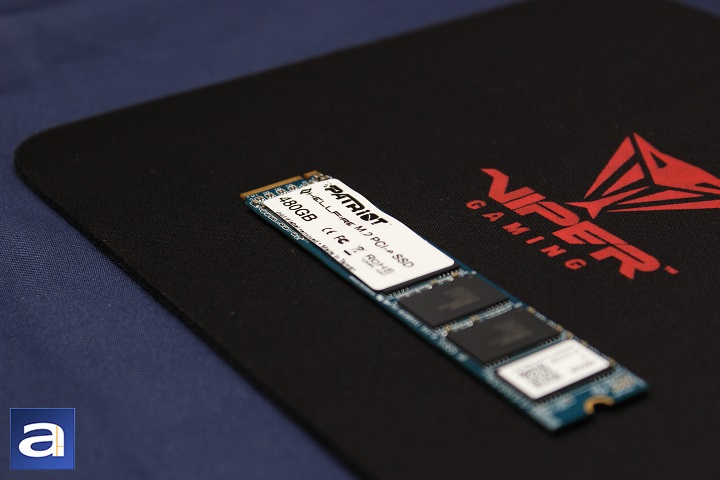 The next product announced recently by Patriot is the Hellfire lineup of SSDs. This comes in two flavors, the M.2 PCIe SSD as shown above, and the PCIe SSD with an add-in card, or AIC. The M.2 drive is said to be NVMe 1.2 compliant, reaching speeds of 2500 MB/s read, and 600 MB/s write. It will be released in various capacities from 240GB to 960GB. The AIC version supports sequential read and write speeds of 3000 MB/s and 2200MB/s, respectively. This too will be available in various capacities from 240GB to 960GB.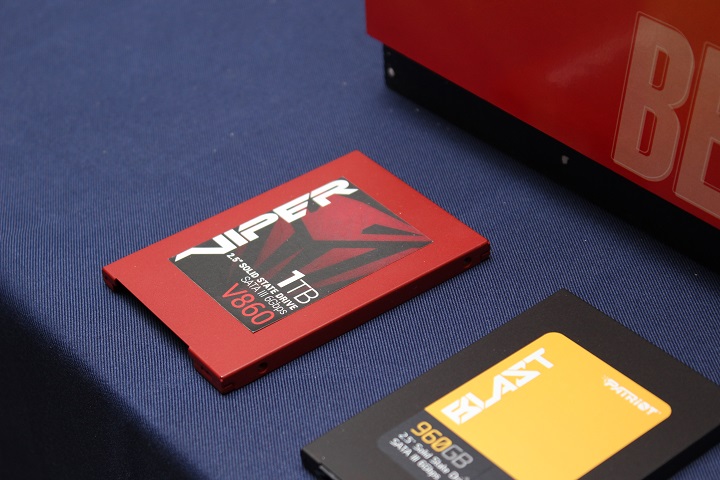 However, Patriot also added a SATA solid state drive to its gaming lineup, dubbed the Viper V860. While this product is still in production, I do know at least one of the capacities will be 1TB. Stacey has assured us smaller capacity versions will be available too. Otherwise, rated read and write speeds were not provided at the time of publication.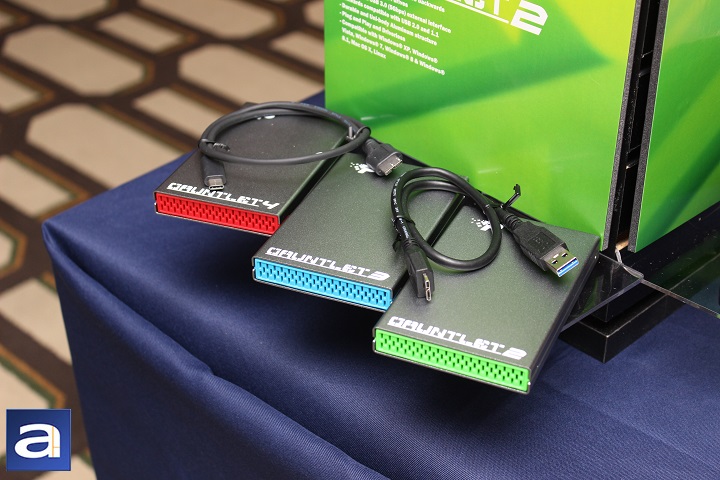 Another addition made recently by Patriot was in the Gauntlet lineup. For those who do not know, the Gauntlet is a 2.5" drive enclosure. Original versions of the Gauntlet 2 and 3 utilized USB 2.0 and USB 3.0, respectively, for connecting the drive to the computer. However the newest one, aptly named the Gauntlet 4, utilizes a USB-C port. This supports true USB 3.1 SuperSpeed, which should result in much faster transfer rates. Otherwise, Patriot has not changed up too much when it comes to the design department, and has only varied the color at the bottom of the enclosure.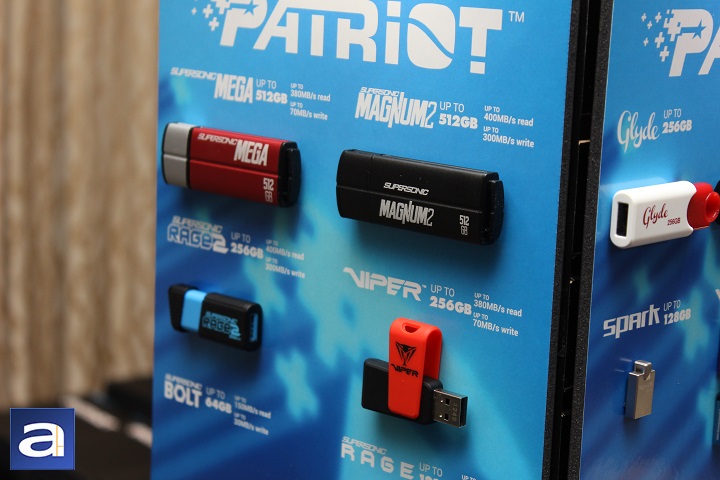 Patriot's next unveiling was the Patriot Supersonic Mega, which is a USB 3.1 flash drive. It is available in three capacities, from 128GB to 512GB. This huge USB drive is big in both size and capacity. Read and write speeds are rated at 380MB/s and 70MB/s. The Supersonic Magnum 2 is the other large capacity drive and it only became recently available in the North America region. This provides even faster read and writes, at 400 MB/s and 300MB/s, respectively.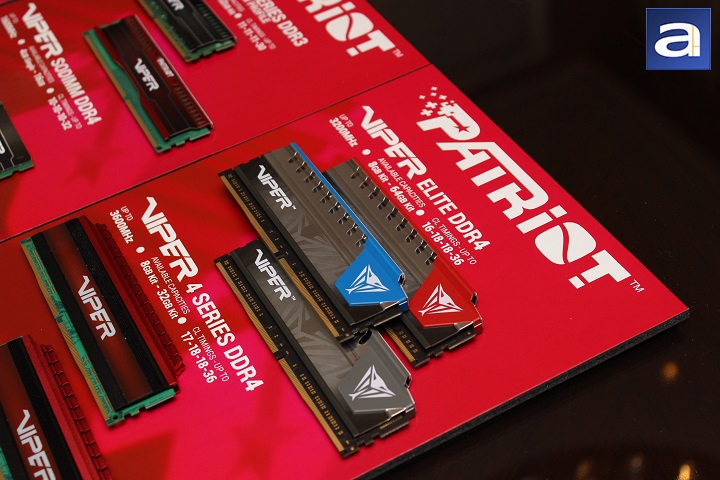 Finally it would not be Patriot Memory without looking at their memory announcements, and thus we end with their Viper Elite lineup. This DDR4 memory is available in speeds of up to 3200MHz and is available in kits of up to 64GB. It is Intel X99 and 100 series compatible, and also works with XMP 2.0.
Overall, I am quite pleased to see Patriot's lineup of products. A lot of their improvements are natural, such as implementing USB-C or their jump into PCIe SSDs. However this proves they are keeping up with their competition, and even outmatching them in some regards. Their commitment to the Viper lineup is excellent, and am excited to see what we will get our hands on in the near future! Big thanks to Stacey and the crew at Patriot Memory for putting aside time to spend with us.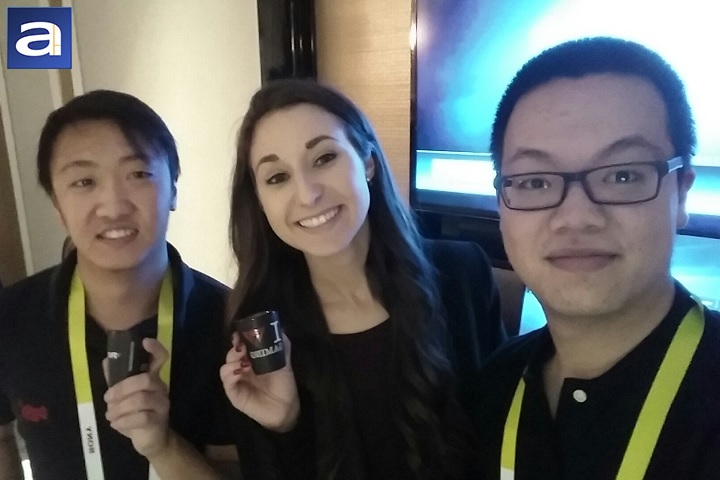 Obligatory selfie with Preston and Stacey