SilverStone has been on our radar for quite a bit, so it doe not come as a surprise that we would be meeting up with them at CES 2016. Chassis is the name of the game, SilverStone has revealed a number of other accessories to us when we met up.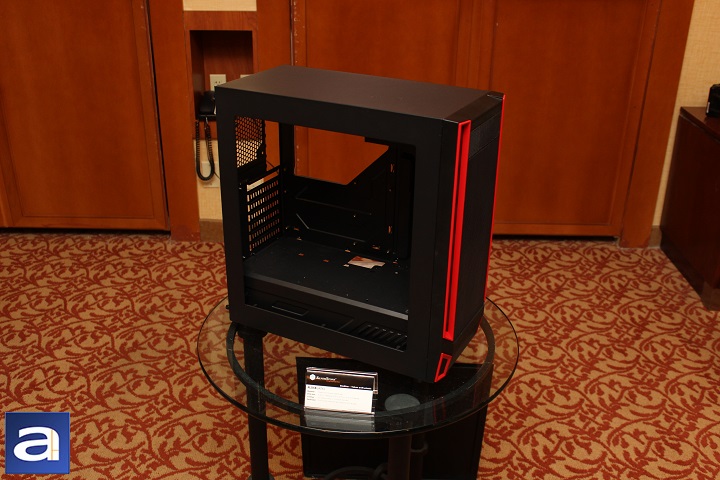 SilverStone's Redline series is not new to the scene. However, they did make some modifications to it. Displayed is the RL05-B to show a more accented but streamlined front bezel with hints of red. It also comes with a power supply cover, which makes builds look cleaner and adds optional tray mounting slots on top of the power supply bay.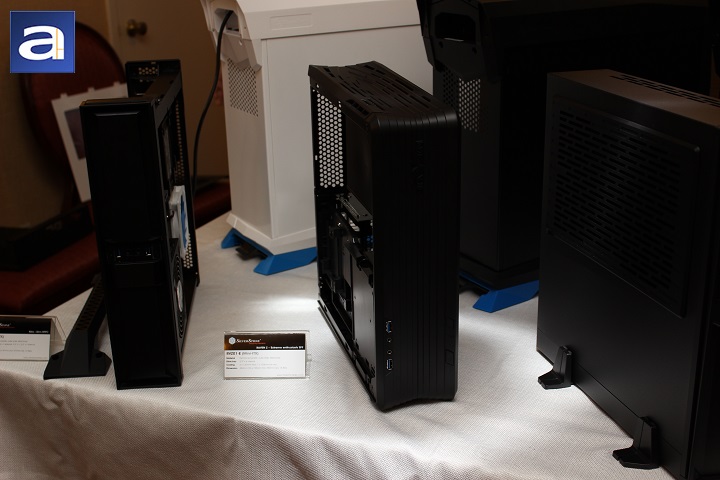 The Raven RVZ01 is not new to the scene. However, after listening to consumers' comments, Silverstone comes out with the evolution RVZ01-E. Essentially, the slim optical drive bay has been removed, and the internal layout has been rearranged for better airflow, configuration, and setup. On either side is a model from the ML and FTZ line from SilverStone. All three are slim HTPC/desktop chassis.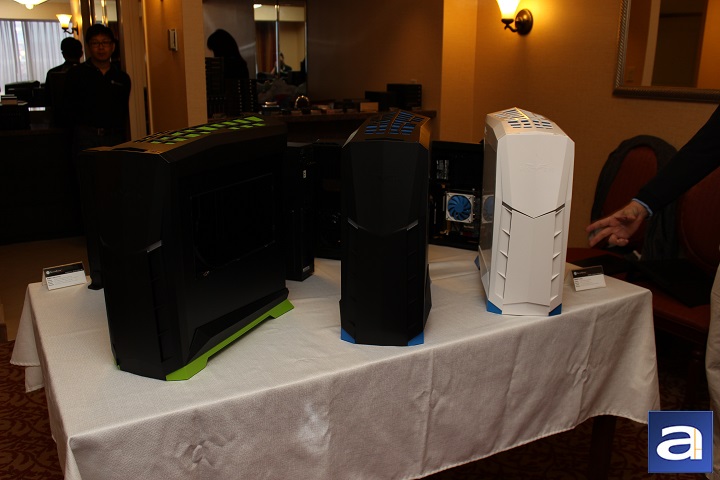 On the other side of the slim HTPC line is SilverStones RVX01 announced just recently. This is your mid tower chassis, supporting your standard ATX and micro-ATX motherboards. As you can see above, there are three seperate colors: black with green trim, black with blue trim, and white with blue trim. Personally, our preference is the white chassis, but it all comes down to personal taste. Like the RV05 and the FT05 we reviewed a while back, SilverStone has kept the idea of clean and compact in the RVX01 for a mid tower.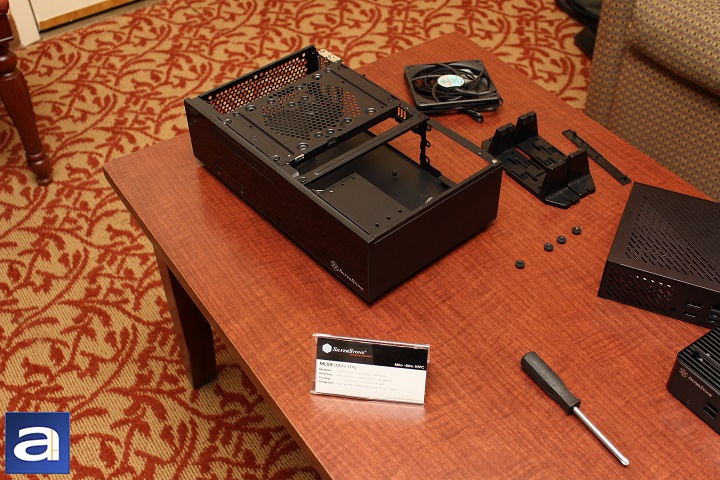 Following the slim HTPC chassis, SilverStone has revealed the ML09. Some change ups from the previous version includes a multipurose bracket that serves to house a slim fan or extra drives. Additionally, the layout has been changed to accomodate for better airflow and setup. This is most ideal for a compact setup such as a media center.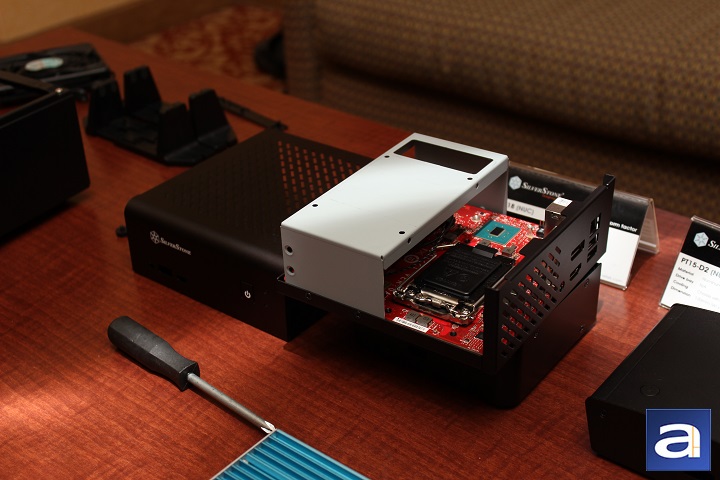 In this setup, SilverStone has partnered up with Intel to create a 5" by 5" motherboard. The unique feature here is that this is the smallest board that is able to still accomdate a full socket CPU instead of embedded processors. This has not been released to the public yet, but should be available sometime this year.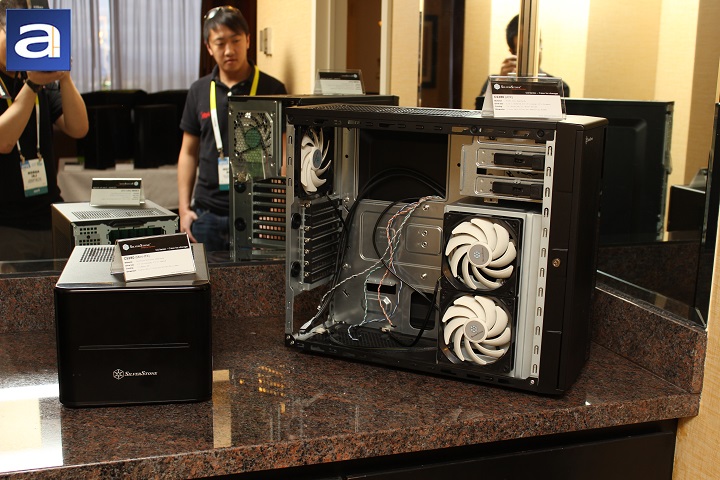 At another corner of SilverStone's booth, we have the CS280 and the CS380. Both systems are designed for more business or industrial use, as the internals are not painted, hence showing the bare metal color. This is so that it satisfies industrial compliance. The CS280 supports eight 2.5" drives while the CS380 supports eight 3.5" drives. Futhermore, users may potentially use the CS380 as a full system with the drive bays as an added NAS storage.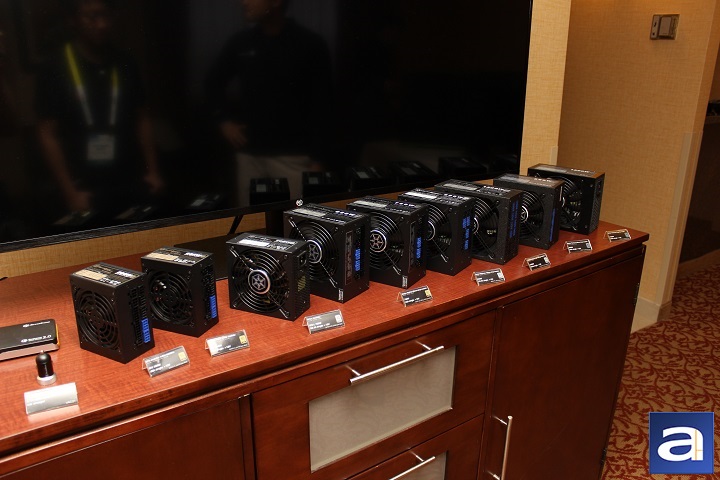 SilverStone is also no stranger in the power supply department, with many available power supplies at both ends of the price spectrum. Today we see a lot of the higher end PSUs, but in various sizes. The two most left power supplies are SilverStone's SX500-G and SX650-G. These two SFX sized power supplies feature one of the highest power densities of 630W per liter and 819W per liter respectively. Getting more power in a smaller volume seems to be the name of the game for SilverStone, and they have done so similarly with their other power supplies. This includes a 1200W power supply in a 150mm length ATX PSU size.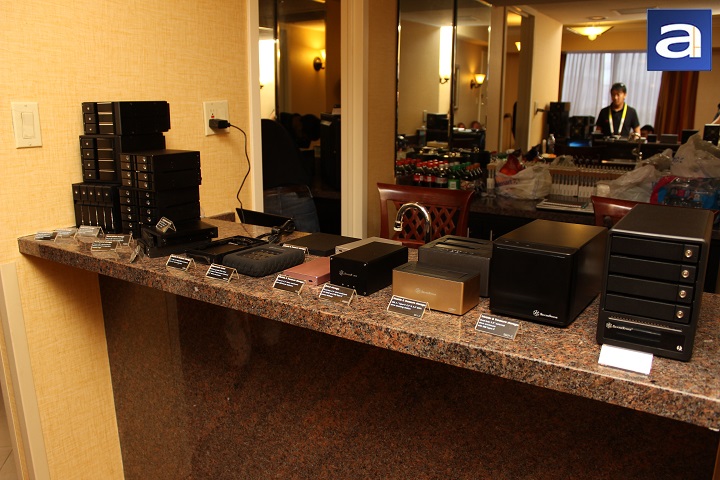 When it comes to enclosure options, SilverStone again has you covered in multiple ways. On the furthest left is their front panel storage options, ranging in options from all 2.5" drives or all 3.5" drives. In conjunction with their CS series of cases, you can end up having up to twelve 2.5" drives, or five 3.5" drives. Another product Tony pointed out to us in this photo is a rubberized 2.5" drive enclosure, also known as the Mammoth MMS01. This is an IP65 water resistant and dust proof external enclosure, which should ruggedize your drives on the go. Of course, it does add quite a bit in terms of mass and dimensions, but it is still neat to see nonetheless. Finally there is the SilverStone TS12, which is the pink enclosure in the photo. This is another 2.5" drive enclosure, except it features USB Type-C connections, with true USB 3.1 Gen 1 speeds. Otherwise, you can see there are a lot more options, such as docking stations and multiple 3.5" drive enclosures, with hotswapping available too.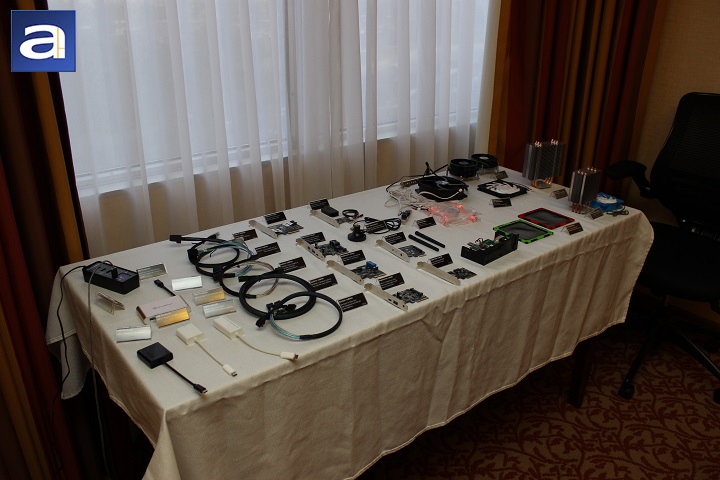 This table of SilverStone products vary in multiple categories, so I will try to go through them as systematically as possible, which means from left to right, top to bottom. Starting at the top left corner of the table, we have the SilverStone EP03, which is a smart USB 3.0 hub, which allows for monitoring of voltage and current for each port. Below this are a series of USB Type-C products, which include several adapters, including HDMI, DVI, and Ethernet, as well as hubs. To the right of these cables are many system cables. Next to it are a bunch of PCIe expansion cards, whether they are for M.2 drives, USB 3.1, or mini PCIe slots for wireless cards. The two fans at the top of the table are also new. The larger black 140mm fan's main feature is the fact it can reverse in directions. Tony Ou has stated this could be used in several different circumstances, such as removing dust from a chassis, but other use cases are up to the user's imagination. The clear fan is an RGB fan, which allows users to change the lighting embedded into the fan. Some magnetic mesh 120mm filters are also shown on the table in red and green. Finally the Argon CPU coolers are shown on the furthest right, and these are intended for budget-friendly builds.
As we have seen over the past few days, many companies are getting into the mobile cable game, with Apple-inspired colors, including the Rose Gold. SilverStone too has therefore gone ahead with the cable game. Interestingly enough, they have also offered a few differences. Firstly, their CPU01 cables are the standard micro USB to full sized USB, except both ends are reversible. This means you can actually plug in both ends in either orientation, and it will still work. The CPU02 features another reversible micro USB end, but now with a combination USB/micro USB port. The larger metal part of the USB folds back to reveal the smaller micro USB. This allows some phones to be used as an external battery pack for other phones, though it is dependent on the phone knowing when to be a power source for this to work. Finally we have the Lightning cables.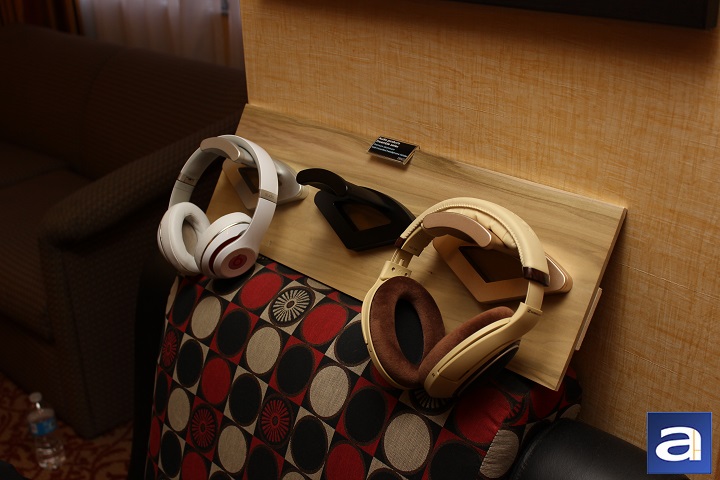 The last products we looked at were in SilverStone Ensemble series, which was the Ensemble EBA02. This wall-mounted headphone stand was actually developed in partnership with a contest held by LinusTechTips on YouTube. However, if you watched the channel, you will recognize this implemented design is not the actual winning design, but rather the second place design. This is because the first place design had compatibility issues with headsets featuring a suspended headband, such as the SteelSeries Siberia V3 Prism. The EBA02 however does seem very similar to the EBA01 headphone stand we reviewed in late 2015. It retains the same sturdy metal design, and comes in the colors as shown.
Again, SilverStone seems to be innovating in the small areas, while focusing on the smaller form factor cases overall. Their ever expanding lineup of products is really neat to see. Special thanks to Tony Ou and the crew at SilverStone for hosting us and spending time to reveal their new and updated products to us.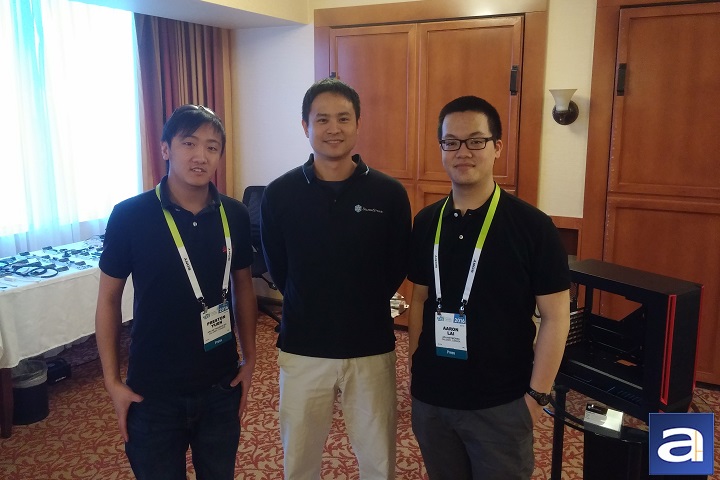 Obligatory photo with Tony. I'm pretty sure you know by now who Tony is (Or at least who he is not)