Today at CES 2016 was APH Networks look at audio products. The first manufacturer we went to was Audio-Technica. This company is a pretty well-known company across the board for audio quality, and thus we felt it was fitting to see them.
The first product we looked at was the Audio-Technica ATH-MSR7. These headphones actually debuted last CES, but they were awarded the best headphones of the year by Reviewed.com. New this time around however is the ATH-MSR7NC, which adds active noise cancellation to the foray. This joins the original MSR7s in its continuation of SonicPro Hi-Res Audio compliance, but adds Audio-Technica's prowess with their QuietPoint technology. Combining this with the 45mm True Motion drivers, Audio-Technica claims this will provide accurate bass, while improving the high frequencies. The active noise cancellation model will be available in April 2016 with an MSRP of $300 USD.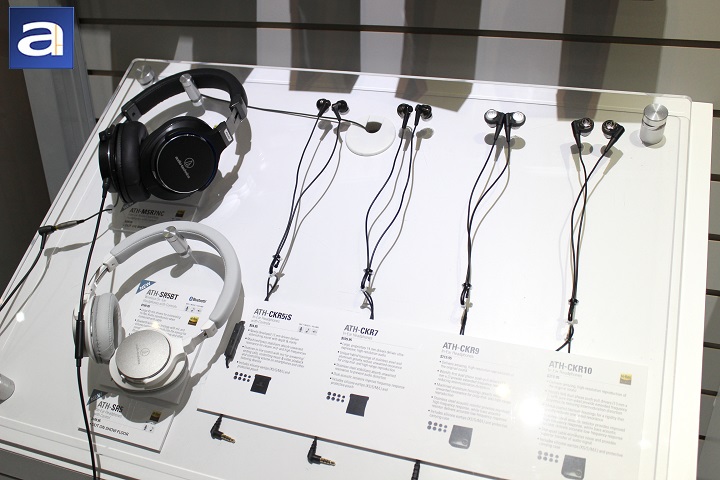 Audio-Technica also released two more products into the Hi-Res Audio line, with the ATH-SR5 and SR5BT. As you can tell by the acronym, the second model adds wireless functionality in the form of Bluetooth, but Frank Doris, the representative from Audio-Technica, has assured us the ATH-SR5BT will work without battery power in a wired mode. These two headsets will be available for $150 and $200, respectively, in April 2016. The wired edition will come in three colors, including the black and white you see here, and a navy brown mix.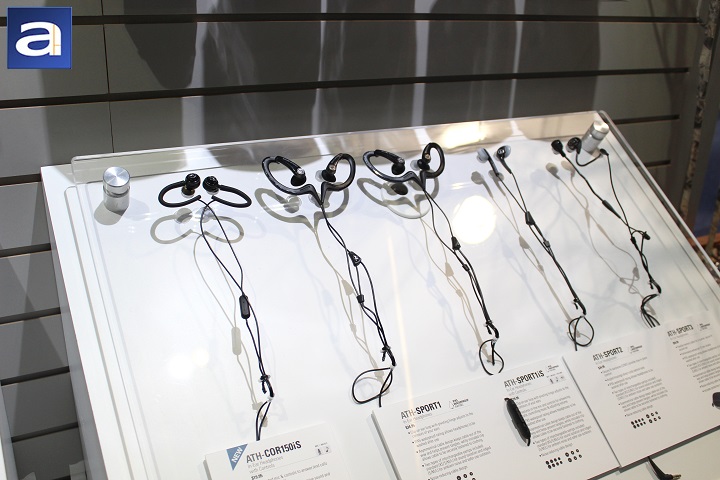 While we focused on a lot of larger headphones, Audio-Technica also produces several lines of earbuds, for various needs and purposes. Whether they are for audiophiles, exercising, travelling with noise cancellation, or just for daily use, Audio-Technica has them all.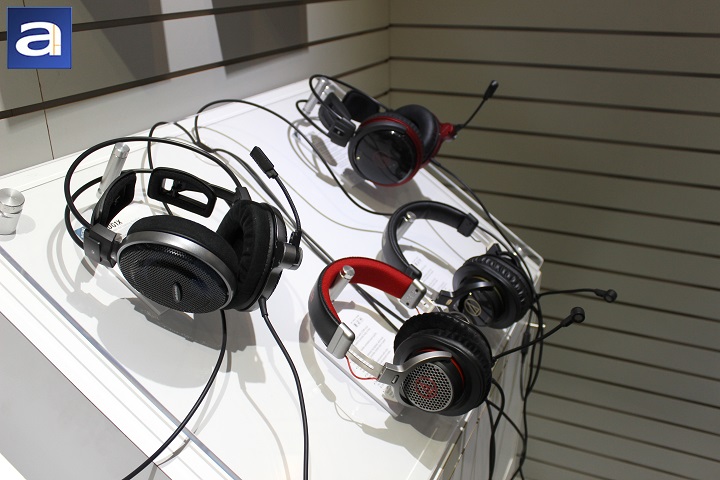 As we are more of a computer focused website, we also looked at some of the new gaming headsets, the ATH-AG1X and the ATH-ADG1X. The difference between the two is the first model is a closed-back design, while the second is an open-back design. Both use 53mm drivers, and feature similar drivers and technology found in other Audio-Technica headsets. Both have a built-in microphone to support PC gaming. Finally, both will be available for $300 each, starting in March 2016.
Finally Audio-Technica introduced their AT-LP60-BT turntable, which is actually a wireless Bluetooth one. This fully automatic vinyl player allows users to listen to their classics without needing to connect it physically to the turntable. Of course, there are the standard outputs if users do want to plug in their own speakers or headsets. This turntable will be available later this month for $180 USD, in black, white, and navy.
After speaking to Mr. Doris for a few more minutes, I was excited to see what Audio-Technica was doing. We ended up spinning a wheel and winning a few AT products as well, which is great to see. Hopefully we will see more of Audio-Technica at APH Networks in the coming future. Special thanks to Frank Doris and the team at Audio-Technica for spending time with us to review their new headsets.