By: Jonathan Kwan
February 11, 2022
In the beginning of the Fall 2021 school semester, I was talking to a student who was in second year software engineering at the University of Calgary. He asked me which year I am in after a fairly lengthy discussion on classes he is taking and my opinion on each of them. I just laughed and told him I am a professor. He looked at me, and in the most socially awkward manner an engineering student could muster, said I looked "at most 21 years old". After a bit more conversation of him simply disbelieving the legitimacy of my appointment, I got a little bit tired of it and just showed him my university ID card that clearly read "Academic Staff". The guy still refused to believe me, but hey -- if the reason why he did not believe I am a university professor because of how young I look, I take that as a compliment. In June of last year, I reviewed the be quiet! Pure Power 11 FM 750W, which, at the time, was highest wattage variant in the Pure Power 11 FM lineup. This week, the company announced two additional models of higher wattage -- 850W and 1000W -- to support users looking for more juice. Just like how the student confused me for being a student rather than a professor, the latest high-wattage models ostensibly look like an extension of the existing series. However, also similar to how me being a professor is categorically different than being a student despite looking like one, the 850W and 1000W models are actually completely different. The 550W, 650W, and 750W models' OEM is CWT, while the 850W and 1000W models are built on a different platform by HEC. But will they still live up to its name of delivering pure power with minimal noise? We took a 1000W unit in to find out.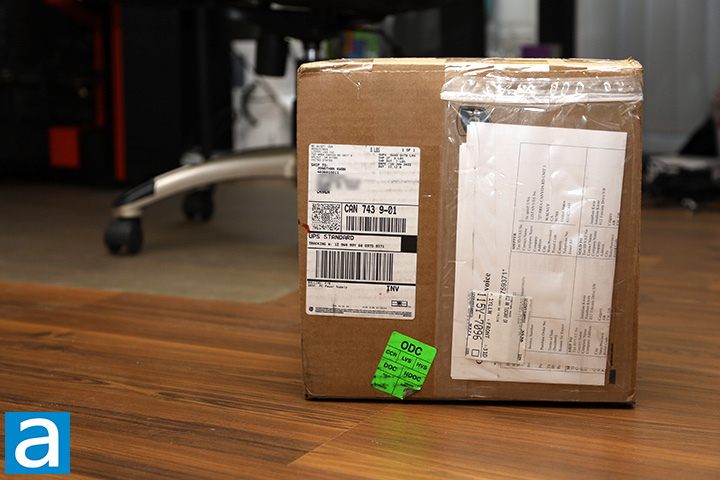 Our review unit of the be quiet! Pure Power 11 FM 1000W came in a medium-sized brown corrugated cardboard box from Walnut, California, USA. Using UPS Standard, everything arrived in excellent condition to us here in Calgary, Alberta, Canada for our review today.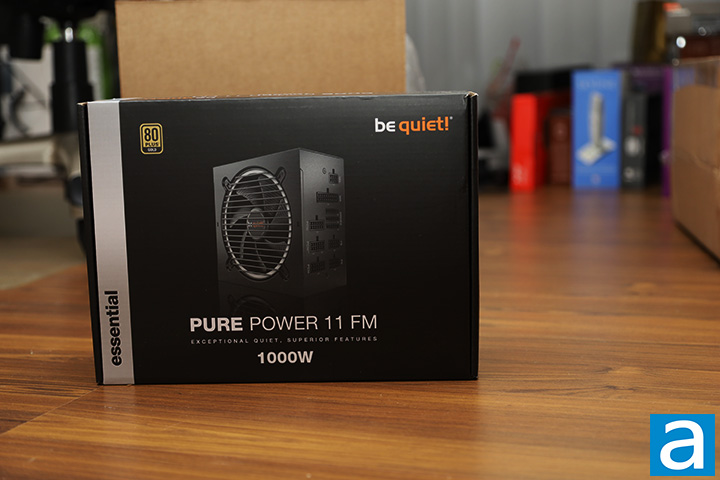 The retail packaging of the be quiet! Pure Power 11 FM 1000W has a consistent color selection with the rest of the company's products I have seen in the past. The predominantly black color scheme is contrasted by white text. A photo of the power supply in three-quarters view occupies majority of the real estate in front. At the top right corner, you will find be quiet!'s logo. The name and description of the product is printed at the bottom, which is "Pure Power 11 FM", "Exceptional Quiet, Superior Features", and the 1000W rating. There is also an 80 Plus Gold badge at the top left corner, next to a silver band that has the word "Essential". More information about the brand, specifications, and certifications is found at the back of the box.
Before we move on, let us take a look at the specifications of the be quiet! Pure Power 11 FM HW 1000W, as obtained from the manufacturer's website:
Model: Pure Power 11 FM 1000W
Continuous power (W): 1000
Peak power (W): 1050
Form factor: Version 2.52
Form factor EPS 12V: Version 2.92
Modular Cable management: ✓
Topology: LLC + SR + DC/DC
Wire-free design (DC-side): ✓
Voltage (Vac): 100 - 240
Frequency (Hz): 50 - 60
Input current (A): 12 / 6
PFC: active
Power factor at 100% load: >0.97
Compliant to Intel C6/C7: ✓
Power consumption in standby (W): <0.1
Average lifetime (h / 25°C): >100,000
Operating temperature up to (°C): 40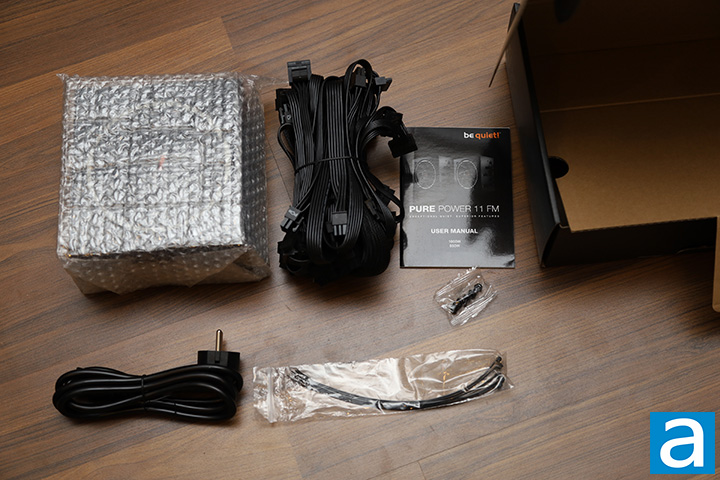 The be quiet! Pure Power 11 FM 1000W's retail package can be opened by a flap along the bottom. Upon opening the box, you will find the bundle is simple and with no extras. What you will get is the be quiet! Pure Power 11 FM 1000W itself inside a bubble wrap bag, four screws, AC power cable, modular cables, some zip ties, and a product manual. Someone accidentally shipped us the European version, which has a different power cable, but is otherwise the same thing.
---
Page Index
1. Introduction, Packaging, Specifications
2.
Physical Look - Outside
3.
Physical Look - Inside
4.
Minor Tests and Conclusion