By: Jonathan Kwan
June 18, 2021
Have you met someone who claims to be one thing, only to find out a while later they are the opposite of who they claim they are? A while back, one of my closest friends began to work for someone who at first seemed to be a respectable guy. He constantly preaches practicing business integrity, treating employees well, being generous with money, and living a modest life to better connect with others. It did not take long for us to find out he was the complete opposite of all of the above. He lies and does things that are borderline illegal, emotionally abuses people around him, regularly cheats people out of their money, and the whole "living a modest life" mantra was actually a cover for simply being cheap. Needless to say, he was not as advertised, and my friend quickly left for a much better job elsewhere. Recently, I got the be quiet! Pure Power 11 FM 750W power supply, which also makes some pretty bold claims in its name. For one, the name of the company suggest they make things that are quiet. We reviewed four products from them in the past, including the Dark Base Pro 900 rev. 2, Pure Base 500DX, Pure Loop 240mm, and Silent Base 802, which all lived up to its claims. Second, the name of the product suggests it is here to deliver 750W of pure power. We have not reviewed any power supplies from the company in the past, so will this product live up to its claims? Read on to find out!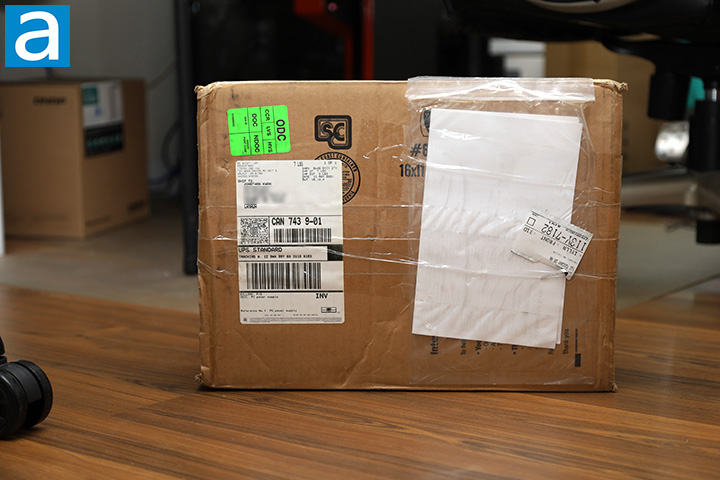 Our review unit of the be quiet! Pure Power 11 FM 750W came in a medium-sized brown corrugated cardboard box from Walnut, California, USA. Using UPS Standard, everything arrived in mostly acceptable condition to us here in Calgary, Alberta, Canada for our review today. The box has gone through some stuff, but was otherwise in very reasonable condition and the contents inside were well-protected.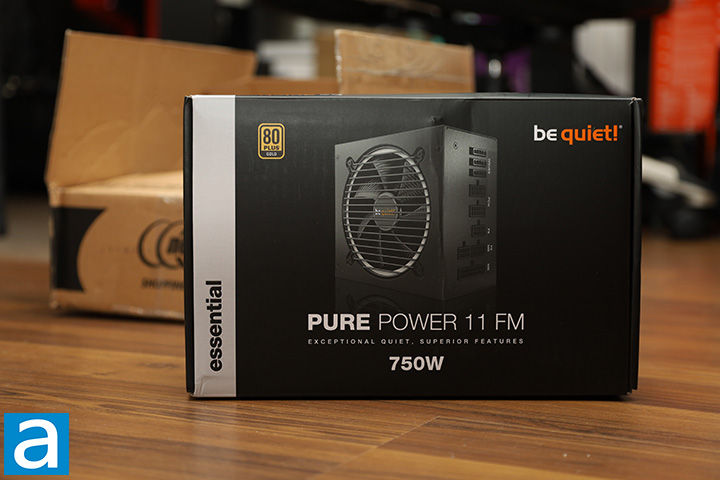 The retail packaging of the be quiet! Pure Power 11 FM 750W has a consistent color selection with the rest of the company's products I have seen in the past. The predominantly black color scheme is contrasted by white text. A photo of the power supply in three-quarters view occupies majority of the real estate in front. At the top right corner, you will find be quiet!'s logo. The name and description of the product is printed at the bottom, which is "Pure Power 11 FM", "Exceptional Quiet, Superior Features", and the 750W rating. There is also an 80 Plus Gold badge at the top left corner, next to a silver band that has the word "Essential". More information about the brand, specifications, and certifications is found at the back of the box.
Before we move on, let us take a look at the specifications of the be quiet! Pure Power 11 FM 750W, as obtained from the manufacturer's website:
Model: Pure Power 11 FM 750W
Continuous power (W): 750
Peak power (W): 820
Form factor: Version 2.52
Form factor EPS 12V: Version 2.92
Modular Cable management: ✓
Topology: LLC + SR + DC/DC
Wire-free design (DC-side): ✓
Voltage (Vac): 100 - 240
Frequency (Hz): 50 - 60
Input current (A): 10 / 5
PFC: active
Power factor at 100% load: >0.98
Compliant to Intel C6/C7: ✓
Power consumption in standby (W): <0.14
Average life time (h / 25°C): 100,000
Operating temperature up to (°C): 40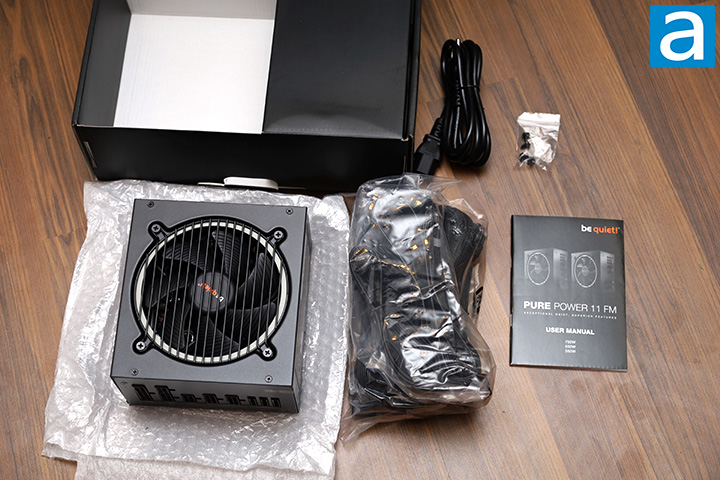 The be quiet! Pure Power 11 FM 750W's retail package can be opened by a flap along the bottom. Upon opening the box, you will find the bundle is simple and with no extras. What you will get is the be quiet! Pure Power 11 FM 750W itself inside a bubble wrap bag, four screws, AC power cable, modular cables, and a product manual.
---
Page Index
1. Introduction, Packaging, Specifications
2.
Physical Look - Outside
3.
Physical Look - Inside
4.
Minor Tests and Conclusion