By: Aaron Lai
February 12, 2021
I was talking to a few friends about free-to-play games and I asked them how much they had spent in them. As the name suggests, many games nowadays operate on the model of offering a game that is initially free to decrease the barrier of entry for players. Developers and publishers make money not from the game itself, but instead within the game through item shops, cosmetic skins, or other means. In fact, many of the games I play like League of Legends and Genshin Impact are similar. There are other games that make money by giving players who fork out money an advantage in the game, which are called pay-to-win games. Either way, their response surprised me when I found out some of my friends put quite a bit of money into appearance enhancements like weapon or character skins. Many of them justify it by the fact that they play the game for many hours and it was free to start with anyway. However, I also have never put $700 into a single game, so I definitely do not share their perspective. Even so, I can understand the urge even if it does not make you better in the game. I guess part of it is just the option to show others that you have money while getting a nice skin in the game is part of the appeal. Today, be quiet! sent us their Silent Base 802, which is a large mid-tower ATX case. Rather than charging users for add-ons, be quiet! has offered several ways to change your appearance of this case right out of the box. However, these appearance changes are more than just cosmetic ones. What are these options and how do they affect your overall build? Let us read on to find out!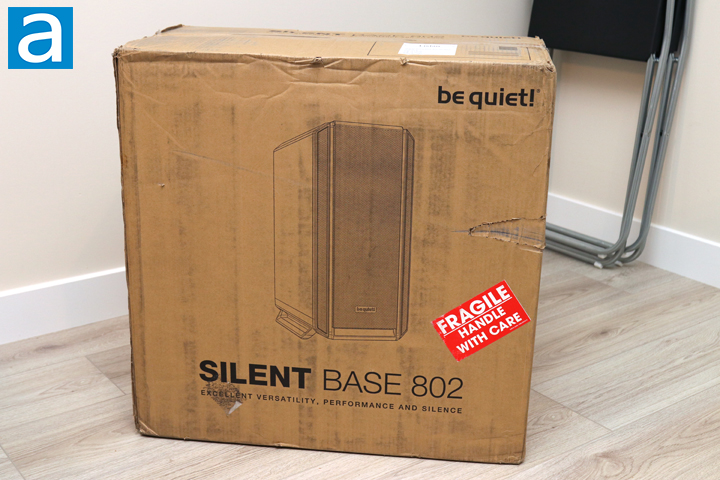 Despite the large red fragile sticker, it was clear that the be quiet! Silent Base 802 faced quite an ordeal before arriving to our offices in Calgary, Alberta. There are large gashes on the sides of the box and the handle area is completely ripped through, making the box actually a bit tricky to carry around. Originating from Walnut, California, this large box traveled alongside with the be quiet! Pure Loop 240mm, albeit in a different box, via UPS and their Standard ground service. Moving on, the retail packaging of the Silent Base 802 doubled as the shipping container. The box itself is typical with a grayscale picture of the case on the front and a product name underneath. The be quiet! logo can be found on the top right corner, while a description of "Excellent Versatility, Performance and Silence" are displayed on the front. Around the box, we have a few more words to describe features and specifications of the Silent Base 802. Otherwise, there is not much else to look at, so I grabbed a pair of scissors to open up whatever was left of this box.
Before we do continue, I have grabbed the specifications from the manufacturer's website for your perusal:
General data
Model: Silent Base 802 Black
PSU form factor: ATX PS/2
Motherboard compatibility: E-ATX (30.5 x 27.5cm) / ATX / M-ATX / Mini-ITX
Case size excl. stands (L x W x H), (mm): 539 x 245 x 507
Installation of motherboards with backplate: ✓
Case size incl. stands (L x W x H), (mm): 539 x 281 x 553
Dimensions side panel window (L x W), (mm): 440 x 498
Color option: Black
Weight (kg): 12.59
USB 2.0: -
USB 3.2 Gen. 1: 2
USB 3.2 Gen. 2 Type C: 1
HD Audio I/O: Mic + Audio
Expansion slots: 7 + 2
Fan mounting locations: 5
Qi charger / Quick Charging Option: -
Material
Top cover: ABS
Side panel: Steel
Side panel window: -
Front panel: ABS
Stands: ABS
Drive bay capacity
5.25 bays: -
3.5 slots (max.): 7
3.5 slots (scope of delivery): 3
2.5 slots (max.): 15
2.5 slots (scope of delivery): 7
Pre-installed fans
Fan @ top: -
Fan @ front: 2x Pure Wings 2 140mm
Fan @ rear: 1x Pure Wings 2 140mm
Dimensions (L x W x H), (mm): Front: 140 x 140 x 25 / Rear: 140 x 140 x 25
Fan speed @ 100% PWM / 12V (rpm): 1000
Noise level @ 100% PWM / 12V (dB(A)): 18.8
Airflow @ 100% PWM / 12V (CFM / m3/h): 61.2 / 104
Air Pressure @ 100% PWM / 12V (mm H2O): 0.76
Voltage range (V DC): 5 - 12
Input power (W): 1.44
Input current (A): 0.12
Connector: 4-pin to mainboard
Lifespan (h / 25°C): 80,000
Fan controller: 4-step fan controller (6x 3-pin) with PWM Hub
Optional fan installation
Front (mm): 1x 120 / 1x 140
Top (mm): 3x 120 / 3x 140
Bottom (mm): -
Side panel (mm): -
PSU shroud: 1x 120 / 1x 140
Optional radiator installation
Front (mm): 120 / 140 / 240 / 280 / 360 / 420
Top (mm): 120 / 240 / 360
Bottom (mm): -
Rear (mm): 120 / 140
Cooling
Max.construction height of CPU cooler unit (mm): 185
Airflow channel: Front / Top / Rear
Lighting
RGB LED illumination: -
LEDs synchronizable with RGB controller/motherboard: -
Expandable RGB controller: -
PSU compatibility
Maximum dimensions excl. bottom fan (mm): 288
Maximum dimensions incl. bottom fan (mm): 288
Graphics card
HDD cage (in height of graphics card) installed (mm): 287
HDD cage (in height of graphics card) removed (mm): 432
Insulation and damping
Top panel insulation mats: ✓
Front panel insulation mats: ✓
Side panel insulation mats: ✓
Anti-vibration decoupled HDD: ✓
Anti-vibration decoupled fan: ✓
Anti-vibration decoupled PSU: ✓
Anti-vibration decoupled motherboard-tray: ✓
Removeable dust filters
Front: 1
Bottom: 1
Side panel: -
Accessories
Screw set (Drives/Motherboard): ✓
Rubber rail (pcs.): -
Standoff (pcs.): 1 (for E-ATX)
LCS bracket (pcs).: -
HDD slot cover (pcs.): -
Upper fan bracket (pcs.): -
HDD panel rubber grommet (pcs.): -
SSD bracket for PSU shroud: -
LED strips (pcs.): -
Cable ties (pcs.): 6 (Velcro)
Service
Warranty (Years): 3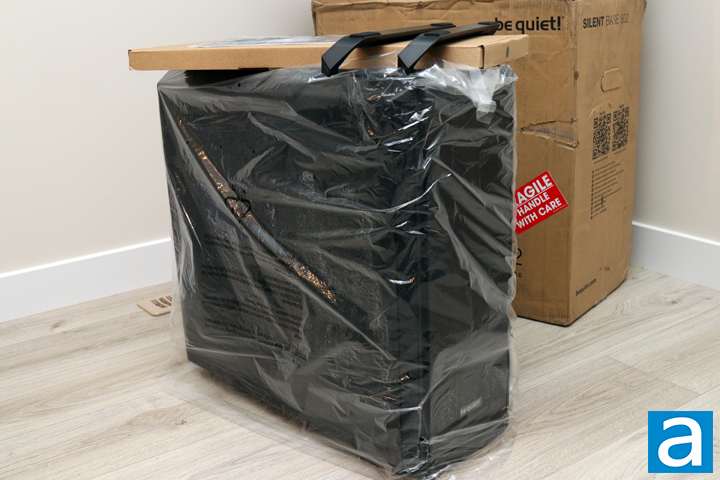 Opening up the box revealed the extent of the damage that our Silent Base 802 box endured. In addition to all of the scrapes, gashes, and bruises, both pieces of foam brackets holding the Silent Base 802 were broken at the edges. This was a bit of a shame and I would have liked to see be quiet! use a bit more solid of packing material. Despite all of this damage, the case itself was protected by a plastic bag to prevent surface damage like scratches. A large flat box is also included with the Silent Base 802 and it holds a few of the aforementioned case accessories. Two more large plastic pieces are taped to the foam brackets and these are the two feet that you can mount to the bottom. I wonder why be quiet! did not just mount this already, but the installation of the feet was generally straightforward. As usual with be quiet! cases, the Silent Base 802 comes with a three-year warranty, which is a good length of time.
---
Page Index
1. Introduction, Packaging, Specifications
2.
Physical Look - Outside
3.
Physical Look - Inside
4.
Installation and Conclusion