By: Jonathan Kwan
June 3, 2016
"I am an expert in Korean culture," I explained to my friend. "I watched one Korean drama, I eat at the Korean BBQ House at the university food court, I own a Samsung TV, and I even have some Korean friends!" My friend looked at me, laughed, and said, "Jonathan, that is not how it works." Now, obviously I was joking, and other than the fact I just admitted I watched a Korean drama (Descendants of the Sun is really good, by the way) -- albeit with English subtitles -- I think this brings about the question: What makes someone an expert in a certain culture? Although it will probably take more than an APH Networks review introduction to answer this question, I think the better way of putting it is, being an expert in a certain culture takes a lot more than scraping the surface with a few superficial things, even if my Korean friends think the place at the university food court genuinely has pretty good quality food. As we take a look at the Cooler Master V750 750W power supply today, we are posed with a similar question: What makes a power supply a good power supply? Is it the efficiency certification, modularity of the cables, dimensions of the enclosure, or the quietness of its internal cooling fan? While all these are totally valid contributing factors, I think there is more to the story. Although it will definitely take more than an APH Networks review introduction to answer this question, the good news is we have the next four pages to address this in abundant detail. We looked at every detail of the Cooler Master V750 750W both outside and inside, and let nothing slip under the radar. Read on to find out what we have found!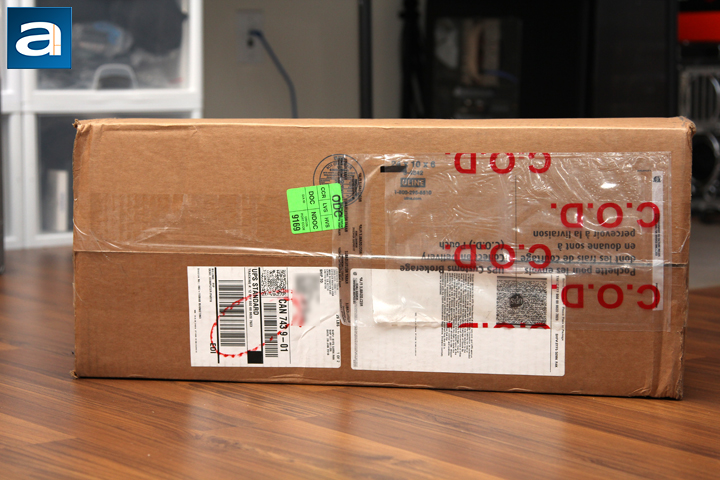 Our review unit of the Cooler Master V750 750W arrived in a relatively long, brown corrugated cardboard box from the company's American headquarters in Chino, California. Since it has been a while -- one could say a little too long -- since the power supply has been sitting in our labs here at APH Networks, I could not even remember what other products traveled along the V750 in the same box. Thankfully, my colleagues did a great job at documenting everything, and a quick search indicated it was the Cooler Master Silencio FP 120 PWM Performance Edition and Cooler Master GeminII S524 Ver.2. As always, everything arrived in excellent condition to us here in Calgary, Alberta, Canada using UPS Standard.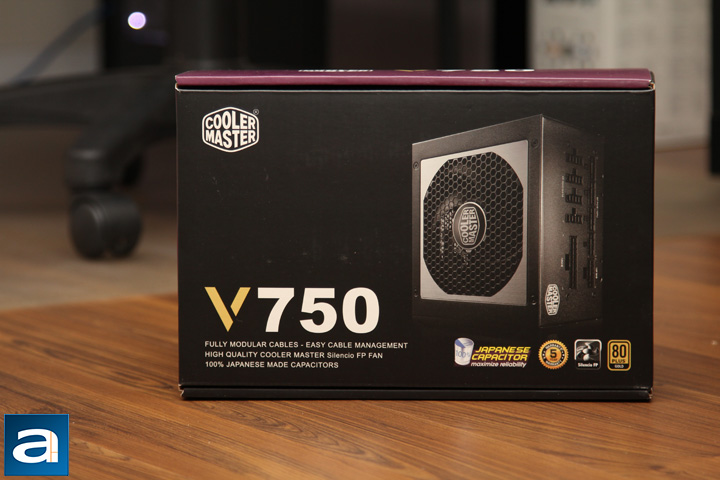 The Cooler Master V series is not new to the company, as this lineup has been around since 2013. While the fully modular V750 is a new model, it should not serve as a surprise to see its retail packaging design to bears quite a bit of resemblance to the rest of the series like the V1000. As you can see in our photo above, it carries forward a familiar color scheme used by the company; the Cooler Master purple makes no mistakes. Using a normal shot of a bottom three-quarters view of the V750 semi-blended into its sophisticated looking black background; they sure know how to make a good first impression. Cooler Master's logo can be seen at the top left corner, while an array of badges like an 80 Plus Gold certification can be seen at the bottom right corner. The model name -- which doubles as the wattage rating -- is big and bold across the bottom. Meanwhile, a short list highlights its fully modular design, their own Silencio FP fan, and 100% Japanese capacitor build.
Before we move on, let us take a look at the specifications of the Cooler Master V750 750W power supply, as obtained from the manufacturer's website:
Model: RS750-AFBAG1-xx
Type: Intel Form Factor ATX 12V V2.31
Dimensions: 150 x 140 x 86mm / 5.9 x 5.5 x 3.4 inch
Input Voltage: 100-240Vac
Input Range: Full range
Input Frequency Range: 47 - 63Hz
PFC: Active PFC (>0.9 typical)
Power Good Signal: 100-500ms
Hold Up Time: >16ms
Efficiency: 90% @ Typical Load
MTBF: >100,000 Hours
Fan Type: 120mm Silecnio FP
Quality Certificates: CE/FCC/UL/TUV/RCM/BSMI/CCC/EAC
Protection: OVP/UVP/OPP/OTP/OCP/SCP
Connectors: 20+4 Pin MB x 1, 4+4 Pin CPU +12V x 2, 6+2 Pin PCI-e x 4, SATA x 8, 4Pin Peripheral x 6, 4Pin Floppy x 1
EAN Code: 4719512048276
UPC Code: 884102027239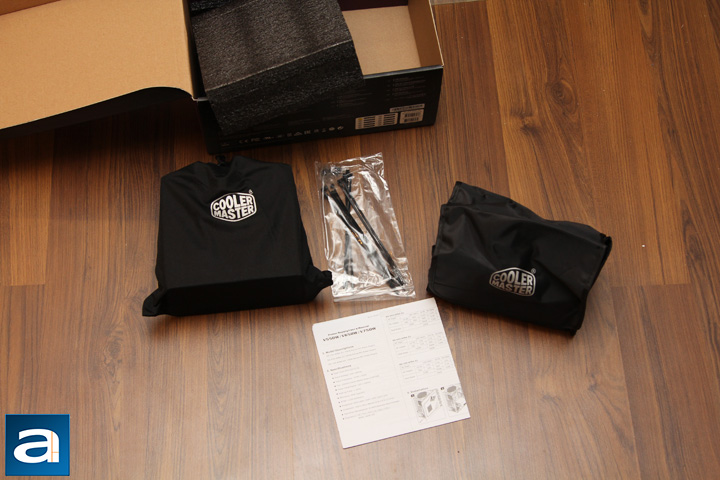 Out of the box, Cooler Master includes a humble yet generous bundle with the V750 750W power supply. It is humble, as in there is nothing extravagant -- there is not a whole lot of 'wow' factor of amazing luxury items you know will never use, but still drop your jaws at. However, it is generous, as in no one will ever mistake the 'V' in the V series for 'value'. Out of the box, clipped inside two Styrofoam brackets, is the PSU itself secured inside a drawstring bag. The modular cables are separately packaged in a large Velcro enclosed nylon bag. Four installation screws and a bunch of zip ties are included, as well as a power cable and installation poster. As you can see, there is nothing excessive, but it is certainly not cheap either. I like the way Cooler Master presents the V750.
---
Page Index
1. Introduction, Packaging, Specifications
2.
Physical Look - Outside
3.
Physical Look - Inside
4.
Minor Tests and Conclusion