By: Aaron Lai
March 24, 2016
Recently, I have been playing a game called Blade and Soul. This is not a new game, but it was only recently released to North America. Much like the popular World of Warcraft, this is a massively multiplayer online role playing game, or MMORPG, with a pretty big open world. I am not exactly very good at this game, but I play because I had a few friends who also play. It also helps with the fact the graphics and scenery is much better than the previous MMO I played, Dragon Nest. When choosing a character race and class, there is no full dominating class, especially with the way they are made. For example, the "Destroyer" class is one of the "tankier" classes, as they have the health and defense to take more damage, while delivering relatively strong attacks. However, this is balanced by the fact their attack range is quite low, and they are also one of the slowest classes. Each of these classes balance out the various aspects of attack power, defense, range, agility, crowd control, damage per second, or other terms. Thus choosing a good character does not really depend on the class, but rather your style of play. If you play recklessly, you may want something with better defense, or even a second character to take the threat from you. In addition, the balance of these aspects is quite necessary, or else you will just see a lot of the same class being made by majority of the new users. In today's review unit, you can already see there is a balance in the name itself, between silence and performance. Often with computer cooling parts, it is hard to achieve both. Therefore, I have to ask, has Cooler Master found the sweet balance between the two? Or have compromises on either side been made? Let us see what the result is, when we take a closer look at these fans!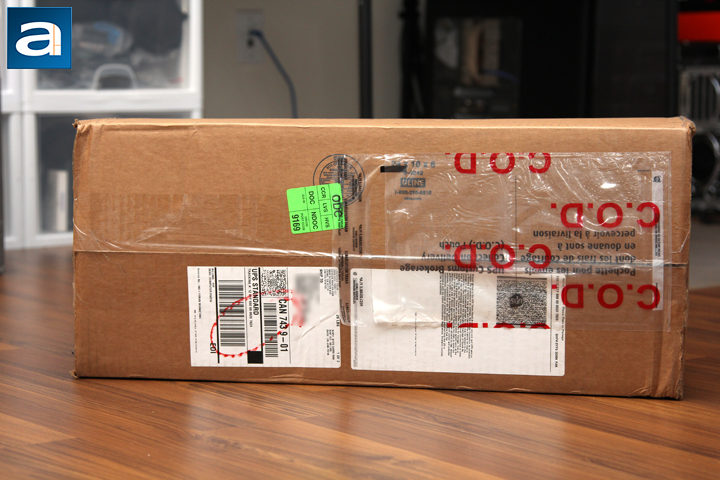 Today's review unit of the Cooler Master Silencio FP 120 PWM Performance Edition arrived from Cooler Master's offices in Chino, California. Utilizing UPS' Standard service, the shipment of Cooler Master products arrived in great condition. Along with today's Silencio fans, we also received from Cooler Master the GeminII S524 Ver.2 CPU cooler and the V750 power supply, which will be covered in the coming weeks. The Cooler Master MasterCase 5 also arrived at the same time, but for obvious reasons, it was not in the same corrugated cardboard box. Otherwise, we can move onto the fans.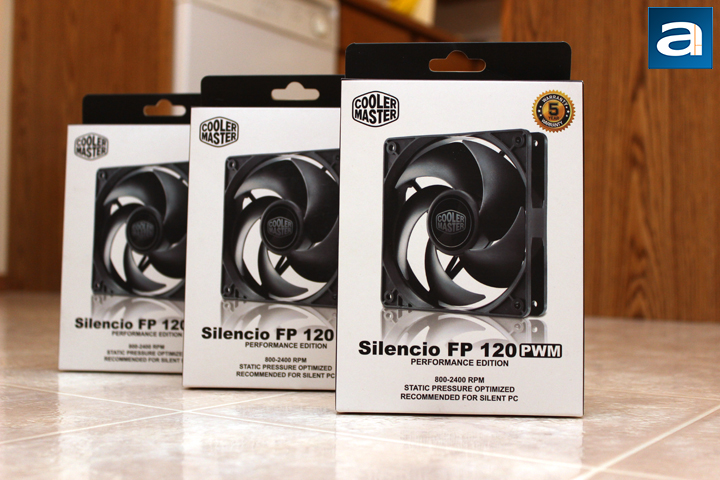 Cooler Master must have been feeling like Santa Claus, as they provided us with not one or two, but three Silencio FP 120 PWM Performance Edition units. As you can see, Cooler Master takes a pretty basic approach with their fan packaging. The front shows the fan itself with the product's name underneath. Three statements are listed on the front, including an 800-2400RPM operating fan speed, a "static pressured optimized" performance, and a recommendation for usage in a silent PC. In addition, the top right hand side shows these fans are covered by Cooler Master's five year warranty, which is pretty good. Cooler Master does have other fans in the Silencio FP series, including a 3 pin voltage controlled fan and the basic PWM. The difference between the Performance Edition and the vanilla version is mostly in the operating speed, output air pressure, and output airflow. In addition, due to the greater fan power, it also consumes more power. Otherwise, they look practically the same.
Before we move onto the fan, let us take a look at the specifications, as obtained from the manufacturer's website:
Specifications
- Model Number: R4-SFNL-24PK-R1
- Available Color : Non-LED
- Dimensions: 120 x 120 x 25 mm (4.7 x 4.7 x 1 inch)
- Speed: 800 - 2400 RPM (PWM) ± 10%
- Air Flow: 16.5 - 76 CFM (28 - 128 m3/h) ± 10%
- Air Pressure: 0.48 - 4.8 mmH2O ± 10%
- Life Expectancy: 160,000 hrs
- Noise Level: 6.5 - 27 dBA
- Bearing Type: Loop Dynamic Bearing (LDB)
- Connector: 4-Pin (PWM)
- Rated Voltage: 12 VDC
- Rated Current: 0.16A
- Safety Current: 0.16A
- Power Consumption: 1.92W
- Weight: 158g (0.35 lb)
- Accessory: Metal Screw x 4, Rubber Anti-vibration Screw x 4
---
Page Index
1. Introduction, Packaging, Specifications
2.
A Closer Look - Hardware
3.
Performance Tests
4.
Conclusion