By: Jonathan Kwan
August 7, 2020
In my introduction of my Kingston KC2500 1TB review, I talked about how some 21 year old kid studying mechanical engineering tried to impress my friend by claiming he could disprove the first law of thermodynamics. Being as curious as I always am, I tried looking up this guy to learn a little more about him. According to some of his social media accounts, another outlandish claim he has is how he is on track to figure out how to significantly improve the energy density, endurance, and recharge speed of lithium-ion batteries within the next two years for a budget of merely $9000. The absurdity of this may be more apparent to me -- I am expecting to receive my PhD in electrical engineering this month -- but it really boils down to the fact it is impossible for someone with no training in the material sciences field can pull this off. To put it into perspective, even Professor Jeff Dahn, a leading expert in this field who holds a Canada Industrial Research Chair sponsored by Tesla, received more awards than I have papers published, and has more papers published than I have published pages is still quite a ways off from what this guy thinks he can do. Professor Dahn and his research group published a paper last year that addressed battery endurance called "A Wide Range of Testing Results on an Excellent Lithium-Ion Cell Chemistry to be used as Benchmarks for New Battery Technologies", and it is nowhere near what this kid is claiming. Needless to say, the 21 year old kid's project is literally impossible with that time frame and budget even if is an Einstein-level genius. In a similar manner, it is a wonder whether a cheap power supply can actually be done well in 2020 or is it still absurd like the guy's claims. Today, we have the Corsair CV550 550W, a power supply that has dipped as low as $40 before. Cheap it is, but is it any good? We took one apart to find out.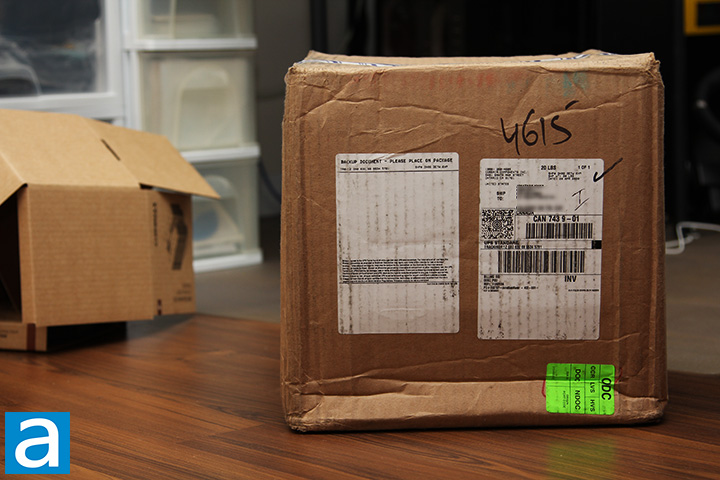 Our review unit of the Corsair CV550 550W came in a medium-sized brown corrugated cardboard box from Ryder Integrated Logistics in Ontario, California, USA. That is quite a bit of a distance from the company's actual headquarters in Fremont, but regardless of which, using UPS Standard, everything arrived in mostly acceptable condition to us here in Calgary, Alberta, Canada for our review today. The box looked a bit crushed and beat up, but the contents inside looked just fine.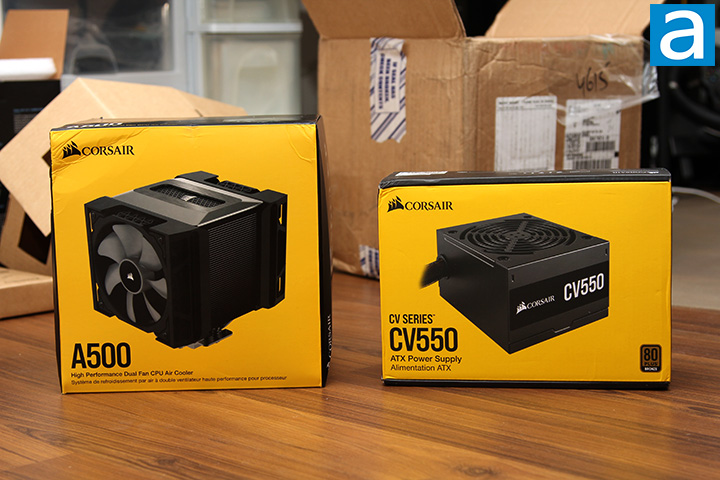 A Corsair A500 CPU cooler also came in the same box as the CV550 550W. The retail packaging of the Corsair CV550 550W is immediately recognizable to anyone who has seen hardware from the company at your favorite local retailer. The predominantly yellow front color scheme is complemented by black surfaces on the side, contrasted by the white text on the darker shades and black text on the lighter shades. A photo of the power supply in three-quarters view occupies majority of the real estate in front. At the top left corner, you will find Corsair's logo. The name and description of the product is printed at the bottom, which is "CV Series CV550" and "ATX Power Supply". There is also an 80 Plus Bronze badge. Further feature highlights and product information such as specifications, fan speed profile, and efficiency curve can be found on the remaining sides of the box.
Before we move on, let us take a look at the specifications of the Corsair CV550 550W, as obtained from the manufacturer's website:
Adjustable Single/Multi 12V Rail: No
ATX Connector: 1
ATX12V Version: v2.31
Continuous output rated temperature C: 30°C
Continuous power W: 550 Watts
Fan bearing technology: Sleeve
Fan size mm: 120mm
MTBF hours: 100,000 hours
Multi-GPU ready: No
Warranty: Three years
80 PLUS Efficiency: Bronze
PSU Form Factor: ATX
iCUE Compatibility: No
Zero RPM Mode: No
Cable Type: Sleeved
Dimensions: 150mm x 125mm x 86mm
EPS12V Connector: 1
EPS12V Version: v2.92
Floppy Connector: 1
Intel C6C7 sleep state compatible: No
Modular: No
PCIe Connector: 2
SATA Connector: 7
Modern Standby Compatible: No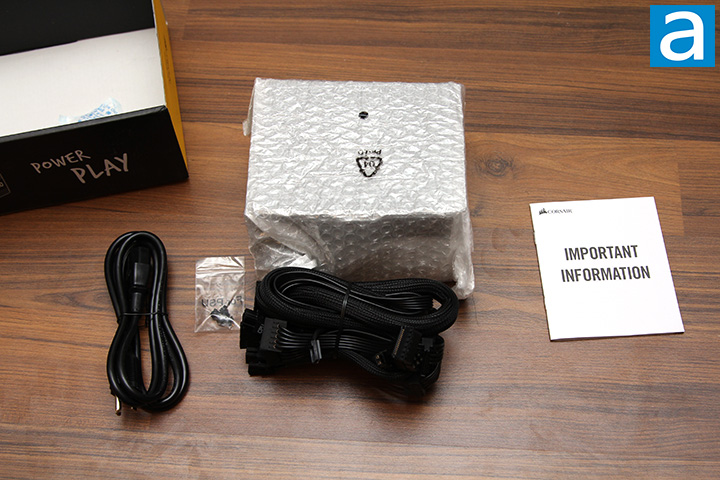 The Corsair CV550 550W's retail package can be opened by a flap attached by the right side. Upon opening the box, you will find the bundle is simple and minimal, since this is a budget product. What you will get is the Corsair CV550 550W itself inside a bubble wrap bag, four screws, AC power cable, and an information booklet.
---
Page Index
1. Introduction, Packaging, Specifications
2.
Physical Look - Outside
3.
Physical Look - Inside
4.
Minor Tests and Conclusion