By: Jonathan Kwan
June 26, 2020
A couple of weeks ago, I was locked out of my University of Calgary IT account. Since the University of Calgary uses a central authentication system, a lock on my account means I could not access anything, and this ranges from the main portal to my email. At first, I thought the system was down, but when other people reported no problems, I knew it had to be me. Therefore, I made a call to IT support, who told me my account was locked because they believed my email was compromised and I needed to change my password immediately. (I reviewed the access logs and did not see anything suspicious, but I digress.) After changing my password, the strange thing was while I could get into my email on my desktop, the same could not be said about my laptop or phone. I spent all morning trying to figure out why, and thinking it must be some kind of strange Outlook security block, I called IT again for help. The first guy on the line could not figure out why either, so they escalated me to his manager. Ten minutes later, we figured out why I could not log in: I was typing in the wrong password in Outlook, and the reason why no one could figure out why before was because I saved the password in my browser. Considering all the times I have solved similar problems in my life, never would I have thought I would make the same mistake in my life -- this one was way too obvious. Clearly, the simplest solutions in life are sometimes obvious, and here we are today. What is the easiest, most efficient, and effective way to cool your overclocked CPU? The answer may seem obvious, but shoving the biggest heatsink you can find with as many fans as you can fit on it on your processor is a great option. The Corsair A500 promises advanced cooling performance with four direct-contact copper heat pipes and two ML120 fans in a mega-sized package. Is this obvious solution? Read on to find out!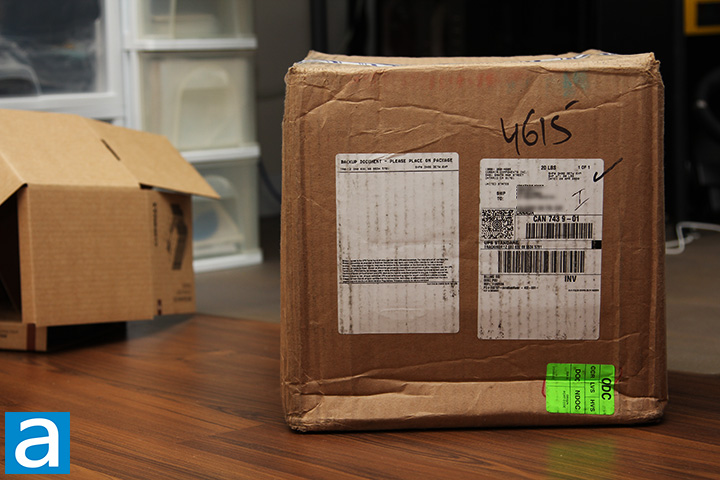 Our review unit of the Corsair A500 came in a medium-sized brown corrugated cardboard box from Ryder Integrated Logistics in Ontario, California, USA. That is quite a bit of a distance from the company's actual headquarters in Fremont, but regardless of which, using UPS Standard, everything arrived in mostly acceptable condition to us here in Calgary, Alberta, Canada for our review today. The box looked a bit crushed and beat up, but the contents inside looked just fine.
A Corsair CV550 550W power supply also came in the same box as the Corsair A500. The retail packaging of the Corsair A500 is immediately recognizable to anyone who has seen components from the company at the local computer shop in the last little while -- assuming computer stores are back open wherever you are right now, of course. The predominantly yellow front color scheme is complemented by black surfaces on the side, contrasted by the white text on the darker shades and black text on the lighter shades. A photo of the heatsink in three-quarters view occupies majority of the real estate in front. At the top left corner, you will find Corsair's logo. The name and description of the heatsink is printed at the bottom, which is "Corsair A500" and "High performance dual fan CPU air cooler". Further feature highlights and miscellaneous product information such as specifications and system requirements can be found on the remaining sides of the box.
Before we move on, let us take a look at the specifications of the Corsair A500, as obtained from the manufacturer's website:
Cooling Warranty: Five years
PWM: Yes
Heatsink Dimensions: 137mm x 169mm x 103mm
CORSAIR iCUE Compatibility: No
Heatsink Dimensions w/ Fan: 144mm x 169mm x 171mm
Cold Plate Type: Direct-Contact Heatpipe
Fan Dimensions: 120mm x 120mm x 25mm
Fan Speed: 0 - 2400 RPM
Weight: 1460g
Number of Fans: 2
Cooling Socket Support: Intel 1200, 1150, 1151, 1155, 1156, 2011, 2011-3, 2066; AMD AM4, AM3, AM2
Lighting: None
Fan Model: ML Series
Heatpipe Material: Copper
Heatsink Material: Aluminum
Maximum RAM Height (Stock Fan Position): 45mm
Maximum RAM Height (mITX Motherboard): 45mm
Fan Airflow: 75 CFM
Fan Static Pressure: 4.2 mm-H2O
Noise Level: 10 - 36 dBA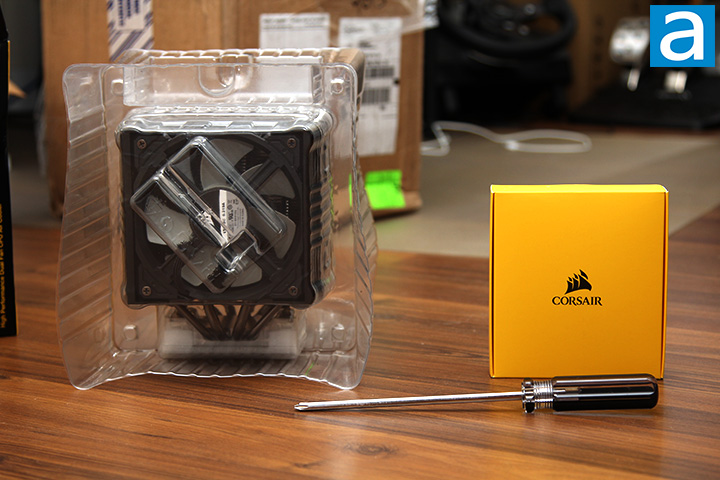 Out of the box, you will find an accessories box on top of two clear plastic shell brackets. The clear plastic shell brackets hold the Corsair A500 heatsink in the middle with both fans pre-installed, while a long Phillips-head screwdriver is clipped in on the outside. The accessories box contains AMD and Intel installation accessories each in their individual resealable plastic bags. A braided Y-split PWM fan cable and a 1g tube of Corsair XTM50 thermal paste is included. Thermal paste is already pre-applied on the heatsink for you from the factory, but the extra tube is there in case you need to reinstall your heatsink in the future. Corsair also includes a multi-language installation manual, which I find straightforward and easy to read.
---
Page Index
1. Introduction, Packaging, Specifications
2.
Physical Look - Hardware; Installation
3.
Test Results
4.
Conclusion