By: Aaron Lai
September 6, 2019
If there is one thing I have trouble with, it is meeting new people. I recently attended my final wedding of this past summer, which happened to be for one of my cousins in Vancouver, British Columbia. Since our family came as out of town people, I just expected to be seated with my parents and the night would be relatively quiet. However, due to some last-minute changes, I ended up sitting at a table with younger people, of which some were family and some were friends. The girl I sat beside was my second cousin, but I had no recollection about her, so it was like we were meeting for the first time. With her being quite a bit more extroverted than me, she decided we should get to know each other by asking each other questions. These were pretty standard questions like favorite color and our area of education, but quickly evolved into more advanced questions, such as our least favorite city visited or vacation preferences. Even so, other than these surface details, I still do not know a whole lot about her. In fact, the biggest thing I took away from that night was that she is good at adding hype to a party, which is something she did for the entire banquet. Two years ago, FSP sent us their SFX power supply in their Dagger 600W. While we may be familiar with its name, today we have the newer FSP Dagger Pro 650W. Does this updated unit deliver on the shortcomings of the original? Is it a reliable unit for your small form factor needs? I guess we can answer these questions by taking a deeper look at this unit, so let us proceed!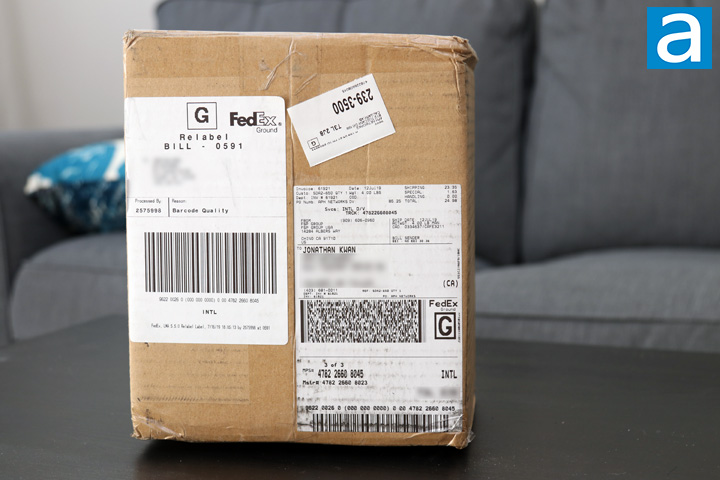 Today's review unit of the FSP Dagger Pro 650W power supply arrived from FSP's offices in Chino, California. Traveling via FedEx and their Ground service, this box arrived in relatively good condition, though FedEx reprinted the shipping barcode to ensure it is readable by their scanners. Otherwise, the box itself looks like it is in relatively good condition with no bumps or bruises to be concerned about. Inside the box, we have the power supply surrounded by packing peanuts. These foam pellets do a decent job in ensuring the retail box is in good condition too.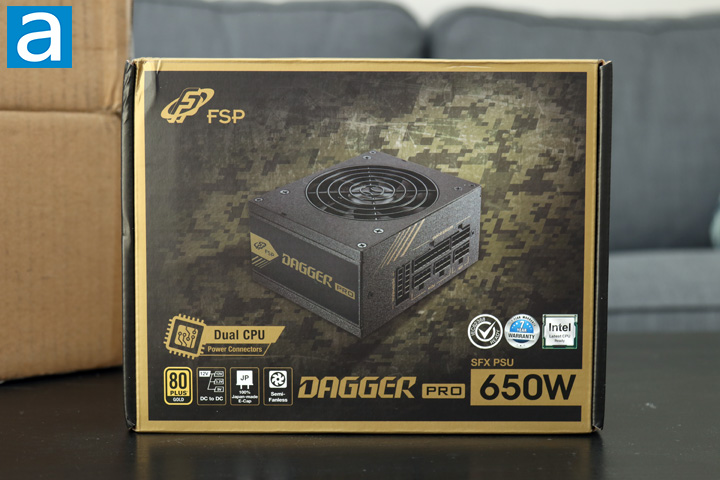 Out of the shipping container, we have the FSP Dagger Pro 650W in its retail container. As you can see, there was a corner bruise on the top left, though it is not something too concerning. Otherwise, the FSP Dagger Pro 650W retail box follows a similar design to its predecessor with a dark background and the power supply shown in the middle. At the bottom, we can see several features, including its 80 Plus Gold efficiency sticker, a DC to DC design, 100% Japan-made E-Cap, and semi-fanless implementation. The name of "Dagger Pro 650W SFX PSU" is on the bottom right, in addition to its seven-year warranty coverage and Intel compatibility for its latest CPUs. The 100% Japan-made E-cap badge probably refers to the electrolytic capacitors, as there are some Taiwanese Teapo polymer capacitors. Otherwise, there is an interesting "Dual CPU" power connectors, which refers to the two 4+4-pin CPU connection, as we will see later on.
Before we move on, I have grabbed the specifications from the manufacturer's website for your viewing pleasure:
Model: SDA2-650
Rated Output Power: 650W
Form Factor: SFX
80 PLUS Certification: Gold
Input Voltage: 100-240V
Input Current: 10-5A
Input Frequency: 50-60Hz
Efficiency: 90%
Fan Type: ball bearing fan,92mm
Dimensions(L x W x H): 125 × 100 × 63.5 mm
Operation Temp.: 200,000 Hrs
Protection: OCP, OVP, SCP, OPP, OTP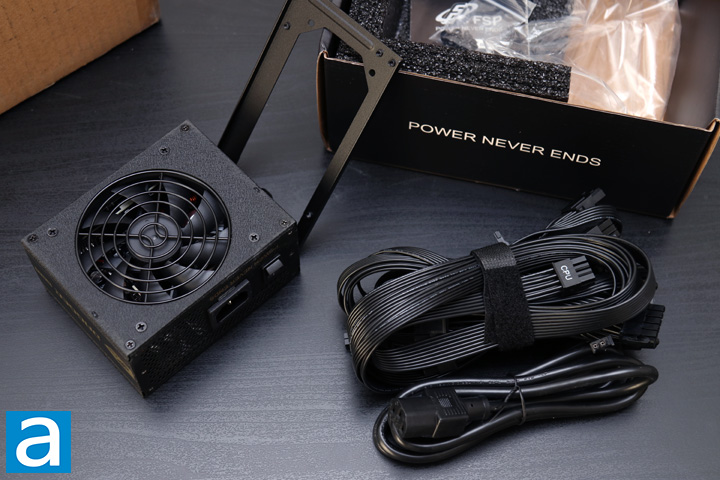 Out of the box, we have the FSP Dagger Pro 650W sitting in a thick black foam bracket to prevent damage to the power supply. On the side, we have a few pieces of documentation as well as a bundle of modular cables for the power supply. We also have a standard AC power cable. In addition, an SFX to ATX bracket is helpfully provided in case you want to mount this smaller unit in a larger area. This is really helpful, as some manufacturers have stopped including it with their SFX power supplies. Finally, a small bag of screws is included to help you mount the Dagger Pro to your case.
---
Page Index
1. Introduction, Packaging, Specifications
2.
Physical Look - Outside
3.
Physical Look - Inside
4.
Minor Tests and Conclusion