By: Jonathan Kwan
July 23, 2021
A few weeks ago, I was talking to a friend who was moving to Chicago for school. I do not know about you, but when someone mentions Chicago, the first thing that comes to my mind is people getting shot. There is a reason why people call Chicago "Chiraq" -- in reference to Iraq -- for a good part of the last decade. According to an article published by ABC 7 Chicago in 2015, "[the] term 'Chiraq' has become street slang for Chicago, coined to represent the city's thousands of annual shootings and hundreds of murders." Things have gotten worse since then, and I wasted no time in showing my friend of a dashcam video showing two guys jumping out a Nissan Altima at a red light, in broad daylight, with a fully automatic rifle and a sidearm to shoot at another car stopped in front of them. Now, I do recognize not every part of Chicago is this bad, and comparing Chicago to Iraq may be a bit of an exaggeration. But there is a reason why people associate the Windy City with violent crime in a similar way you may associate FSP's Hydro series power supplies with water cooling, even though there has only been one model -- the FSP Hydro PTM+ -- that can actually be water cooled. That said, the FSP Hydro G Pro 750W I reviewed last year has another reason to justify its name: A coating that allows it to operate in 95% relative humidity conditions. Today, we will take a look at another Hydro G Pro model in the lineup with the same 95% RH coating, but this time, it has been upgraded to give you a kilowatt of power. Read on to find out what is inside!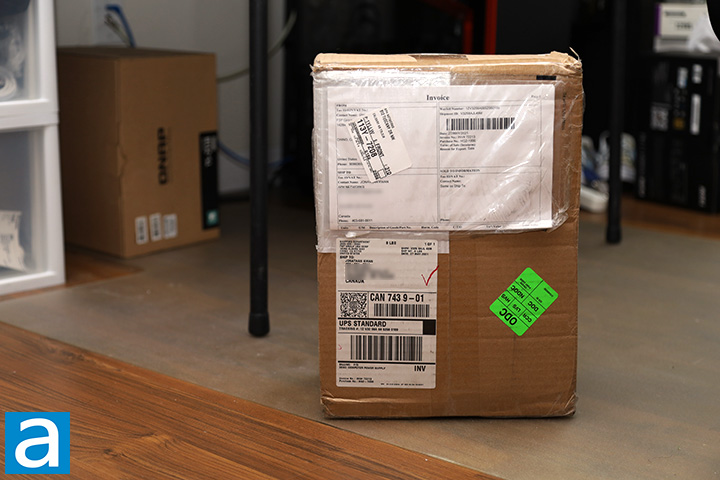 Our review unit of the FSP Hydro G Pro 1000W arrived in a medium-sized brown corrugated cardboard box from the company's American headquarters in Chino, California, USA. Using UPS Standard, our Hydro G Pro 1000W arrived in excellent condition to us here in Calgary, Alberta, Canada for our review today.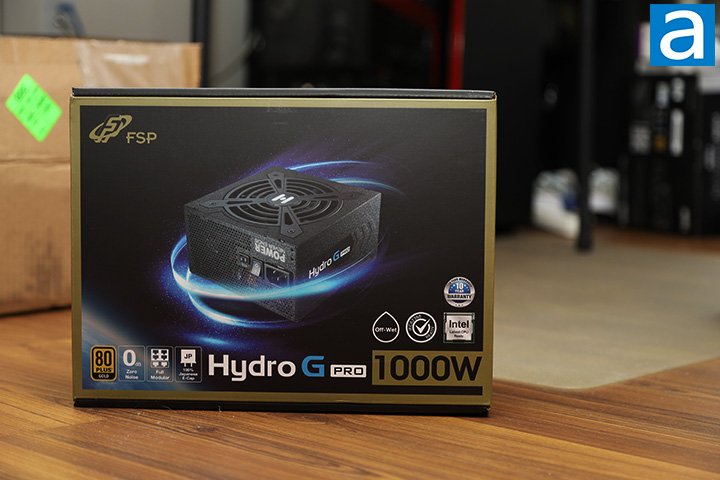 Inside the shipping box is the FSP Hydro G Pro 1000W's retail box. The retail box design is the same as the Hydro G Pro 750W I reviewed last year, which makes sense. This also means it has not changed much since the original Hydro G. As you can see in our photo, the photo of the power supply itself is shown prominently with some outer space orbital-themed effects. Otherwise, the gold-and-black color scheme is reserved and pragmatic; FSP's logo is printed at the top left corner, while the Hydro G Pro branding and 1000W rating is seen at the bottom. Some arrays of icons show off its features. The left array includes an 80 Plus Gold badge, zero noise output, full modular design, and 100% Japanese-made capacitors. The right section includes 10-year warranty, Off-Wet Technology, IEC62368 certification, and Intel latest CPU ready. The remaining sides have a little more detail in presentation, which you will find more photos, feature highlights, performance graphs, and specifications.
Before we move on, let us take a look at the specifications of the FSP Hydro G Pro 1000W, as obtained from the manufacturer's website:
Model: HG2-1000
Rated Output Power: 1000W
Form Factor: ATX
80 PLUS Certification: Gold
Input Voltage: 100-240Vac
Input Current: 16-6A
Input Frequency: 50-60Hz
PFC: Active PFC
Efficiency: 90%
Fan Type: FDB Fan, 135 mm
Dimensions (L x W x H): 150 x 150 x 86 mm
Operation Temp.: 0-50℃
Protection: OCP, OVP, OPP, SCP, OTP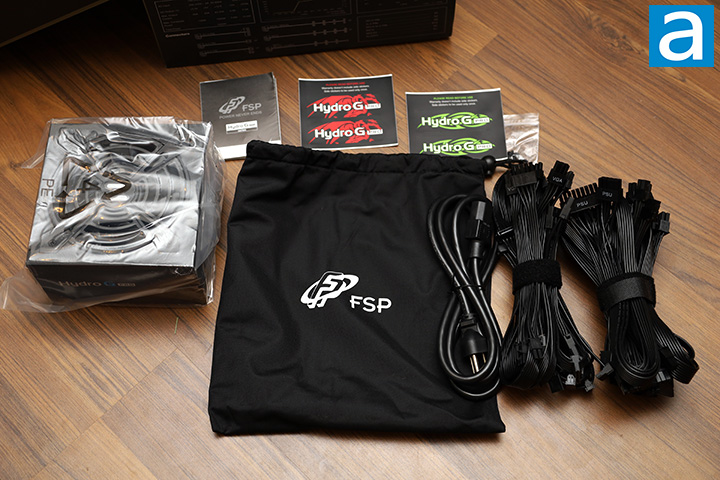 The FSP Hydro G Pro 1000W's retail packaging can be opened by a flap attached at the side. Upon opening the box, you will find everything neatly organized. The power supply is securely clipped between two foam brackets. Everything else is located inside a black drawstring bag. Out of the box, you will receive the Hydro G Pro 1000W power supply itself, modular cables, AC power cable, four screws, product manual, and some stickers. The bundle is very minimalist but sufficient.
---
Page Index
1. Introduction, Packaging, Specifications
2.
Physical Look - Outside
3.
Physical Look - Inside
4.
Minor Tests and Conclusion